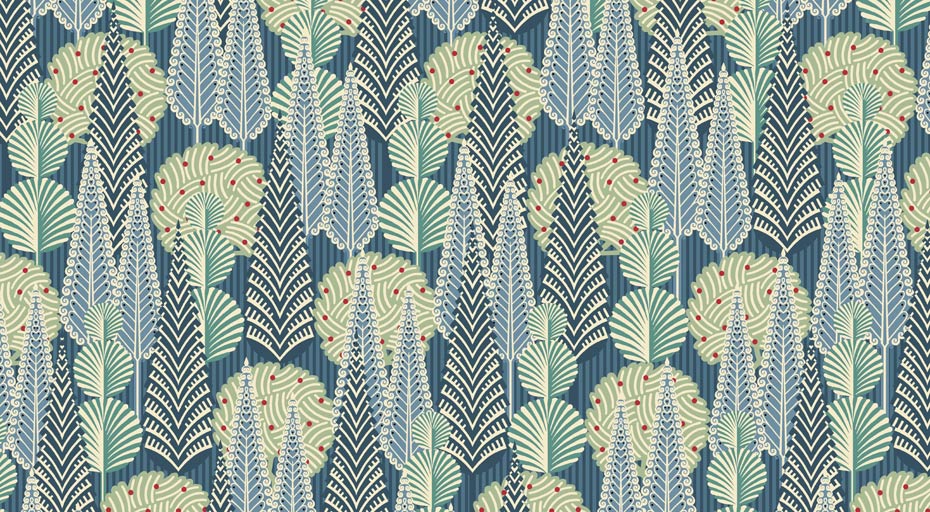 The British textiles and interiors designer on her print work for Heal's
Having started out as bed-makers in 1810, Heal's have over 200 years of experience when it comes to design, be it home decors, furniture or lighting. John Harris Heal might have set-up the business himself but, as a testament to his collaborative spirit, he soon realised that in order to produce and sell the best possible products, he needed to work with third party designers and creatives. That way of operating still defines Heal's and to this day a vast array of creative partners are brought onboard to help push the envelope. One of them, Cressida Bell, is a well-respected textile designer who's worked with Heal's on developing exclusive prints…
Port: What does your print show?
Cressida Bell: The print shows four very stylised trees, arranged to form an abstracted forest.
What sort of research did you do to create it?
Cressida: The idea for the print came from a sketchbook of mine from some years back. I worked in collaboration with Pia Benham of Heal's – having come up with a few original ideas she wanted something more elaborate, so we started looking at my old sketchbooks and found an idea that appealed. I then drew each tree separately and arranged them to form the end design.
What is it about the work of Eric Ravilious and Edward Bawden that inspires you?
Cressida: I particularly like the way Eric Ravilious turns nature into pattern. Even a ploughed field in winter can be made into a beautiful design. His use of counterpoint in the engravings and woodcuts maximises the potential for pattern, and the detail is amazing.
You specialise in designing textiles for interiors: what are some of the greatest challenges designing textiles for furnishings, in comparison to couture?
Cressida: My real speciality is to design prints with borders; scarves, rugs, lampshades etc, so the challenge designing for interiors is to make a harmonious overall design without the constraints of a border. Designing for couture/fashion is a very different proposition as the print will be cut into quite small pieces – and of course the star must be the article of clothing rather than the print.
Your design motto is 'more is more' – what does this mean?
Cressida: I think it should be taken literally. I prefer to keep adding to a print rather than attempting any sort of minimalism! The rest of the room can be a blank canvas, but I like the print to have maximum impact.