Port editor Dan Crowe introduces the summer issue, featuring world-exclusive interviews with seven of the biggest magazine editors in America on the future of magazine publishing
People frequently talk about the death of print media, often in print media. The Internet has changed the way people relate to magazines and it seems that, for a while, people lost faith in what a magazine was for.
Magazine sales, and confidence, collapsed during the recent global recession, but since 2012 they have been on the rise. In addition, there are more magazines launches now than ever before. This may be a surprise for some.
There is no doubt about it: we are entering a new golden age of magazine publishing, an age where the magazine is supported by the website and app. It's this 'support' that people thought would be the death of the magazine. In fact, with the 'cross media platform' working well, it's formidable to have a magazine, a format that readers and advertisers still adore.
For our current cover story we thought it would be the right time to champion print, and put the editors we admire on the cover of Port. From Vanity Fair's Graydon Carter to The New York Times' Hugo Lindgren, we feature the editors running the best magazines in the world.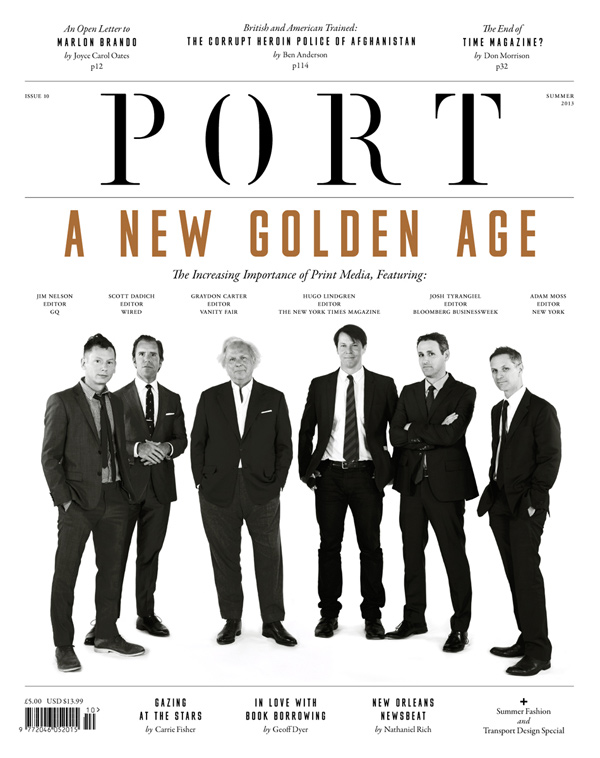 Photography Stefan Ruiz
Cover art direction & design Matt Willey
It proved radically difficult to get them all in the same room for the shoot, but, perhaps due to the fact that they found it an exciting novelty being on the other side of the camera, it finally came together.
These editors are producing magazines that are bold, confident, sexy, smart, and growing.
As Graydon Carter says in our cover story: "A magazine is a great invention. You take the best things you can find from around the world, you put together great stories, great photography and you give it to the consumer for $5. They can pass it on to somebody else; they can recycle it. If they lose it they can buy another one. It's available everywhere, and we'll send it to their door for less. That's a pretty good deal. Magazines are a very viable part of our lives and will be for as long as people are alive."
Damn right!
Port issue 10 also features:
"Planes, Trains and Automobiles" design section special, including an interview with iconic designer Sir Kenneth Grange
Joyce Carol Oates pens an open letter to Marlon Brando (in hell)
 War journalist Ben Anderson lifts the lid on the corrupt heroin police of Afghanistan
Don Morrison mediates the end of Time
Carrie Fisher a.k.a. Princess Leia, writes about her fascination with the heavens
A collaborative fashion story shot on location in north Wales by photographer Stefan Heinrichs and styled by David St John James, featuring three brothers
Read more about our "the new Golden Age of Print Media" feature in The Guardian.
Issue 10 on sale UK wide 13 June. Buy online