Ginori 1735 fuses Italian craftsmanship with floral embellishments in its latest porcelain collection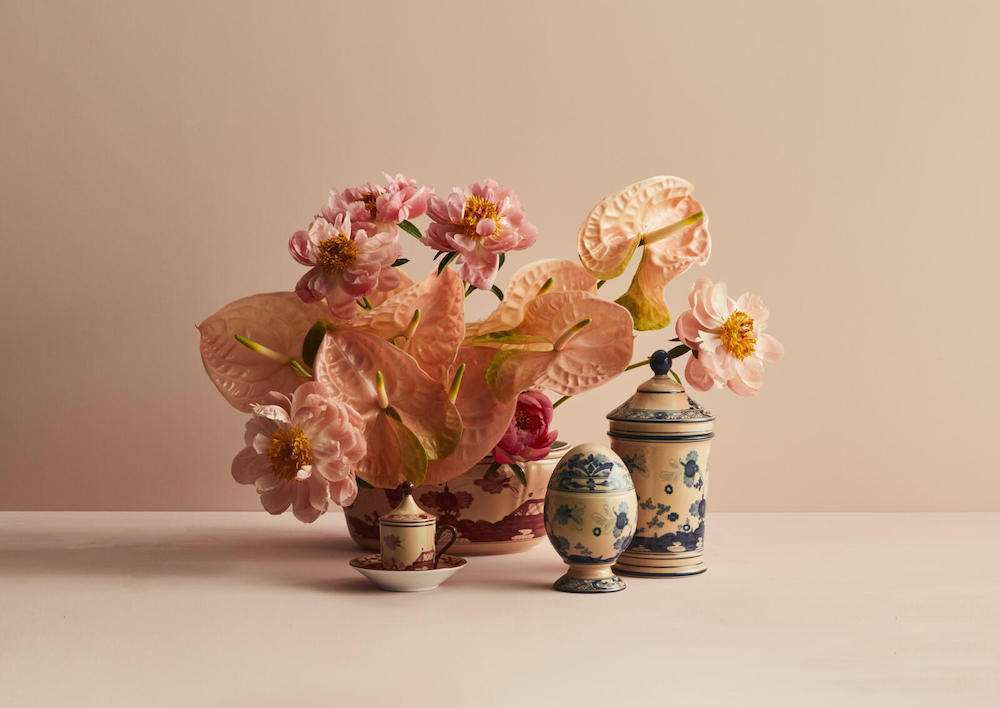 For over 280 years, Ginori 1735 has been at the forefront of Italian design and craftsmanship. A company rich in heritage, its design legacy is a lengthy and pronounced one; its name, for example, refers to the 18th century origins of the company when Marquis Carlo Andrea Ginori launched the Manifattura de Doccia in Doccia, which is located in the family estate nearby Florence. He opened a porcelain factory fuelled by his interests in white gold, which soon became an icon in its own right and the Ginori 1735 brand we know it as today.
A few years down the line and Ginori 1735 evolved with a modernised direction, still remaining true to its core values and essence as a brand. In the 20th century, Giò Ponti was named creative director and the manufacturing expanded through Europe, causing an artistic revolution and the development of new innovations. The Ginori 1735 tableware sets, for instance, made their debut in the 1950s and were celebrated for their elegant, minimalist aesthetic. Collaborations, too, played high importance in the 80s, with Italian designers such as Franco Albini, Franca Held, Antonio Piva, Sergio Asti and Achille Catiglioni breathing new life into the manufacturing. In 2013, Manifattura Ginori was acquired by Gucci and placed under the direction of Alessandro Michele, before being untrusted under the Kering Group and a team of designers formed by Alessandro. 
And now, with a plethora of table wear, decor and fragrances housed in its collections, Ginori 1735 has launched a new line, the Oriente Italiano. Blending floral embellishments with Italian craft, the pieces are distinctive in their own right – from tea sets to table objects. Annalisa Tani, brand and product designer at Ginori 1735, tells me more about the collection.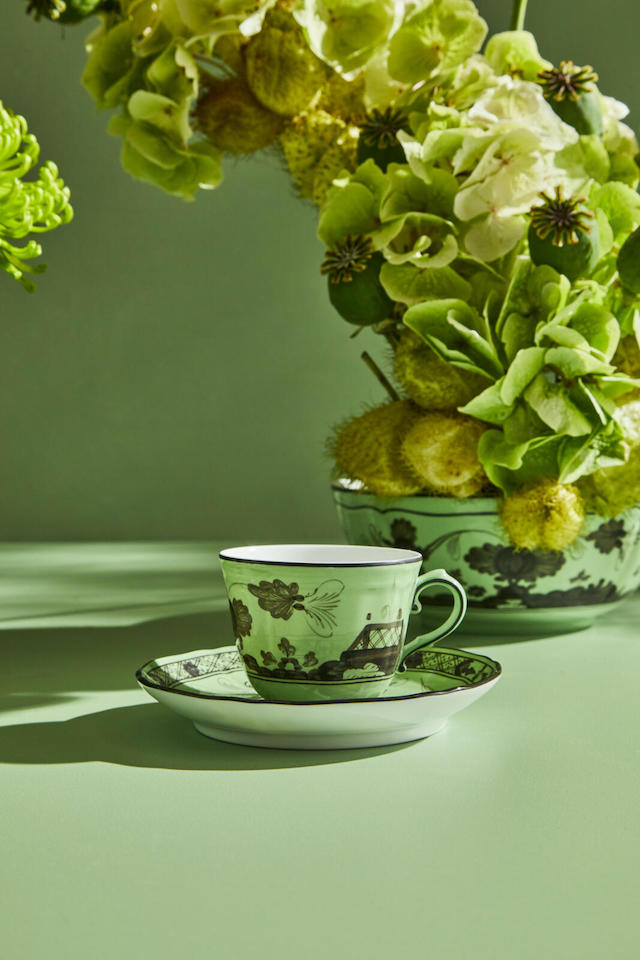 This collection is a fusion of Italian and Far Eastern charm. What does this mean exactly, and how is this represented in the design?
The combination between exotic beauty and Italian style of the Oriente Italiano collection is represented by decoration, which is the result of a successful dialogue between different techniques and the traditional craftsmanship that distinguishes Ginori 1735.
Florals are a key feature running throughout the collection. Did you reference any existing materials – such as real life plants or photographs – when designing the patterns? Or are they drawn from your own imagination? 
The flower that characterises the decoration of Oriente Italiano is a stylised carnation, an iconic decoration of the Florentine majolica since the mid-1700s. The flower, reinterpreted by Gio Ponti, takes shape in a rapid stroke that reminds water colours in which the gradient dissolves in the background colour.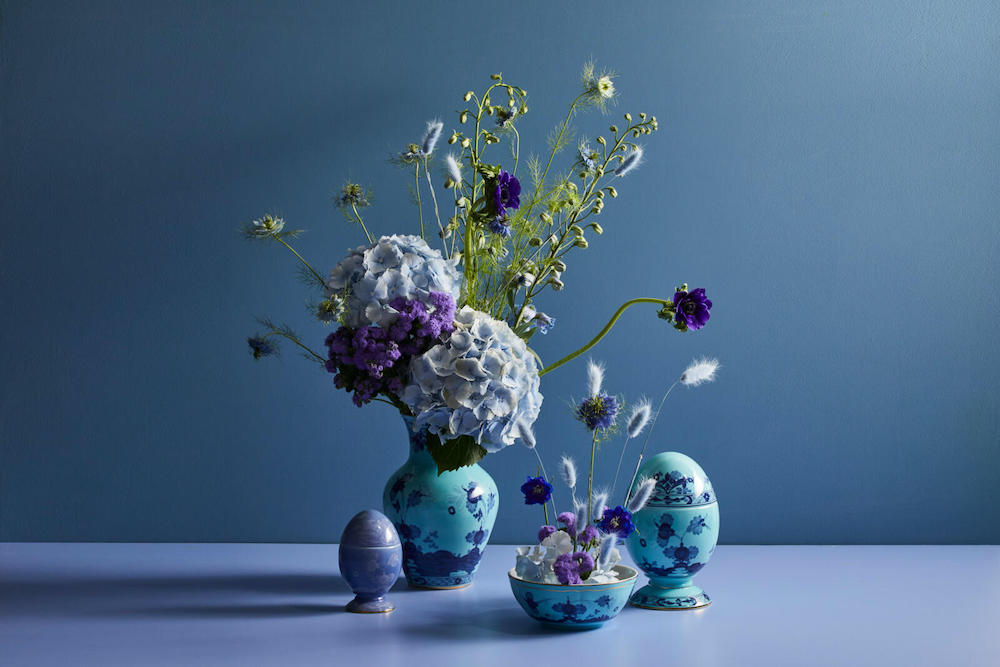 The colour palette is calmingly earthy, with mossy greens, blues and pinks. How did you decide on these specific tones, what do they evoke? 
The Oriente Italiano palette, composed by ten shades – azalea, iris, purple, periwinkle, cipria, vermilion, citrine, barium, malachite, albus – creates surprising and unexpected combinations. These soft and sensual colours express the charm of a journey in distant lands with a perfect chromatic balance.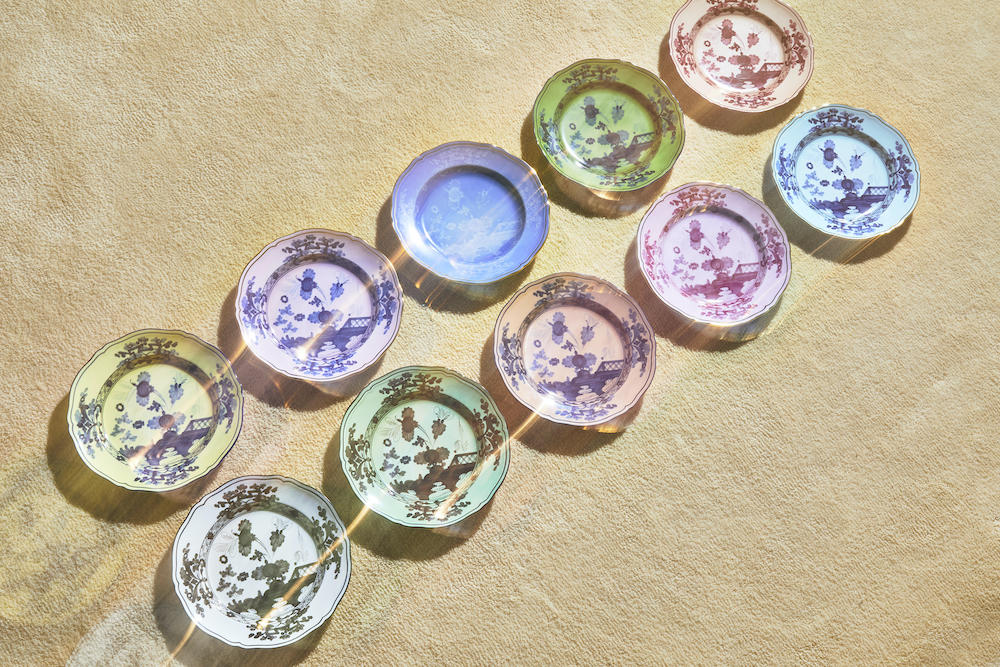 Can you tell me a bit more about how the collection was made?
The Oriente Italiano collection is very complicated to produce and has many several steps. First of all, the colour is nebulised on the whole surface of the piece through the airbrush technique. This technique also enhances the shapes because the colour becomes more intense on the embossments, creating chiaroscuro effects. It's a very elaborate technique because it's very difficult to maintain the same and the homogeneous tone of colour on all pieces and in every production. 
Then, the colour is hand-applied with a precise direction to respect the plate's supporting beams and make each piece perfectly the same to the other. Finally, the piece is hand-treated with "ritrovature", tiny embellishments created by small brushstrokes, realised, for example, on the mug handles. Moreover, there are many firing processes with different temperatures depending on the colours created. 
Where do you see the collection being used? 
Oriente Italiano is a collection that suits perfectly in domestic environments as well as in hotel spaces thanks to its wide range of pieces that includes tableware and interior decor objects. The tableware proposal, thanks to its vast array of colours, creates a perfect mix and match allowing everyone to express their own creativity.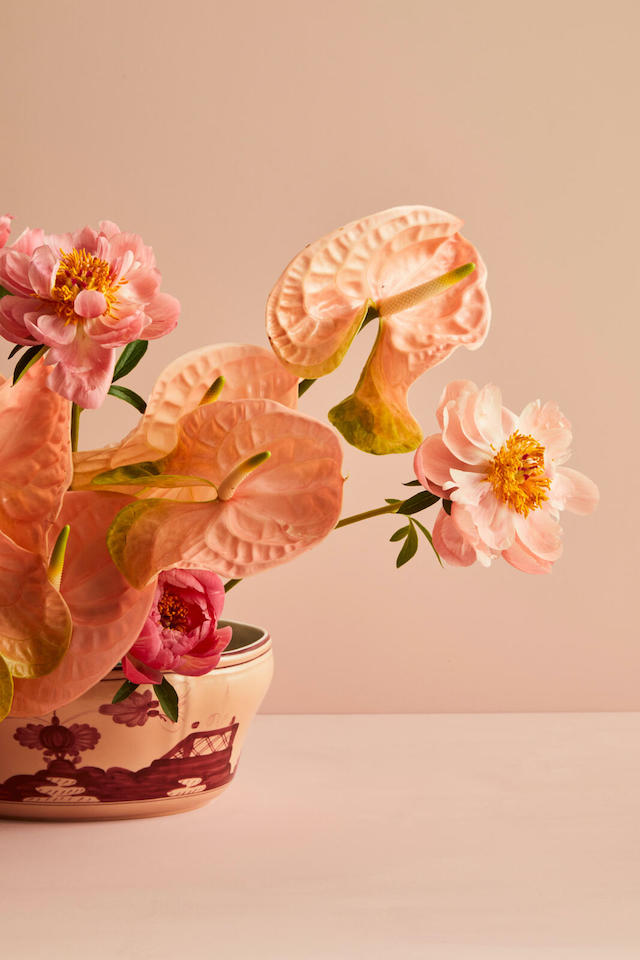 How does this collection fit in with the brand's rich history and design legacy – have you incorporated any characteristics or elements that nod to the past? 
All of our collections tell a story of excellence, savoir-faire, tradition and craftsmanship. Elements that have distinguished Ginori 1735 brand for over 280 years. The stylist signature of Oriente Italiano brings together craftsmanship, tradition as well as the artistic and the cultural values of the Manifattura. As one our best selling collections, Oriente Italiano allows us to export and make our heritage known all over the world.
How important is craftsmanship and traditional techniques to the making of this Ginori collection?
Craftsmanship and traditional techniques are very important for us. Tradition stands for the respect of a sense of continuity; it means transmitting. Through its tradition, Ginori 1735 creates products that express beauty, artisanship, design and style, typically made in Italy.
What's next for Ginori?
In June, during the Milano Design Week, we will present a new home fragrance collection and two other exclusive collaborations with two well-known brands in fashion and design sectors. Furthermore, we will present the new fragrances of La Compagnia Di Caterina, the LCDC collection, created in collaboration with the designer Luca Nichetto.