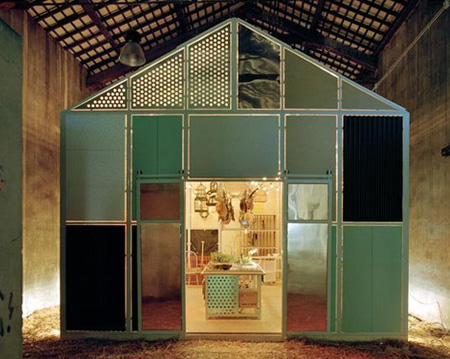 Kuchar Swara looks to the work of German designer Mike Meiré and asks if postmodernism is really modernism repackaged?
Was there ever a postmodernism? The question came to mind after a talk in London by German designer Mike Meiré for the Editorial Design Organisation (EDO). Mike spearheaded the 'New Ugly' graphic design movement in 2007 through his work on cult magazine 032c. Radically doing away with established typographic language, 'New Ugly' is widely regarded as a postmodern movement.
Many of the projects Mike showed at EDO were not editorial but a combination of installations, structures, images as well as magazines.One of my favourite projects was The Farm, a functioning kitchen-cum-barn, complete with animals for luxury kitchen manufacturer Dornbracht – part of a cultural initiative of theirs, which Mike helped set up back in 1997.
Another project was his work for Russian art/fashion magazine Garage, where the type setting was an amalgamation of letters from the 'coolest' sans serif typefaces. Rather than setting articles in one font, Mike used many letters from well-known grotesk fonts to form the words on page – a true piece of graphic humour.
The theme that held the work together was Mike's obvious interest in questioning the role of the designer and, more interestingly, the tools at his or her disposal. By re-examining the use of the tools with which he creates, Mike is not simply disregarding 'established' norms for the sake of it, but instead offering a unique voice to his clients through new techniques, tools and production.
How much of this philosophy is postmodernist thinking? Isn't postmodernism just a way of repackaging what is essentially modernism's key trait of re-examination?