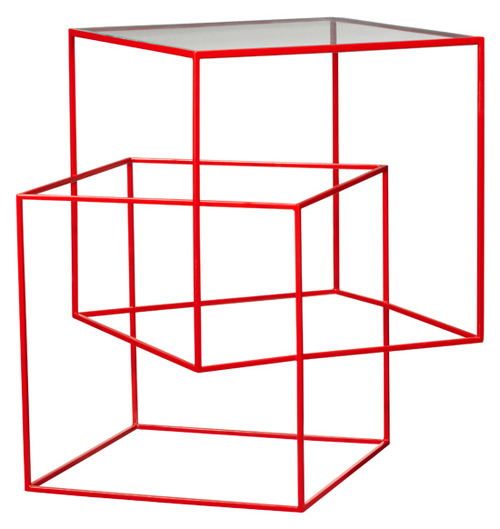 Day eight of our daily LDF12 sees Nendo's modern classic get a make-over
The new limited edition Red Collection version of Cappellini's Thin Black Side Table by Nendo emphasises the impact of simplicity in design.
Created exclusively in the UK with the permission of the Italian company, the table is an exercise in geometry created by the two intersecting cubes. Playing slightly with the profile supports and the transparency of the glass, the effect is simultaneously simple and elegant.
It's almost impossible that you won't bump into Nendo's designs during the Design Festival. The acclaimed Japanese studio was hailed by Ben Evans, Director of the LDF as been the rising star of design.
Their mission statement is simple: they're dedicated to "giving people a small '!' moment. But we believe these small '!' moments are what make our days so interesting, so rich". This phrase, from the concept statement of Nendo, carries the same feeling as the Mimicry Chairs they designed, on display in the V&A Museum. The installation shows, once more, how the clean lines of his furniture have become art work within the 'Turner' and the 'Tapestry' rooms of the gallery.
The Red Collection is at the Conran Shop, celebrating 25 years in the Michelin Building at 81 Fulham Road. The V&A installations both run until the 23 of September