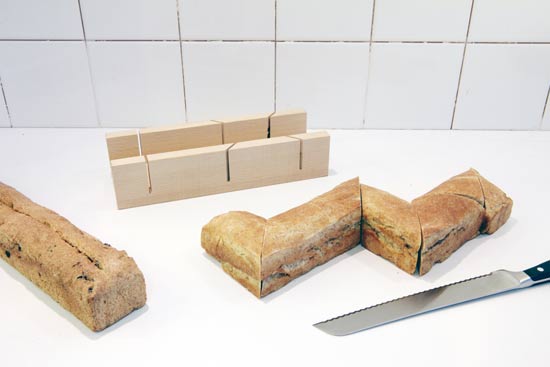 Day seven of our daily LDF12 focuses on how function can facilitate sharing Mr Mitre by Philippe Malouin is a bread mould and beechwood mitre box. The box is designed to accomodate the knife in 45 and 90 degrees cuts. The idea is to create an every day object that promotes the concept of sharing food and ideas, where the design is not just an object but also an expression of experimentation. The object perfectly responds to the idea promoted by DesignMarketto and Haptic Thought in the exhibition Kopiaste.
Philippe Malouin is a young London based designer from Canada. In his short career he has already shown works in Paris and Milan.
DesignMarketo is a new platform for emerging designers to promote new and innovative project trough events, workshop and exhibitions.
Haptic Thought is a design and curating practice based in Hackney, London Kopiaste runs until the 23 September in 4 Cromwell Place into the events organized in the Brompton Design District that celebrate is 5th year as new venue of the Festival]