Day five of our daily coverage of London Design Festival 2012 features the work of English designers Edward Barber and Jay Osgerby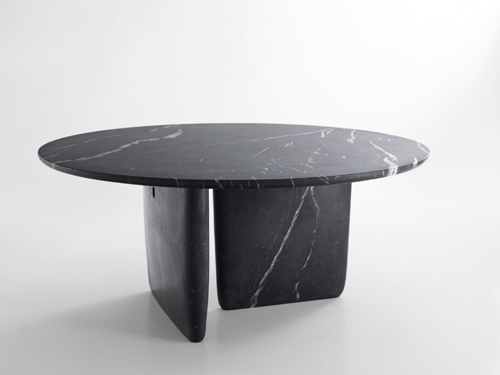 After the success of the Olympics here in London, torch designers Edward Barber and Jay Osgerby have turned their eyes eastward for the idea behind their new table. Meaning "flying stones", the new Tobi-Ishi table designed for B&B Italia takes inspiration from the ornamental stones of the Japanese garden. Composed of three elements, the original version used Baydur (structural polyurethane foam) for the base with a wooden top to give it an elegant, crafted feel.
This new, exclusive version launched for LDF12 is created using Marquina marble (black, with white veins running through it), to draw even more attention to the craft and details used to manufacture it, a theme central to the festival itself.
Barber Osgerby are also showing the new Carrara (white) marble bench for Established & Sons in the garden of the V&A.
Read our interview with Edward and Jay about British design and the Olympic torch.
The new line of furniture is on show until 23 September at B&B Italia Store, 250 Brompton Road