With the 23rd Interieur Biennale underway in Kortjik, Belgium Betty Wood speaks with curator and president Lowie Vermeersch about its new direction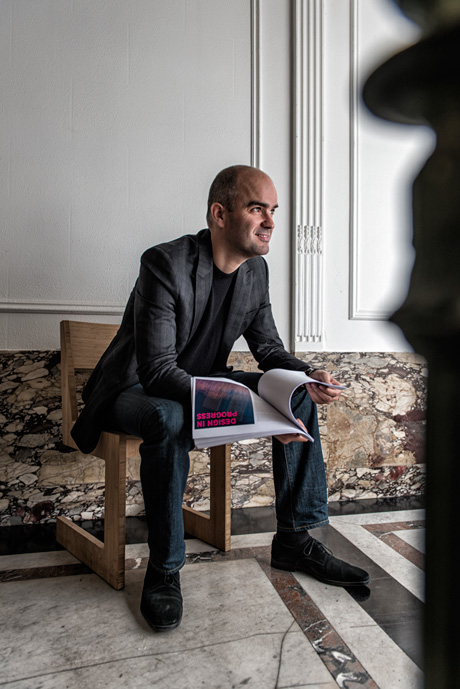 Lowie Vermeersch, president of the Interieur Foundation and curator of the 23rd Interieur Biennale. Photograph Wim Van Eesbeek
Walking through the halls of the 23rd Interieur Expo in Kortjik, it's clear there's a real sense of energy and excitement coursing through this year's biennale. This is due in no small part to Lowie Vermeersch, the esteemed automotive designer and curator of this year's Biennale.
Lowie's attachment to the festival — and the town of Kortjik — runs deep: the grandson of post-war Flemish sculptor Jose Vermeersch, Lowie was born in Kortjik in 1974. Like his grandfather, he's enjoyed incredible success in his field: aged just 33, he was appointed Design Director at Pininfarina and is now Creative Director of GranStudio and president of the Interieur Foundation.
Interieur has longstanding significance on the design festival calendar. Established in 1968 as the first International European Biennale, the exposition's prominence has diminished over recent years in an oversaturated design festival circuit. This year's Interieur marks a bold departure for the veteran festival, which sees it redress its focus on innovation and creativity.
Gone is prescribed 'guest of honour' spot, which has seen figures such as Gio Ponti, Jasper Morrison, Philip Rosenthal, and Dieter Rams take centre stage.
In its place are seven new Project Rooms, commissioned to tackle the central theme of Future Primatives. Internationally celebrated designers Ross Lovegrove, Nendo, Troika, Makkink & Bey, David Bowen, Greg Lynn and Muller Van Severen have all tackled the theme, exploring what our future living might be like, along side more than 300 hand-selected exhibitors from around the world.
Betty Wood: How were you first approached to curate the Biennale?
Lowie Vermeersch: two steps: first, when the Interieur Foundation realised they wanted to change things started with the board of directors, and I was one of the new members brought in. It's a large board, more advisory. A small team of us was asked to lay out a new strategy, and I was part of that team — quite a few of my ideas formed that strategy, and my curator naturally formed from that. They liked the new direction and asked me to act as curator.
This was the summer before last, and it was a strange combination being both president and curator. I think they gave me that freedom because the Foundation realised that to make the change successful, they had to be thorough, but also structural. Creating the whole city programme was a structural change, not just a content change that maybe you would make as a curator.
"In 1976, a giant chair was erected on the Grote Markt. This year we're doing it again as a symbol of renewal and a link with the numerous events across the city. But it is also a monument that makes reference to the avant-garde roots of the Biennale Interieur" — Lowie Vermeersch
Right: Stoel on the Grote Markt in the centre of Kortjik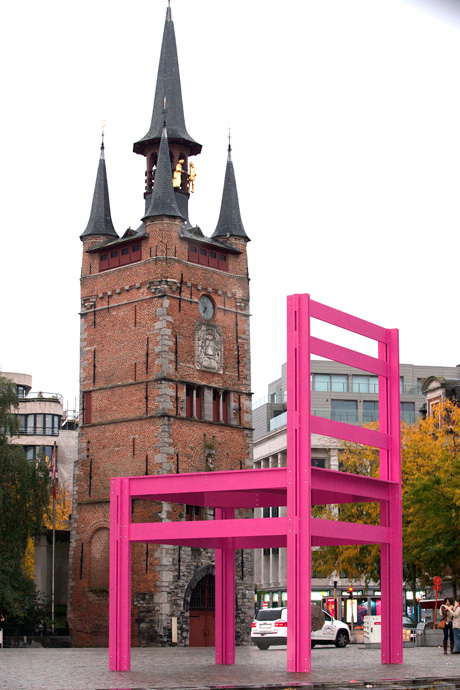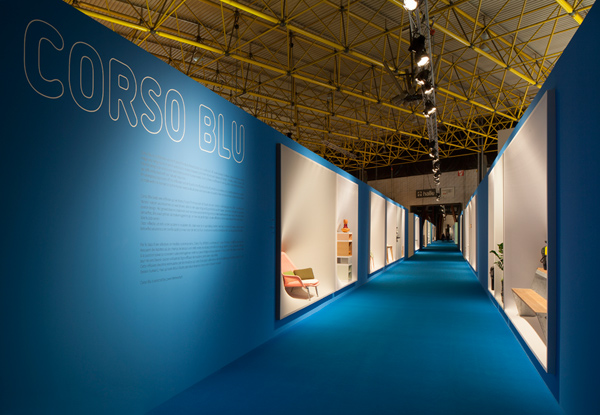 Above top: Corso blu or Blue Corridor exhibition. Photograph Frederik Vercruysse
Right: The Audi shuttle system connects the Expo fairground site with the Buda Island campus, another innovation brought in this year
Betty: The introduction of the seven Future Primative Project Rooms, and the fact that you've moved the Expo into the city is a real departure from previous years. Can you tell me about those changes?
Lowie: Traditionally the Biennale has one guest of honour, and it is the curator's task to choose his guests of honour. This year I went one step further, changing the programme by inviting seven guests, not just one. We thought that the tradition of one guest of honour was not in symbiosis with the times we are living in.
It's no longer about one trend, or one vision: interesting things happen, when you can confront different things, different visions and maybe out of that define your own vision. This is possible when you invite seven guests, not just one.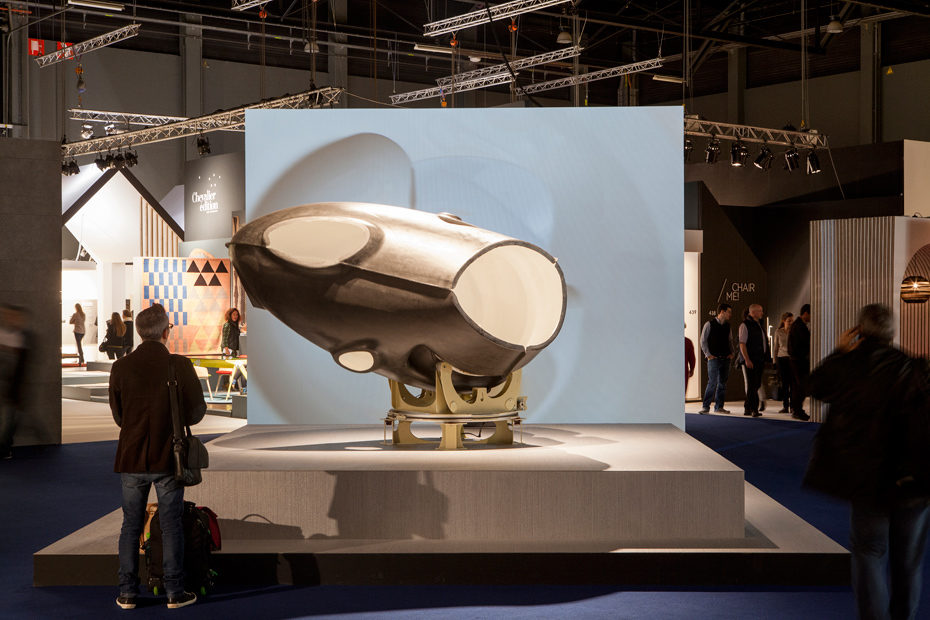 Betty: How has your background in automotives, first as a designer and Design Director at Pininfarina and also as Creative Director of Granstudio helped you in your role as curator?
Lowie: As a car designer, you are used to working in a very protected environment. Literally, people are not allowed to walk into the studios. You're also working toward a single physical result, one object. It's clearly different here: it's much more open, things are on display, and you're making a multitude of things.
But there are some similarities. Although not just one object, like cars, it's a very complex and creative project where a lot of layers and inputs have to work together. It becomes one thing. In that, I felt my experience as a designer with a background in dealing with visual organisation and complexity — leading that to one point where you can share the result with the public — that was similar in curating Interieur, and it also made me feel comfortable in doing it.
Betty: You seem to have really enjoyed it as well.
Lowie: I did enjoy it. I'm a car designer, but car design is an expression of my true passion, which is how does complexity create very clear almost intuitive entities that speak to people. You can apply that both to designing a car and curating an event like this. I did this with passion.
I really wanted this Biennale to focus more on showing the new up coming brands, new companies and editors. Interieur doesn't have to be an event where you show all the things that people know already — I think it should be somewhere you can really discover things, so the focus was more on selecting newer companies and fewer known companies so that people can really discover.
Above: Vehicle Project Room by Greg Lynn
Photograph Frederik Vercruysse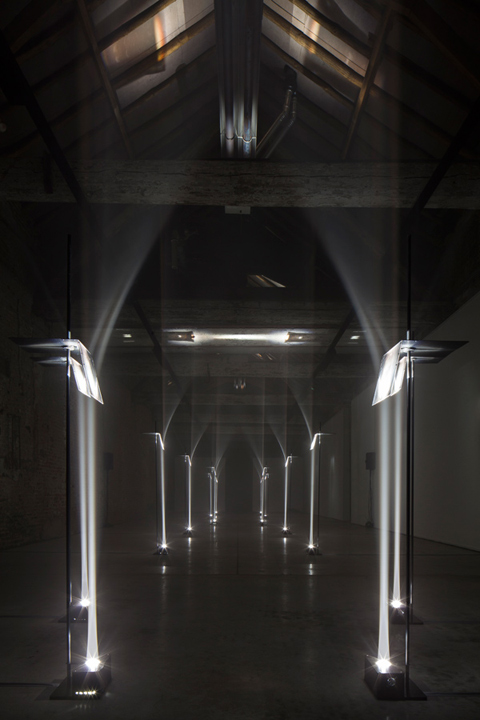 Above: Troika Project Room entitled Arcades. Photograph Frederik Vercruysse
Betty: Where do you see the Biennale in ten years time?
Lowie: I hope the Biennale can stay as compact as it is now, in terms of dimension and our selection of quality. I hope that in ten years Biennale is one of the few design events among all the others that you cannot miss, because that's where you see the relevant things.
Betty: How do you think that the current economic situation in Europe is affecting design? Is it forcing us to be more innovative?
Lowie: The positive effect of crisis is that you need to respond with quality. Those that really have quality and something to say to people, they don't suffer the crisis, they improve. People react to prices and don't want to throw their money anymore; they focus more on buying a really good piece, instead of just consuming.
I think design and productivity is really part of the solution to the economic crisis, because this crisis is about things that we used to do in the past that don't work anymore. We have to invent new ways of doing things, and design and creative thinking should be one of the principal tools.
Read more on the 23rd international Interieur Biennale, which runs until 28 October in Kortjik, Belgium