Bizarre yet logical – Dominic Wilcox talks to Port about his GPS brogues, published sketches, and how sitting in the bath results in his best ideas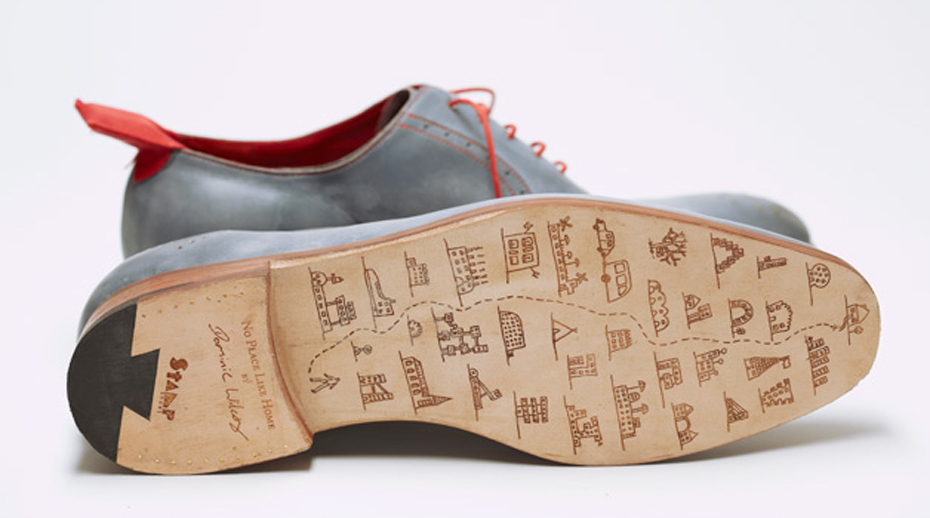 Before meeting Dominic Wilcox, and looking over his work assortment, I was slightly confused. It's a strange collection. A pair of GPS brogues; a 10" vinyl called Sounds of Making in East London; a bowl made of melted plastic war figurines; Britain-inspired nibbled Jaffa Cakes; a field of green shoe laces, to name a few.
So when we sat down for a pot of tea in Hackney's Corner Café, I couldn't help but first ask: "What is it you do?" Exasperated by this question, Wilcox laughs and buries his face in his hands. "I've always hated expectations, I'm just normal. But if I had to title myself I would say I'm an artist/designer/thinker." If describing his work, one might
liken it to a feather that tickles your skin, making you laugh and eventually snort. He likes his work to have a light touch – no concept too heavy, but fluid, direct, and witty. His book, Variations on Normal, is exactly this.
Made up of over one hundreds sketches, Wilcox has a mind for odd, yet logical, inventions: a machine to strengthen weak handshakes, angled-shoes to help you walk uphill, a screw-in coffin, a Ring Tone Detecting Blaster, an all-in-one Family Poncho, I could go on. With accumulating sketches hidden away, Wilcox recalls sitting in his apartment in Kreuzberg, Berlin – a brief residency – thinking to himself, "I should put them in a book."
"He likes his work to have a light touch…fluid, direct and witty"
Wilcox bounces whimsically between explaining his life's chronology and describing his projects – his mind never resting for too long on one idea. "My best ideas are when I'm in the bath", he says. It's here that he asks himself questions like: "Why do we only put light bulbs in lamps?" and, "How can I use my phone with wet fingers?" (Both resulted in constructed designs).
One of his most recent projects are his No Place Like Home brogues. When asked to collaborate with a traditional cobbler in Northamptonshire, Wilcox had one of his bathtub epiphanies: "Wouldn't it be great if you had shoes that guided you home?"
By connecting the brogues to your computer, uploading your destination, and clicking your heels, inspired by Dorothy's ruby slippers in The Wizard of Oz, the fully functioning prototype brogues will guide you home. By utilizing the traditional brogue perforations, Wilcox devised a light system whereby the left shoe indicates the direction, and the right shoe denotes how close you are.
It's an extensive portfolio of work, but Wilcox admits without inhibition, "The only way to do good things is to half kill yourself."
Variations on Normalis available to purchase now at variationsonnormal.com