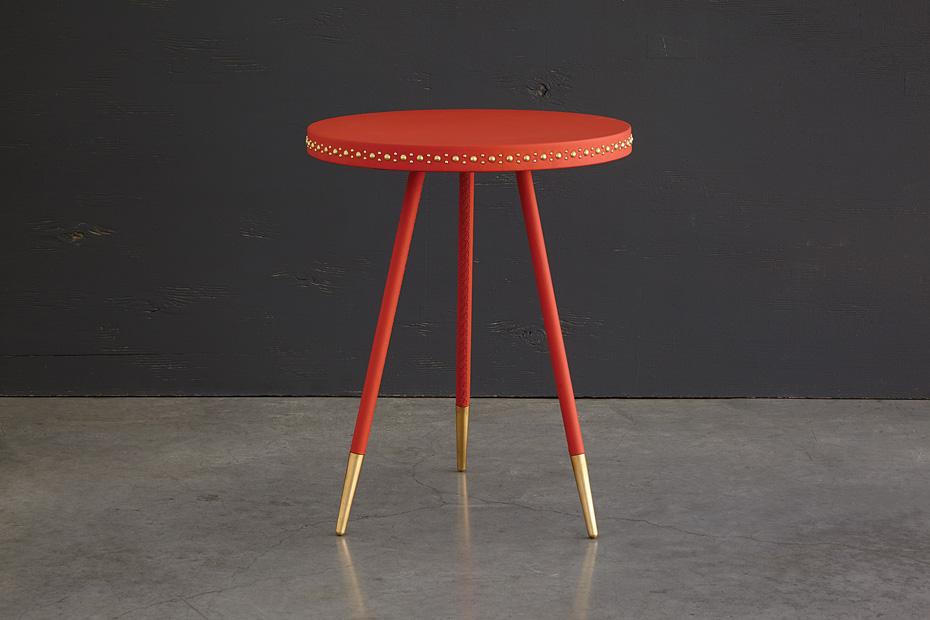 We're barely into February, but already 2014 is proving to be an exceptional year for the Welsh designer. We talk about her new range of products and find out what the future holds for her accessories range…
2013 was an exceptionally busy one for Bethan Gray: named 'Best British Designer' in the Elle Decorations Awards in November, she gained further international accolades for her Wallpaper* Handmade accessories collection Alice, and launched a new collection for US home retailer Crate & Barrel. 2014 has continued in the same vein, with her return to Paris for Maison et Objet and the launch of a troika of products: the preview of her Stud occasional tables, the debut of the Alice marble tableware collection and the launch of her sculptural, solid walnut G&T Turn occasional tables.
Betty Wood spoke to Bethan about the new collections, how her national identity informs her aesthetic and what we can expect from her bustling studio going forward…
Above: the Stud occasional table, combines the warm grain of Spinneybeck aniline leather with hand-applied brass studding and precision-machined brass table-leg anklets
The Stud table shows how artisanal craftsmanship can really bridge traditional and modern aesthetics. It's quite a modernist idea bringing these different crafts together under one arc so to speak; was it a conscious decision to explore modernist practices?
Bethan: Maybe subconsciously. I've grown up in a time where we take a lot of modernist approaches for granted. I'm very passionate about how things are made: when I design something, I don't always know how it will end-up being made, but I'll be considering it very early on. I'll talk to craftspeople to work out how it could be made, to a fantastic quality. We experiment a lot to get to such a level.
I like to push the boundaries and do things that seem difficult. There's usually quite a lot of skill involved in making them, which is great – I really enjoy working with people who have these incredible artisanal skills.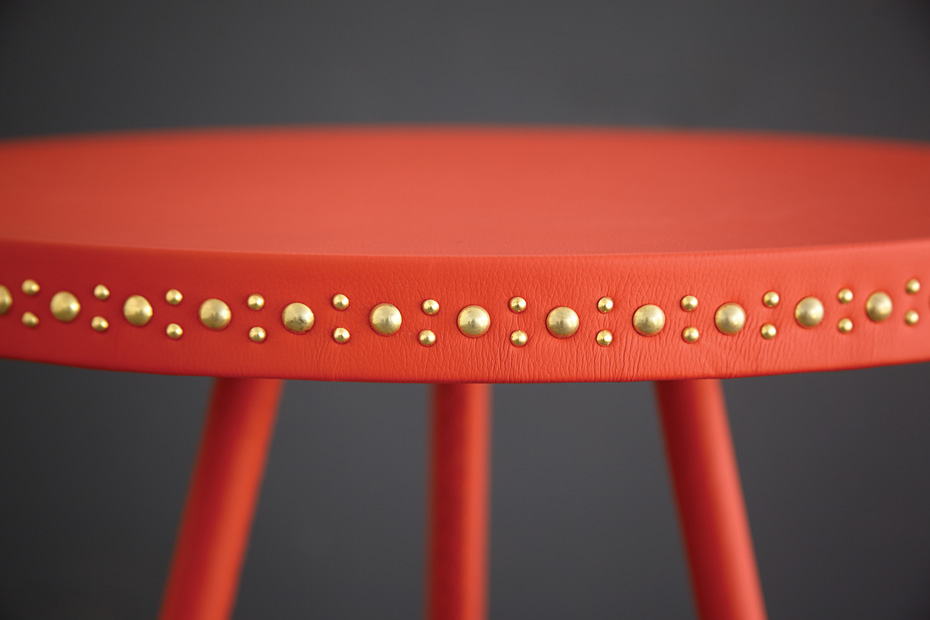 How does your Welshness inform your design aesthetic, and how could we use it to examine the concerns of your design portfolio?
Bethan: I was brought up in Wales – where my grandfather was a forester. As a result there were always lots of pieces of wood lying about, and both he and my father would make things for me out of that wood. As a result I've always had that love of natural materials.
Another thing, which didn't necessarily influence me when I was young, as I only recently found out, was that my great-grandmother was a cabinet maker, which was a really unusual profession for a woman at the time. We've had a traditional corner cupboard in the family that my mother actually handed down to me as wedding gift, we've always known it was made by someone in the family, but we looked into it a bit deeper we realised it was actually my great-great grandmother who made it. Maybe it's in the blood! On the aesthetic side, with ranges such as Brogue and Stud range, the starting point for the three legged side table versions, was the traditional crooked table you find in Wales. It's a three-legged table, and the reason they made them with three legs was because most people had slate flooring, which is uneven. It's easier to balance three legs than four. Because there were so many of them around, I grew up seeing these lovely tables and I wanted to create a contemporary version.
What about the design of the Stud table?
Bethan: The studding is an Arabic design. You see these patterned doors all over the world, but you get a lot of antique ones that are Arabic. I saw a chest recently in Christie's, with similar studding work, and as I've always loved them, I wanted to use that detail in a pared down simplified way.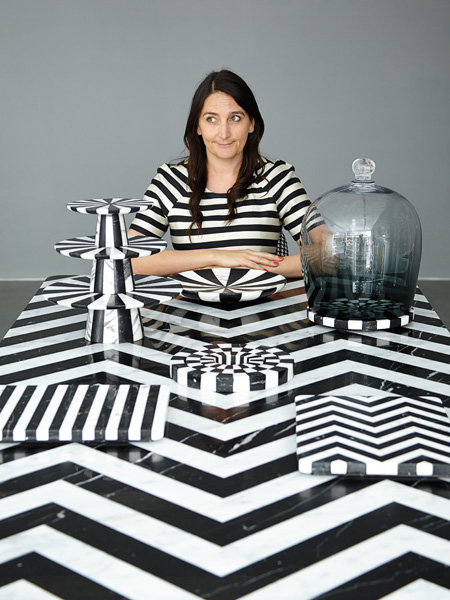 Above: Bethan pictured with her Herringbone tableware from the 'Alice' Collection
In terms of reference, what's interesting you right now?
Bethan: I'm really exploring geometric patterns. Perhaps all the patterns I have worked with over the years have been geometric and graphic, but I'm really enjoying deepening my use of them. The actual use is one of those things where it depends on the project – the churches for instance: I've loved those churches for years, but it was only last year I had the opportunity to use that pattern. I've got lots of photographs from my travels – when you're more relaxed, you're more inspired. In a similar way you get your ideas in the shower, not when you're thinking, 'I've got to have an idea now…'
The brogue motif, I've used in quite a few things and studding will be used in a few designs I have coming up. Motifs I use will travel across other products as well.
Is there a certain material you're particularly enjoying working with right now? What is it about the material that's holding your interest, and challenging you?
Bethan: I love working with solid wood, stone, leather and combining them. I don't do any work with plastic – it just doesn't appeal to me, whereas natural material, that does. The Brogue table is made from two types of leather. The part that's brogue is made with a thick belting leather, and the other parts are made with upholstery leather, it's nice to be able to experiment with different types of leather, and then combine them.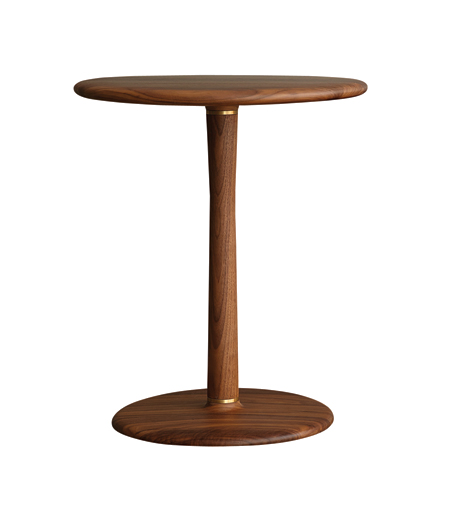 Above: G&T Turn is made from solid walnut with solid brass connections
You've made a move into accessories: what challenges did developing an accessories collection throw up in comparison to furniture design?
Bethan: It was very exciting working on it because I hadn't worked on accessories before. The project was for Wallpaper* Handmade exhibition in Milan: I'm known for furniture, so we thought we'd do some alternative pieces. The inspiration came from the floors of Italian churches that are made of black and white stone. There are some incredible churches out there, and I wanted to re-create that graphic nature on a small scale.
But they were very difficult to make! I don't know if I'd have started with something that was so hard if it wasn't for an exhibition. It needed that challenge, to start a project from a different viewpoint.
What made them so difficult to make?
Bethan: You're bonding two types of marble together, and they needed a substrate underneath to support them. There were a lot easier things to start with, but they look great (once we got there), and simple, which is exactly what I like in a graphic way…
Accessories appeal to a different market, don't they?
Bethan: Yeah, I think they can be more fun. You can be more experimental. My range of occasional tables for G&T are quite brightly coloured – for furniture. You can get away with it for occasional, people buy into it, but on bigger pieces, it's quite challenging for people to buy things that are more experimental, so it's been great fun to be able to do that with these accessories – trying things that are more 'out-there'.
What are you looking at developing going forward?
Bethan: Certainly lighting, and we're also looking at accessories at the very high end with semi-precious stones, and also for our partners at Crate & Barrel in the US, which is one of our largest collaborations.
"When you're more relaxed, you're more inspired. You get your ideas in the shower, not when you're thinking, 'I've got to have an idea now…'"