The best cars enliven the senses with a hedonistic mix of adrenaline and desire. Classic Car Club cofounder (try saying that after a gin) Nigel Case picks a few of his favourites, showing the way we think about the automobile is emotional as much as it is mechanical.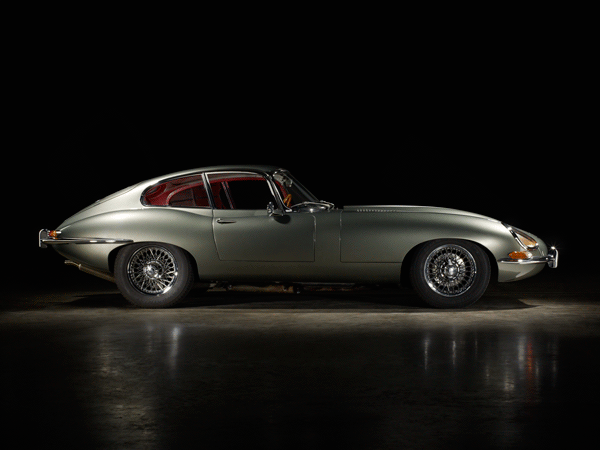 1963 Jaguar E-Type 3.8 FHC Series 1
The E-Type Jaguar is a perfect example of function meeting form. That incredible bodywork was built to do one thing: enable the car to go very fast! It just so happens that it also looks achingly beautiful; so much so that, after its release, Enzo Ferrari called it the most beautiful car ever made – high praise indeed.
Not only was it beautiful, powerful and incredibly fast, it was also comparatively cheap. The equivalent Ferrari of the day was not only three-times more expensive but it was also slower.
The Series 1, with its covered-in headlights and unadulterated lines (the later series became bloated and adorned with unnecessary chrome detailing) is the most desirable and expensive of the models.
It is an incredible machine to drive, quite unlike most modern cars. You feel directly connected to the mechanics of what is going on. And the view! Sitting in the low-slung driver's seat looking out over that vast bonnet pointing to the horizon – it's motoring nirvana.
Deep pockets and a lot of patience are needed if you fancy running any E-Type. The 5.3 litre V12 S3 
is probably the easiest but the jewel in the crown is definitely the Series 1. We have two E-Types in the club, the one pictured and an early S2. The Series 1 is without a doubt one of our most popular cars.
Engine 3.8 litre – straight 6
Power 265 bhp / 260 lbft
0-60 7.1 seconds
Top Speed 149 mph
Transmission Manual 4 speed
Seats 2
Designer Malcom Sayer (aerodynamicist) / William Lyons (stylist)
Value £30-150k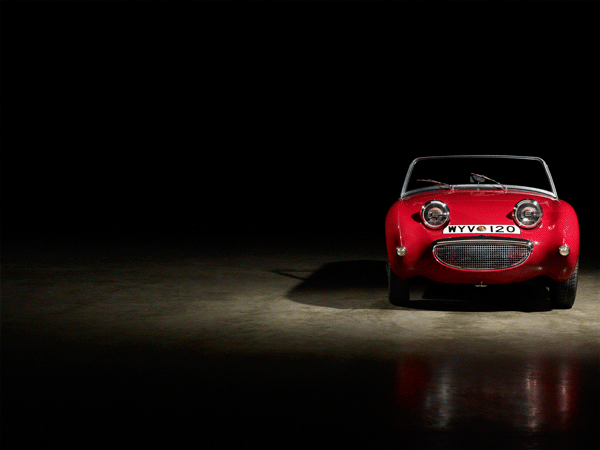 1959 Austin Healey Frogeye Sprite
This is a classic British sports car, with humble underpinnings wrapped in an exciting and elegant body. Despite borrowing an engine and other components from other cars, the Frogeye has real sporting aspirations, providing seat-of-the-pants driving thrills. The stripped-down racer was also attractively priced, costing half as much as its German rival, the VW Karmann Ghia.
Originally, the car was designed with pop-up headlights, but budget constraints meant the headlights were mounted in pods on the front of the bonnet instead. This turned out to be a marketing coup as the public fell in love with its cheeky looks.
When it comes to accessories and comfort, this car is about as basic as it gets (it doesn't have a rear boot lid or external door handles), but for outright fun without scaring yourself half to death only the Fiat 500 comes close! Ease of maintenance and its size make the car a reasonably straightforward ownership proposition, but it is now fairly expensive and not that suitable for daily use – it should really be kept in a garage.
We've had a few Frogeyes over the years; the red one in the picture has just come on board and is being fettled ready for summer.
Engine 948cc – straight 4
Power 43bhp / 52lb ft
0-60 20 seconds
Top Speed 86mph
Transmission Manual 4 speed
Seats 2
Designer Donald Healey
Value £7-18k

The Jensen CV8 was the ultimate Grand Tourer (GT) of the 1960s. Combining a British body with a big-block Chrysler V8 engine, it was a true supercar of its day. Zero to 60 in under seven seconds is more than respectable today but was nothing short of sensational 50 years ago, especially in a car that could seat four people.
With a huge reserve of power and a three-speed automatic gearbox, the CV8 is a relaxed and civilised car that is equally at home cruising around town as it is hurtling down the motorway. The styling is undoubtedly controversial and divides opinions. The French notion of jolie laide (unconventionally attractive) probably sums it up best: let's face it, the French know a thing or two about looks.
Only 500 of these striking cars were made but, thanks to a fibreglass body, huge chassis and unstressed engine, a good percentage of them survive today. With large but basic engineering the CV8 is not as demanding as cars with more exotic components. However, the rarity of parts and voracious appetite for fuel means it is not an easy ownership proposition for everyday use.
Engine 6.3 litre V8
Power 330bhp / 425lb ft
0-60 6.7 seconds
Top Speed 136mph
Transmission 3 speed auto
Seats 4
Designer Jensen in-house by Eric Neale
Value £15-50k

1963 VW Karmann Ghia Coupe
In 1955 Volkswagen took its low cost, well engineered favourite, the Beetle, stripped off the bulbous bodywork and replaced it with a slick Italian suit. The result was the VW Karmann Ghia Coupe, a striking low-slung sports car with more than a whiff of the aeronautical about it.
In typically understated style, Volkswagen advertised the Karmann as "the world's slowest sports car", but this didn't deter the punters and it sold in huge numbers, especially in North America. A low seating position and lightweight body combine to make the car feel much faster than the modest figures would suggest. It is actually a similar driving experience to the early Porsche 356, with the same metallic air-cooled clatter from the rear-mounted engine.
The low roofline dictates that the rear seats are only suitable for short trips. The rear bench does, however, fold down to give some useful additional luggage space.
We currently have two on the fleet, the red and white one seen here and a later version in silver. The cars are also available as convertibles.
They are still pretty cheap to buy and quite easy to look after, thanks to good availability of parts. The pick of the bunch for us is the early Coupe – it just looks so damn good and it is a delight to drive. It can get a bit chilly in winter though: the heating systems on old air-cooled cars aren't the best, so wrap up warm.
Engine 1,192cc flat 4 air-cooled
Power 30bhp / 54lb ft
0-60 26 seconds
Top Speed 77mph
Transmission Manual 4 speed
Seats 2 + 2
Designer Luigi Segre (Ghia)
Value £4-12k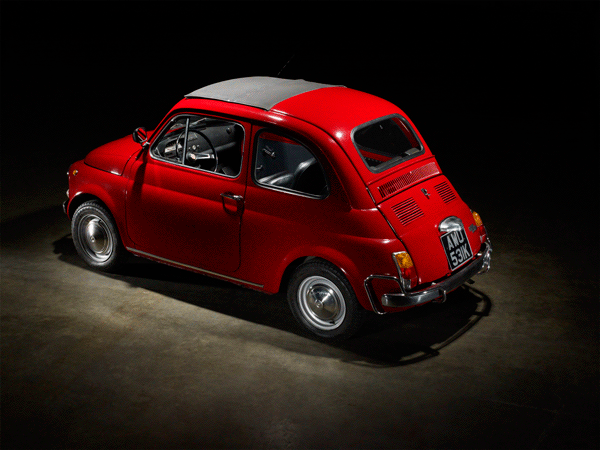 1971 Fiat 500L Coupe (Cinquecento)
In town the Fiat 500 is nothing short of a sensation. Tiny on the outside and spacious on the inside, it is the perfect antidote to congested roads. Launched in 1957, it can lay claim to being one of the first city cars.
They are cheap and easy to maintain, and bags of fun providing your commute doesn't take you onto the motorway. The biggest and most costly issue to deal with is rust.
Fiats from the late 60s through to the late 70s suffered terribly with rust due to the use of cheap Russian steel. If your heart is set on one, try to find an example that is free from the dreaded tin worm – and keep it that way. 
Forget about all those macho performance stats: this car transcends all of that.
We defy you to drive one around town and not come back with a smile that looks as though you have a coat hanger wedged in your mouth. The lightweight, noisy, air-cooled engine and "crash" gearbox make the perfect recipe for stylish urban hooliganism.
We've had several of them over the years, from early models with forward-opening "suicide doors" to highly tuned Arbarth specials. The 500L (Lusso) pictured is a late model that combines great looks with improved drivability, comfort, and a brilliant fold-back roof. There is nothing better on a hot summer night than hacking around town with the roof down, stopping at the occasional coffee shop or art house cinema.
Engine 499cc twin air-cooled
Power 18bhp
0-60 See top speed!
Top Speed 59 mph
Transmission Manual 4 speed
Seats 4
Designer Fiat in-house by Dante Giacosa
Value £5-15k
Words Nigel Case
Photography & animation Michael Bodiam
Styling Kuchar Swara
The Classic Car Club has branches in London (Hoxton) and New York (SoHo), providing members with access to a large fleet of classic and modern cars