Betty Wood picks out some of the highlights from this year's Biennale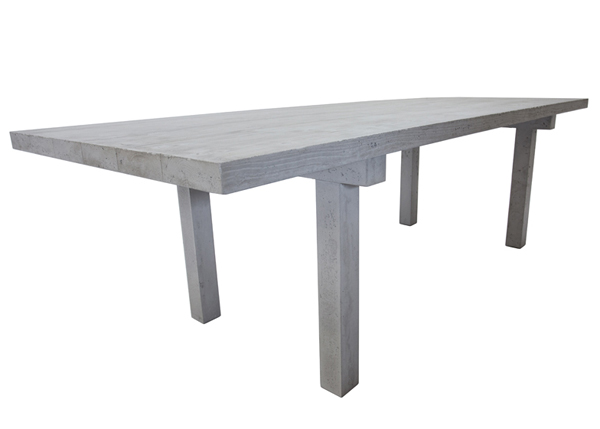 Matali Crasset's Concrete Collection explores how an industrial material can be used to produce a sympathetic range of everyday products, including furniture and lighting.The table in particular is impressive, replicating the grain of its wooden counterpart whilst innovating through its use of lightweight concrete (which is up to four times lighter than regular concrete). Grounded in extensive research, the concrete lamp she has designed for the collection is similarly intriguing; replicating the monolithic acoustic mirrors used during the interwar years used to detect potential airborne invasions, the lamp is made from ultra high-performance raw concrete.[/one_third]
Top: Concrete Table
Right: Concrete light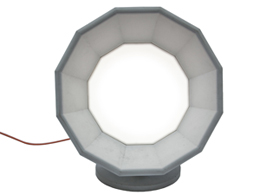 This 14 arch installation is UK design studio Troika's Project Room, and response to the Biennale theme of Future Primitives. Sebastian Noel explains, "the arches are made of light so they are completely immaterial: what we're doing is taking a beam of light — which is very straight — a lens. When it exits the lens, it gives the impression that the light is bent. This is an uncanny phenomenon, as from childhood we are told that light cannot bend. For us it's representative of the failure of a belief system, like science of religion, in explaining the wholeness of something, or providing an example or coherent system of understanding".Arcades is an almost mystical experience that draws upon our shared sensory understanding of the spiritual, the mystical and the scientific in order to challenge our intrinsic beliefs, and the rational of human logic in a way that tugs firmly at our inherent sense of wonder.
.
Image courtesy Frederik Vercruysse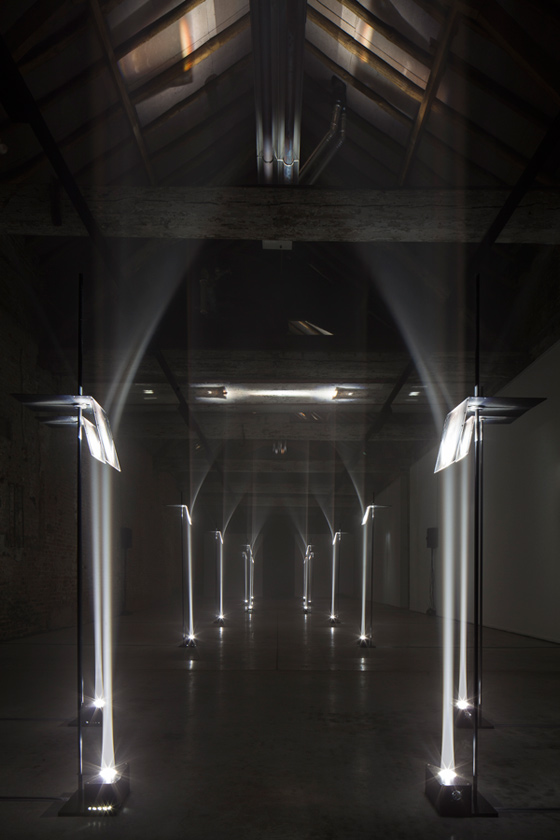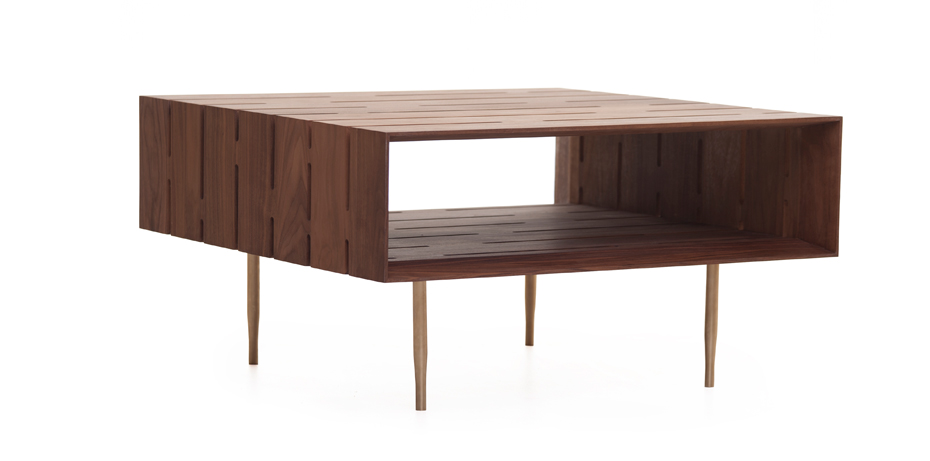 DE LA ESPADA COLLECTION
BY MATTHEW HILTON
delaespada.com
matthewhilton.com
—
What
Horizon Table
—
Where
UK/Portugal
British designer Matthew Hilton's new collection with Portugese manufacturers De La Espada was unveiled earlier this summer. The new range includes this beautiful American black walnut finished hardwood coffee table, Horizon. Made using CNC technology, the wood is punctuated with a series of slots which create intricate patterns of light on the underside of the table-top. Beautiful and solid, the table is the highlight of the collection, and is added testament to Hilton's reputation as one of the most innovative and intelligent contemporary British designers.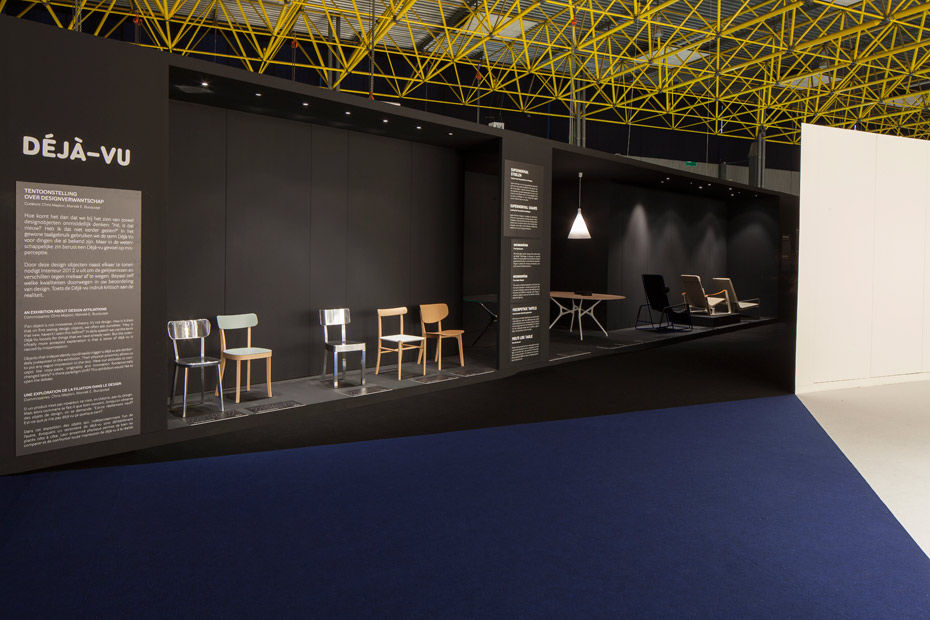 Curated by Chris Meplon, Rue Déjà Vu explores the phenomenon of déjà vu within design. Often when we're confronted with a design object, there's a lurking sense of the familiar at the back of our minds, as many design objects look increasingly alike. But is this a truth, or is it simply misconception? Bravely, this exhibition juxtaposes design objects that trigger this sense of deja vu, like the examples here. Simultaneously, the Capo and Pod chairs were being designed by separate studios back in 2011, unbeknownst to them, with both design teams examining the same agenda of privacy and longevity. Both studios arrived at (approximately) the same result — and documented the steps they each took before arriving at their final design. These illustrated examples of design development allow us to question the phenomenon of déjà vu, and challenge our preconceptions of originality and innovation.
RUE DÉJÀ VU
interieur.be
—
What
Exhibition curated by Chris Meplon
—
Where
Expo site, Hall 6
.
Above: Rue Déjà Vu exhibition, where — side by side — historic design pieces are placed side by side to explore how they continue to inspire, like for example the Thonet chair
.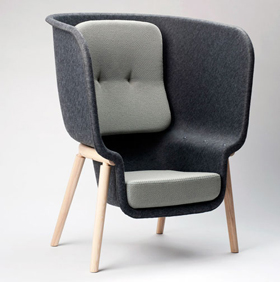 Pod (2011) By De Vorm, Designed by Benjamin Hubert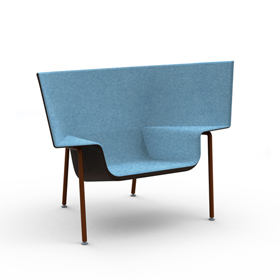 Capo (2011) by Cappellini, designed by Nipa Doshi & Jonathan Levien
Image courtesy
Frederik Vercruysse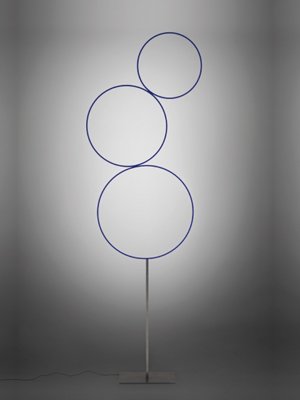 Winner of Wallpaper Magazine's Floor Lamp Award 2012, this floor lamp by Catellani & Smith is made with a durable, rough iron base and structure, and finished with three blue hand painted copper rings, designed to diffuse light softly.
Entitled Sorry Giotto — a nod to 14th century Italian painted Giotto di Bondone who infamously managed to draw the 'perfect circle' — the lamp is an elegant piece of light sculpture, and witness to the effectiveness of simple design.
Interieur Biennale 2012 ran 20-28 October. For more information visit interieur.be