Port and Levi's® Made & Crafted™ meet award-winning designers Matteo Fogale and Laetitia de Allegri to discover how they are using simple techniques and unearthing unique materials to shape the future of their industry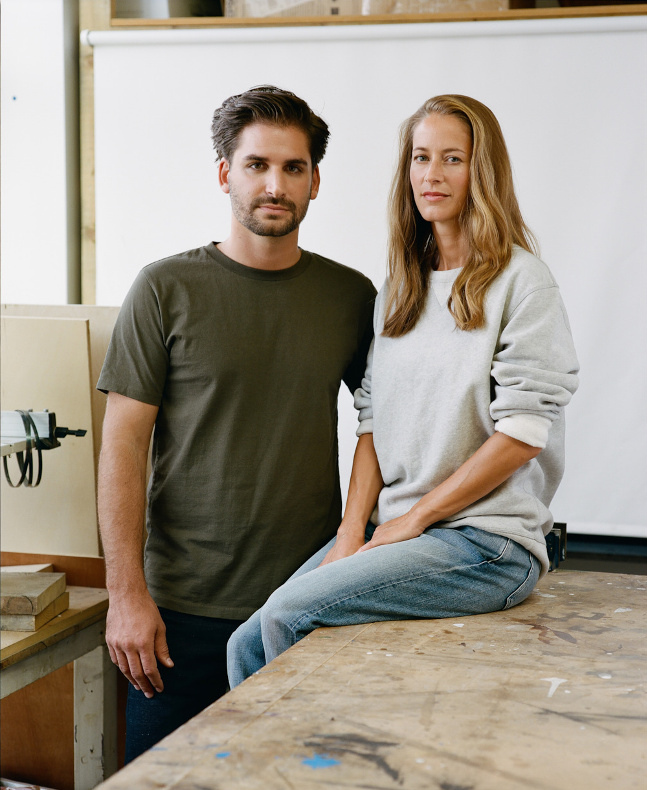 In a technology-obsessed age, where over-designed furniture and deconstructed food dishes snapped from above can command more online coverage and 'likes' on social media channels, how do modern-day creatives resist the lure to overcomplicate things, while still continuing to develop? To answer this, we meet award-winning design duo Matteo Fogale and Laetitia de Allegri, all styled in Levi's® Made & Crafted™. Like Fogale and de Allegri, Levi's® Made & Crafted™ – the contemporary, sophisticated collection within Levi's® – is creating tomorrow's classics by building on a successful reputation for quality product, using meticulously sourced materials (like Italian hand-waxed leathers and proprietary selvedges denim) and state-of-the-art production techniques. Here, we sit down with the design duo and delve into their approaches to innovation.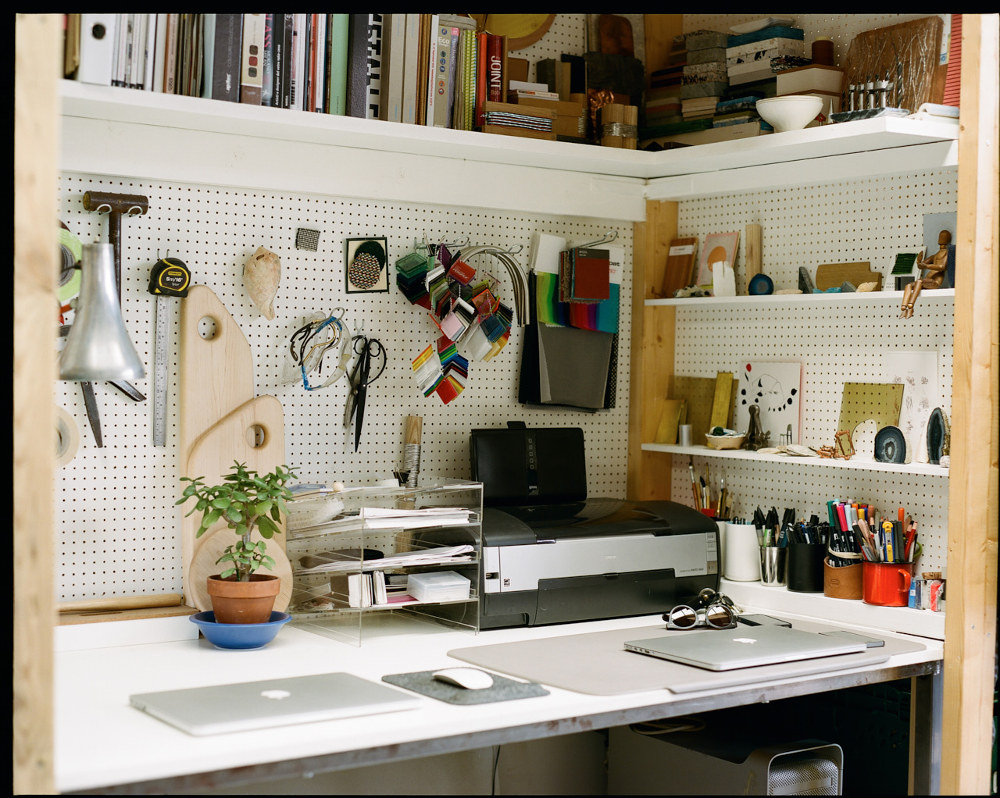 Uruguayan Matteo Fogale and Swiss-born Laetitia de Allegri met while working at Barber & Osgerby, the leading industrial design studio responsible for creating Vitra's Tip Ton chair (2011) and the London 2012 Olympic and Paralympic torches. It was here that they came to appreciate the "vision of making something that you really believe in", and learned some of the simple principles that helped lay the foundations for their own partnership, which began four years later.
"Barber & Osgerby have a really interesting approach to design where they don't sacrifice, or compromise too much what they want to do, they just stick to what they believe," Fogale tells me. "I think that's a really important lesson."
The pair's first breakthrough project, the -ISH collection (2014), saw them build a beautifully clean line of furniture and tableware using old denim, paper and cotton. As well as winning them recognition from the design community, it gave their practice a focus: recycled and repurposed materials.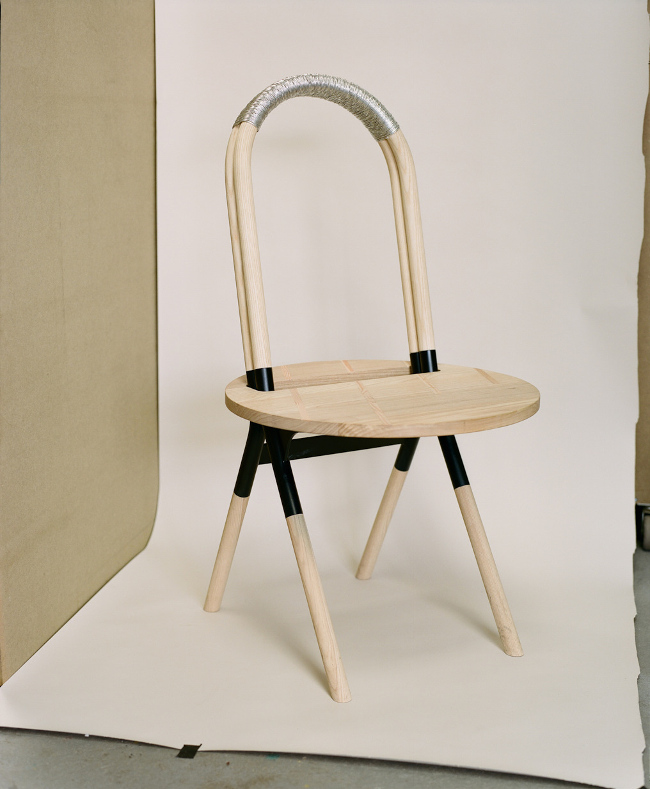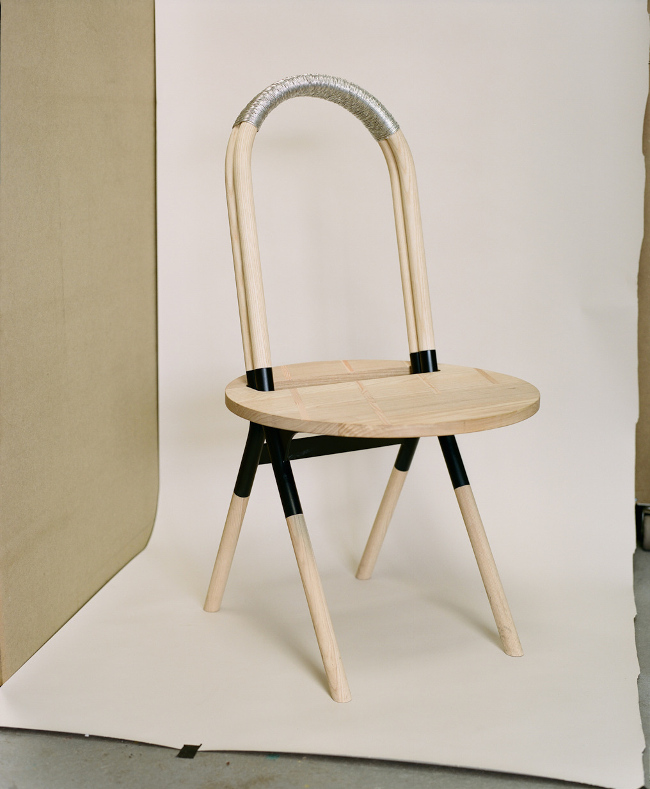 "The material we used for the collection was already on the market, but it was used in a very industrial sense," says de Allegri. "We brought it to life, and showed the beauty of the material through a different way of using it."
Now located in northeast London's Blackhorse Workshop, a creative hub for 'makers', located in a quiet backroad in Walthamstow, the duo spend hours poring over materials online and in sample libraries, digging through fabrics and compounds that could be given a new purpose. Rather than highlighting the fact that they're using sustainable material to produce furniture pieces, Fogale and de Allegri are advocates of an understated approach.
"We like that people might not really know that it is made from waste, I think it's interesting," Fogale says. " doesn't have to shout 'I'm recycled, I'm made out of discarded glass and wood'. The material could be as precious as any stone or metal, but then made in a sustainable way."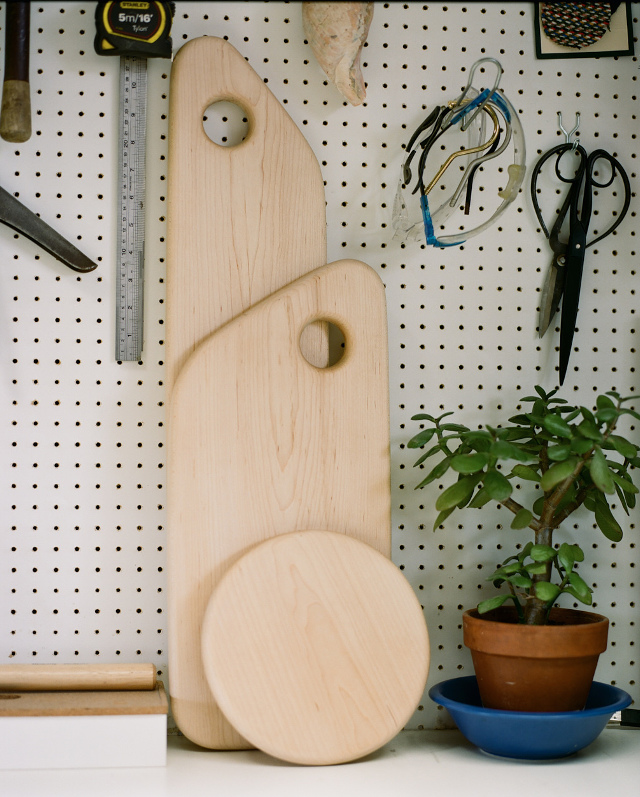 In the past, Fogale suggests, recycled material was often associated with 'cheapness' and bad quality, but that appears to be changing. Specialist manufacturers, such as London-based Smile Plastics, have been working with designers to release high-end recycled materials that look and feel organic – some are even designed to contain natural-looking blemishes). Fogale and de Allegri see this as an opportunity to push sustainable product design even further, while continuing to uphold their refined, minimalist aesthetic.
"Smile made this material out of recycled yogurt pots, by mixing the plastic and the aluminium foil of the pots, and they created this beautiful material which is very unique," Fogale says. "That's really interesting because it means you're not designing just a chair, or a piece of furniture – you can also choose how it looks by controlling the look of the material itself." "Each piece would be unique and you'd never have the same one twice," de Allegri adds.
Reworking existing materials may involve complex chemical reactions, but it provides a simple solution to the environmental question, while resulting in individually characterful products that break away from the hegemony of mass production. And because of online tools and a growing appetite for customisation, Fogale and de Allegri can now focus on making bespoke pieces based on customers' own desires.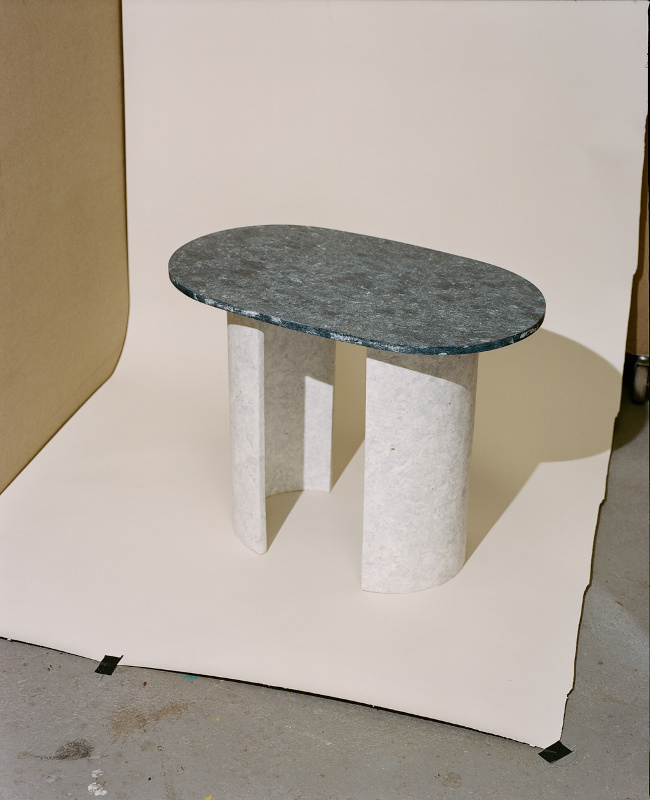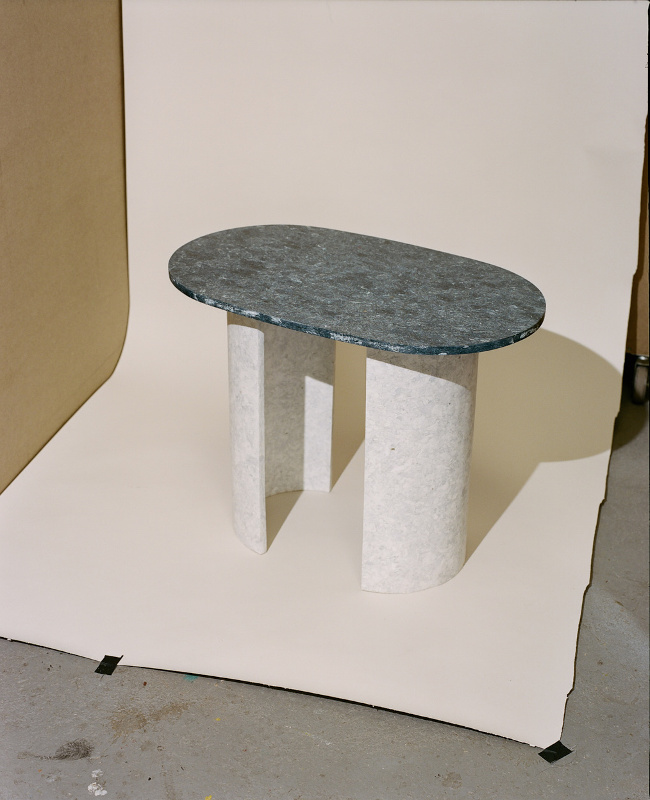 "People now want more customised products and things they can change, like the colour or the size," Fogale says. "This is where the digital world is really good – it's becoming really interesting because it's almost a tool in-between the buyer and the designer: you can produce basically on demand."
"However," Fogale continues, "at the same time you risk losing your identity as a designer as we choose the colour we want our product to be because we think it looks good or works better. How much you actually want to allow people to be a part of that is quite difficult."
Photography Pani Paul
Styling Scott Stephenson, Alex Petsetakis
Photography assistant Liberto Filo
Grooming Davide Barbieri at Carenusing Bumble and bumble