Eleonora Usseglio-Prinsi meets with Matteo Ragni to discuss his most recent commission, which re-imagines a Futurism design classic
This year, iconic Italian aperitivo – and essential ingredient of the Spritz cocktail – Camparisoda celebrates its 80th birthday. Italian designer Matteo Ragni was charged with the difficult task of redesigning Fortunato Depero's iconic Futurist 1932 packaging, following his involvement in Campari's commission for the Milan Fair earlier this year.
Eleonora Usseglio-Prinsi: How did you approach the task of redesigning such an iconic piece as the Camparisoda bottle?
Matteo Ragni: Working with an iconic as the bottle for Camparisoda has such a strong meaning for me – it was also a huge opportunity to "grow up", professionally .
Every designer on the planet dreams of designing an object with such a strong expressive power. From my point of view, a designer should work on continuing – not breaking – the values of a brand.
"Every designer on the planet dreams of designing an object with such a strong expressive power"
Ele: What is the idea behind your re-design?
Matteo: My approach has been really respectful of the product's DNA. To mark such a special occasion as its 80th anniversary, I wanted to "wear" this extraordinary piece [of design] with a ceremonial dress, leaving unchanged the 1932 shape. We created a new texture, composed a geometric pattern of circles and triangles, which brings out the brightness of the bottle's contents. The logo has been minimally reduced – what's communicated is the shape in this case – and we created a new one for the 80th anniversary.
Ele: You've already designed other pieces in collaboration with Campari such as the lamp Fortunata by Danese. What's your approach to designing not just one piece, but to collaboratively designing the image of an entire brand?
Matteo: Today, to design just objects is not enough any more. I guess that companies need to solidify their brand more through communication campaigns, which include products, packaging and interior design.
From this design aptitude – which consider the whole production process – is born a peculiar format bar, which represents an experience not just of consumption, but an opportunity to socialise – to give a sense of belonging and sharing.
We create stories instead of just projects translated in lamps, tables, seats, glasses… Nowadays Camparisoda represents a promise, an ideal partner to help everybody to valorise their own talent. It's not just about designing functional objects any more, but about creating a new approach to life through the experience [of use].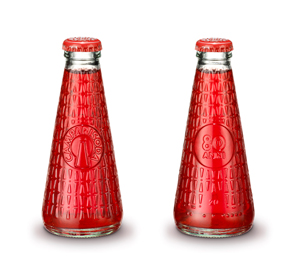 See more of Matteo's work here. Advertising images for Camparisoda courtesy of Campari