The British designer considers how the practical is always at the heart of his designs, from furniture to functional jewellery
From the window of the top-floor studio space in Brixton, rows of leaded Georgian rooftops stretch off into the distance punctuated by the occasional bird-like silhouette of a crane. Perched above the low-level buildings, the crane moves thundering steel girders into place in a series of slow sweeps, constructing the landscape below. Through the glass, it's a silent outlook that reflects the calmness inside the small room, fuzzy with warm spring morning light: welcome to Matthew Hilton's studio.
Hilton is, of course, one of the great names on the British design scene, responsible for such iconic pieces as the Balzac chair and the Flipper table, which are held in permanent collections by the likes of the V&A and Geffrye Museum. "It's flattering when that kind of things happens," he says of his inclusion, "but I don't know if that means that the design has longevity, or that it signifies a moment," Hilton comments, countering my suggestion that it means his work stands for a moment in design. "There are things that definitely signify a moment, but don't necessarily have longevity – they're part of the history, but whether they were successful designs is still a question".
Inarguably, his distinctive Balzac chair must be categorised as a success: designed in 1991, the Balzac is the best-selling SCP chair of all time, and was born from Hilton's unique understanding of how people interact with furniture and objects. Though the chair looks very different aesthetically from Hilton's more contemporary designs, it's his understanding of how an object functions and interacts with both its user and environment that runs thematically throughout his work.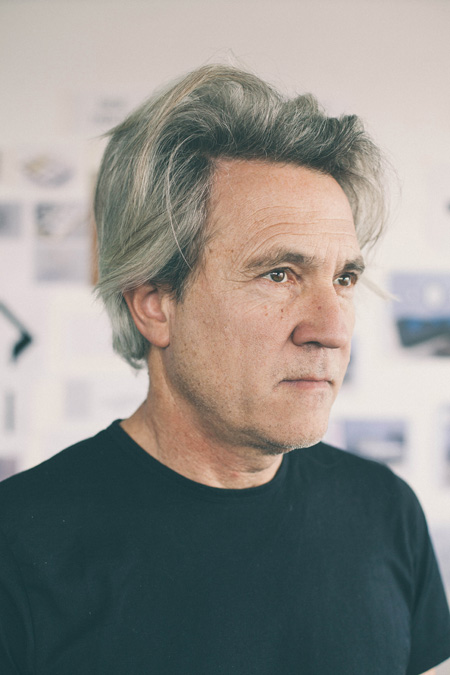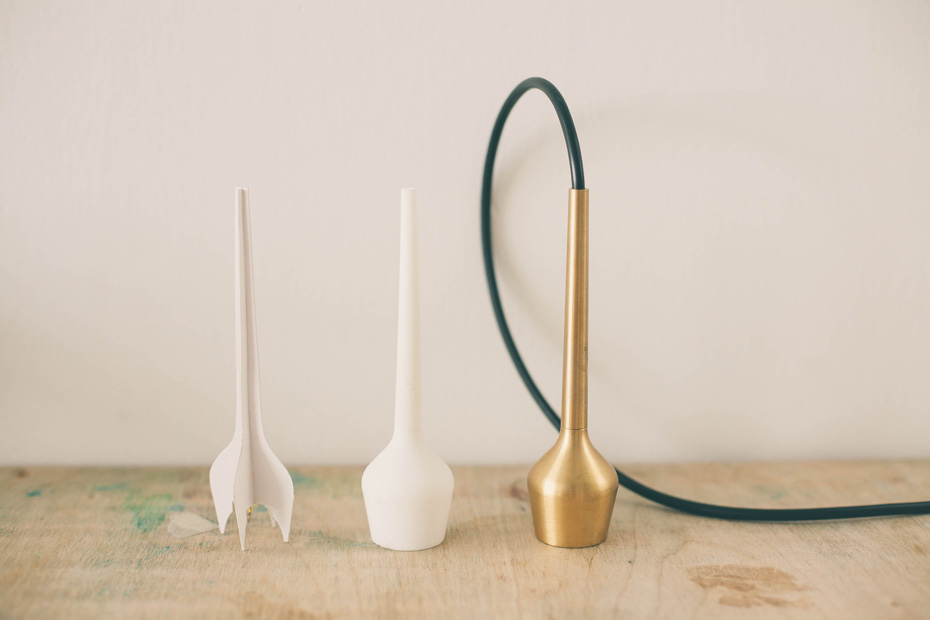 The idea of longevity is a central concern for the designer who tells me, "I try not to follow trends, or react to them." At the same time, Hilton possesses a keen understanding of taste: "You have to be aware of , and think about where things are going – but making furniture that has anything to do with fashion is not what I'm interested in. It's a dangerous thing to do, because people buy furniture to stick around, to live with. They don't want to change it very often, and I like objects that last well and improve as they get older. Trends and fashion are counter to that."
This idea of 'improving with age' is central to Hilton's work and right now he's enjoying working with natural materials and purified and manipulated metals. "I'm not keen on plastics at the moment" he explains, "maybe it's the environmental element, or the way they wear and age that isn't attractive." Likewise, his use of wood isn't based on romantic notions but instead is grounded in pragmatism: for seven years now, Hilton has been working with Portuguese manufacturers De La Espada.
After seeing prototypes of Matthew Hilton Limited's first furniture designs at 100% Design back in 2008, "they came on the stand and said they wanted to work with us – we worked out a deal and that's how it's worked ever since. They manufacture the designs in Portugal where they have a factory, and they distribute". It's a relationship that works well, and allows Hilton to retain the level of control he envisioned when establishing Matthew Hilton Limited in the first place.
Since then, Hilton's produced his arrestingly elegant Hepburn collection, McQueen and Horizon ranges for De La Espada – the latter of which includes a beautiful, slatted coffee table that plays with both light and proportion that is a personal favourite – as well as series of innovative dining chairs and accessories.
Hilton modestly refers to his design repertoire as "limited" when I ask whether he ever finds himself revisiting, or tinkering with older designs for inspiration: "I have a particular type of style" he says matter-of-factly, "which is often limiting. But I don't revisit a design apart from to make improvements in things you can't really see, like the manufacturing, or the packaging, or something like that". Waving his hand towards the window, he adds: "I'm often trying to resist drawing the same thing over and over again, because the things I'm attracted to and interested in have remained the same, for such a long time… I look at cranes a lot and bridges."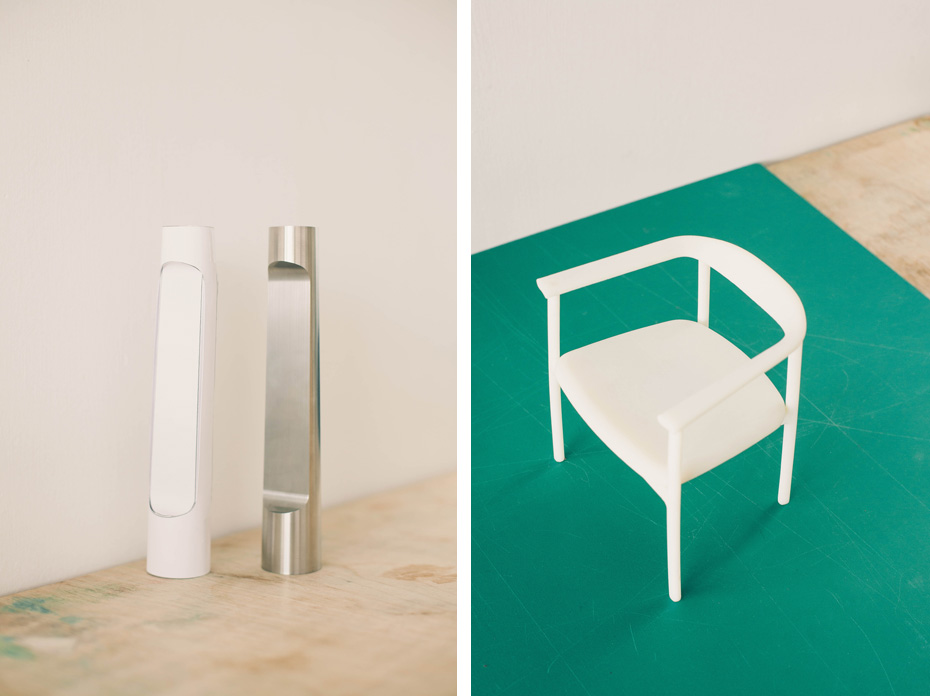 Do these forms inspire him, I ask? "They're part of the mix," he says thoughtfully, "but more importantly, it's good to have other people around, for fresh eyes. If I show Harry or David a drawing of a table I've drawn five or six times before, it doesn't spark much interest! They bring a new perspective".
Three employees strong, the pace of work in the Matthew Hilton studio is, compared to commercial design studios, refreshingly unhurried. "We'd be given a tenth of the time to work on something at Habitat," Hilton mediates, "but it could be anyone in that commercial environment – there's so much pressure, you haven't got enough time to explore properly". The studio is currently working on a range of a dozen products for 2015, and both the pace and the control of their development is something that Hilton relishes: "I'm ultimately responsible for everything; the challenges and rewards are greater in every way".
Still, with more than 30 years of experience under his belt, Hilton says he still finds himself learning something new every day, though, he reflects, "The biggest learning is learning about yourself, really. Your own restrictions; the box you work in; manufacturing – if you learn something fresh, and do something good with it, then it's rewarding. It's exciting. That's kind of why I do it really!"
Recent challenges for the studio included designing their first watch, which was something of a departure for Hilton: "It was a very interesting project. We had to learn everything ourselves. And though really they're just jewellery, there's a whole language around watches – most people have stopped wearing them now, because of phones." The challenge of creating a successful timepiece in Hilton's eyes goes beyond the functional: "You can climb mountains or go deep-sea diving, but we're really making a piece of jewellery. Watches are signifiers of success and status; what you're about; what you're interested in". Hilton expands on his interest in creating an object that, in many regards, has been made 'obsolete': "It's a connection with our heartbeat – that sounds a bit pretentious, and I don't mean it in that way, but it's the life that goes on inside a watch that's fascinating, particularly with mechanical watches."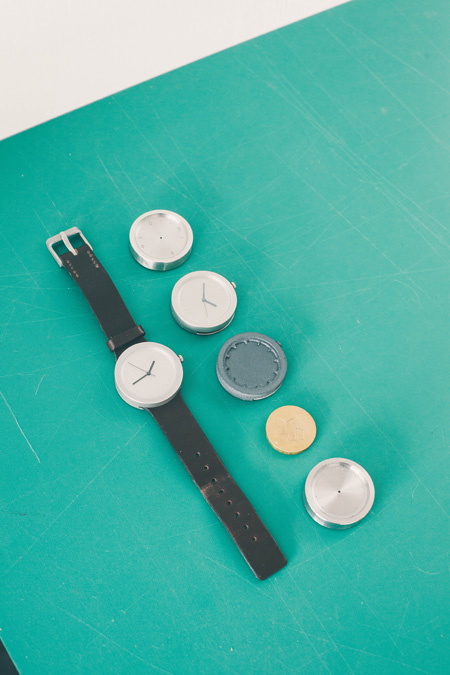 Used to focusing on ergonomics and the demands of function, Hilton also expresses enjoyment in the creative freedom of designing accessories: "The challenges are different. They're really decorative objects, so they have to stay very simple: no ergonomics, just material, one process – it's very straightforward". This straightforwardness seems to have found a receptive audience, and though we may have to wait another year for Hilton's current series of prototypes to hit the market, it's certain the wait will be worth it.
Words Betty Wood
Photography Jasper Fry