Steve Salter pulls up an Arne Jacobsen
Ant chair to talk pop-up shop with antikmodern's Jason Robinson
"My parents owned an Eames Lounge which I always loved and now own. This probably started my interest in mid-century modern furniture, although it wasn't until I bought my first house that I really started to develop a deep interest and began to build up my own collection," explains Jason Robinson as he sits behind a multifunctional teak desk designed by Peter Lovig for Hedendted Mobelfabrik. Such masterpieces of design are now a familiar companion, just waiting to be passed on. As his personal collection grew, the hobby soon evolved in to a well crafted business and antikmodern was born.
With an ever changing inventory of classic mid-20th century designs from architects such as Hans Wegner, Arne Jacobsen, Charles & Ray Eames and Finn Juhl, his web store and blog offer discovery at every turn. Dedicating countless hours casting his well trained eye over the major major auction houses in Europe and the US and balancing increasingly troublesome shipping equations, an ever growing band of customers have revelled in the work of this mid century magpie.
..
.
"There's so much great stuff out there that there is always
something new that comes along and then you're straight on to the next thing…"
"I bought a set of six Arne Jacobsen Grand Prix chairs at auction in Sweden which sold within a few days of going on the site," he recalls before excitedly continuing the tale, "a customer from Belgium actually drove over to my home in Cheltenham to collect them. I didn't make a huge amount of money from the sale but I just really enjoyed the whole process and after that I was completely hooked."
Over the last three years his obsession has grown and almost outgrown its virtual home. Mutual fans and customers alike, Albam invited Robinson in to the basement of their Upper Street store and swapped modern crafted clothing for mid century modern furniture. Like two old friends, the two sit comfortably together.
"I've been a big fan of Albam since they opened on Beak St in 2006," explains Robinson. "The idea for some sort of collaboration really only came about after James contacted me about buying a couple of pieces from antikmodern. I've loved every minute of it – especially being able to meet so many customers face-to-face. It's also been a real buzz to see so much antikmodern stock in a single retail space"
As a collector himself, we ask if it its hard letting any of the pieces go. Without hesitation or misty eyes he replies, "Of course, but there's so much great stuff out there that there is always something new that comes along and then you're straight on to the next thing." With a love far from sentimental, one is left with the feeling that Jason's thirst cannot be quenched and his eye is always open. Inspired by the early success of the pop-up and peering in to the horizon, Robinson teases that "a permanent shop in central London is something I'll be looking in to in the future."
Photography DK Woon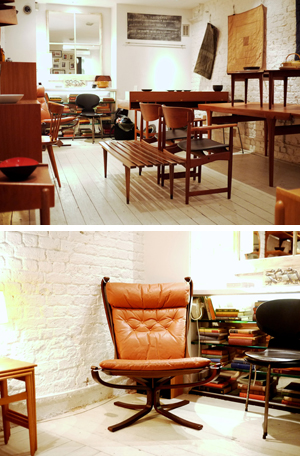 .
Read more on antikmodern. Albam Clothing, 286 Upper St, N1 2TZ