Kat Phan talks to the celebrated theatre director about his impressive career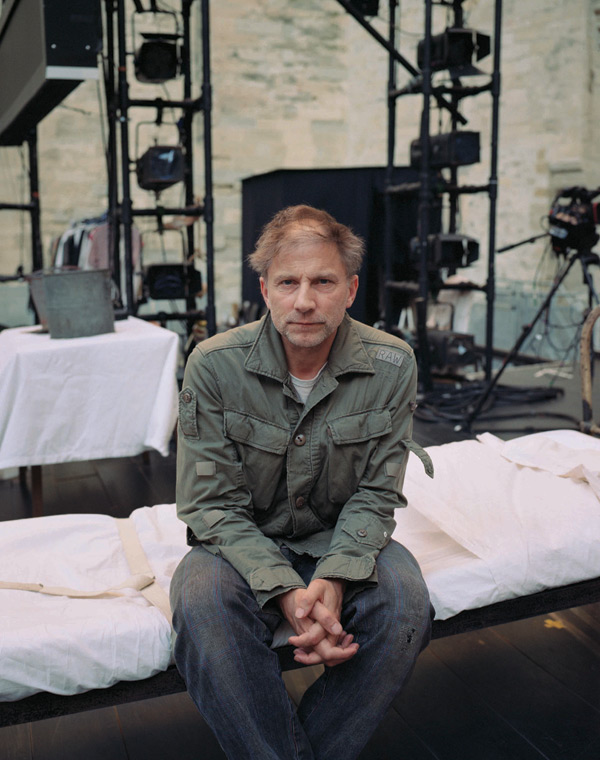 When a young, aspiring theatre maker called Simon McBurney co-founded British theatre company Complicite with three friends in 1983, he was motivated by the belief that no one would offer him a job because he wasn't established. Forward to 2012 and McBurney is opening France's premiere cultural event Le Festival d'Avignon, as its highly prestigious 'associate artiste' with a touring stage adaptation of Mikhail Bulgakov's The Master and Margarita, and recognised as one of the most exciting and innovative theatre directors to emerge from the UK over the past few decades.
Growing up in Cambridge in a household without a television, McBurney was exposed to theatre from an early age. His mother – who wanted to be an actress – encouraged her son to perform plays, and he often ended up acting with students who attended the local university when a child was needed. Despite not having much of an academic interest, McBurney gained a place at Cambridge University to read English in 1977, but frequently skipped lectures to rehearse at the Footlights theatre club.
In his final year at university, McBurney's father died affecting him profoundly.
"As people, we change constantly, we're on a journey – and that's the same with a theatre company"
This coincided with Margaret Thatcher's government coming into power which he was opposed to. As a result, in 1981, he moved to Paris to attend the Jacques LeCoq school, an institution which encourages pupils to articulate themselves using their own specific theatrical voice. It was during his time that McBurney met fellow Complicite founders Annabel Arden, Marcello Magni and Fiona Gordon.
McBurney travelled extensively during his early 20s. "I was very glad not to be in England, but at the same time, embarrassed to be English, especially with what was happening in the Falklands" he tells me, with long contemplative pauses between words, over a crackling phone line from Avignon. "I was working with people from all over the world and it was fascinating to see how theatre can take so many different forms. British theatre was extraordinarily narrow and conservative at the time – it still is really narrow in its outlook. I don't find British theatre interesting."
Although Complicite relocated to London in 1983, the quartet remained a group of tenuous travellers. McBurney recalls almost getting arrested in Chile while performing under Pinochet's rule. When we got there,
the British Council said, 'you're not to do theatre in the street'". Of course, as a rebel with a cultural cause, McBurney and his troupe smuggled themselves into shanty towns under blankets in the back of cars. "When military soldiers approached us the crowds closed in around us and we were absorbed by them; then when the soldiers went away, the crowds re-formed in front of us and we carried on playing – it was an incredible experience."
In the early days, Complicite plays were formed as a means of expression, an ethos which still remains. "Our principal feeling was that we wanted to resist the status quo, we wanted to make people laugh a lot but it was pretty anarchic humour." Their 1985 production, More Bigger Snacks Now, which focused on being unemployed and living in council houses during the Thatcher era, won the group a Perrier Award at Edinburgh.
Despite being well-received by critics and gaining a steady following, after a few years of working intensely together, the founding members parted. McBurney pursued movies for a period and then Complicite formed a second chapter, where this time, he was appointed artistic director."A theatre company might have its name but that doesn't really matter. You have your name all your life, I have mine. But as people, we change constantly, we're on a journey – and that's the same with a theatre company."
McBurney is a master of storytelling, weaving together musical, visual and physical components to create thrilling stage performances: in A Street of Crocodiles (1992), books fluttered across the stage as a flock of birds; in his Japanese production Shun-kin (2009), a puppet magically transformed into an actor of flesh-and-blood; and in Mikhail Bulgakov's operatic interpretation A Dog's Heart (2010), the audience were treated to a titillating yet horrifying creation of an intricate dog-human hybrid. At the end of this year, he brings Bulgakov's acclaimed The Master and Margarita to life at London's Barbican Centre.
With each stage production consistent in its ability to titillate and surprise, where does McBurney get his inspiration from? "My father was an archaeologist, he was a pre-historian and I suppose excavation is at the heart of a lot of things. I often realise that as I get older, I find the things which drive me are curiosity and the desire to know more."
Complicite / Simon McBurney's The Master and Margarita is at the Barbican Theatre, London EC1 (www.barbican.org.uk), from 14 December 2012 to 19 January 2013
Photography Eva Vermandel.
Kat is Port's features editor