In a society obsessed with youth, the renowned war journalist reflects on what the brilliant Dessa Trevisan and Eve Arnold have brought to her life – and why she has always understood how much women can learn from each other
I was brought to her 'salon' in The Albany, that wonderful old set of ancient apartments on Piccadilly, right next to the Royal Academy and opposite Fortnum and Mason, one night, by an older man, another journalist. I cannot remember whom.
What I do remember is this: it was winter, the time of the Balkan wars and she was the doyenne of all Central European correspondents, a woman with a ferocious temper, a grand appetite for life and love, who lived like a character from a 19th century Russian novel.
I wore a Russian fur hat I had bought in Siberia, which she took in her hands and stroked when I entered the room. She served (of course) caviar, frosted champagne, tiny blinis that were very hot and tiny silver pots of crème fraîche: all on a silver tray.
I think Dessa Trevisan adopted me that night, though not without passing a tough inspection. Where was I brought up? How was I educated? What had my father done? More importantly, WHY DID I WANT TO BE A JOURNALIST in the Balkans, her Balkans? A place that no one could ever talk about and know and write about like her.
Dessa Trevisan was tiny, blue-eyed, and frighteningly elegant. In another era, she would have been called a classy dame. She wore swirling wraps in cashmere, pale-coloured knitted tops and trousers, fitted Yves Saint Laurent jackets, Hermes scarves – which she would later bestow on me – and had her hair cut by Charlie Chan at Michaeljohn in a severe Louise Brooks-type bob.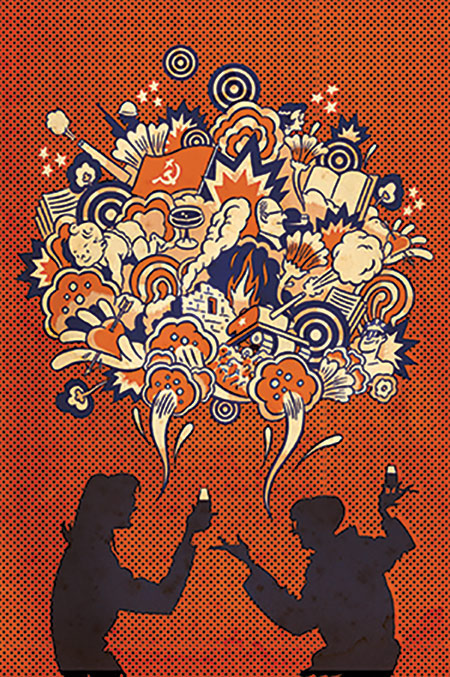 "Her voice was smoker's low and gravelly, as you would expect from someone who had spent most of her life behind the Iron Curtain"
In the cinema, she would mutter if the acting was not up to scratch and had no embarrassment at walking out, which she did with Breaking the Waves.
"Absolute horse shit," she said. I thought so, too, but I was too timid to stage a grand exit. I found her in a smoky Notting Hill pub after the film, ranting about the pretentiousness of Danish cinema and drinking a glass of iced white wine. Even in that pokey pub, she looked regal.
She smoked Cartier reds and had elegant hands. Sometimes she smoked tiny dark cigars. Her voice was smoker's low and gravelly, as you would expect from someone who had spent most of her life behind the Iron Curtain – in her case, as a reporter.
She was born in Belgrade, grew up in Croatia and was educated in Switzerland – where she learnt how to ski (wearing beautiful furs on the slopes). She had married three times: a Yugoslav, a Brit and, lastly, an Italian count, who still called her for phone sex when he was over 100. She had many affairs, some with famous men of the times and she enjoyed talking about it, laughing loudly and with gusto. She had a rather dirty mouth. She told me if she were younger, and a lesbian; she would "bite me".
She was the best-read person I knew – from Stefan Zweig to Philip Roth – and spoke many languages. She chided me often about having only two. "Darling, darling, learn Russian, darling, learn German, learn Spanish. And, for God's sake, get your French up to scratch at the minimum." When I moved to France in 2003, she would only speak to me in French.
I loved her very much and when she died last year, it was like losing my own mother, or perhaps a part of myself: myself in the future. Older women have always been important in my life and since I was a little girl sitting on the bench next to my piano teacher, whose skin was a fragile as a paper flower and who smelt of pressed lavender, I have wanted to know their secrets.
If you live, as I live, without a road map or the neat corners of conventional life, you look to people like yourself – strong women, free women – who can teach you some short cuts.
I know there are women out there who do not like the company of other women, but it has never made sense to me. It seems so self-defeating because the lessons you might learn, the advice you can glean, can only do you good. It can only expand your knowledge of everything, because women, in truth, are the keepers of secrets. Dessa taught me much about journalism, but she also taught me about men, about seduction, about the value of a good haircut and about diplomacy.
"Darling, you did it,' she said. 'This wonderful thing… look what you did!'
Then she burst into tears and hung up the phone"
I have always sought out the protection and mentoring of older women – long before Sheryl Sandburg told everyone to 'Lean In'. The great Eve Arnold was another.
Arnold was, like Dessa, a magnificent creature. Like Dessa, she was small and elegant, with a growl instead of a voice. (Why, I wonder, did these two extraordinary women, who never met, share these same physical attributes?).
She was the first woman to join Magnum Photos in the early 1950s and her gift at making her subjects trust her made her one of the most brilliant photojournalists of the 20th century. She photographed Marilyn Monroe, Malcolm X, Joseph McCarthy, China during the closed times, Rastafarians, The Queen, Marlene Dietrich. She stood up to Robert Capa and Cartier-Bresson.
She was also a single mother, divorced when her son was young and alone in a foreign country and she was one of the first people to point out to me – over lunch at the Chelsea Arts Club – the importance of having a child. She also warned how difficult it would be to travel and go on long assignments once I was granted my wish: to be a mother.
Dessa never had children and it was her life's regret. So she cried when I called her from the French state hospital on February 12, 2004, with my tiny son Luca in my arms. She was one of the first people I called after I gave birth. I knew it would be important for her.
"Darling, you did it," she said. "This wonderful thing… look what you did!" Then she burst into tears and hung up the phone.
From Dessa, I learnt how to be a methodical journalist – we often worked together and our last trip, for The New York Times, to Montenegro in 2006 was the stuff of Monty Python comedy. She taught me never to take "no" for an answer and not to be afraid to scream and shout. She taught me to look for stories in the most unlikely places. She taught me how to probe when interviewing; how to ask; how to be discreet.
She also dried my tears more times than I can count, when I had countless miscarriages; when I was in the process of leaving a ne'er do well lover; when I had failed at something I wanted badly. She would offer champagne, jokes, wisdom. I loved her very much.
"Both women were perfectionists and expected the best from those who admired them"
Eve I knew less than Dessa, but the meetings I had with her, I treasure. The last was not long before her 100th year, when she died. I had just discovered we were born on the same day, though nearly 60 years apart.
At the Pimlico nursing home where she was living, a nurse brought us our meal on a tray and she suddenly paused, her fork poised between the dish and her mouth. "Now I know what it is," she said, fixing a rather beady eye on me. "You cut your hair." She paused. Her own hair was grey and hung in a thick plait to her back. "It looks awful."
But her first question to me, when I entered the room, had been: "How is the baby?" The baby, my Luca, was then nearly six. She had sent me one of her iconic photos The First Five Minutes of a Baby's Life when Luca was born. It is a photo that still nearly brings me to tears – a newborn grasping his mother's finger. It is about the undying bond between mother and child.
Eve knew about this. She was a mother, but she had also suffered miscarriages and knew the pain and the regret. She knew how much this baby meant to me.
I am now privileged enough to have been granted the right to be Arnold's authorized biographer. As I spend days at Yale University, where her archive is kept, pouring over her documents, her notebooks, her address book (I find my own name and, in letters to Isabella Rossellini, her dear friend, she talks of me trying to convince her to go on assignment with me in Algeria in 1998), I learn more about this amazing woman. And I learn more about myself, and what I want to be, and how I can improve my work: my own lot.
Both women were perfectionists and expected the best from those who admired them. Both women gave me a road map, of sorts. Their lives were not like mine, but they were like me.
And now I find myself at an age – not quite Dessa's, not quite Eve's, but suddenly I am no longer the youngest reporter in the room – getting requests from young women. They want to have my life, they want to know how to become a foreign correspondent, they want to know how to combine love, life, work, motherhood, pain, joy, the whole big package.
I find it such an honour. After my son was born, one of the world's greatest photographers sent me a message:
"You've done your bit," he wrote. "Now pass the baton."
I'm not quite ready to pass it, but when I do, I will be happy to tell whoever is ready to listen what secrets I want to leave behind.
Janine is the author of Ghosts by Daylight