Thomas Blythe shares his fondness of New York's aerial public park, a natural beauty born from an industrial past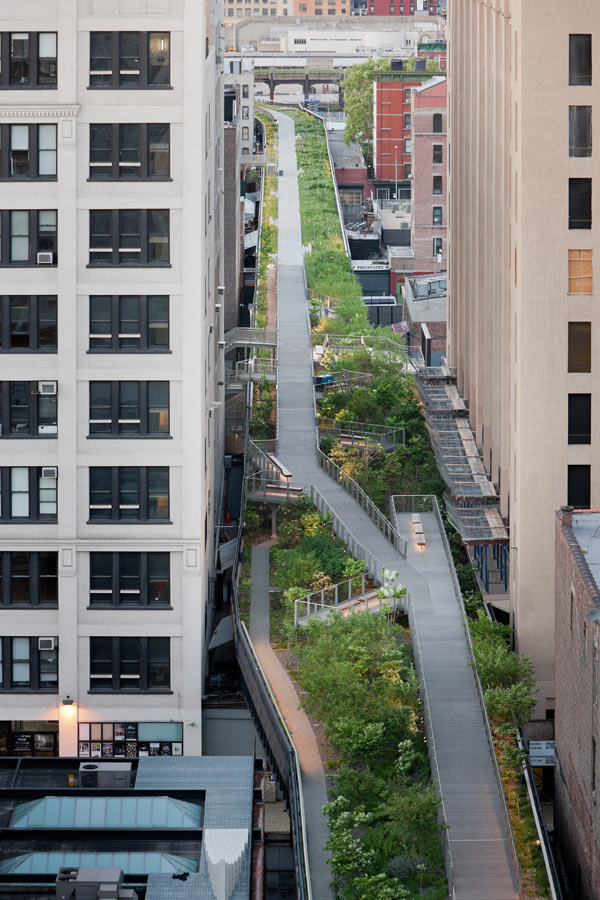 New York has long held a fascination for me. As a kid I listened to my Dad talk about working on Madison Avenue in 1969. He was an art director at Ogilvy's in London, and was posted there to direct a campaign for Players No.7 cigarettes. He lived the Don Draper life for a year, minus the womanising and endless fags.
I've visited New York myself a few times. The first was in 1996, then again around 2004, when the city was still reeling from the horrors of 9/11. I've just recently returned from another visit, this time to see old friends that moved out there ten years ago to start anew.
Whilst others may dislike the crammed buildings, the sirens and utter confusion of Times Square, to me New York is more alive than any city I've been to. And if the heart of New York City is its people — a heart that thumps, pounds and palpitates with an astounding rhythm — then its femoral artery is the High Line. I walked it twice in my week-long visit, and fell for it from the moment I set foot on it.
Founded in 1999 following a campaign by The Friends of the High Line, the elevated park runs from the Meatpacking District to Pier 76 around one and a half miles of disused rail track above the Manhattan traffic below.
"If the heart of New York City is its people — a heart that thumps,
pounds and palpitates with an astounding rhythm — then its femoral artery is the High Line"
The High Line is beauty born out of a once industrious beast, a brilliant counterpoint to the frantic energy of the streets below. It allows you to wander above the yellow cabs streaking past on the freeway beneath, through wild gardens and clipped lawns and bird boxes. It weaves between tenement blocks, warehouses, new builds and views of the Hudson River. Londoners, imagine the South Bank — minus the National Theatre and Festival Hall and hoisted 30 feet in to the air, with better landscaping and planting — and you're pretty much there.
There's thick glass to sit or stand upon that leaves you with the feeling you're floating above the heaving traffic below, or watching a film play beneath you — after all walking through New York is very much like walking through a film set.
I couldn't help feeling the High Line was more than just an old relic put to good use. It somehow seemed indicative of Manhattan as a whole: the streets are cleaner, trashcans pepper the sidewalks, there's no dog foul and it's citizens, (even the most salubrious looking) are happy and willing to help in a way visitors to London may sometimes feel is wanting.
New Yorkers own the city and take pride in their fiefdom. The High Line feels like it belongs to those that walk it. I sometimes feel our own capitals public spaces don't.Trespassers; we're watched and best be on our way; don't loiter or pause. Keep walking.
If I didn't rely on the rail service between South London and the City for work, I'd campaign too, to have the Tube extended out to the further reaches of South London and let the grasses, ivy and buddleias peppered along sections of our own capitals high line flourish, and reward our own citizens with a tranquil mile or two along which to amble.
Thomas Blythe is a writer and restaurant consultant. He was formerly general manager of St. John restaurant for fifteen years. Follow Thomas on Twitter @thomasblythe