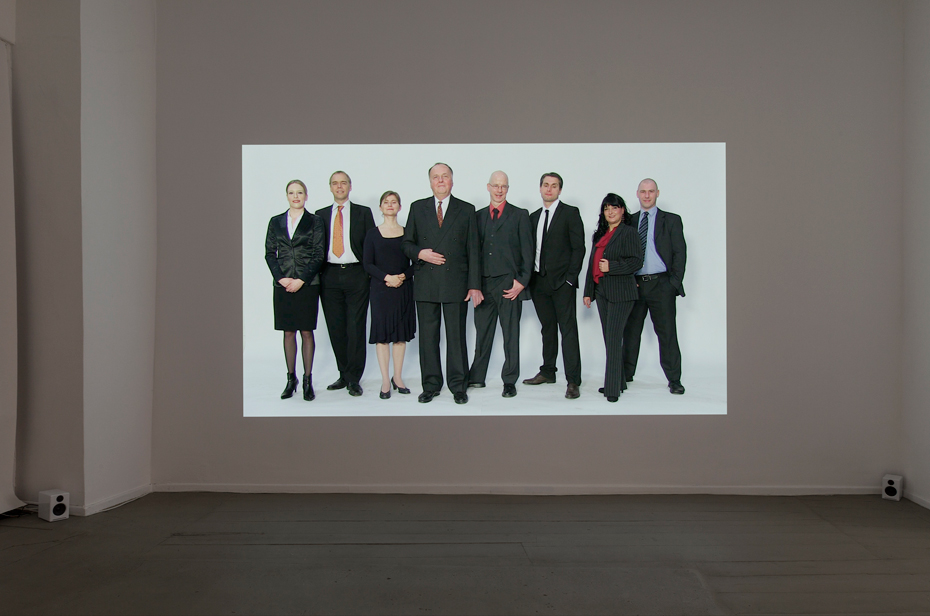 The first of a 'Berlin Art Special', William Kherbek heads to Galerie Tanja Wagner to dissect the Austrian artist's latest exhibition
It's good to be happy in your work. Not too happy, of course, not like "crazy happy" screaming in ecstasy every time you finish a spreadsheet. That would just be weird. I was told there was once an American company that sent around a survey to its employees in Britain asking them how proud they were to be working for the firm. The questionnaire was reportedly discontinued due to excessive irony in answers. It's not an easy thing to calibrate just the right level of happiness you're supposed to have to be a good employee these days. Anna Witt's Public Emotions takes the fraught new battleground of affect management and presentation as a starting point for her exhibition.
The centrepiece of the show is an hour-long video titled 'Sixty Minutes Smiling' in which a group of well-dressed corporate beings smile for what could be the Official Company Photo for an hour. The press release draws parallels to Gillian Wearing's 'Sixty Minutes of Silence', and it's true there are relevant moments of interplay between the group members, calibrating stances and deciding just how "frontal" to be with the camera, but with one notable exception, the guy who was presumably given a mandate to occasionally move or grimace as he chose – the zen-like frozenness of Our Corporate Team said more about the emotions that the work world expects of you than almost anything else. And the message seemed to be something like "We don't care how catatonic you look, just be consistent." Clients like predictability. Thus Witt touches on the increasing evolution in a more wired and less manual economy toward work as a kind of subspecies of performance art: The Worker is Present. Affective labour has never seemed more laborious.
Another highlight of the show is 'Die Rechts des Gehsteigs' ('The Rights of the Pavement') in which Witt shows images of demonstrations and public art interventions to the press officer for a branch of the Austrian police. The mild voice of the press officer details the numerous ways in which the artists and protesters are violating various public safety ordinances. As the infractions accrue you get the sense of just how conceptual the modern state is. One image in particular, in which activists-artists burn money, draws an acknowledgement that it's not the act of burning money per se that's the issue, but the way in which it's being burned. As long as you protest in a way that doesn't upset anybody, there's nothing wrong with that. Welcome to the 21st century, we hope you enjoy yourself. Just not too much.
Anna Witt: Public Emotions
 runs until 19 April at Galerie Tanja Wagner
, Pohlstraße 64, 
10785 Berlin, Germany. Check gallery opening times