What does a post-global world look like? MAAT show curator Aric Chen explains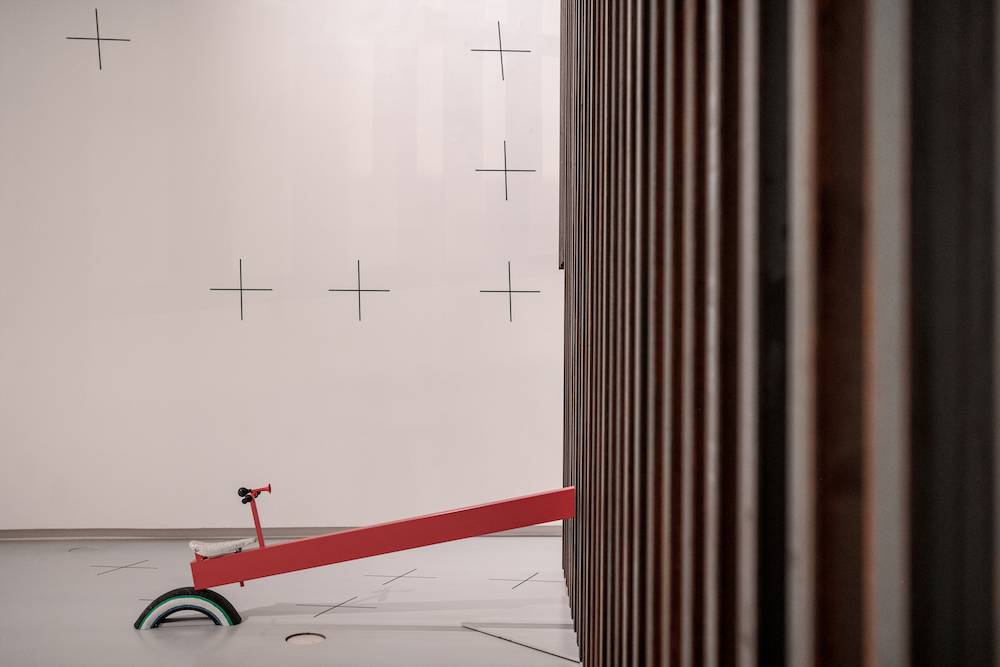 What does it mean to live in a "post-global" world? Posing this question – and also answering it – is a new exhibition presented by Lisbon's MAAT (Museum of Art, Architecture and Technology), named X is Not a Small Country – Unravelling the Post-Global Era. Curated by Aric Chen alongside designer, curator and educator Martina Muzi, the show compiles nine large-scale installations from international practitioners spanning design, architecture and art. All of which explore a post-global landscape, providing examples of how this new world might look and function. 
It's a vast, detailed and oftentimes dizzying display of the current state of affairs. Previously, the rapid rise in globalisation had accelerated us into new and bountiful territories. Then after Brexit, trade wars, refugee crises and rising nationalism, we were faced with a new hurdle: a pandemic. Travel was disrupted and many switched to digital communications and exchanges; thus increasing the social and cultural gap between those with or without access to the internet. But, as Aric puts it, a "post-global" world isn't the result of globalisation "unravelling", and rather it's a state of contradiction and fluctuation. With every door that shuts, another one is bound to open, so to speak. 
In this new exhibition, which was surprisingly conceived prior to the pandemic, MAAT opens up the "post-global" conversation with a series of site-specific installations. Beginning with Wolfgang Tillmans, who's contributed his anti-Brexit campaign of EU posters, the show navigates through a plethora of international pieces, like that of architect and director Liam Young, who's made a film titled Planet City – a fictional tale that calls for urgent examination of the environment. Others include the recreation of the recognisable Teeter-Totter Wall, a seesaw installed at the border fence between the USA and Mexico in July 2019, as well as the more speculative contributions such as the analysis of gambling in Macau.
Aric is a Shanghai-based curator, writer and professor, who's been appointed general and artistic director of Het Nieuwe Instituut in Rotterdam. To paint a more concise picture, and to perhaps give a definition as to what "post-global" really means, I speak to Aric to find out more about the show.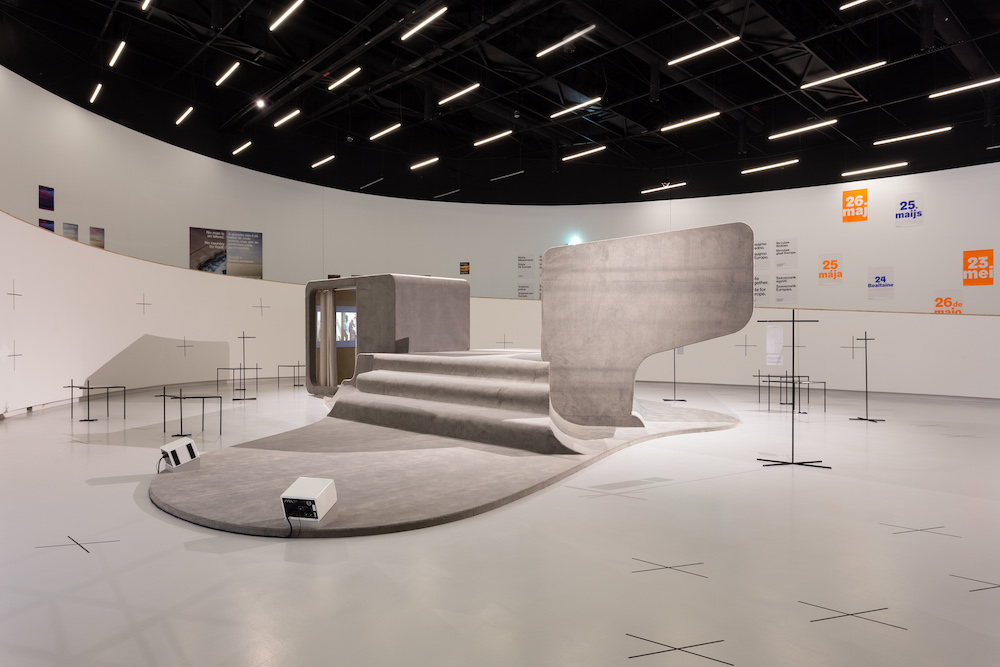 What inspired you to launch this exhibition, why tell this story now?
The world is clearly changing, and globalisation as we've known it since the 1990s is giving way to a new condition that's developing right before our eyes. This is something I've felt acutely as an American living in China, given the transforming relationship between those two countries through trade wars and other signs of a growing "great power" competition. 
But we, of course, see how global networks and relationships are becoming increasingly convoluted everywhere. We see liberal democracies giving us Brexit and rising nationalism, while Saudi Arabia opens itself up in once inconceivable ways – just as Israel establishes diplomatic relations with Bahrain and the UAE, who until now didn't even formally recognise Israel's existence as a country. Doors are both opening and shutting in ways that would have been hard to imagine just a few years ago. And they're doing so at the same time: right now, as China and the EU slap sanctions on each other over Xinjiang, they're also trying to push through a new trade deal. There are multiple, overlapping and often contradictory logics operating simultaneously. We need to understand this in order to navigate it, and the implications of – and for – architecture and design as manifestations of these global processes.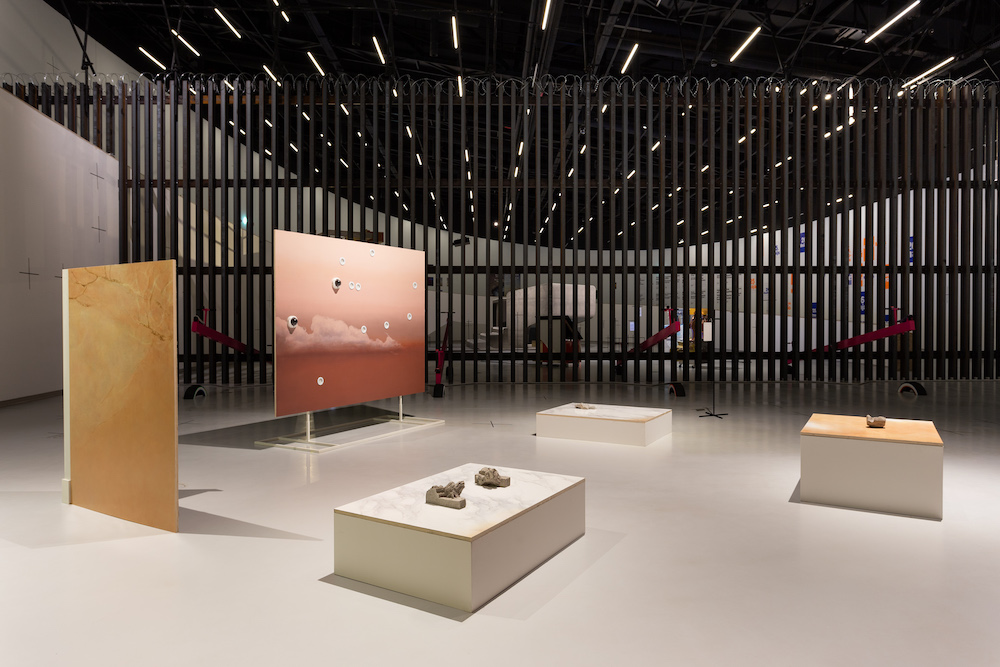 Talk me through the works involved and how you've curated the show.
Designers, architects and artists have been investigating in "the global" for a long time. But our aim was to, as concisely as possible, capture the complexity of the "post-global" that we're now observing through just nine projects. All of which address the forces of post-globalisation at scales ranging from objects and individuals to societies, species and the planet, from an array of geographical perspectives, and in both concrete and speculative ways. 
So for example, as you enter the show, you'll see an installation by Wolfgang Tillmans of his pro-EU posters – something very immediate that most visitors will easily relate to – before confronting a re-creation of Rael San Fratello's Teeter-Totter Wall, for which the American architects, in 2019, inserted see-saws through the US-Mexico border wall in order to allow children on both sides to play with each other.
From these very "real" installations, we get into more research-based and speculative projects ranging from Revital Cohen and Tuur van Balen's examination of the links between gambling in Macau and the construction of Israeli settlements in the West Bank via a casino that mimics London, to Ibiye Camp's augmented reality speculations about a post-petrol future in the Niger Delta, to Liam Young's video about a planet in which the entire human population is concentrated in a single city. 
We also have Tactile Cinema, an installation by Jeddah-based Bricklab that evokes the evolution of cinema spaces in post-World War II Saudi Arabia – from informal to illicit to now being legal again – while hosting a film program of artists from across the Arab world organised by Art Jameel.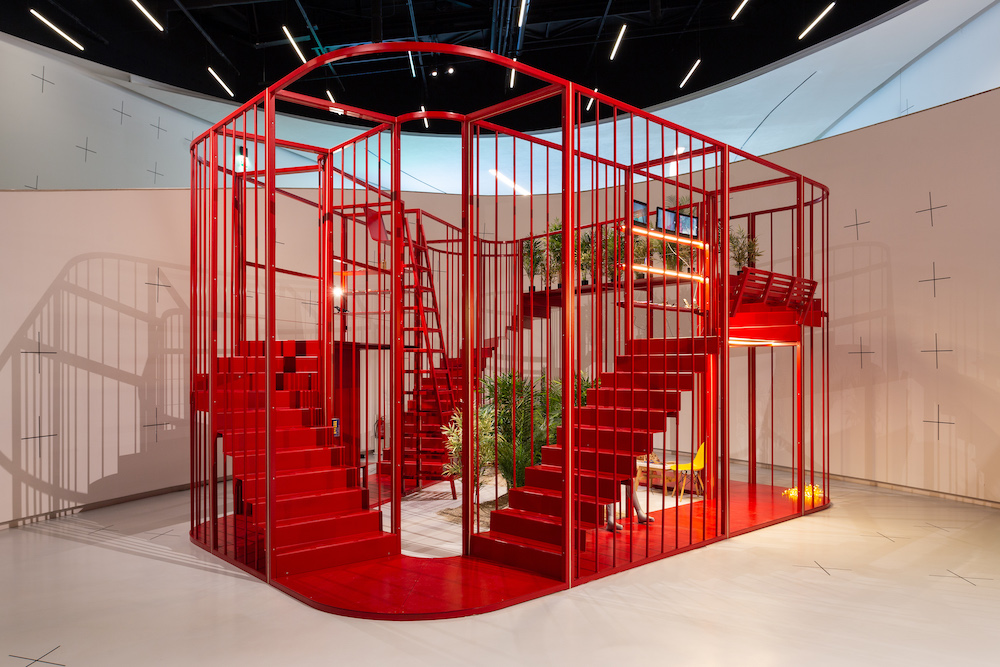 How exactly has globalisation been impacted by the pandemic, and how has this affected the design and architecture industries?
As many have said, the pandemic has accelerated processes that were already underway, be it the use of digital communication or the widening of social inequality. It has also accelerated "post-globalisation" and its impact on design and architecture. Not just through the reordering of supply chains, but also the flow of people and ideas, and the culture and meanings that are embedded in, and produced by, the designed world. In ways large and small, design and architecture will both be shaped by, and used to help shape, how this new world will look and operate.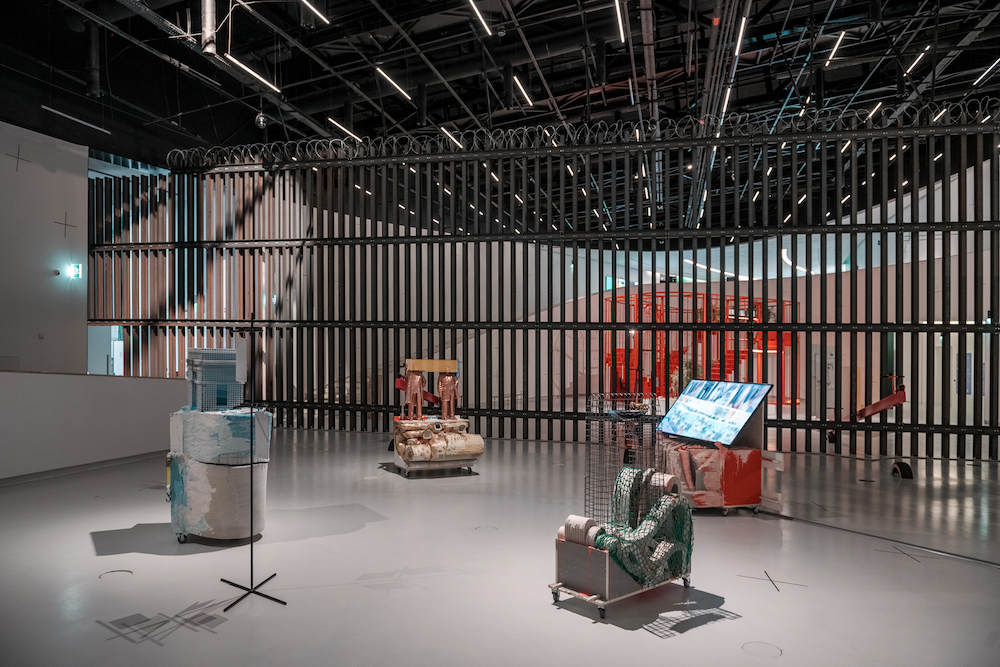 Do you think the pandemic has forced the world to re-think pre-existing structures?
I should emphasise that "post-global" is not the same as "de-globalisation." It's not that globalisation is ending or totally unravelling. It's that the idea that we were inevitably heading towards ever-more openness and intertwinement has to be discarded for a future of more unpredictable fluctuations of both restriction and access. This means we not only have to be more nimble and flexible in order to navigate this, but we also perhaps need to rethink our approaches and world views if we are to constructively, and peacefully, function and coexist. 
To the extent that the pandemic has forced us to re-think pre-existing structures, these are things that we should have already been re-thinking: the social and economic systems that have caused such injustice, to say nothing of ecological disaster. 
The full list of contributors include Bard Studio (Rupali Gupte e Prasad Shetty), Bricklab (Abdulrahman Hisham Gazzaz and Turki Hisham Gazzaz), Ibiye Camp, Revital Cohen and Tuur van Balen, He Jing, Liam Young, Paulo Moreira, Rael San Fratello Studio (Ronald Rael and Virginia San Fratello) and Wolfgang Tillmans.
X is Not a Small Country – Unravelling the Post-Global Era is currently on show at Lisbon's MAAT until 2 September 2021. Head here for more information, and tickets can be purchased here.