William Kherbek talks to gallerists and publishers Hannah Barry and Sven Mündner of Hannah Barry Gallery and Hannah Barry Editions
William Kherbek: Could you tell us a bit about the background of the gallery?
Hannah Barry: The current space was something that grew out of the Lyndhurst Way project, but it wasn't something that was very planned, this idea of 'The Gallery'. It seemed to me that there was a momentum to the work, and it seemed that there was a certain responsibility about carrying on and supporting those artists at the time, and the best structure available to us to do that work was to open a gallery. The guiding principle of the gallery was to make in depth solo exhibitions of the artists we were showing.
William: With Hannah Barry Editions, you've been very involved with the printed word — how you see the relationship between visual art and writing? Obviously there is the established relationship between art and the art manifesto, for example, the Futurist or Surrealist Manifestoes, but how do you see the relationship evolving?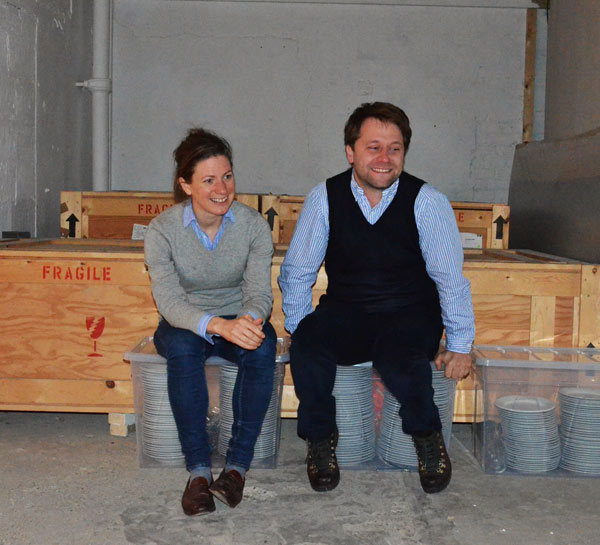 Hannah: I've always found it really exciting to think of a gallery as existing to have exhibitions and look after artists, and finding and creating a network or community around the gallery which involves all sorts of people. Those who are friends and supporters of the artist, those who are patrons of the artists, curators and those who organize other exhibitions, and writers and people interested in doing critical things. When we started Lyndhurst Way, one of the things we did for every single exhibition we organized was—because we both had a lot of friends from university who were not necessarily contemporary art critics but who were historians, philosophers, social science people, economists, and we were quite keen to harness all that knowledge—we commissioned two pieces of writing for each of the exhibitions. They were stand-alone pieces of writing which related to the subject of the exhibition.  And I've alwayshad a very strong interest in poetry as well, particularly American poetry.
Sven Mündner:  I think the key is to see text as a medium and as a process, and it is very interesting when you see that next to art, next to an exhibition, and in conversation with it. One of my absolute favourite things we've ever done was an exhibition with one of our artists called Catastrophe where we put her in touch with a mathematician at Cambridge, a fund manager at Goldman Sachs, and a social scientist from King's, and they all talked about the concept of chaos and how it related to their science and chaos in the artistic process.
William: Given that so many Peckham based artists are concerned with communities established on the internet, how do you see material space (e.g. gallery space, or project space) as fostering and engaging community?
Hannah: I think a community is most powerful when there's the will to make sure it can evolve and make sure that it is healthy and it is "well-nourished" almost. A community's integrity depends on the will of the people, and I think I wouldn't place it as being entirely to do with spaces, although I think that having very defined spaces associated with particular communities which also try to cross-pollinate with communities unlike their own, and are interested in that process, I think that that can consolidate what are already very powerful dynamics.
Sven:  Certainly, what I am interested in is in creating a mechanism that provides the artists a way to get on with their work, to create new ideas and to come up with the new worlds they invent.
Hannah Barry Gallery, Unit 91 Copeland Rd, SE15 3NS
hannahbarry.com