Messy enough to be fun without, being just messy. The new collective show from Eloise Hawser, Lena Henke, Adriana Lara, Marlie Mul, Lucie Stahl, Gili Tal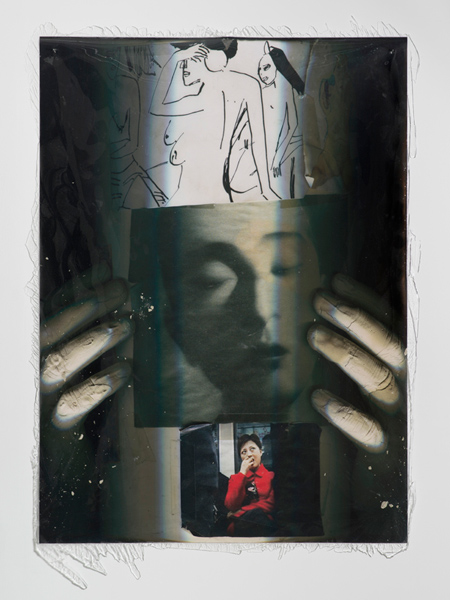 It was one of those strange paradoxes that made One After One seem like an interesting show. It had been a long time since I'd been to Vilma Gold Gallery and, diligently investigating their website to see what was on display I came across the following sentence in the press release for One After One: "Linking works loosely by what we regarded as a sensitised awareness of the artists' subjectivity as artists that consciously underpinned decisions made but without totally foreclosing content." To which may I only add the biggest, fattest "sic" that's ever been added to anything.
I think I speak for all of humankind in emitting a morose "WHAAAAAT?" Alix Rule and David Levine recently noted the emergence of a new dialect of English known as "International Art English" which exists solely for the purpose of writing press releases that are semi-comprehensible to the polyglot art world of now, but I think the sentence quoted above must at some level represent the death of International Art English in that it is completely incomprehensible to all speakers of any languages under any and all circumstances for all time. And so, having read what I boldly predict will be the standard by which all incomprehensible bits of jargon will be judged for decades to come, I had to see the show that engendered the worst art-sentence I'd ever encountered.
"It's just messy enough to be fun without being so messy that you notice it's messy. No mean feat."
I mentioned a paradox earlier and it's this: One After One is probably the best show I've seen at Vilma Gold in a very long time. That's not to say it's not a fine gallery; it's hosted many fine shows, including a particularly memorable show of work by Markus Selg a few years ago which still burns bright in my memory, but there's a freshness and vitalism to One After One which overcomes the usual good taste and decorum that is a trademark of Vilma Gold shows. It's just messy enough to be fun without being so messy that you notice it's messy. No mean feat. Lucy Stahl has some nicely primeval photo-print mash-ups on display that jab a spear into art historical treatments of the female form.
Marlie Mul's viscous puddles of muck are anything but pretty, grit, tar, plastic, everything you might encounter on an unfinished bit of road paving reduced to a smallish orbit in which you could get lost seeking your own reflection. They've got a bitter grace that falls just the right side of literalism. Lena Henke's silkscreens are odd, evocative and romantic in a post-romantic kind of way; Gili Tal's work hovering between fresco and graffiti puzzles interestingly over the narrative character of type-faces without being all fussy and prim. Eloise Hawser's sculptures deconstruct the relationship between materials and functionality with studied whimsy. It's a show with lots to say and so, perhaps an inarticulate press release is that much more apropos.
One After One runs until 1 June at Vilma Gold, 6 Minerva Street, London E2 9EH