William Kherbek reviews The National Gallery's exhibition exploring the relationship between sex and music
"If music be the food of love, play on," says the melancholic Count Orsino in the oft-quoted lines from Twelfth Night. Rarely quoted is the second half of his instruction to his faithful court musicians, "Give me excess of it, that, surfeiting, the appetite may sicken and so die."  Not exactly an epicurean sentiment for this languid London summer. A less dreary perspective on music can be found at The National Gallery's exhibition, Vermeer and Music: The Art of Love and Leisure. Granted, the show opens with a roomful of vanitas paintings of flutes and scrolls and skulls, so accomplished you can imagine Orsino asking for one for his drawing room. Matters brighten in the next room; there's a Hendrick ter Brugghen painting of a man with a lute singing his little heart out dressed up as every inch the seventeenth century Ziggy Stardust. Ain't no party like a Dutch lute party 'cause a Dutch lute party don't stop.
This is very much a summer show full of visual confections and lots of love and laughter. The National is at pains to emphasise the link between music and seduction in the programme, and, in paintings like Gabriel Metsu's 'A Man and a Woman seated by a Virginal', a delicate dialogue of geometries and gestures makes the choice of instrument seem rather more than a bit ironic. Pieter de Hooch's 'A Musical Party in a Courtyard' draws a sharp distinction between daylight society and the secluded world of music and shadows. There's also a sophisticated and wry work by the eternally irrepressible and mordantly ingenious Jan Steen in which a young lady works carefully at a harpsichord as a young man watches over her; a young boy in in a hallway in the distance struggles with a massive angled lute, humour, romance, cynicism, incompetence, sounds like British summer.
Of course, as the title suggests, Johannes Vermeer is first among equals in the artists represented, and it's always an education to see Vermeer's work. His work has the distinct curse of being both intellectual and pretty. The sheer luxuriousness of light, colour and technique in Vermeer's work means you could look at it all day and probably learn something new every time you refocused your eyes but forget it by the time you look away you end up so lost in the beauty. What I took away from this show, particularly from 'The Music Lesson' is how much narrative Vermeer manages to get into a frozen instant. Narrative has gotten a bad name in painting, but what is impressive about Vermeer is how he uses technique itself as narrative.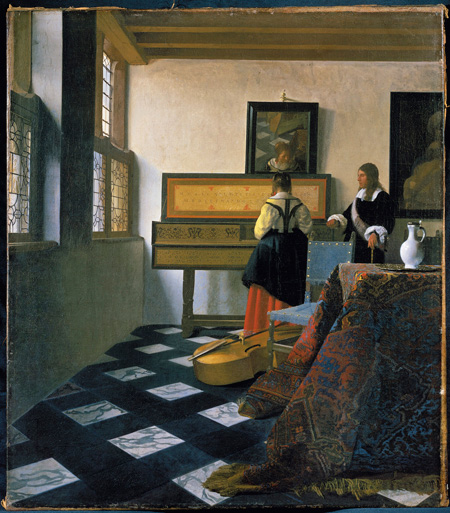 'In The Music Lesson', for instance, the geometries stuck me as very strange. There's a table that seems about as big as the one Jim Carrey hides under in Eternal Sunshine of the Spotless Mind I was wondering for a minute if I was suffering from heatstroke, but then I thought of another possibility. Rather like in Eternal Sunshine…, the painting suddenly seemed like it might be painted from a child's perspective, a child entranced by the music, standing in the far corner of the room next to the giant table, watching big sister or mother learning a song at the virginal in the company of a handsome young man. Maybe it's a dream, maybe it's a documentary, maybe it's a memory. Are any of these the "real" story of the painting? Probably not, but they're all the real story of the possibilities Vermeer can open up at his best.
Vermeer and Music: The Art of Love and Leisure runs until 8 September at The National Gallery, Trafalgar Square, London WC2N 5DN