The Portuguese artist challenges the staid traditions of fine art at her largest ever UK exhibition, mining her own past for inspiration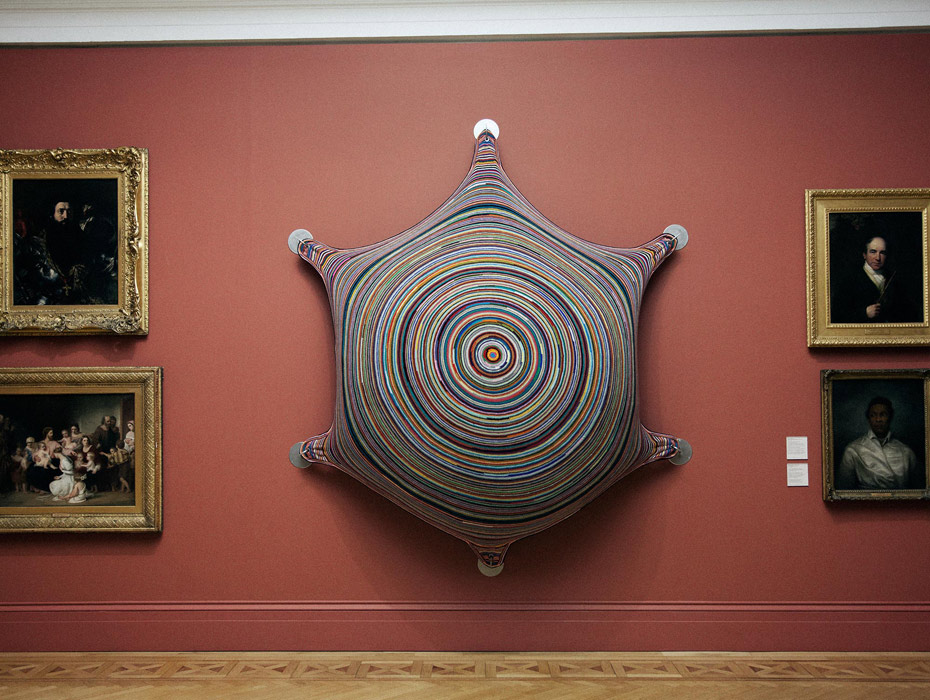 On the north wall of a large room, on the first floor of Manchester Art Gallery, hangs 'The Sirens and Ulysses' (1837) by William Etty. It's a large-scale nude, classic in every sense of the word. Adjacent to it sits an enormous, multi-coloured crochet breast ('Big Booby #2', 2011), inspired by 'Allo! 'Allo!, the risqué British sitcom set in Nazi-occupied France. "I Love 'Allo! 'Allo! says the latter's creator Joana Vasconcelos. "They're always trying to find 'the Madonna with the big boobies'. This is my big booby. Finally I've found the right place to show it."Time Machine, the new exhibition by the Portuguese artist, her largest in the UK to date, is full of these juxtapositions. Through the use of traditional Portuguese techniques and materials – crochet, lace, ceramics – she seeks to debunk the rigid pomposity of fine art, creating informal public art spaces. Contaminate is a dirty word, it conjures images of beef burgers minus the beef, or jars of dubious-looking drinking water scooped from murky rivers in developing countries, but that's what she does.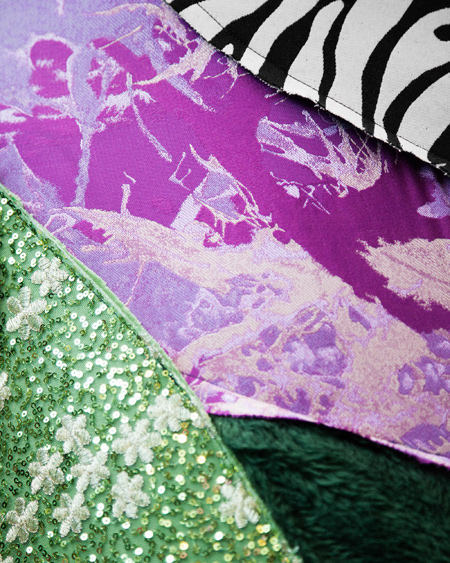 'Contamination' (2008-2010) was in fact the title of a giant, tasselled, textile sculpture by Vasconcelos which at one time cascaded down the walls, balconies and staircases of the Pinacoteca do Estado de São Paulo and later the Palazzo Grassi in Venice. A similar, site-specific piece entitled 'Britannia' (2014) now dominates Manchester Art Gallery's glass atrium like an older, more fabulous sister – the type that could get into nightclubs aged 15. It stands as the flagship connection between Manchester and Vasconcelos' home city of Lisbon, with concessions to corduroy (amusingly referred to as Manchester velvet in continental Europe), flowers – "we hate flowers in Portugal" she says – and a darker palette of navy and purples.
According to Vasconcelos 'Britannia' also feminises the stark, masculine space of the atrium. It's a duality that resonates throughout the exhibition and her work in general: witness the career-making 'The Bride' – not shown here – a 5m high chandelier consisting of 25,000 tampons, first shown at the Venice Biennale in 2005. As Dr Helen Laville points out in her fantastic essay 'Crochet is Powerful', Vasconcelos employs methods that subvert and undermine (frequently masculine) structures of power and authority. Her soft fabrics mock the sobriety and structure of high art. Hence, marbled lions adorned with decorative lace ('Hwarang', 2014) guard the entrance to the exhibition and John Spencer Stanhope's 'Eve Tempted' (1877) sits adjacent to a crochet-covered snake ('Sybil Vane', 2013).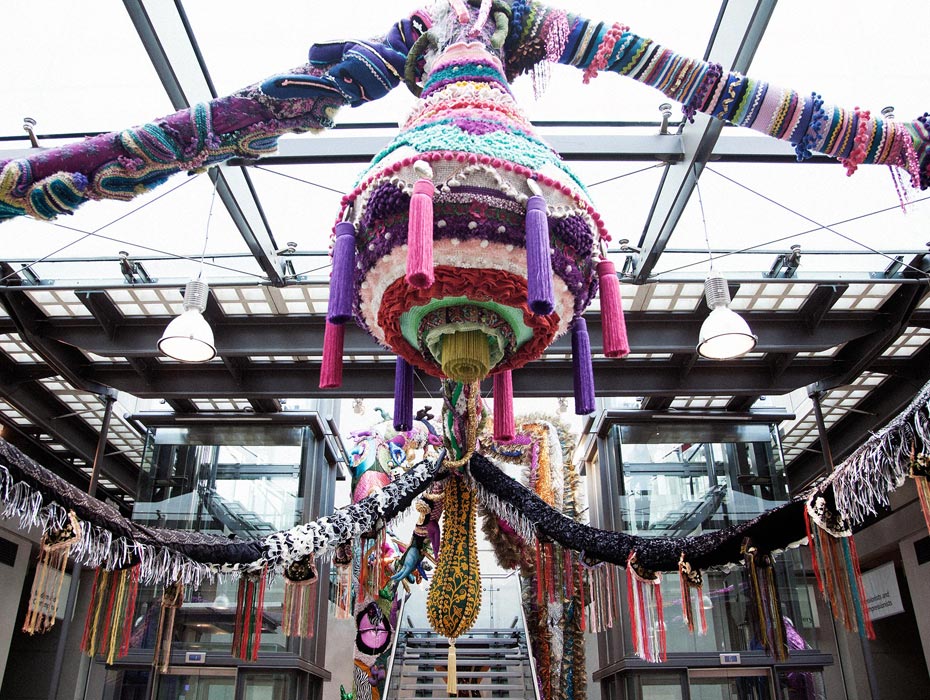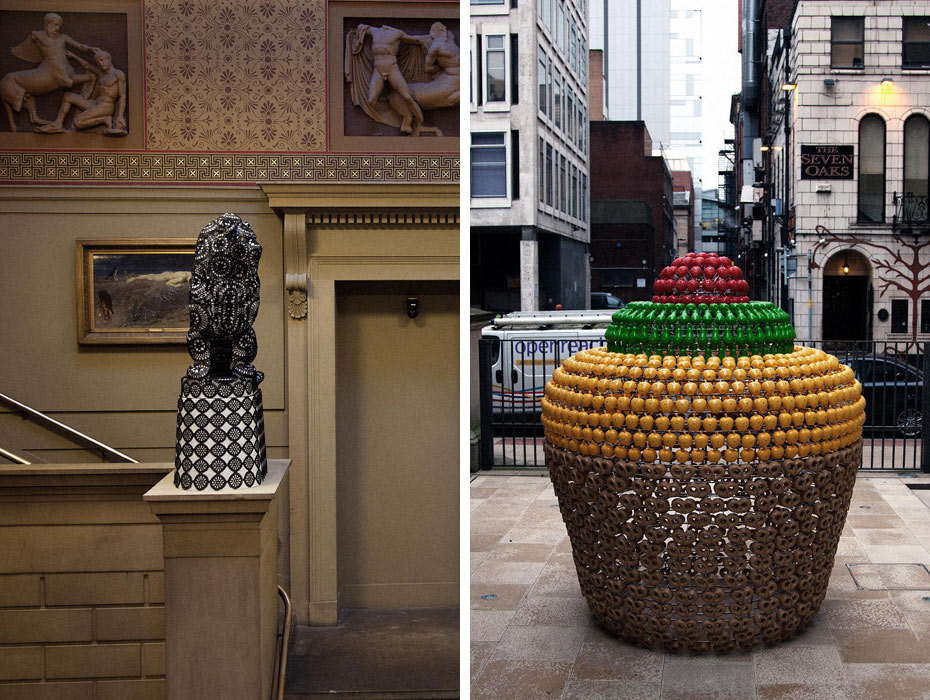 "Traditionally, crochet was made by the lady of the house to protect and decorate furniture. It was a design object in a way," says Joana. "These sculptures are very funny. The lions are quieter than other lions – they're nicer and more domesticated. 'Bond Girl' (2014) is like a reinvention of the idea of classical sculpture in Italy. It's a connection with the ubiquity of past and future."
However, a dialogue with the art of the past – Manchester Art Gallery holds over 25,000 pieces across fine art, design and costume collections – is vital, she says: "These pieces from the past, they still make sense to us today. Why not talk to them, why not interact with them? "Why not create this discussion between the past and the future? The title Time Machine is perfect. I'm not doing anything new; I'm just continuing work that started many centuries ago. We evolve because of the other's existence, so seeing us together makes sense. What is new is that we're opening the doors to discussion, bringing life to the collection and a new dynamic."
These networks are represented metaphorically by the tasselled and bejewelled tentacles of 'Britannia'. They not only reach across the European mainland from Lisbon to Manchester, but through the ages too, with the use of contemporary and traditional fabrics and methods. Recycled clothing features heavily, and the theme of recycling and renewal is – excuse the pun – a common thread running through Time Machine. 'War Games' (2011), one of three large-scale vehicle sculptures on show here, started life as a 1960s Morris Oxford. It was Vasconcelos' first car.
"It was in a basement for 20 years and wasn't running. I said, 'let's recycle my own first toy'. I'll recycle my first car – I'll recycle myself," she says tellingly. The car is filled with stuffed toys, all facing forwards as if racing towards the future, and decorated with plastic shotguns: "I bought all these toys to symbolise the safety of the home and the danger of the street, how kids no longer play in the street."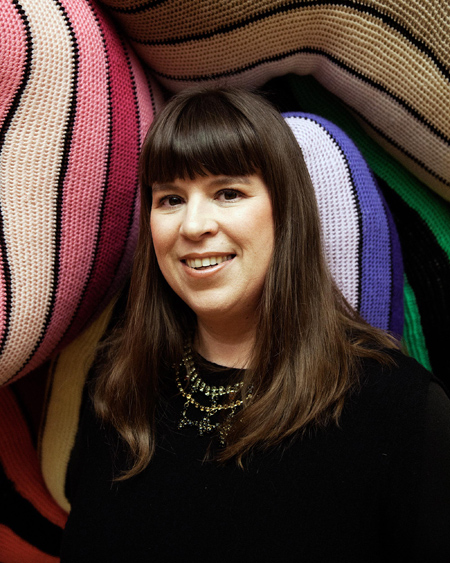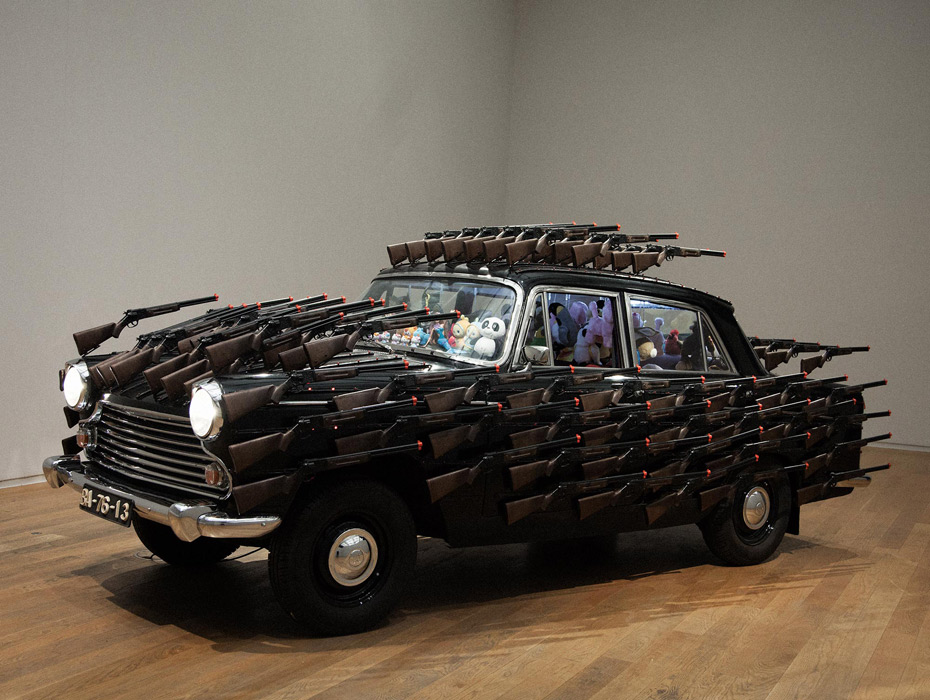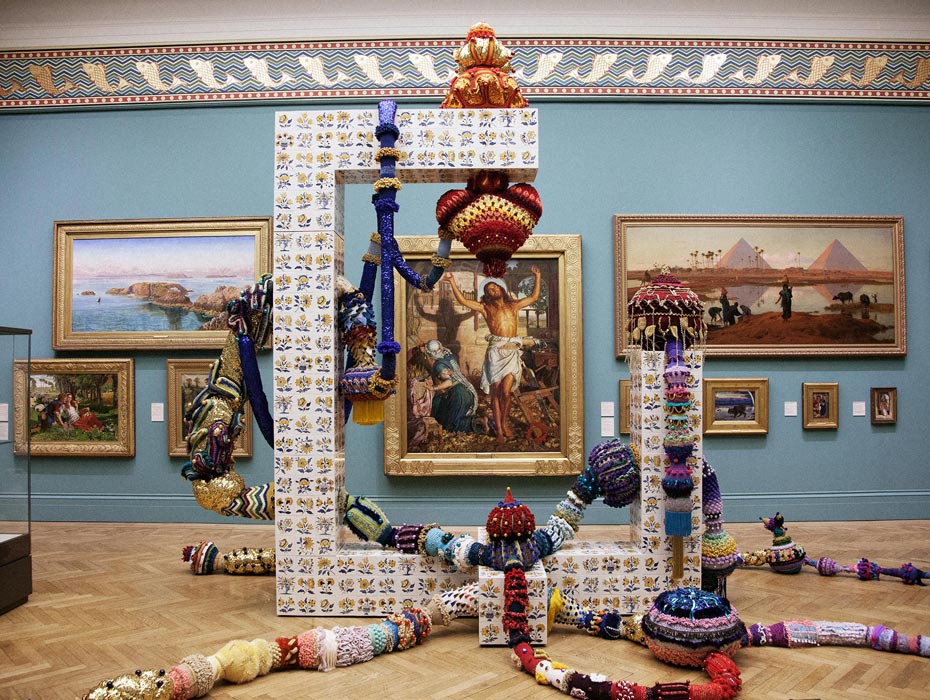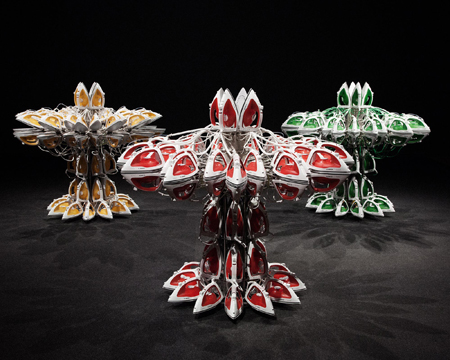 Another large-scale piece, 'Full Steam Ahead (Red, Green and Yellow)' (2012–2014) rescues steam irons from domestic servitude and turns them into objects of beauty. Releasing their water vapour in sync, they resemble pollen heavy flowers at the height of summer. "They're not transformed, they're de-contextualised" says Joana. "Their destiny is different. I think mine too in a way. It's a self-portrait. The funny thing about this show is, I never know if I'm back or in the future. I'm between worlds."
Like the children's toys that fill her old Morris Oxford, Joana Vasconcelos has her eyes fixed firmly on the future, but this exhibition has given her the chance to reflect on her past too. It truly is a Time Machine.
Time Machine runs until 1 June 2014 at Manchester Art Gallery, Mosley Street, Manchester, M2 3JL.
Photography Harry Watts