Billie Muraben reflects on Alex Tieghi-Walker's playful exhibition that brought together eight galleries from the US, Mexico and Canada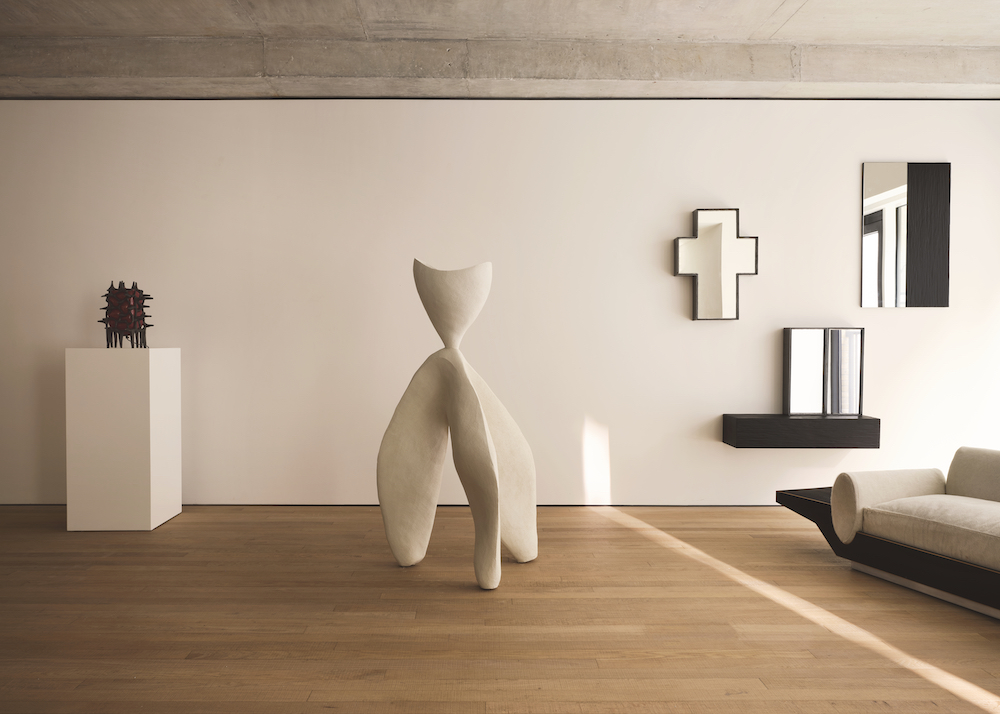 "As in most exhibitions, it was a sequence of unplanned events that led to the show happening", Alex Tieghi-Walker tells me from his apartment in New York, as he smokes a "calming" cigarette after a rude awakening from his building's superintendent. "I had always wanted to do something back in Europe, being British myself and starting this chapter of my career living in the US, but I definitely didn't know it would be happening now." It was a chance conversation with Selvi May Akyildiz, the director at Frieze's No.9 Cork Street gallery, which sparked the idea: "She wanted to bring something that was more design-focused into the arena, and we hatched a plan."
The North American Pavilion took over the entire building at No.9 Cork Street over Midsummer weekend, a first for the space, having previously given over rooms to individual galleries for concurrent exhibitions. Curated by Tieghi-Walker, the show brought together eight galleries from the United States, Mexico, and Canada who "straddle the space between art, design and craft", featuring: Bruises Gallery, Emma Scully Gallery, Jacqueline Sullivan gallery, Marta, Noon Projects, Of The Cloth, Studio IMA, and Tieghi-Walker's TIWA Select. "My practice has always been about uplifting voices in art that are less traditional, or not given the platform that they deserve. So for me it was clear from the get go that this show should be galleries who were newer, who have a different perspective and point of view", he tells me.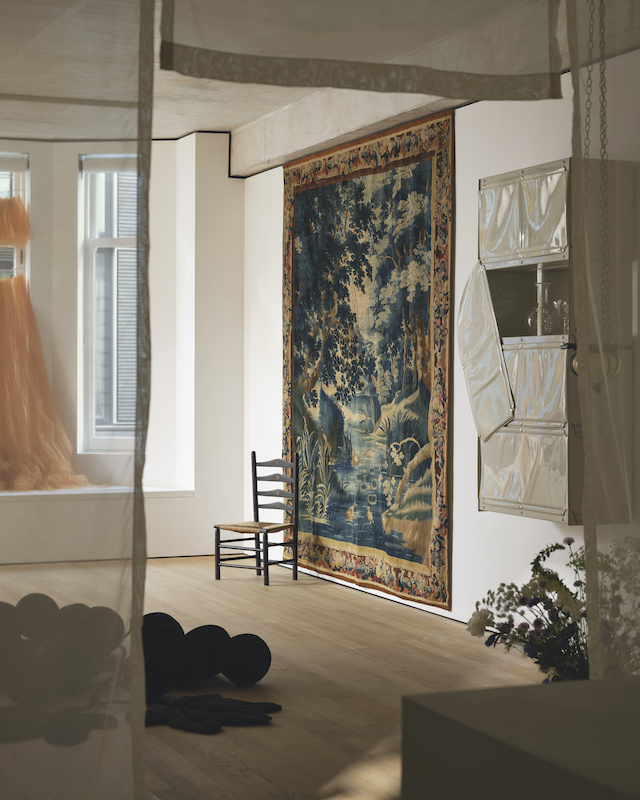 "The only brief I gave to the galleries was to represent North American curation" says Tieghi-Walker. "The galleries involved all emphasise the narrative of shows. They are not just putting works on a wall, they are very immersive galleries, creating whole new atmospheres and environments for every show. I have lived out of London for a while now, but I think galleries (in North America), are doing things a little bit differently from London. It is exciting for a British audience to experience the way that we curate out here. I just want the show to be fun."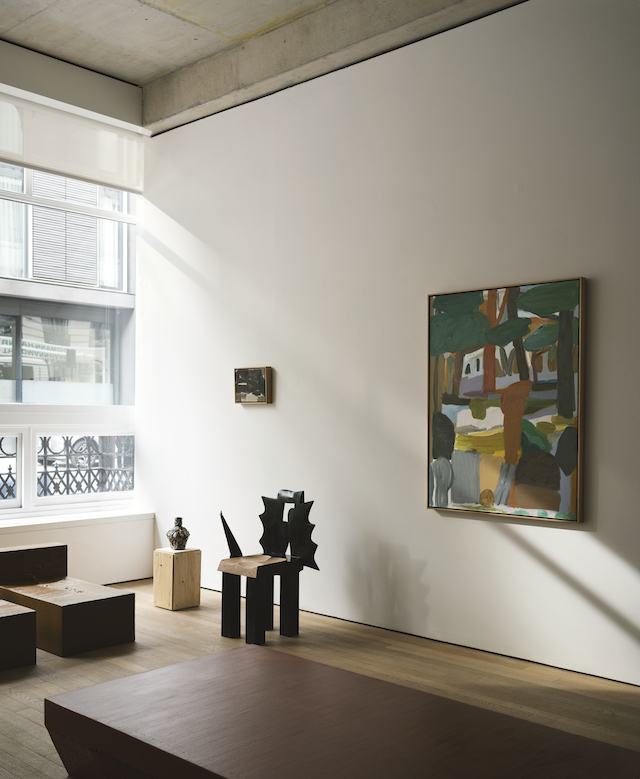 No. 9 Cork Street was once a Mayfair townhouse, and The North American Pavilion returned it to a domestic context. "Bruises created a bathroom, they brought over a painted claw foot tub; Jacqueline Sullivan hung drapes and curtains through the space; Marta brought huge, foam-moulded pieces of furniture, and I painted the walls of mine. We de-gallery-fyed No.9" says Tieghi-Walker. The aforementioned painted bathtub, a pastoral landscape with feet mimicking those of a monument, by Trevor Bourke, was lit by a floor-standing candle, which hung over the tub on its silver stick. Pinewood shelves and a cupboard developed the bathroom trope, only this time the cupboards proposing to hold your abandoned half-full shampoo bottles are carved like life-size Greek statues, by Bernard Trahan.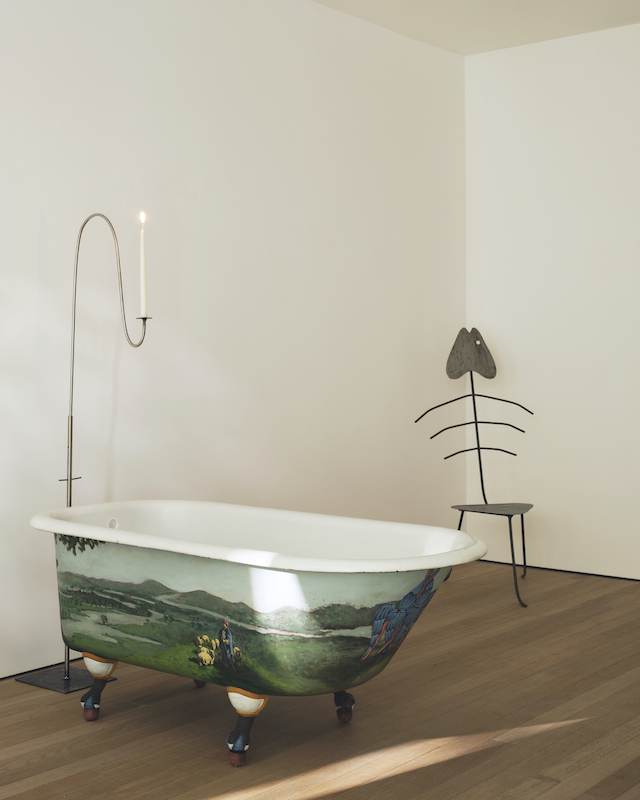 Elsewhere in the exhibition, galleries took a variety of approaches to evoking the domestic setting. What felt like an open-plan apartment was divided up by furniture, including Rafael Priesto's side tables, Rooms Studio's mirrors, and Jane Atfield's chairs at Emma Scully; oil paintings were displayed next to stoneware mugs, in a spatial framing suggestive of a dining room lit by Ben Borden's candelabrum, at NOON Projects; Studio IMA presented a space with an indoor-outdoor feeling due to the balance of natural and manmade materials, ceramics, pigmented clay and volcanic glass crossing over with steel, the contrast embodied in Fernando Laposse's Loofa Divider; while Marta invited a soft landing with Kristen Wentrcek and Andrew Zebulon's concrete-mimicking foam seats, in a living room decorated with stoneware by Dino Matt, oil paintings by Virva Hinnemo, and lacquered chairs by Minjae Kim – one with a baroque pearl standing proud on its arm. Jacqueline Sullivan's space was partially enclosed by drapes, the tapestry, glassware by Valentina Cameranesi Sgroi and Christopher Dresser, 'blousen' dressed William Morris chairs by Kristin Dickson-Okuda, and plush velvet grape sculpture that dropped across the floor, making the room feel reminiscent of a woman's dressing room in a mediaeval castle. For Of The Cloth, the domestic context came through in both the material approaches – including mixed media textiles by Henry Rollick, and Kristen Stain's black clay vessels – and the atmosphere of the space; the closeness of the relationships between makers, and the site-specific approach to showing works giving the space a true sense of intimacy.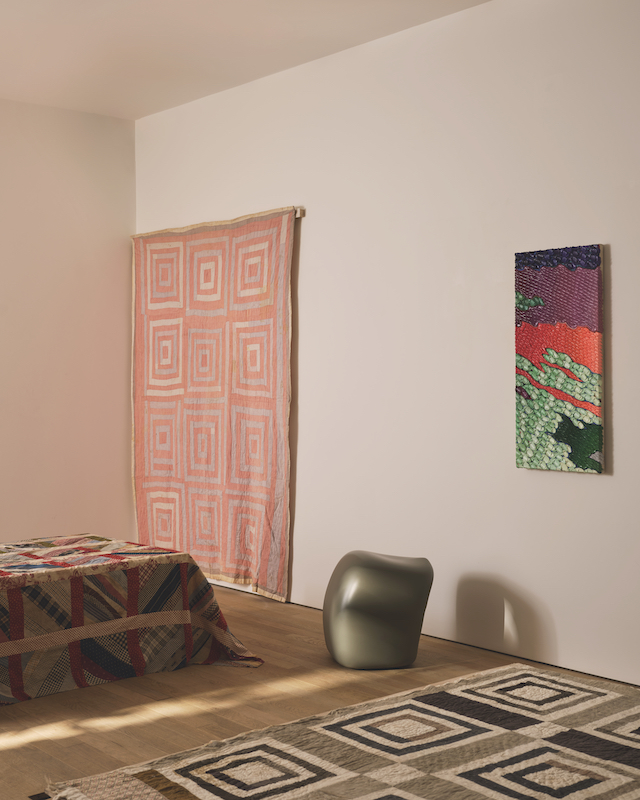 When curating works for TIWA Select's room at The North American Pavilion, Tieghi-Walker was "considering types of art that people might not necessarily associate with America, which people might be able to learn from" he tells me. "I'm showing everything from DNA weavings and paintings through to Gee's Bend quilts, because I wanted to show the breadth of American textile design, and demonstrate the history of craft in the USA." The room was dimly lit, evoking the feeling of returning to the comfort of home, with quilts, embroidery and paintings hung on the walls and displayed on low plinths, as if inviting you to wrap up in them after a long day.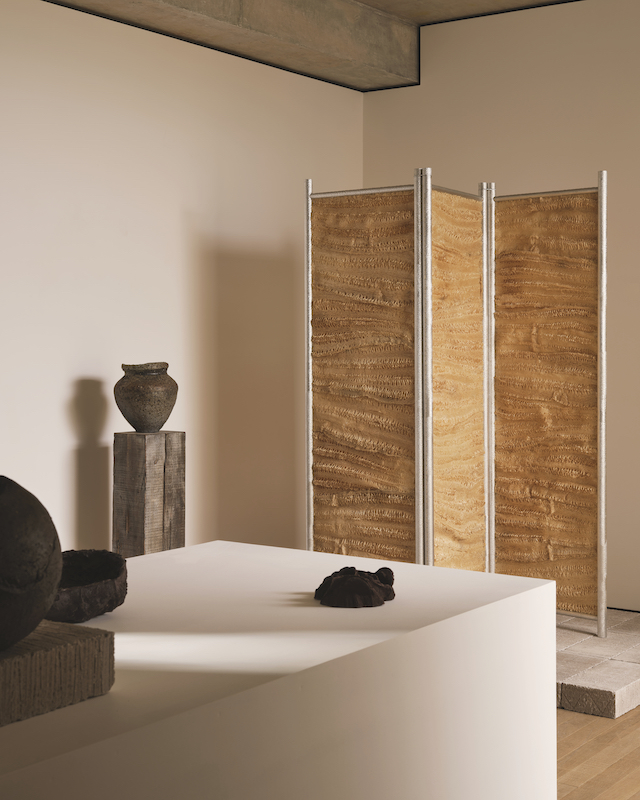 Introducing narrative, in a sort-of spatial performance, feels generous. It invites the viewer into the imagination of the environment, giving you space to develop an impression of who could live here, how you could live with these pieces, how the pieces themselves live. The North American Pavilion celebrates the crossovers between art, design and craft – what could be referred to as applied arts, but thinking beyond aesthetics, into a narrative, conceptual and material framework – and it feels distinct among the landscape of London's contemporary exhibition-making.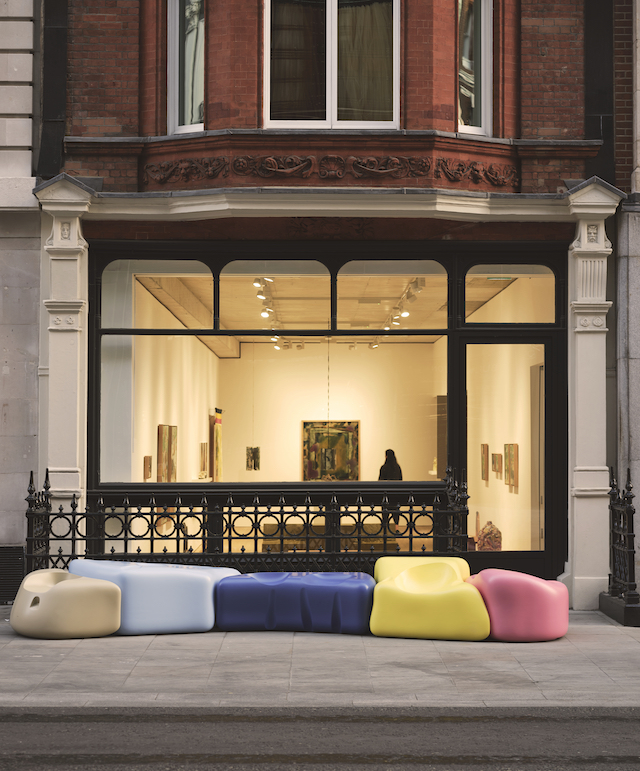 "I think the rich history of arts and crafts is maybe why art, design and craft are so separate in Britain. Craft gets its due respect in the UK", says Tieghi-Walker. "In America, I feel it has historically been overlooked. Craft is part of a long, indigenous history that has, until recently, been put to the side. I think that is why America is now embracing craft in this way, and why it is being integrated into design and art. Until 100 years ago, anything we used was essentially a craft object. It is the foundation of everything we have."
All images are copyright Felix Speller, courtesy The North American Pavilion