Photographer Joost Vandebrug has documented the lives of homeless children living in tunnels under Bucharest for his new book, CINCI LEI

Joost Vandebrug has been roaming the streets of Romania's capital, Bucharest, trying to keep up with The Lost Boys, a group of kids that live in a system of tunnels below the city. Along the way he's not only got to know the boys, but also starting to document their lives.
The ex-Communist state has a caring problem, it appears, as these children not only live rough, steel food for survival and, in some cases, are addicted to drugs. Joost is now working on getting a book together featuring the photographs he's taken over the past two years. CINCI LEI will be financed through a Kickstarter campaign, and it's obviously a project Joost feels strongly about: "The book and the story is about the boys… Their lives on the street, their run-ins with the law, each other, orphanages, coming of age, freedom, friendship and family".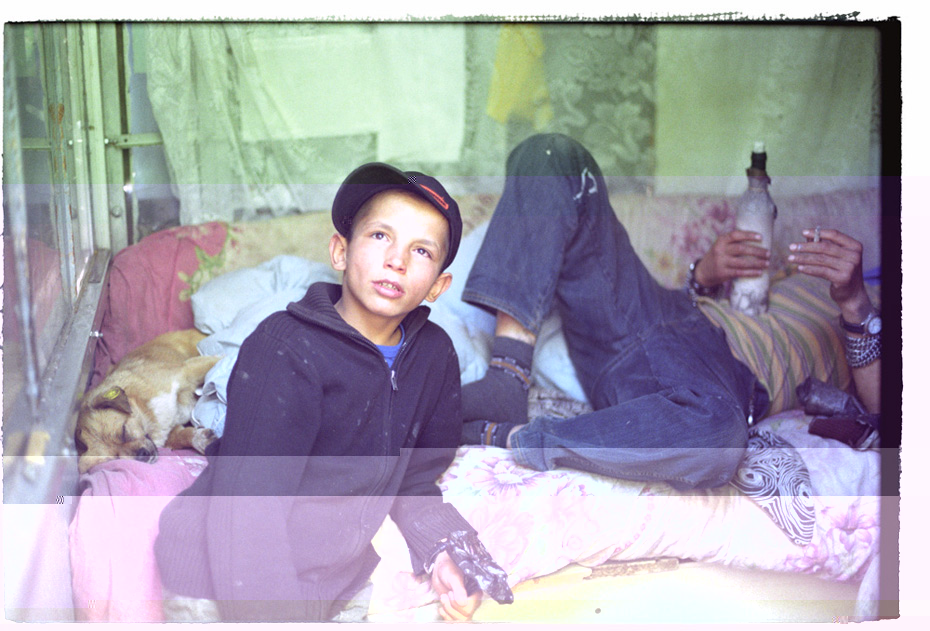 David Hellqvist: Who are the Lost Boys?
Joost Vandebrug: The lost boys are a close-knit group of friends that live in the tunnels underneath the streets of Bucharest. Specifically, Nicu, Stefan, Leviu, Costel and Andrei that I have followed around for the past 2,5 years.
David: How did you meet them?
Joost: I Met Costel three years ago on the street while doing research for another project. I took some photos of him and after developing and printing them I gave them back to him. I did this for a few days until he offered to show me where he lived – this is where I met the other boys.
David: Where and why are they living?
Joost: When I met them, and until last month, they lived in the tunnels. Very recently though, with help from a foundation, I managed to get a room for Nico and stefan. Costel and Liviu live in an orphanage, Pinochio, now (although they also stay in this room a lot) and Andrei is with his family at the moment outside of Bucharest.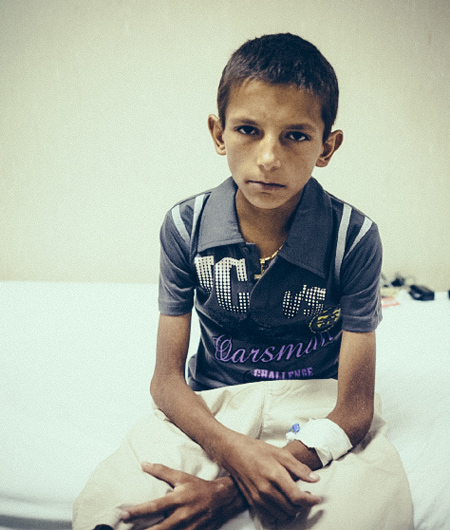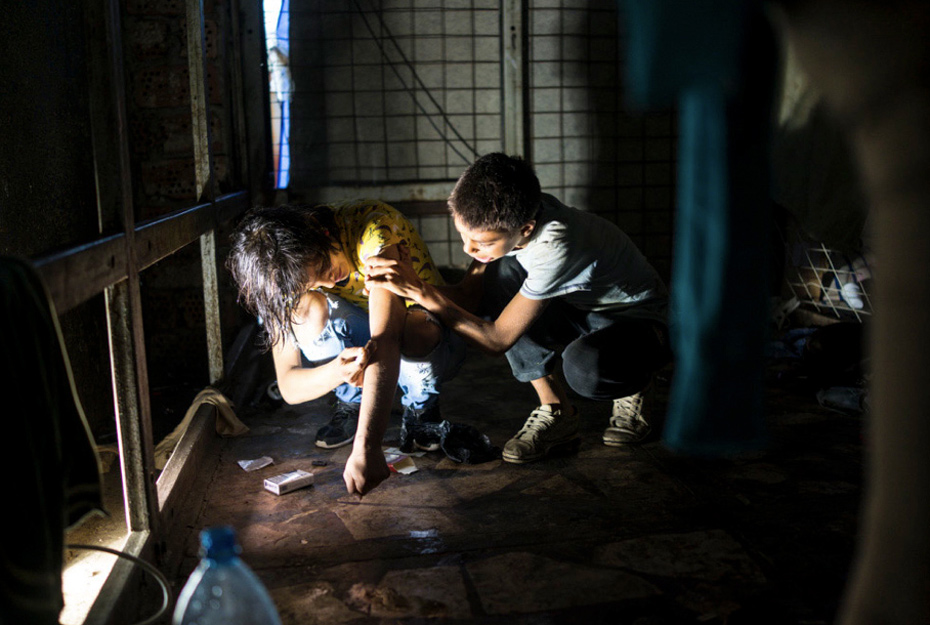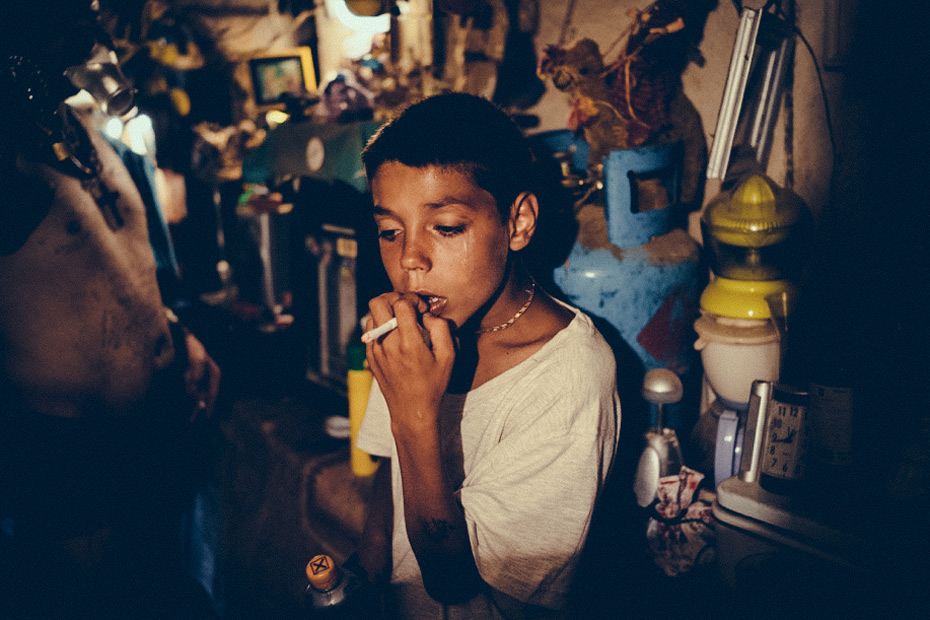 David: How old are they?
Joost: They are between 11 and 16 years old.
David: How do they survive?
Joost: Even in the beginning there were always foundation and churches where they could crash when it would get too cold or they were too hungry.. They would never stay long though.. As being used to the street so much, this is where they felt safe and wanted to be.
David: What sort of dreams and ambitions do they have?
Joost: Costel wants to be a singer. He even managed to get into the local newspaper because of it. Nico just had his first school day yesterday, so his focus is first to read and write and then he want to try to be a taxi driver. Actually he wants to be my driver.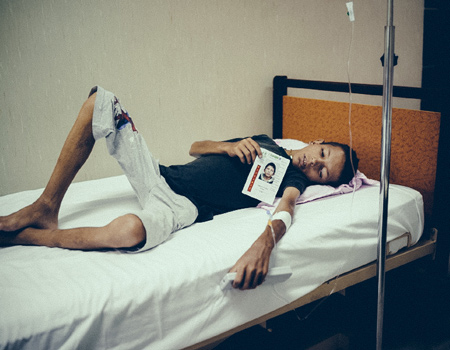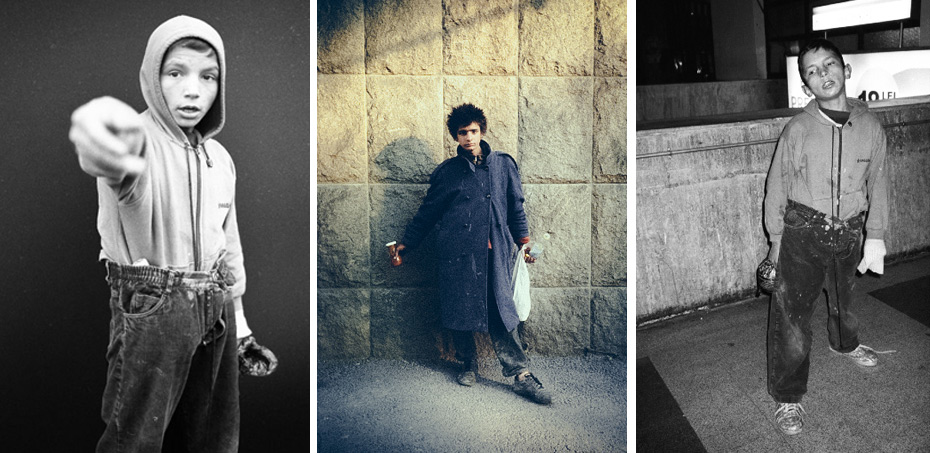 Joost recently returned from Bucharest, where he visited the boys again. He sent us this report…
Nico came a long way. He completely stopped the drugs and is really getting back on his feet. Considering he was very close to not being alive today, I am particularly proud of him. I recently returned from another long stay in Bucharest. This time things took a radical turn. I felt compelled to take Nico to the hospital: he looked dangerously ill and lost, what looked liked half his body, weight since the last time I saw him. It turns out he has AIDS – with a CD4 count of 2 cells/mm3 (we speak of AIDS when someone has fewer than 200 cells/mm3). In other words, it was a miracle he could still breathe, let alone stand up. It was not until then that I found out he is actually 15 years old, while not looking a day over ten; this was as well a shocking discovery. 
As a foreigner, and not being related to Nico, it was difficult to visit him in the hospital, but thanks to some smart negotiation by Raluca from Asociatia Homeless, an independent organisation that I work closely with, I was able to see him on a daily basis. This was not only necessary to make sure he received the medical attention he needed, but also to convince him of staying in the hospital and not to run away as he had done before. Although I can totally understand his urge to run off, I knew that he would not live to see the end of summer if he would. So to help him relax, and after some more negotiating and bribing, I managed to get approval for his friends to visit him as well. That specific day I picked up the other Lost Boys and Bruce from the tunnels, and took them with me to the hospital. I walked into Nico's room by myself. Not knowing his friends were waiting for him outside, he hugged me and asked if we could go out for a cigarette. Slowly we walked down the stairs. When we were outside he saw his friends… And although he could barely stand up, he immediately let go of my hand and ran up to Bruce and the boys. 
This was one of the most touching moments I ever witnessed.
Photography Joost Vandebrug