Radical feminist photomontage artist Linder discusses her latest work for Art on the Underground, the importance of reclaiming public space and uncovering lost stories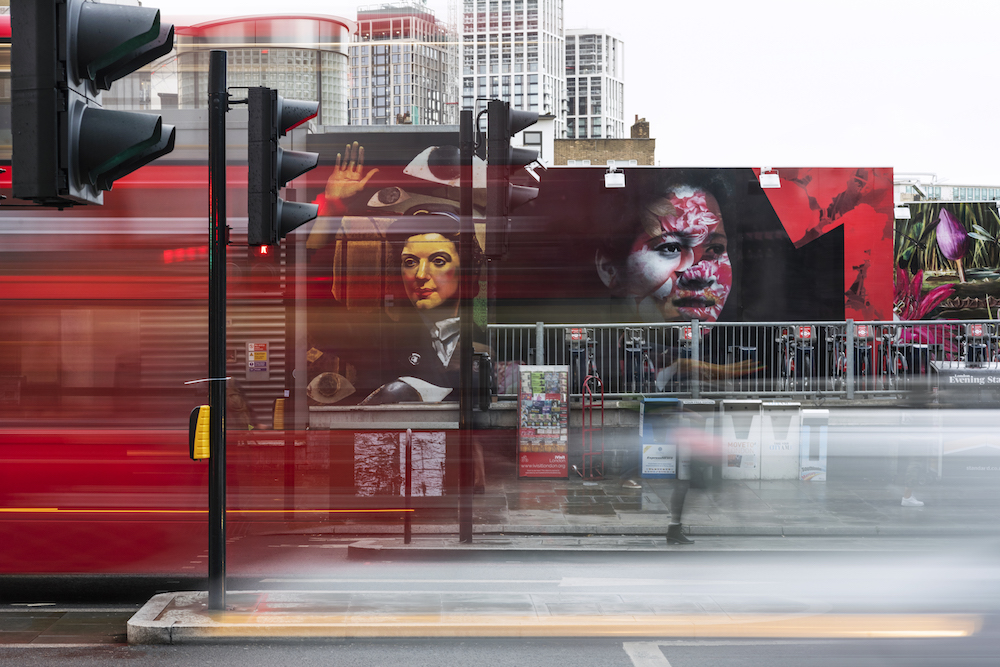 Featuring Londinium sex workers in AD 43, an 1815 illustration of the Night Queen from Mozart's opera The Magic Flute, and the first female underground porter in 1944, Art on the Underground's latest public commission by British artist Linder demands to be seen. Eyes, flowers and a tangle of female figures combine and contrast, overlap and bleed into one another. A bright palimpsest of artefacts, paintings and photos.    
Displayed on an 85 metre-long billboard at Southwark station, 'The Bower of Bliss' is the result of four months of research into the history, myths and fables of the women who lived in the south London borough. Intending to 'reclaim the representation of women from the male gaze to form a picture of empowerment for women everywhere', the work's title wryly nods to both the tube station's English landscape garden inspired architecture and Victorian slang for the female form. Drawing on source materials from the Cuming Museum Collection, the London Transport Museum Collection and lost property offices, the billboard will continue to change seasonally until October 2019, each new layer building on the previous collage. Completed in conjunction with the Mayor of London's Behind Every Great City campaign, it forms part of Art on the Underground's 2018 programme of exclusively female artists.     
Linder is best known for her radical feminist photomontage, combining domestic imagery from women's fashion magazines with pornography and other archival material. Her work is direct and disruptive, explicitly challenging assumptions on gender and commodity, and the implicit relationship between the two. Port talked to her about the ambitious project, as well as the importance of reclaiming lost stories and public space.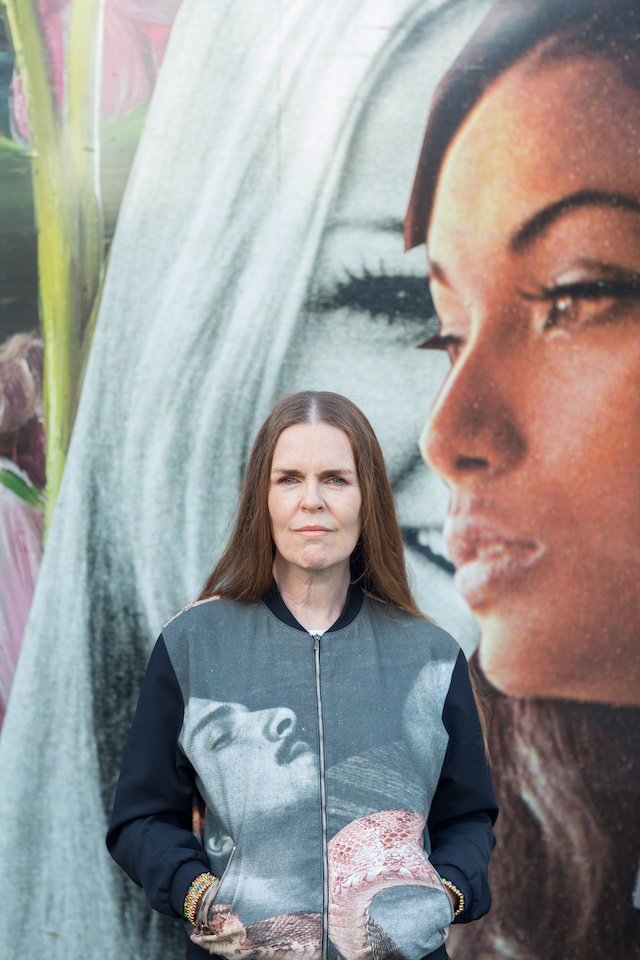 What draws you to photomontage?
Every day in London we're bombarded by the photographic image. Photographs are experienced at all sorts of scales via the billboards and hoardings of the cityscape, right down to the intimacy of the selfie on a smart phone. It gives me immense pleasure to work with photographs generated over the last hundred years or so – I carefully select each photograph so that it faithfully depicts the times in which it was taken. I work with a surgeon's scalpel to cut up the photographs that I find, and each cut-out then becomes a small cultural biopsy. All sorts of new meanings are created when a cut-out of a "glamour model" from 1968 is glued onto a photograph of a painting from 1880 of red water lilies in southern India. The latter was painted by Marianne North, a woman with an extraordinary biography, in full contrast to the glamour model about whom we know nothing. This is just one of several billboard photomontages at Southwark, the same billboard also includes a cut-out of a teenage girl's backpack with its contents barely contained. The backpack still lies unclaimed in TfL's lost property department amidst tens of thousands of umbrellas, mobile phones, children's toys, musical instruments and other seemingly precious belongings now abandoned by their owners.
What kind of city would we live in if artwork replaced adverts?
Oh, if only this could happen! London would then become an illustrated book of sorts, with its architecture, people and traffic mingling within the insides of artists' heads, rather than being held at the mercy of the tropes of advertisers. The impulse to buy, to acquire, to escape the city, would be visually muted. Daily life would become enriched, puzzling and inspirational, plus London would have instant international renown for its radicalism!
During your research residency, how did you select the women of Southwark? Are there any stories that really stood out?
I thoroughly enjoyed the long periods of research within Southwark's archives and collections. At the Cuming Collection, for example, the curator there opened box after box of delights. I saw the eyes of Egyptian mummies, a 1920s "mutton bone" doll from the back streets of London, a Roman votive in the shape of a womb, plus a carved figure whose breasts are the very opposite in shape to the breasts that we see in all contemporary advertising i.e. her breasts point down and not up. All of this imagery and more can be seen on the billboards at this very moment, the visitor can also see photographs of other treasures that hide away in local collections patiently awaiting discovery.
From the archive at Transport for London, I wanted to show images of women that would help to weave a narrative around the station. The key figures that I feature from the archive are that of a porter, a driver and a conductor. As you approach the entrance of Southwark station, you see Eric Henri Kennington's painting of Elsie Birrell from 1944. Elsie Birrell was one of the first ever female porters to be recruited to work on the underground, we can only imagine now what a moment of great empowerment it must have been for those women. Likewise, there's a photograph from 1962 of a bus conductor, Agatha Claudette, and an unnamed woman driving a bus in the late eighties. I like the idea of featuring known and unknown women on the billboards, hinting at how even recent histories can so easily be lost.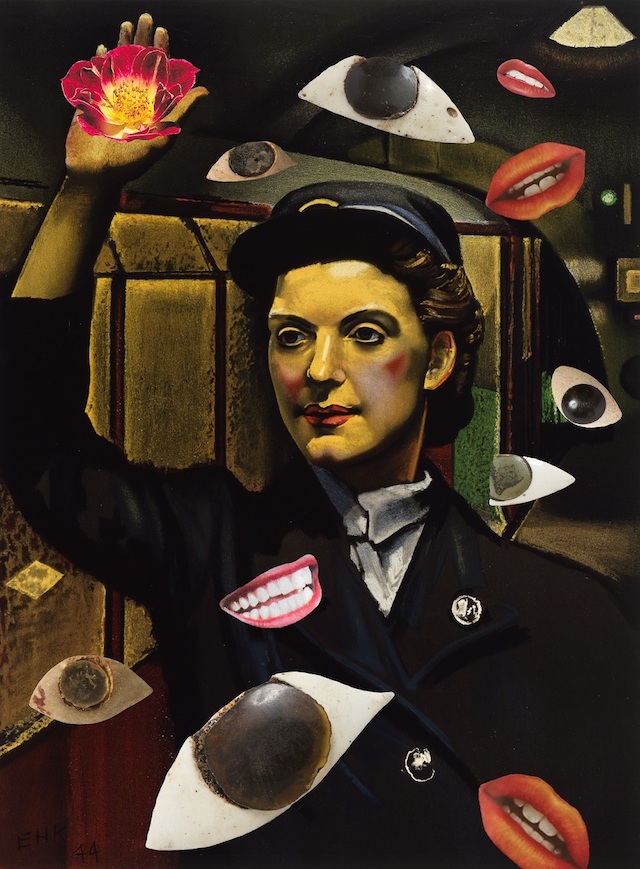 Why is it important for Art on the Underground to run a programme of exclusively female artists?
Your question is as telling as my answer. For decades, posters on the underground were designed predominantly by male designers and artists. TfL was unusual amidst its contemporaries though in that it included posters designed by women from as early as 1910 – Ella Coates designed a poster for Kew Gardens that year and many other women followed in her footsteps in the subsequent decades.
For centuries though, no one ever questioned or remarked upon galleries and institutions that featured only male artists, and as a result we now have a long way to go to redress that imbalance. Art On The Underground are pioneering in this respect and this year's programme has meant that myself and the other commissioned female artists have been able to respond to the landscape in which we find ourselves with an awareness of each others individual response.
How can London reclaim its public space?
I think that reclamations of public space can happen via a wide spectrum of action, from the individual to the collective, from the civic to the personal. The imagery that a city allows to be paraded on its many billboards is a good place to start, introducing more green spaces is another. An awareness of how we all contribute to making cities into safe and pleasurable spaces is of paramount importance in such potentially divisive times, 'The Bowers of Bliss' play their small part in this.