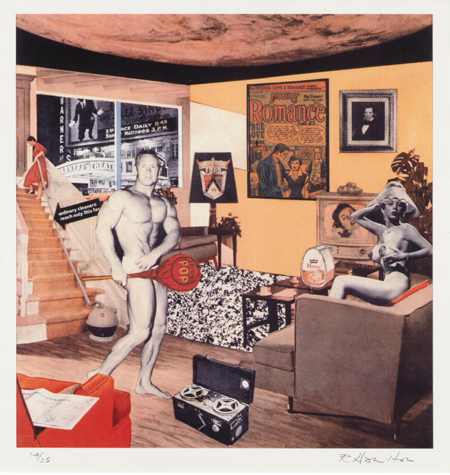 Three concurrent exhibitions celebrating the work of the influential pop artist open this week in London
When the late British artist Richard Hamilton wrote to architects Alison and Peter Smithson in 1957, (inadvertently) setting out the Pop Art manifesto – "transient … expendable … low cost … mass produced … aimed at youth … sexy … wicked" – he was already 35. In New York, Warhol and Lichtenstein were staring down the barrel of forty as they reached their epoch. Perhaps the kids couldn't approach the post-war consumer boom with the necessary humour or cynicism – it was all they'd known.
When Hamilton died aged 89 in 2011, he was still working daily. His archive spans nearly sixty years and myriad methods, from collage to screen printing, installation to illustration. Plenty of material then to support three simultaneous London exhibitions celebrating the work of this influential and most un-starry of British pop artists, who was still satirising his country's war mongering well into his 80s, with his depiction of Tony Blair as an apocalyptic cowboy for 'Shock and Awe' (2010).
"The word 'pop' leaps from Hamilton's seminal collage like a spawning salmon"
Richard Hamilton at the ICA, running until 6 April, re-stages two of the artist's significant early installations from the old ICA site on Dover Street: the catalogue of human endeavour that is 'Man, Machine and Motion' (1955) and 'an Exhibit' (1957), in which the display itself becomes the subject in the absence of objects and ideas. These sit alongside a selection of archive images and memorabilia. Hamilton became synonymous with the ICA in the early part of his career, meeting regularly with the likes of the Smithsons and Pop Art pioneer Eduardo Paolozzi, to chew the creative fat as a member of the quarrelsome Independent Group.
Hamilton's Paolozzi-inspired 'Just what is it that makes today's homes so different, so appealing' (1956) – the past tense was used in later reproductions (see above) – is often cited as one of the earliest examples of Pop Art. At Tate Modern's major new retrospective (13 February – 26 May), this seminal collage, from which the word 'pop' leaps like a spawning salmon, can be seen in print form alongside works spanning the entirety of Hamilton's long career. His fascination with popular culture, celebrity and interiors is omnipresent, as are his more politicised mid and late period works, including 'The Citizen' series (1981-83), which examines the dirty protests inside the Maze Prison. There is also a recreation of his first ever installation, 'Growth and Form' (1951).
In tandem, Alan Cristea Gallery is showing a number of original prints (including digital), focusing on the themes of protest, portrait, landscapes and again, interiors, under the banner Richard Hamilton: Word and Image. Prints 1963-2007. Cristea himself had worked with Hamilton since 1974. "The current exhibition marks the 30th anniversary of the first print retrospective that we mounted together" says Alan. "I admired him when I was an art history student in the sixties and my respect for him grew the longer that our working relationship continued. I considered his friendship a privilege."
Richard Hamilton: a quiet genius who raged (and laughed) at the world through his art.
'Richard Hamilton at the ICA' runs from 12 February to April 6. Details of 'Richard Hamilton' at Tate Modern can be found here. The Alan Cristea Gallery will publish the first posthumous catalogue of Hamilton's prints, more details here.