Jazz Grant's collage animation addresses themes of identity, displacement and escape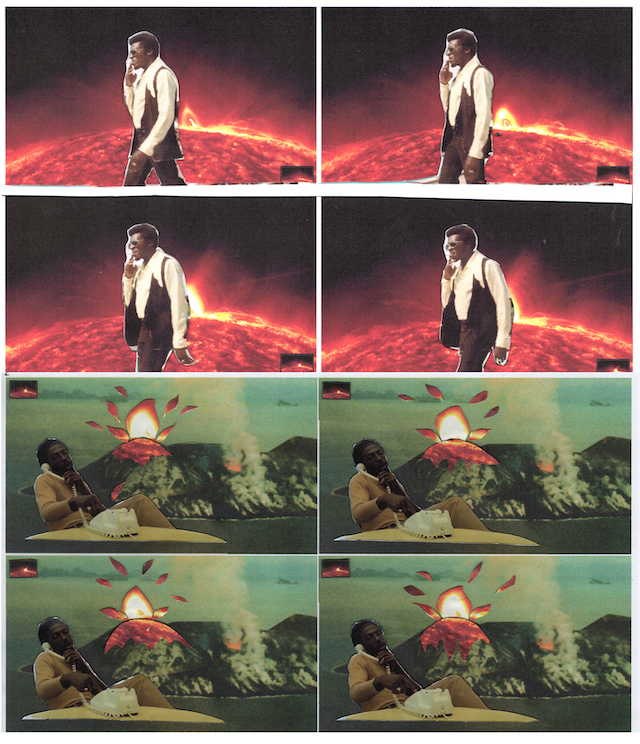 In 1973, Jamaican filmmaker Perry Henzell produced his cult hit, The Harder They Come. Starring singer Jimmy Cliff, who plays the protagonist named Ivanhoe Martin, the film follows a country man as he leaves his rural home for Kingston in a quest to become famous. Things don't go as planned, and he ends up battling against all-things music industry, police corruption, religion and drug dealers. The film also rose to acclaim for its reggae soundtrack, with some stating that it "brought reggae to the world" – featuring the likes of Toots and the Maytals, Desmond Dekker and, naturally, some songs by Jimmy Cliff.
It's this very film that informed the latest accomplishment of London-born artist Jazz Grant. Known for her cut-and-paste works and animations, she was recently commissioned by print publication and platform Boy.Brother.Friend to work on an animated film, titled Rhyging Sun – a name taken from 'Rhyging', a variant of 'raging' in Jamaican Patois. Riddled in signature collage style, the work is composed from imagery sourced from Henzell's The Harder They Come, ignited by Jazz's flare for hand-cut processes, research and the arduous (and most enjoyable) method of stop-motion animation. "It was an immensely difficult task," she says of the film's initiation, "but I saw it as an opportunity to create something really ambitious."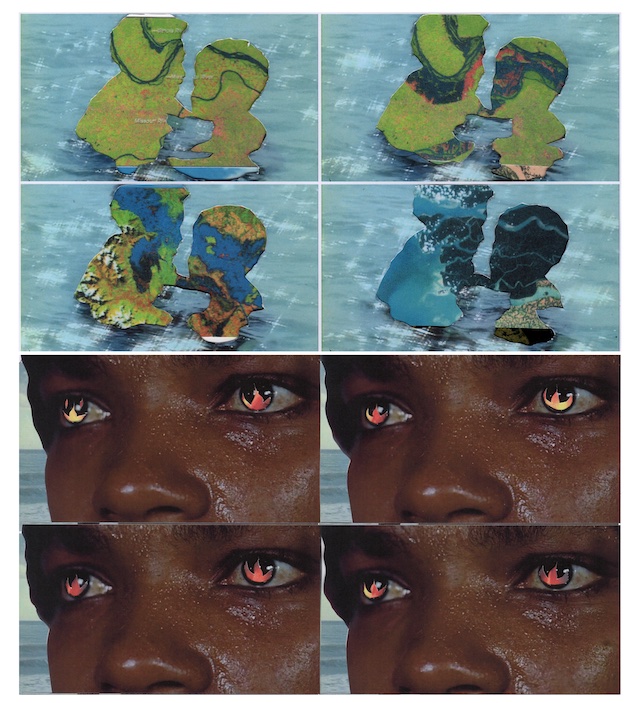 The Harder They Come is a film that Jazz has always thought of fondly. "It's one of the most iconic films and had such a big impact on me when I first watched it," she says. "It still does." In this regard, the film manifests as a window into a place that leaves her feeling both connected and disconnected – especially from having to explain her Jamaican roots to others, even if she feels physically distanced from the country. But not too long ago, Jazz found herself at a literary festival in Jamaica and ended up meeting Justine Henzell, the director's daughter, before asking permission to incorporate the film's clips into a collaged animation. "She was enthusiastic about it, which came as a really incredible surprise to me. Actually, it was one of the most exciting moments in my life when she said yes. I'll always treasure that."
With the project underway, Jazz continued to watch the film "over and over" to seek out the most prominent visuals. It was an interesting take no less, having to observe the film she knew so well with a different angle – or, as she puts it, "with the eye of viewing a still, found image". Downloading the selected moments as frames per second, she then went on to lay each of these snippets out on A3 paper as if they were a contact sheet or film reel. This was shortly followed by the printing and collage process, where each individual frame was artfully composed with intricate, detailed composure. She then scanned the sheets into her laptop and layered each of them in Photoshop as a stop-motion animation, using Premier Pro as her tool for piecing all the bits together. Dan Hylton-Nuamah was onboarded to work on the score for the film.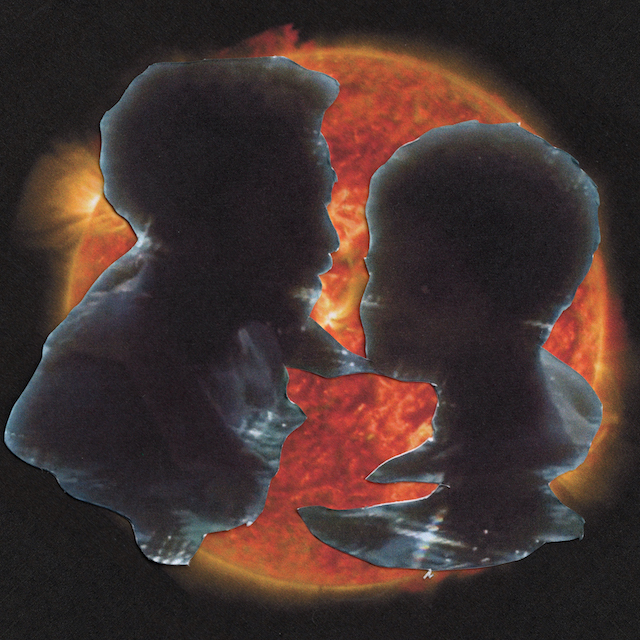 The final composition sees the merging of many cinematic moments, each framing the journey of a meteor as it gradually edges close to earth. Signalling the demise of the world, Jazz pinpoints Sun Kissed Sweethearts as one of the key moments from her animation. It's a piece that references the original film's protagonist, Ivan (or Jimmy Cliff) and Elsa (Janet Bartley), as they embrace in the water "rebelliously, against the preacher's wishes – who's also her guardian." She adds: "The scene is cut between the both of them singing at church, with them naked in the water. It's such a visually beautiful and cheeky moment in the film. The water and the lovers are almost indistinguishable; the quality is loose and dreamy. It can feel wrong to mess with an original image, but I cut them out, placed them on top of a rotating sun. Something in the liquid-like quality of the NASA image allowed for a similar texture to the original, yet a completely different feeling occurs. It's really simple and often the best collages are. It just resonates."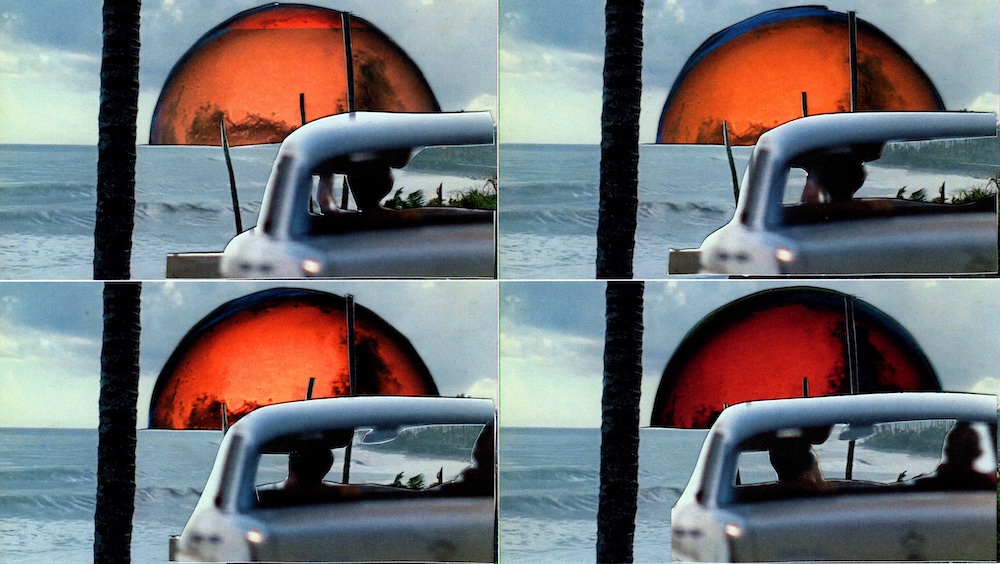 The art of collage is a widely used technique, chosen mostly for its ease of telling stories and ability to blend different – sometimes opposing – ideas into one unified approach. For Jazz, it's a way of making sense of her identity, as well as addressing a reoccurring dream she's been having: one that centres on the end of the world. "There is lava crawling down my street, the same height as the buildings that surround it. Or, the water levels are rising and increasingly large waves are crashing through the house, and I'm always relatively subdued in them. I'm trying to escape but there's also a feeling that there is no escape, so I simultaneously marvel at the beauty in the impending doom caused by extreme natural disaster." 
Perhaps this is why Rhyging Sun has such a wildly illusory manner out it. Because, after all, it's reflective of a dream. But more importantly, Jazz's animation has been created as a means of understanding more about herself – which is just what Ivan set out to do in Henzell's The Harder They Come.
You can watch Jazz's Rhyging Sun below.