The Berlin-based artist discusses the origins his unorthodox 'One Line' technique ahead of HUGO's 20th anniversary expo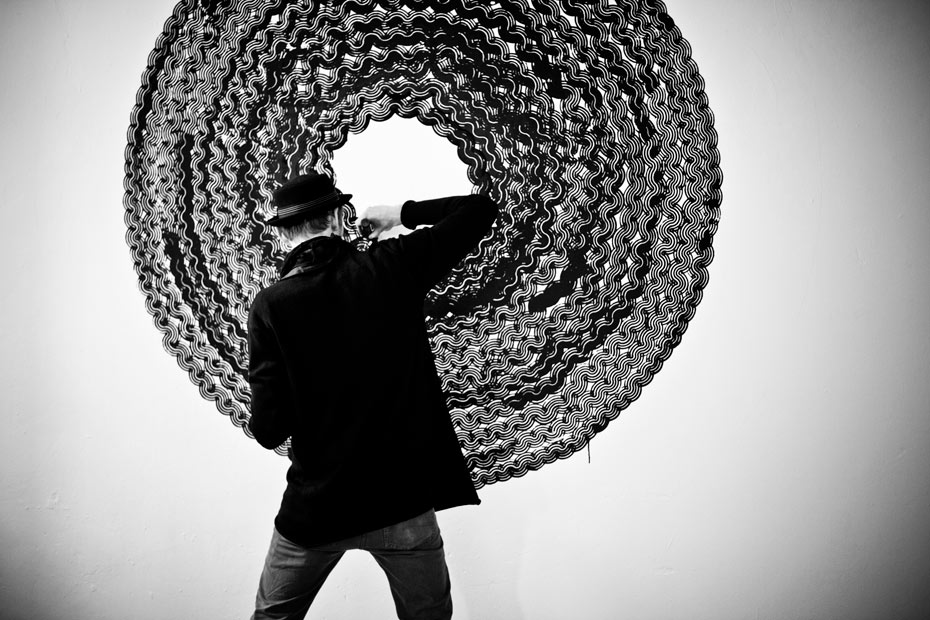 Typified by its modern city aesthetic and understated confidence, the HUGO brand celebrates its first two decades this summer with an ambitious pop-up exhibition at London's Saatchi Gallery, showcasing the work of 20 urban and contemporary artists from around the globe.Billed as a multisensory experience, the exhibition invites visitors to interact with an array of work on display, from Electropastete's light projections that map movement to Jun Fukiwara's sound bottles capturing sounds, and reorganising them into a soundtrack.
Also exhibiting is Berlin-based artist Steffen Seeger, who uses his aptly titled 'One Line' technique to create images from a single fluid motion in a range of ink-based medias.
Betty Wood spoke to the German artist ahead of the exhibition's opening on 31 July to find out more about his fascination with the fleeting, and how his technique has grown from an early interest in letter writing.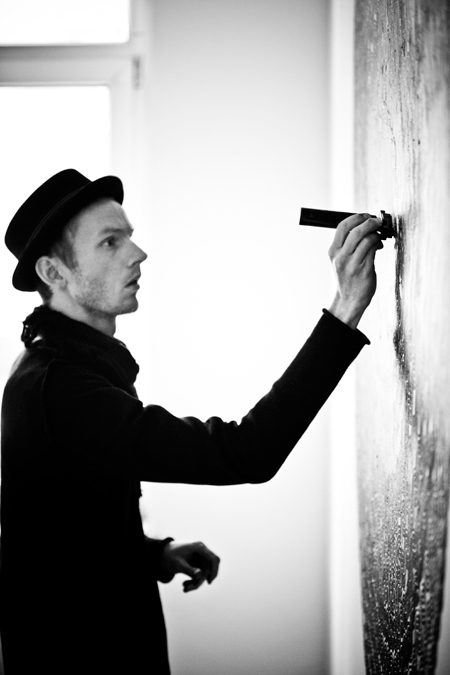 This exhibition marks HUGO's 20th anniversary; what were you doing 20 years ago?
20 years ago I was obsessed with letters and spray cans. The only things on my mind were colours and outlines – I was constantly painting letters and developing different styles. Writing was my big thing.
Graffiti design led you to develop your "One Line" technique; in what other ways is your artistic style indebted to street-art and street-style?
The only thing that actually interested me back then was letters. When street-art raised its head, I was hardly active as a writer anymore. I've never used stencils, haven't used posters, objects or built installations in any open spaces. I'd rather say that modern / contemporary art and painting had the biggest influences on me after graffiti. I wanted to try something totally new and started painting portraits. Then I studied design and my work took a turn to graphics and illustration. I ended up developing my work on one-line drawings via graffiti, painting and design. I love working with the "One Line" technique because it encompasses all the different directions I went through.
A lot of your work takes a minute or less to produce, following a single, quick and fluid motion; why do you like to work so quickly?
A lot of times the things that fascinate me are very fleeting, for example a gesture or a movement, and I don't have much time to capture it. If I have more time, or if I concentrate on an idea for a longer period of time, I'll repeatedly paint the motif in the same speed, try out a number of possibilities and then soon enough I can compare the works with one another.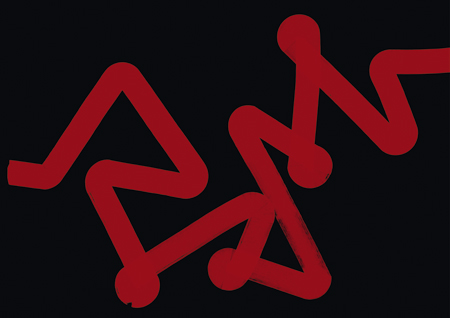 How do you work so quickly? Do you plan what you're going to do before committing roller to surface? Or do you do it more intuitively?
My plan is to work intuitively, which means that I have to think about what I am doing before and after the drawing, while staying totally open to possibilities during the actual drawing process. After many repetitions, thought and intuition then blend into something like a work-flow. Ideas and unforeseen things constantly interchange and the work stays free and playful.
What differences are there between working on a commercial project in comparison to a personal one? Do they follow different creative processes?
A personal piece of work is freer and follows its own rules. A commercial piece of work rather adapts itself – it's more limited in its playfulness and demands a quicker result. Working on a freer piece I developed methods and techniques that I can use on a commercial project to certain extent. Saying that, I can have ideas whilst working on a commercial project, that I take into my personal work.
It seems a key message of your work is interconnectivity and cross-pollination; what influences your work?
Everything that surrounds me can become a line.
Red Never Follows runs at the Saatchi Gallery 31 July – 1 September. For full programme details, visit www.redneverfollows.com