William Kherbek visits Hauser and Wirth's multi-site exhibition, showcasing the expansive collection of gallerist Reinhard Onnasch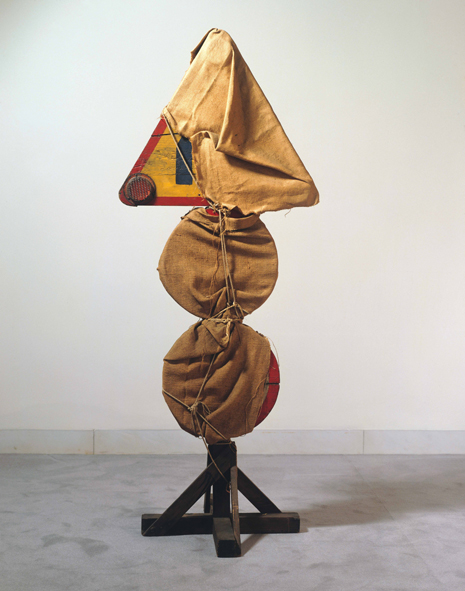 There's a scene in the revered HBO television series, The Wire, in which the up-and-coming drug dealer Marlo reflects on the difficulties of consolidating his growing narco-empire and he notes that his dilemma is "one of those good problems". I expect that since the rise of mega-spaces for art in London, certain gallerists and curators find themselves in a similar predicament: all this space, you could do anything with it, so what do you do? Since the opening of their massive Savile Row space, Hauser and Wirth have been answering the question in various ways. Their new exhibition, Re-View, which features works from the expansive collection of the storied gallerist, Reinhard Onnasch, sets a new standard for both ambition and coherency in the kind of hyper-shows such spaces invite.
For potential viewers, be prepared, the show is big. It's so big, in fact, that Hauser and Wirth also enlists its Piccadilly space in the exhibition. There's much to take in, the show is a journey through at least six completely distinct artistic movements and it resurrects a number of elided names from the past sixty years of American and European art. The Piccadilly space is the most concerned with the latter aspect. The downstairs exhibits a number of works by the American artist Edward Kienholz, a man who it seems most days managed to do six uncanny things before breakfast, and the upstairs brings together a generous selection of works by the Fluxus alchemist, George Brecht, think of him as a more stylistically expansive descendant of Joseph Cornell and Peter Blake. Oh, and there's a room of Richard Tuttles, too. Mixed in are works by Dieter Roth, Christo, and a massive tribute to Kurt Schwitters by Hanne Darboven. That's just Piccadilly.
"It's a pop-conceptual afterparty of heroic proportions"
If your mind hasn't quite melted, you can venture to Savile Row and see a wide-ranging retrospective of Ab/Ex and colour-field works at the north gallery. The works are all of superb quality. I went in not caring much one way or other about Clyfford Still, but left thinking maybe he's worth reassessing. A show like that is dangerous. When you think of all the male, 20-something painters whose work is much less effective at killing off Jackson Pollock than the man himself was, you shudder to think at what ships it might set sailing. On a more serious note, the east room of the gallery offers a masterly dialogue between Frank Stella and Morris Louis. It should be noted though, that the leavening humour in this section of the show is provided by Cy Twombly in a work about the myth of Leda and the Swan.
Things do lighten up in the South Gallery. It's a pop-conceptual afterparty of heroic proportions. Deranged Oldenburgs almost seem to make the walls sag. A giant Richard Serra seems to push the other direction and in between there's a visit from Richard Hamilton, a mind-and-face bending series of works collected under the heading "Toaster-deluxe study".
I'd recommend going more than once. Actually, I'd recommend going more than twice, Re-View requires much re-viewing. It's a testament to the curator of the show, Paul Schimmel, that a show which could have serious shaggy-dog qualities feels as sharp as this one does. I'm not saying it's perfect, one could question whether the presentation of the Kienholz works is a bit rarefied in the face of Kienholz's aesthetic, for example, but it's a show that makes you think and makes you feel and it might–just might–make you feel slightly less agnostic about Jim Dine. That's a serious achievement.
Re-View: Onnasch Collection, Hauser and Wirth, 23 Savile Row, London, W1S 2 ET and 196A Piccadilly, London W1J 9DY, Until 14 December