Hew Locke discusses his grand commission for Tate Britain, a poetic work of sculpture examining colonial legacy, global finance and the human bodies at the end of the paper trail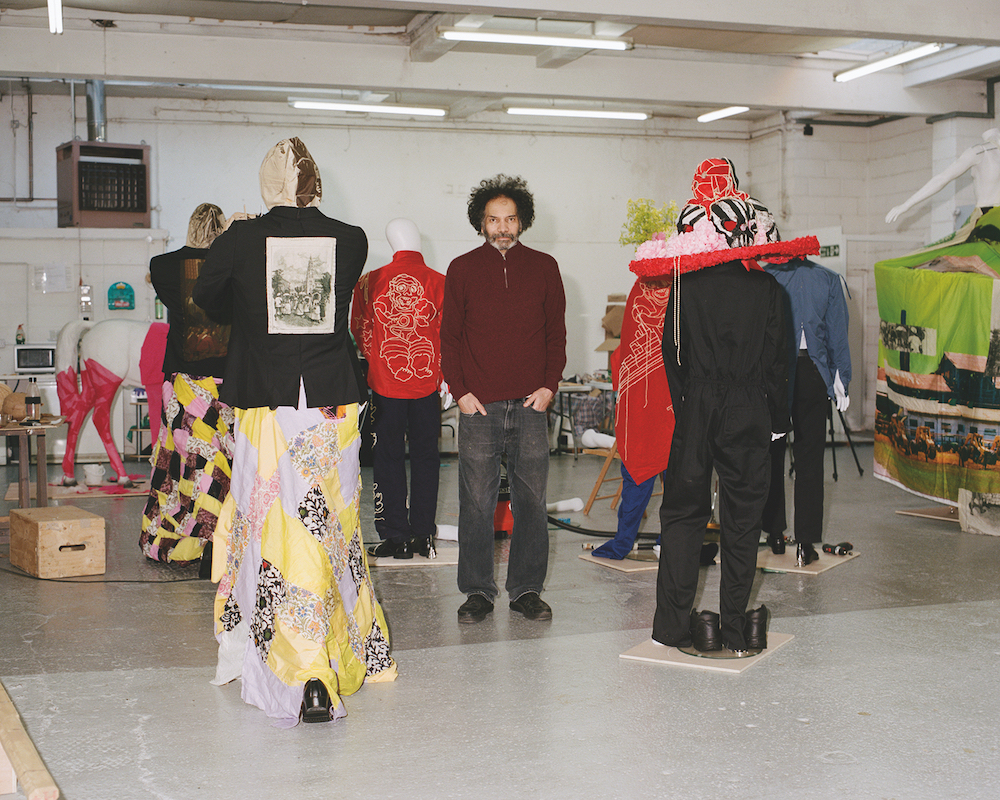 It's countdown time on the largest commission of Hew Locke's career and biosecurity at his studio has gone near-laboratory grade. As the new etiquette demands, we exchange cute snapshots of our matching negative Covid tests before we meet. On arrival I have to disinfect my shoes. Locke apologises: under other circumstances we might have had an informal chat over a cup of tea, but so much hangs in the balance that the virus invading his studio at this point would be catastrophic.
The British artist has received the annual commission to fill Tate Britain's grand, neo-classical Duveen Galleries. "I've often said, half joking, half serious, that Tate Modern's Turbine Hall is easy because you can do what you like," says Locke, against the clatter of busy assistants. "But the Duveen is really tricky, because it's in the museum. You're in this highly charged space. All this history – Charles I, Charles II, Elizabeth, the Tudor portraits – are just two steps away from you."
This is not idle chat: In 2014, Locke staged a performance in the Turbine Hall. Inspired by the impact of gentrification on the Notting Hill Carnival, it featured a Brazilian bateria band, and placards of the neighbourhood's grand properties being used like police riot shields.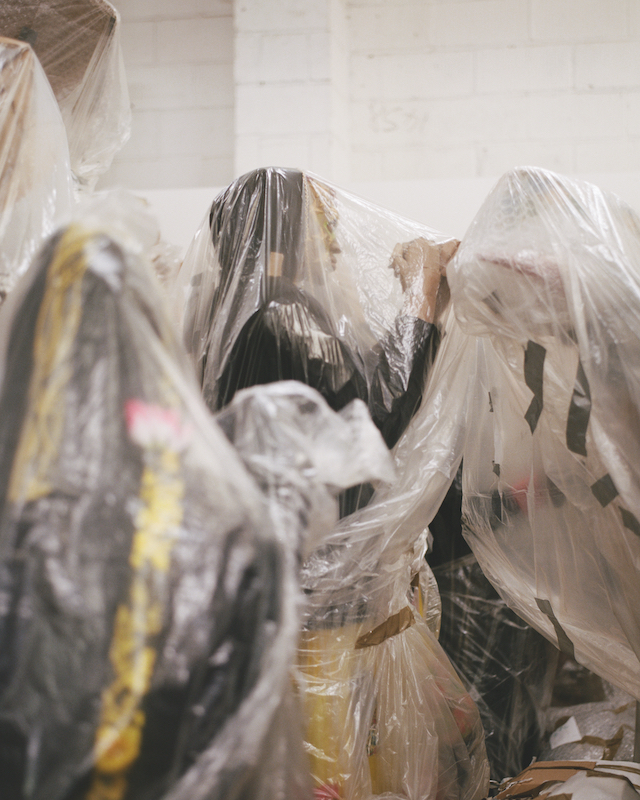 Locke is no stranger to substantial sculpture commissions either. In 2015 'The Jurors' was installed in a field at Runnymede – 12 chairs, cast in bronze, each referencing struggles for justice and equality over the 800 years since the Magna Carta was signed. The centrepiece of his 2019 solo at Ikon in Birmingham was an entire flotilla of model boats suspended from the ceiling in a chapel-sized gallery.
Few commissions match the scale of the Duveen Galleries, however, which stretch the length of a city block. Locke had to borrow a larger studio in south London from the sculptor Bill Woodrow. After a year of work, the entire front section is now packed with life-sized sculptures of humans and animals, fragments of their highly decorated surfaces just visible through layers of protective packaging.
All are waiting to take their place in Locke's 'The Procession': "It's many things: It's people occupying a space; at times it can be celebratory, and at times a bit more edgy – light and dark." Procession is a term rippling with possibilities. It could indicate a military cavalcade, a show of power; it could be a religious parade, a devotional event with saints carried aloft; it might be a political protest, or a vigil; it can be the opportunity for a display of finery, a passeggiata in which the overlooked can make themselves visible. It could be a long line of refugees. "All those streams of movement are things I'm thinking about," says Locke. "The refugees of today are the citizens of somewhere else tomorrow. One year you're 'boat people', next, you're a Vietnamese American."
Among all these other associations, Locke's 'The Procession' is also a display of wealth, tracing tangled connections from the geopolitical machinations of governments and multinationals to individuals in Britain, Guyana, China, Ethiopia, France or the ancient Kingdom of Benin. Locke's characters are draped with textiles printed from a paper trail of bonds and certificates dating back centuries. This paperwork includes the Greek 'Refugee Loan' issued in 1924 after the fall of the Ottoman Empire, documents relating to French railway construction in Ethiopia, gold loans drawn on the HSBC bank by Imperial China and confederate government share certificates.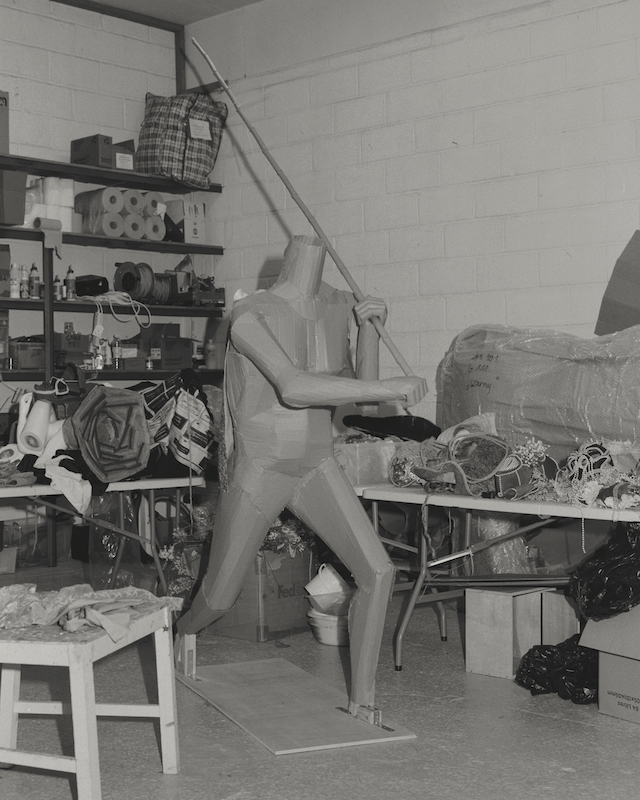 An antique shop aficionado, I imagine Locke's home to be stuffed with historical curios all awaiting the right project. There is, I tell him, something comic about an artist collecting financial paperwork in the way a banker might paintings. Locke was in New York installing a show in September 2008. Two days into the trip "I woke up and turned on the news. Lehman Brothers – gone. I came back to London, not knowing what on earth to do with myself, because the art world was finished." His response was to start investing in dead companies. "The day before Bear Stearns went bust, old bonds from them would be $10 or $15. The day after, that had gone up to about $400. It's a finite item. They're little pieces of history."
Locke's share certificate collection is part of what he terms his "interest in the unfashionable". He is drawn to the overlooked structures of everyday life – the things so familiar that we no longer see them, or stop to question the power dynamic behind them. Twenty years ago this tendency got him thinking about public monuments. He started paying attention to the plinths and bronzes dotting Britain's public spaces: "Who's that guy; why is it that he's there? A 'hero of the Punjab'? How can you be a hero of the Punjab? He's not a hero to me." As Locke started to connect the figures on the statues to slaving and colonial expansion, he proposed 'redressing' them, drawing up custom outfits and adornments, bringing the statues to public attention in a provocative new context.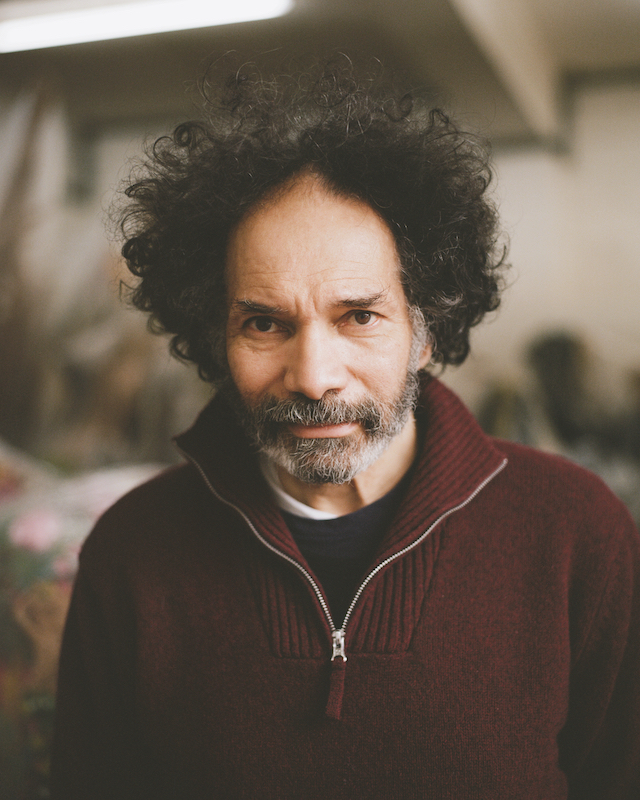 Among the monuments in Locke's sights was the bronze of Edward Colston in Bristol that has since been toppled off its plinth and into the Avon. "I was phoned up one morning, July 2020, and asked 'Have you anything to say about the Colston statue?' 'What do you mean, have I anything to say?' I was completely stunned," Locke recalls. "Because I've been going on about these statues for a very long time, since about 2002." Two things tipped the balance for Colston, thinks Locke, "George Floyd's murder and Covid. Together they just set something off."
Locke won't go so far as to call 'The Procession' an anti-monumental work, but the politics of size, material and presentation have informed his approach to the Duveen. This is a work of human scale, in everyday materials, to be walked around at ground level. It also evades simplistic binaries – this is good, this is bad – that come from elevating one thing over others. The word Locke keeps returning to is 'complex': He wants to leave space for nuance. "In the past I would have felt I needed to explain this, to be completely crystal clear to my audience," he says, describing it instead as "a poem".
Decoration, finery, sparkle – these are the lures with which Locke draws you in, close enough to think twice about what you're looking at. His work is concurrently in Life Between Islands, a Tate Britain show of Caribbean-British art. He's showing a series based on 'Parian ware' busts – mass-produced 19th-century faux-marble sculptures (distinctly unfashionable, naturally) of Queen Victoria, her son Albert Edward and other royals. Rather than breaking or brutalising the sculptures, Locke has lavished treasures on them. Each is adorned with trappings – beads, masks, cowrie shells, filigree work, military medals – as though jewelled deities on a shrine. The flamboyant additions undermine the regal authority and bland tastefulness of the milky white sculptures, and the objects embellishing them evoke the inglorious connections these figures had to colonial campaigns and extractive practices.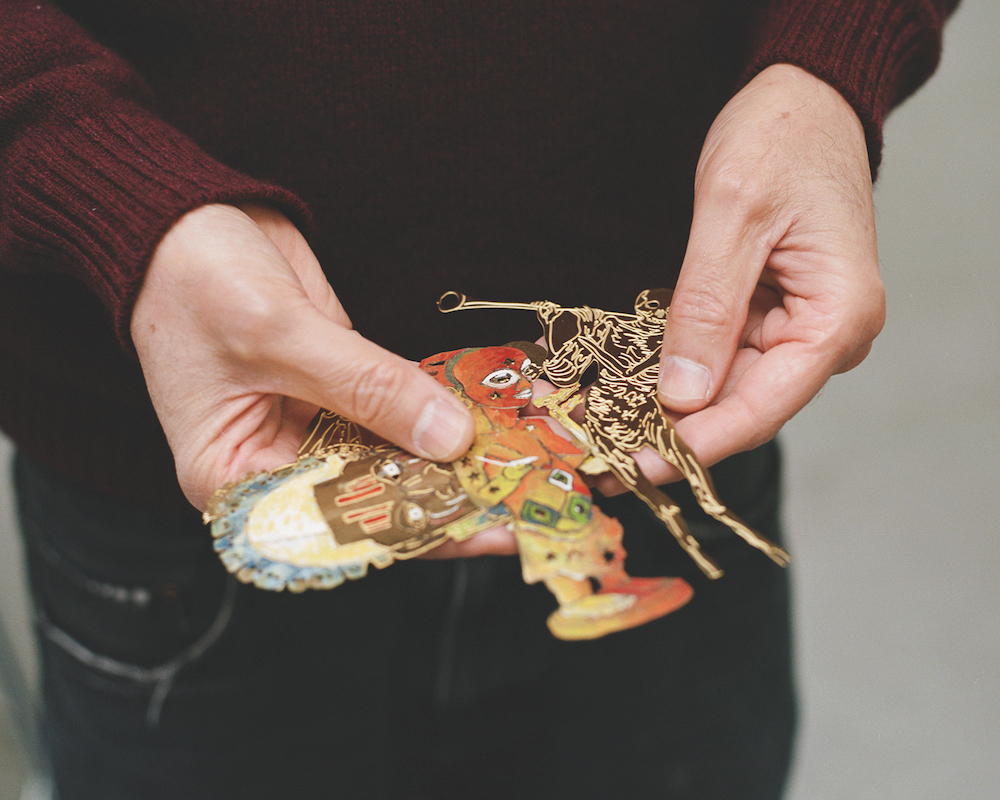 Locke is the child of artists, the British painter Leila Locke, and Guyanese sculptor Donald Locke. In something of a family takeover, powerful sculptures by Donald Locke are also on show at Tate. "I wish he was here, that's for sure," muses Locke, who was born in Edinburgh while his father was studying at art school, and moved back to Guyana "a young, odd, mixed-race Scottish kid, with an obsession with bagpipe music and wanting to have a kilt," at the age of five.
'The Procession' is at once a work about global finance, and deeply personal: a reminder that labouring human bodies hide at the end of the paper trail, behind all those flimsy paper share certificates. In working with 'complexity' Locke wants to complicate the British idea of the Caribbean. "I grew up in Guyana. And two-thirds of the population of Guyana comes from India, some of them Indian indentured servants. And when discussing the Caribbean, that never comes up: The narrative doesn't allow for an Indo-Guyanese experience."
Locke describes the figures in 'The Procession' as though characters in a play: He now finds himself in the role of director, waiting to infuse his creations with drama. The final element will be Tate itself, with all the associations (wealth, sugar, connoisseurship, taste and display) that the institution carries. Until he gets into the Duveen Galleries, Locke is not sure how 'The Procession' will play out in the space. After over a year spent on physical construction, and many more in the planning, "the work is going to continue until six o'clock the day before the show opens," he says. "Then I'll literally have to look at the floor, and walk out."
Hew Locke's 'The Procession' will be displayed at the Duveen Galleries as part of the annual Tate Britain Commission, 22nd March – 23rd October, 2022
Photography Fergus Riley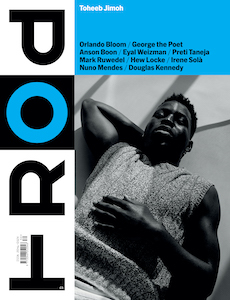 This article is taken from Port issue 30. To continue reading, buy the issue or subscribe here