The celebrated artist tells Betty Wood why being off-balance is essential for maintaining personal equilibrium
Of all of the ways I envisioned my interview with Sean Scully starting – perhaps with a robust critique of the UK art scene, or his evaluation of Chinese interest in his work – never in a million years would I have put money on him doing an impression of Matt Lucas in Little Britain. "Je suis fatigue" he moans, fluttering his eyelashes and swooning in his chair.
But then Sean Scully has made a career out of surprising people. Outspoken with his ideas; contemptuous of 'the system'; monogamous to the abstract form in a way that's retained its freshness throughout – he's certainly not what I expected in the flesh. As he talks, slowly and deliberately, my mind wanders for a moment to an image of Jonathan Pryce from his recent turn as King Lear at the Almeida Theatre; certainly, there is a drama to Scully, and a charisma that both provokes and soothes. Stood in front of his moody, pastoral composition, I imagine Scully as the actor, Lear.
The twice Turner-prize nominated artist is celebrating the opening of his eighth solo exhibition at London's Timothy Taylor Gallery on 11 June, and as he shakes my hand – very gently – we sit down in front of the colossal 'Landline Grey Grey'. It's an impressive, two metre by two metre aluminium canvas, banded with Scully's signature stripes. At once arresting, it's also surprisingly delicate in a way that reproduction cannot capture – Scully's intuitive use of colour gives room to light, range and a surprising depth of emotion.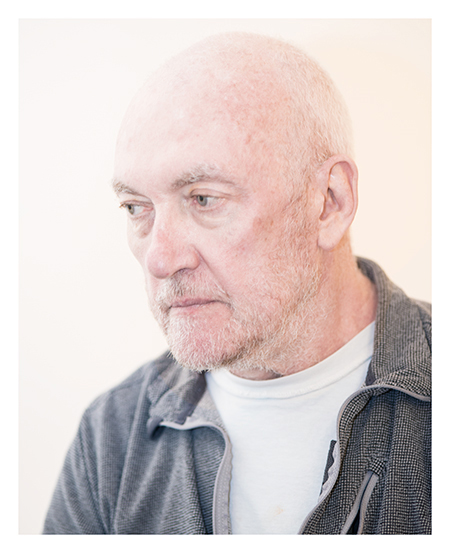 Words Betty Wood
Photography Nikolas Ventourakis
---
"I believe in the truth of doing something, and trying to see over time whether it works –
I'm not interested in things being perfect"
---
Not yet hung is 'Kind of Red', the series of paintings named after Miles Davis' seminal album, Kind of Blue. Before the exhibition opens, walls are to be knocked down and erected in the gallery to cater for their tremendous size. "I painted them in a hypnotic state, which I'm very good at creating for myself", Scully explains, as though Zen-like tranquillity were as easy to conjure as the answers to a crossword. Painted in the space of five days, Scully adds, "Miles Davis made that whole album in two days – if something's right, it's right. I don't believe in corrections. I believe in the truth of doing something, and trying to see over time whether it works – I'm not interested in things being perfect."
This practicality leaves no room for nostalgia either: "I don't work with doubt – I make something simple, then I leave it", he says of the moment of creation. This simplicity translates into the voyeuristic joy his work derides, an innocence born from the clarity of understanding his geometric forms. Their rhythm and broad brushstrokes have a sense of poetry to them, given life through Scully's application of colour and his adherence to this rule of simplicity. "When they say 'Well my kid could do that'," he says, smiling ruefully, "they might well be right. But they couldn't – because they aren't kids anymore"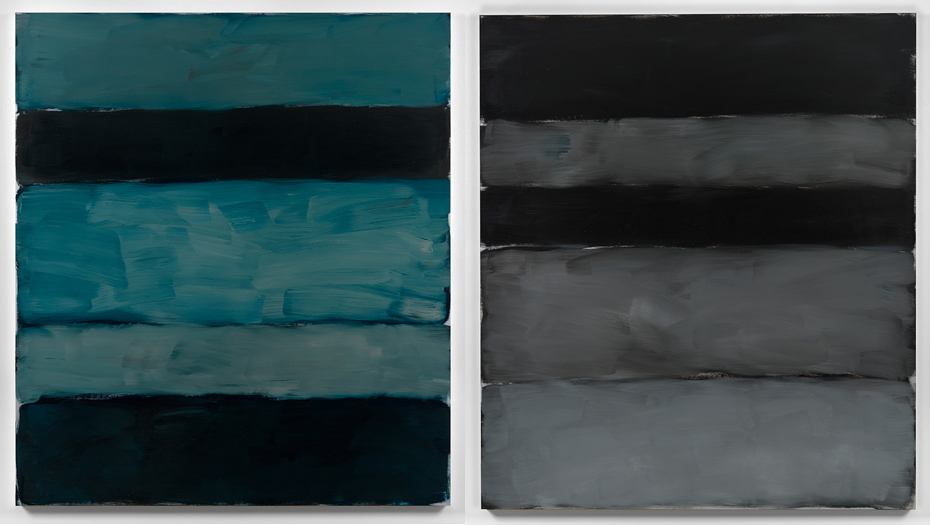 This criticism doesn't vex: "Children really like my work" he adds – indeed they do, as Sean Scully art-days across the United States are testament to – "because they do simple things. I do simple things".
Turning back to geometry and form, we touch briefly on his well-documented appreciation of architecture, most tangible in his work through the geometry of his compositions. But environments, more than physical structures, find their way most often onto the canvas: "I'm a person who likes to be at a slight disadvantage," he tells me.
What does he mean?
"I was born in Ireland so if I lived there now I would be like Prince Charles. If I lived in England I would have a significant amount of privilege and I think that's very bad for art. So I always live in situations where I'm a little off-balance"
Above, left: Sean Scully 'Landline Blue', 2014. Right: Sean Scully 'Landline Grey Grey', 2014. Oil on aluminium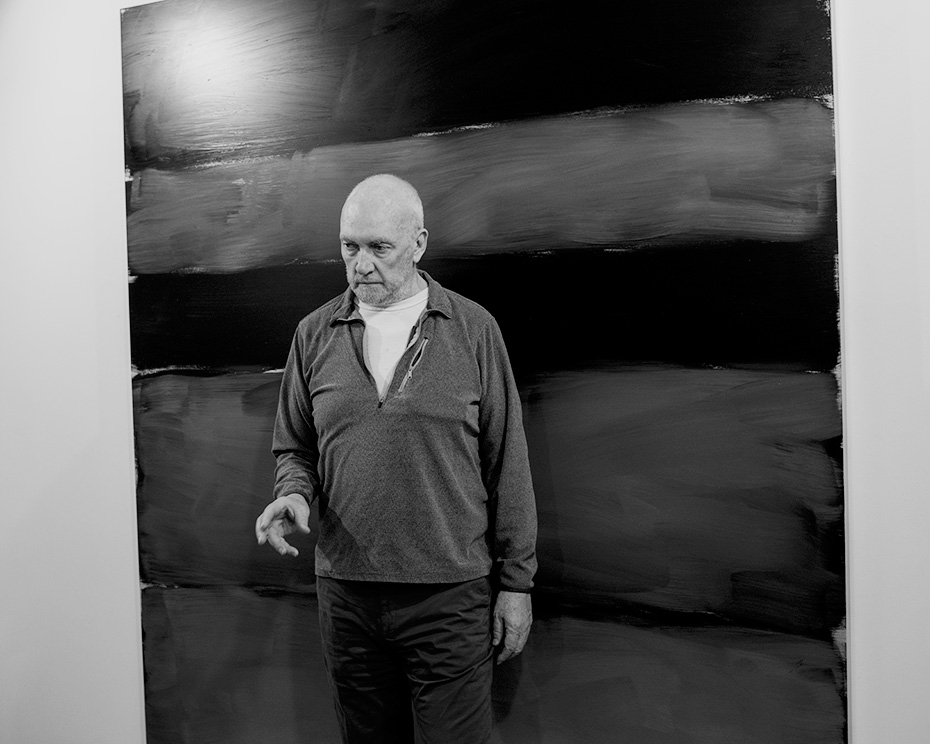 "My paintings are deeply emotional – they're very poetic but at the same time have a severity about them, a conceptual rigour"
This means speaking "rough German" in Germany, limited Spanish in Barcelona, and no Chinese – where he's set to spend a significant amount of time later this year as a major retrospective of his work takes place in Shanghai in November, before moving to Beijing in January. "I like that. I think that's important to my sense of creativity, to be at a disadvantage."
Arguably, as his personal wealth continues to grow, he's creating these disadvantages for himself. He's just returned from China,where he gave a series of lectures, and he tells me enthusiastically "the Chinese are the nicest people in the world. I went to China and I thought I could live in China quite easily." Whilst there, he reconnected with his most famous student, Ai Weiwei: "The most amazing beautiful thing about that was that I hadn't seen him for 20 years, and he has a 5 year old son and I have a 5 year old son. To be with this man that you haven't seen for many years then your sons are kind of growing up together – it's really kind of beautiful. Life's always showing you something" he says, smiling."We were talking about being fathers and that kind of love, for something that's more important, that's bigger than your work". He might not be painting, but there's spirituality to that statement that chimes with his process in painting, a sense of wonderment and contentment. "I like looking after my son more than I like painting".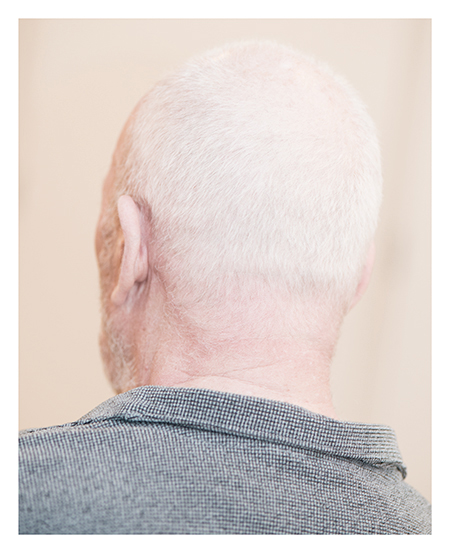 It should be noted that Scully's devotion to his five-year-old son Oisin is truly touching. Thomas the Tank Engine – his all-time favourite – pops up in conversation more than once. We also talk casually about the US school system and about how Oisin doesn't want to go to school yet – it's a conflict for Scully who enjoys spending time with his son, and is sceptical about organised schooling, but Scully and his wife, Swiss-Hungarian painter Liliane Tomasko, have found their dream school for Oisin in New York, and have made the decision to live there most of the year when the young Scully enters school in the autumn. Until then, they continue on their global adventures, bouncing between his studios in Barcelona, Munich and NYC, whilst planning their sabbatical in China this coming November. "This is the way I like to live – completely out of the box".
It seems that his role as a father and an artist are increasingly interconnected as he flits between the two in the breadth of a sentence: "My paintings are deeply emotional – they're very poetic but at the same time have a severity about them, a conceptual rigour. If I didn't have that, I'd just be in a pub in Ireland . But I'm not doing that – I'm going to Beijing to have a play date with my son and Ai Weiwei's five year old in November."
And therein lies Sean Scully's true legacy.
Kind of Red opens at the Timothy Taylor Gallery on 11 June. Click for more details