Stephen Ledger-Lomas and Phoebe Arnstein take a look at the people populating this year's photography fair
Paris Photo returned to its home turf to flex its muscles last week (after a brief Hollywood sojourn earlier this year) and to celebrate the 17th edition of the international photography fair. 136 galleries, 28 photo book specialists, and countless gallerists, collectors and enthusiasts have spent the last four days packed into the Grand Palais jostling in queues for overpriced cappuccinos and for glimpses of countless photographic masterpieces.
Like much of the rest of the art world, Paris Photo is expanding to become a global enterprise and looking at the evidence of this most recent instalment, the art photography market is in rude health.
Port spoke to some of the hordes of people doing the rounds on Saturday afternoon to get their thoughts on the event.
Stefan is an Austrian Photographer who was there with his partner Lisa. Dressed in almost identical outfits and suitably serious black-rimmed specs, they certainly looked the part. Stefan believed the most recent incarnation of Paris Photo is a mixed affair in terms of quality for the non-billionaire art dealer visitor. "I have a hard time looking at Diane Arbus' pictures here on sale at the show" says Stefan. "Diane found it hard to sell any of her prints in her lifetime, which was made all the more tragic by her suicide in 1972, and now they are on sale over there for €220K. The lady on the stand doesn't even know her story".
Stefan also marveled at the commercial force behind an event of this scale and said it definitely wasn't a place for experimentation by younger gallerists with new collections. "I spoke to one gallery with a small space that said they need to make €50K over the course of the fair to break even". Let's hope there are some Sam Taylor-Wood fans with extremely deep pockets.
"Darling, you remember the Sam Taylor-Wood we saw at the
National Portrait Gallery, here it is and it's fifty thousand fucking euros"
– Anonymous wife to her husband at the
Camera Work Berlin stand, Paris Photo 2013
Ramiro, a gallery assistant working for Bertrand Grimond in their third outing at Paris Photo, commented on the pace of the event and in particular the Wednesday VIP preview event, which is often a high-pressured affair. The stakes are high on the first day when the serious purchases are made; everything after, by comparison, seems a more relaxed affair and a chance for the independent galleries such as Bertrand's to celebrate their artists.
Jean-Pierre was studying an Adam Fuss piece in Fraenkel Gallery's space 30 minutes after arrival and is a regular at the fair. His own work incorporates photographic practice and he comes here for inspiration. He has exhibited here once himself and said the organisation of the event is flawless. However familiar collectors are with some of the pieces on display, Jean-Pierre and a number of the other visitors we spoke to reiterated the importance of seeing these works in the flesh. We are used to the reproduction of these images in books and magazines but each and every print in Paris Photo is produced under the artists' direction and approval.
This sentiment was shared by artist Sean Hammerle who was manning the stand at the Feroz Gallery (from Bonn). "It's a rather unique event," said Sean "even for someone from New York who is used to appreciation of the medium on a large scale. Where else can you stand in front of Juergen Teller's 8-foot image of Vivienne Westwood's vagina? She doesn't even blink!"Eva was fascinated by the timelessness of some of the pieces on display and interested by how much of the photography which is being produced today will be hanging on these temporary walls in years to come. "Time is the greatest filter" she says. For her the show is explicitly about commerce and acts as a congregation point rather than a place to contemplate the work of these artists.
She came across Tate Modern Director Chris Dercon amongst the maze of stalls, and was quick to point out Paris Photo's standing in the art world based on his attendance. The event acts as a magnet for the world of photography and it's as much about what is happening away from the Grand Palais this week as what is going on within these four walls. "I suppose it's much like going to a music festival" says Eva, "a lot of people go and don't watch any of the events but just hang out in the fields with friends".
Lewis was of a similar opinion. He was at the fair using a friend's pass on Saturday to write down a hundred names of new photographers to research, but had travelled to Paris primarily to run his Copeland Book Market event at Offprint Paris – an art publishing fair for emerging artists at the Beaux-arts de Paris. The city comes alive from the 14th to the 17th November and it is a rife hunting ground for new connections and inspiration.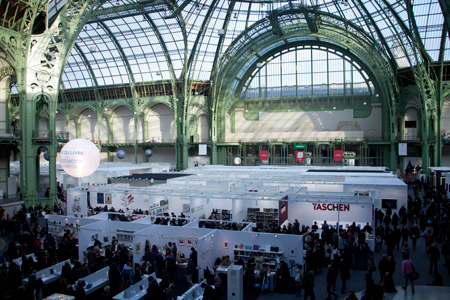 Paris Photo is an impressive spectacle whether you are a photography enthusiast or not, but as with all commercial marketplaces of this scale and success, it is a disjointed affair for the viewer. It showcases the greatest hits but without the context of the full album.
This is the gala event of the year for high rolling photography collectors but Paris itself during Paris Photo is just as important for a new generation of artists and publishers seeking to establish themselves. Photography is having its day in the international art market – what better place to take it all in.
Words & Photography
Stephen Ledger-Lomas
& Phoebe Arnstein