A window into Hunter S. Thompson's home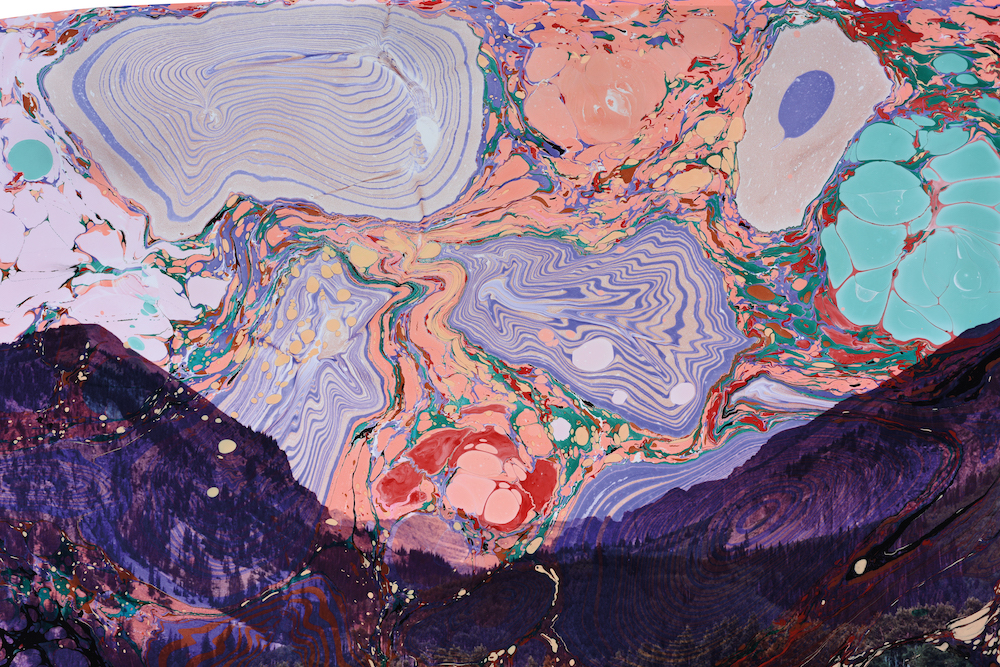 I grew up in Woody Creek, Colorado, where Hunter's house was. My mother had owned a restaurant for decades that everybody went in and out of, so I knew the cast of local characters well. One evening, at the afterparty of the documentary Breakfast with Hunter, I bumped into his wife. Anita looked me up and down and asked, "Are you a night owl?" Yes, absolutely. "Would you like to be Hunter's personal assistant?" I said of course.
Hunter's home – Owl Farm – was his lair of creativity, his nest of security. He had lived there for over 40 years. It was an old rambling cabin set back in a beautiful part of the Aspen valley, receiving 300 days of sun. All that nature unfolding in your backyard calms the spirit. For somebody like Hunter, who was completely frenetic, coming back to those mountains centered him. You could go outside in the snow and the whole world would light up inside of you with one breath of fresh air. He once wrote that, "It was a very important psychic anchor to me, a crucial grounding point where I always knew I had love, friends and good neighbours. It was like my personal lighthouse that I could see from anywhere in the world – no matter where I was, or how weird and crazy I got, everything would be okay if I could just make it home. When I made that hairpin turn up the hill onto Woody Creek Road, I knew I was safe."
Inside, the walls crawled with scrawls of writing, quotes and notes on every spare inch, while small holes from ricocheting bullets penetrated the wood paneling. At Owl Farm you were surrounded by language. His wild and outsized lifestyle would've been impossible any place else; he needed the space to run around shooting guns, host celebrity friends, and essentially to do whatever he wanted. His best friend was the sheriff, so in some ways, he was the law. He also knew my bohemian family was as weird as he was, so he trusted me, completely. I was at home there.
I would clock out from my day job at 11pm and go work for Hunter (he was nocturnal) doing everything and anything that needed doing until sunrise, then I would get some sleep, hike, work on my photography, day job, repeat. Knowing that I was a young artist trying to make it in the world, one day he teased me that Taschen was making a book of his photographs, and wasn't it funny that I thought I was a photographer? Cue mocking laughter. He immediately felt bad – because really, he was a gentleman – and told me that the only thing in his life that hadn't been photographed was his home. "Have at it," he said, "it's yours."
The reason this project has seen the light of day is a combination of events, but mostly from being completely overwhelmed six years ago when my husband died and I was pregnant. Amidst everything I still wanted to keep my artistic practice going, as I had worked so hard for it to be viable. I dusted off my Owl Farm negatives from all those years ago, thinking that it would be a quick and easy project to make a book, but I found I was reluctant to put them out in the world. They felt private, and I didn't want to be reduced to the photographer who was Hunter S. Thompson's PA'. They were also not enough on their own, they didn't have any life to them. I took a course in Italian marbling and fell down a rabbit hole, later experimenting with the Japanese technique of suminagashi, which is more psychedelic. Suddenly, I had found a language that allowed a conversation between the two different types of interior and exterior images. After the marbling, the work popped and made sense, the images had an energy to them.
The photograph of the mountains I've shared here is very personal to me. Set within the image is an old ghost town called Ashcroft, formerly home to a silver mine, now deserted. As a kid I would visit its old saloon and late 19th century buildings. I took that photograph in the middle of high summer, and if you look closely, the colours in the marbled over-painting pick up all the wildflowers that have spread across the field. It's a beautiful moment in time at a powerful place in the valley.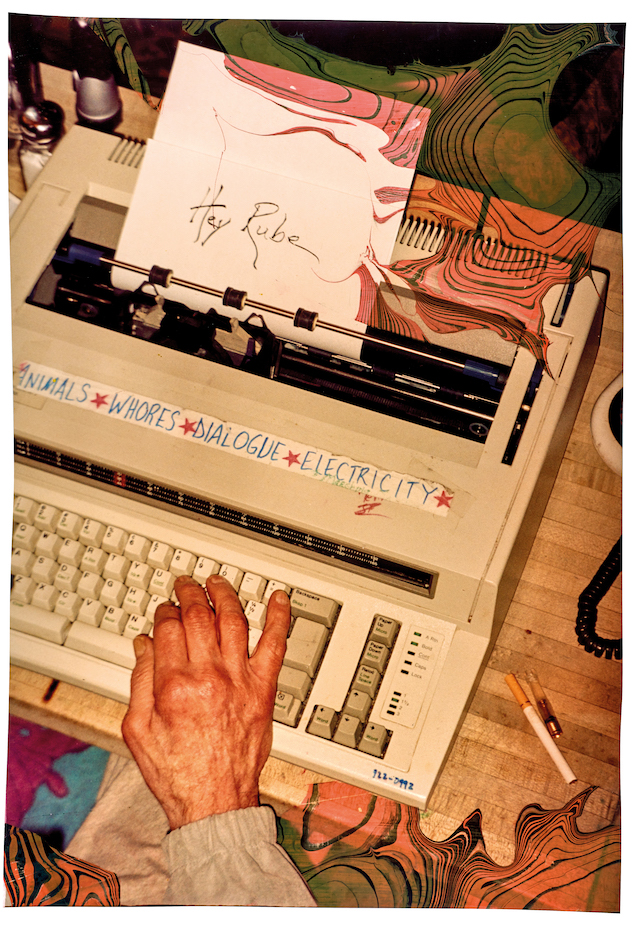 I don't remember the moment when I took the image of Hunter's desk. I was lucky though, because you have everything there, the cigarette, his iconic holder, and primary tool for writing: his hands. This was not long before he died, and you can see the arthritis creeping into his fingers. He sat in front of his typewriter every day but was not particularly prolific; there was always an outstanding paper due, a half-finished book, always behind, forever late. It was messy when I was there, and his publishers often pulled their hair out because they couldn't get him to perform. But here, in this intimate shot (I would have had to stand over him for this angle) you can see his intensity, joy and commitment to writing.
Hunter never got to see my photographs, but I like to think he would have said "hot damn!" which is what he would often declare when revisiting his favourite work, or when someone read it back to him. He has a whole world of lore around him; reams and reams of stories have been published since his death. However, I feel this is a real and true slice of his life, and that is ultimately why I pulled it out of the closet. I figured Hunter had gifted me this assignment because he was such a narcissist. Ironically, given his suicide, he wanted to live forever. I feel I've contributed to that desire.
As told to Tom Bolger
Hot Damn! by Chloe Sells is published by GOST books, out now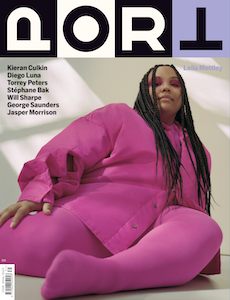 This article is taken from Port issue 31. To continue reading, buy the issue or subscribe here