Street style photographer Nina Manandhar discusses Thamesmead, its community and her fascination with British culture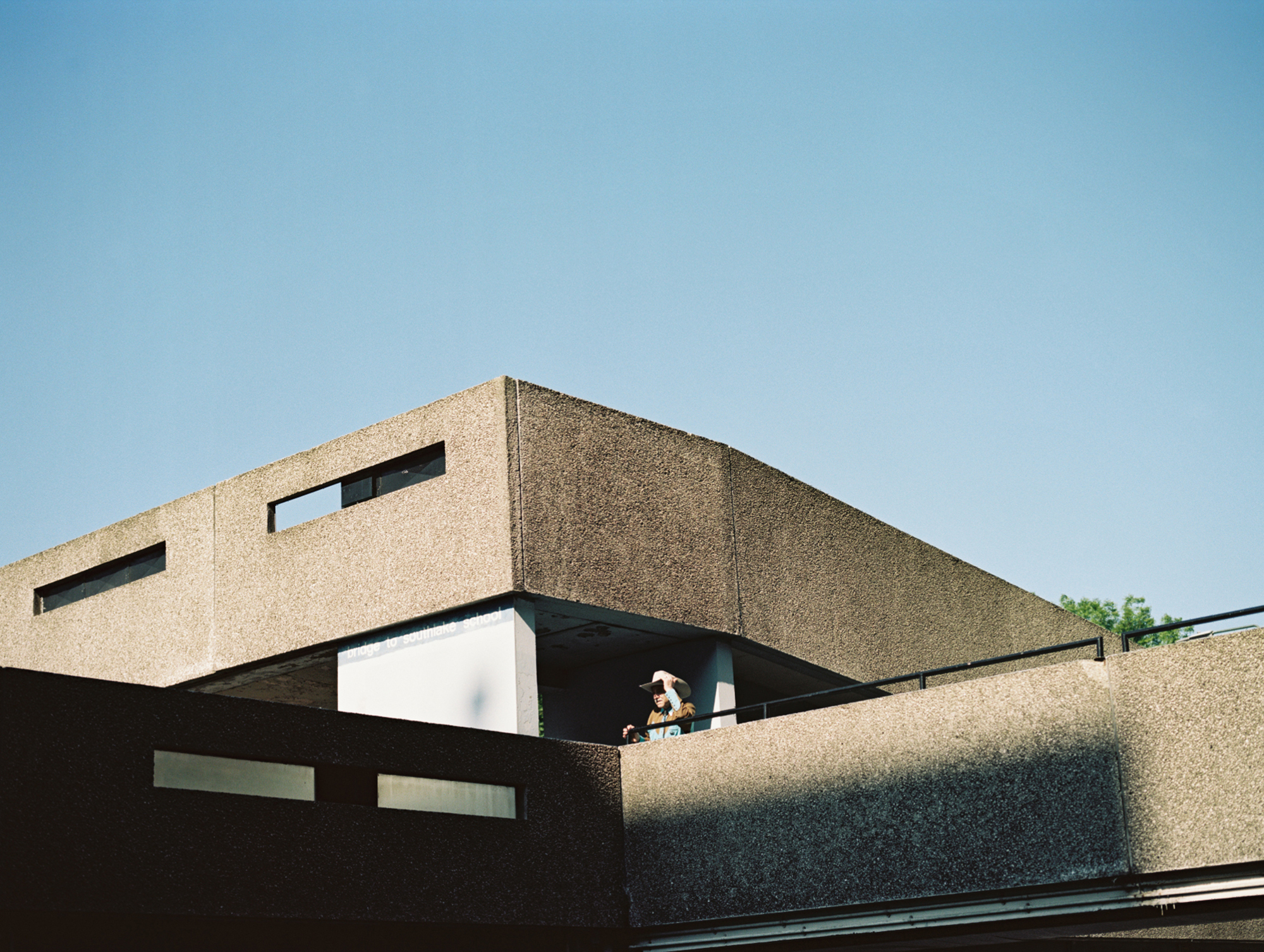 A ballardian landscape imbued with dystopian connotation. Brutalist concrete architecture juts into the skyline at Thamesmead, a district of London, bestrewing variegated shadow across a systematised network of lakes, canals and bridges; backdrop to Stanley Kubrick's A Clockwork Orange, Misfits and the Aphex Twin's Come to Daddy music video.  
Bordering the A2104 and the river Thames, this self-contained town, which once promised to rival Sweden's social housing of the 1960s and one of the forerunners in experimental architecture, has become synonymous with an all too recurrent discord between developer's dreams and resident's reality. Designed by Greater London Council's divisional architect Robert Riggs, Thamesmead – the exclusive 'town of the future' – quickly gained a reputation for high levels of crime and socio-economic depravity, arising from an isolated landscape and absence of local employment.
50 years since the GLC devised plans for this post-war utopian town, currently being redeveloped by  Peabody Housing Association, the RIBA gallery in London is hosting a series of photographs of the estate, spanning the work of Tony Ray-Jones, historic photographs from the RIBA Robert Elwall Photographs Collection and the work of contemporary photographers Christopher Hope-Fitch, Joanne Underhill and Nina Manandhar.
In light of recent plans for regeneration that threaten communities across London, such as the closure of the Elephant and Castle shopping centre this 2019 – a hub for latinx activity, employment and culture – the exhibition at RIBA probes an important history, the diverse community and social identity of the people of Thamesmead. Juxtaposing individual artistic approach, style and social context, the exhibition documents 50 years of an estate that has come to represent Britishness in all its diversity.
Port spoke to artist Nina Manandhar on the relationship between infrastructure and identity, her archival process and the individual stories behind her photography of the Thamesmead estate.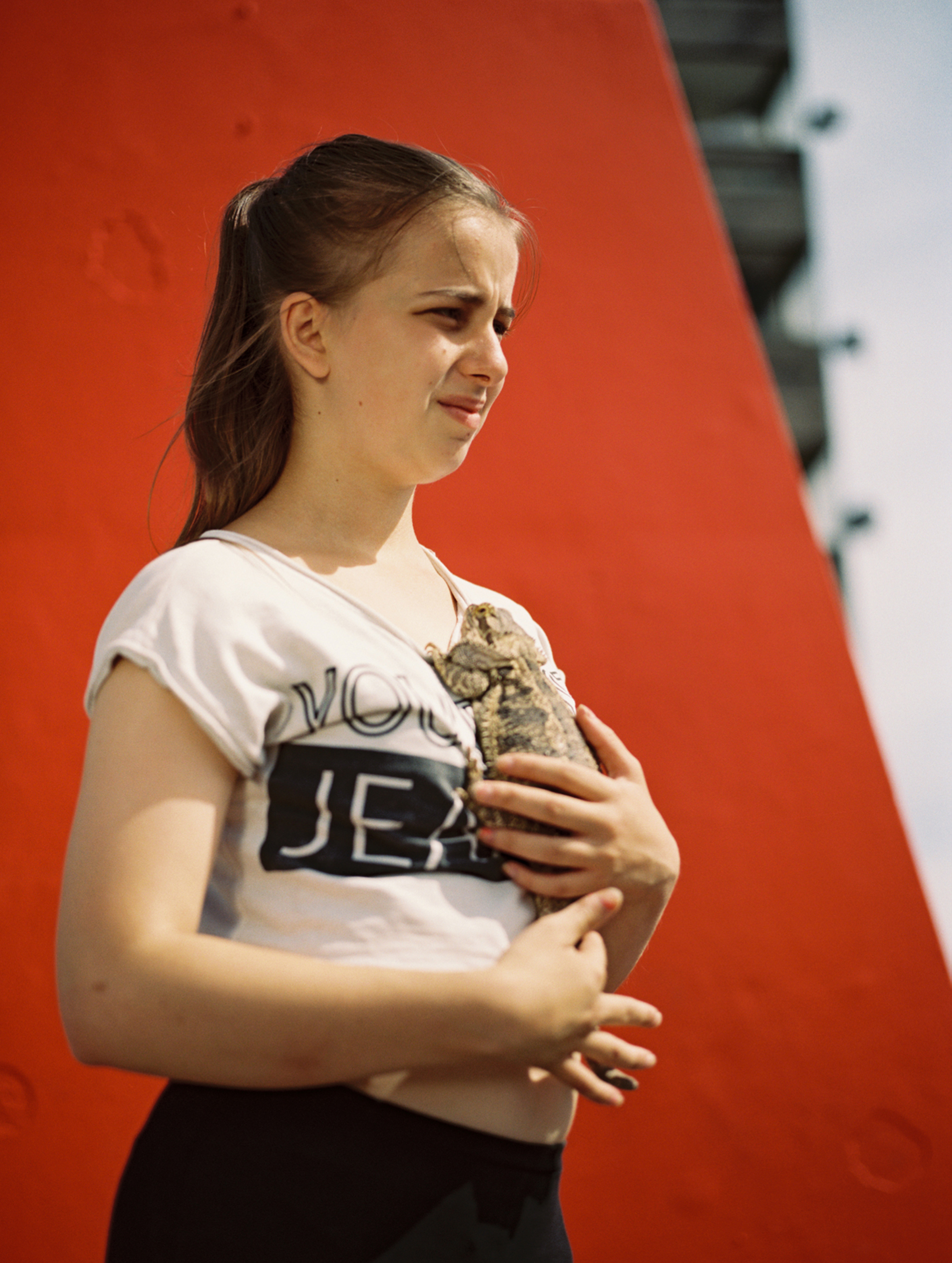 Your previous body of work has centred on fashion, representation and identity. What is it that particularly resonated with you with the Thamesmead estate?
I began shooting a portrait commission there way back in 2016, for Thirteen Ways, an agency who were doing a cultural scoping project ahead of some of the regeneration. I just found the place to be really intriguing and this is when I initially met a lot of the residents. I went on to get a small grant from Peabody, the housing association there, to produce more work with residents and decided to focus on elements of personalisation – How do they make the place their own? I guess clothing is a way to represent on the outside what's on the inside. I wanted to find a way in – of seeing beneath the concrete facade.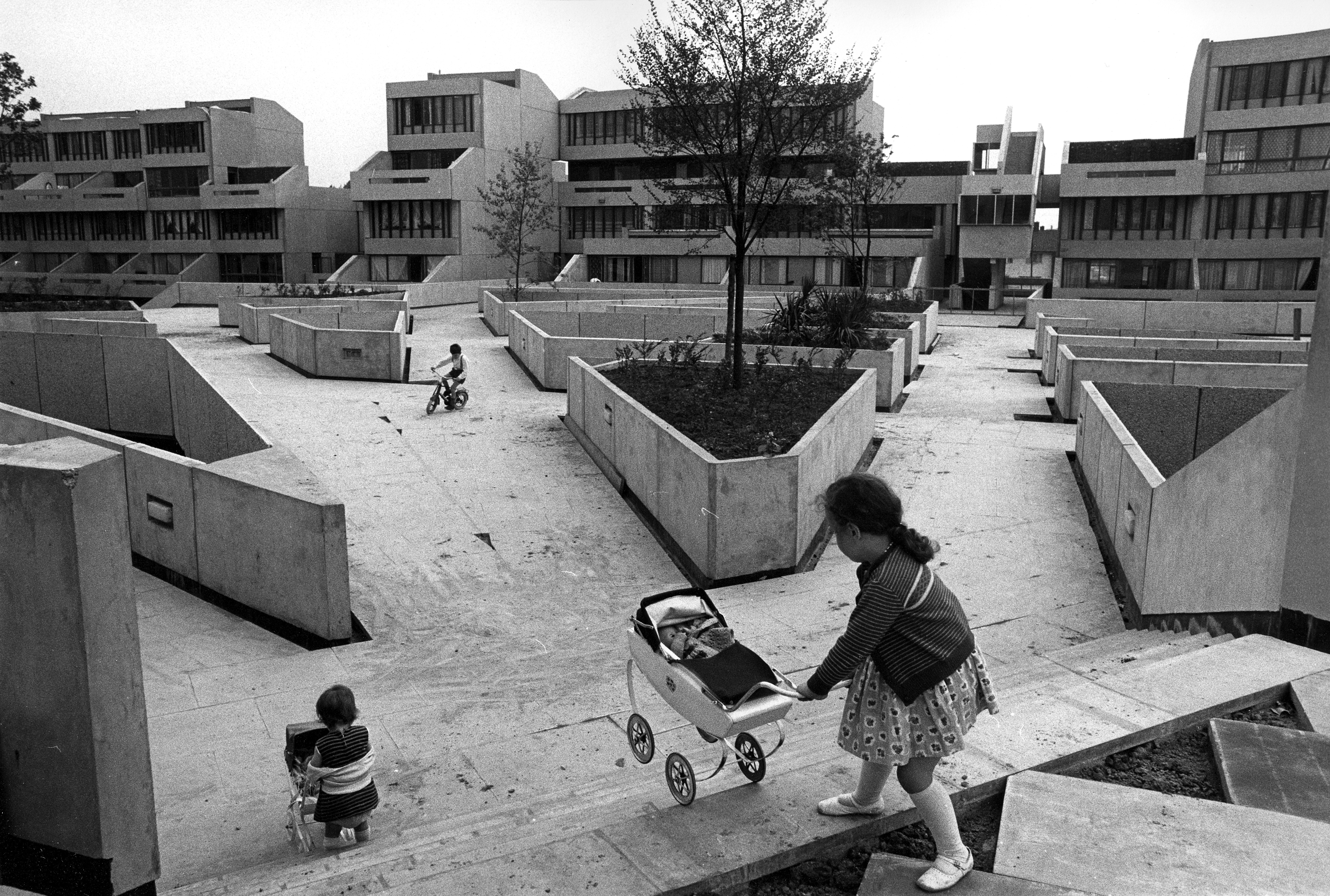 RIBA sets your work against the documentary photography of Thamesmead by Tony-Ray Jones in the 1970s, made famous for his anthropological photography capturing a very distinct British aura and identity. What makes his photography so powerful?
To give a bit of background, the work by Tony Ray-Jones in this show was commissioned by Architectural Review in the 1970s. In some ways, these photos demonstrate the gulf between the dreams of town planners and the reality for the residents.
As Justine Sambrook, one of the curators of the show, gives a little background "The journal was very experimental in its presentation of architecture, and in particular its use of photography, and published a series of issues from 1969–70 called Manplan. Leading photojournalists and street photographers to examine the various concerns of British life and the effect that design and infrastructure had on it at the time. The results were radically different from the carefully composed shots of pristine, empty buildings taken by architectural photographers on large format cameras that were usually published in such journals."
And what is your relationship to the British photographer? Has his canon of work, perhaps, affected your style and process?
TRJ captures a playfulness and a surrealness in the everyday in much of his work. His fascination with Britishness and its rituals strike a chord with me too, he liked to be out there, in the thick of things, and was an observer of people from all walks of life and I can relate to that. The climate for social documentary has shifted massively but his work has a strong legacy. His famous book A Day Off is a classic for me.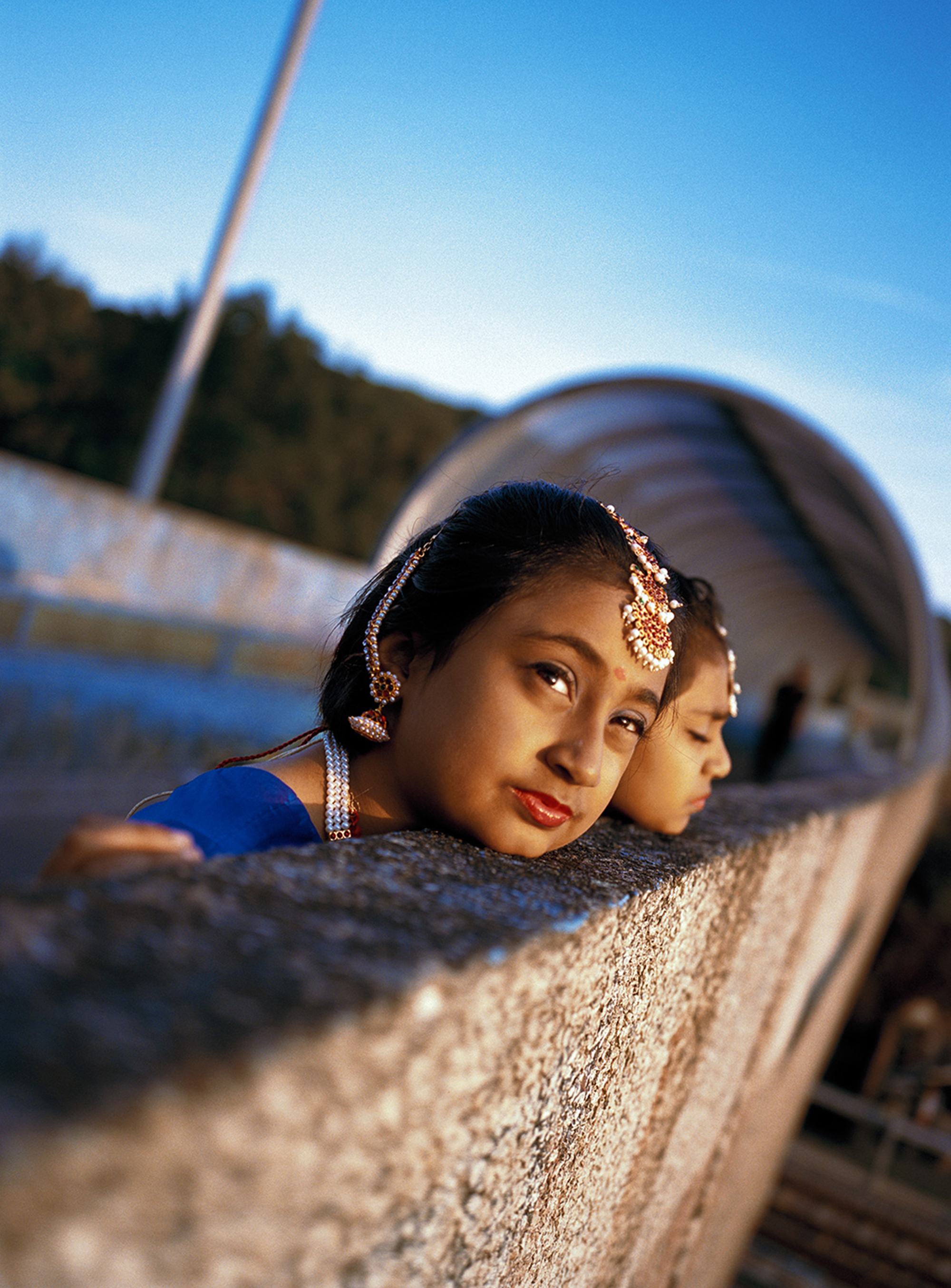 Ray-Jones famously worked in black-and white. In what ways do you employ colour to form a contemporary documentation of the Thamesmead estate?
I love to photograph most in the sun with natural light. I think the colour palette reflects the more mixed up colour palette of Britain today. Thamesmead looks sort of exotic in the sunshine, baking hot concrete, with its lakes and wild landscapes.  Communities there are much more mixed too, British ritual  is not what is used to be, as its now infused with so many new cultural rituals. Colour shows this off better.  The exhibit also features Neha and Ruhi Hurani, who dance in Thamesmead at The Link (but live just around the corner in Abbey Wood) who specialise in Bharatanatyam, which is a form of Indian Classical dance. They reflect some of the diversity of the area, and community activity which already exists there.
As a street style photographer, what is your relationship to your subject? Previously you have recorded anecdotal accounts of the people photographed in the 'What We Wore' project – how did you navigate the personal stories of the men and women you photographed in Thamesmead?
Interaction with the subject is always quite important to me when I'm taking photos, I'm nosey and love to find out more about people's stories.  As well as being exhibited at RIBA alongside the work of Tony Ray-Jones, a selection of the works will be shown on a large-scale outdoor hoarding in Thamesmead itself, so there is a dialogue there.  Feelings about the regeneration are pretty mixed. Back in the summer of 2017 I set up an outdoor studio for residents in one of the public areas, for a backdrop we painted an unusually shaped wall in the same bold red as Thamesmead circa 1970's. As well as take photos, this was a chance to hear some of their views.
Your previous work 'What We Wore – A People's History of British Style' is an archival documentation of the evolution of British culture and style from the 1950s through to present day. How do you think style, in particular, is reflective of our evolving culture? What do you think defines contemporary British identity in 2019?
Style is still a way for people to communicate instantly about themselves as individuals and their allegiances and where they feel they belong.
Wow, pretty hard to say what defines British identity in 2019! Its fractured and hybrid. But then it always has been, an idea of one unified sense of Britishness has always been a construct.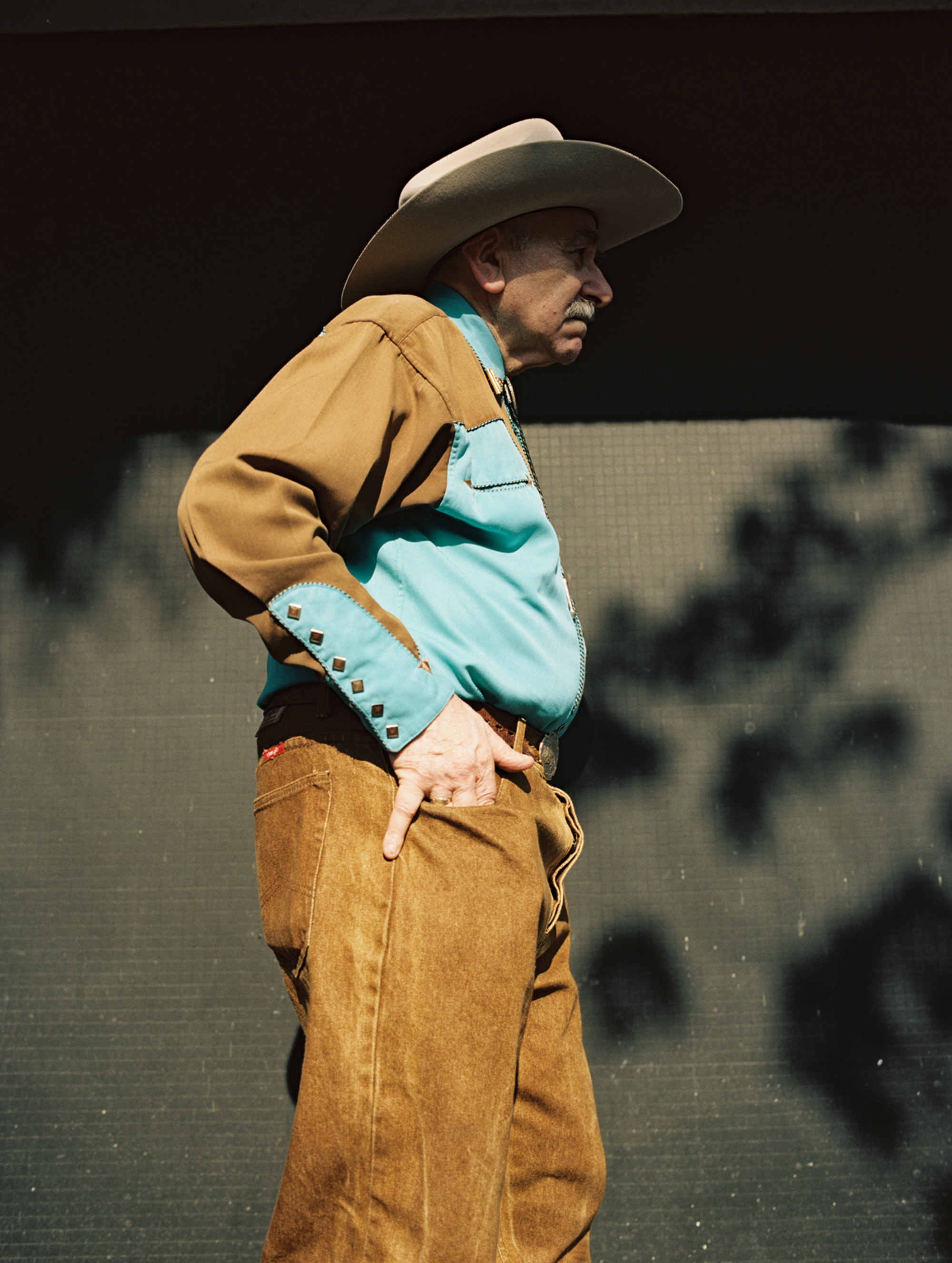 I particularly liked your photograph of the "Thamesmead cowboy", a 90 year old man wearing a bolo tie, cowboy hat and jacket. Can you tell us a little more about this story?
Anthony is the Englishman wearing the cowboy gear. In his own words "I've lived here in Thamesmead for over 30 years. He worked at Thamesmead Radio for a while, and at the community centres newspaper as an accountant.  I'm quite happy here, a lot of people know me from my outfits. I dress like this everyday. I was walking out one day in my cowboy gear and another resident stopped me. He said, "Hang on a minute I've got something for you. He went inside and he came out and he gave me one of these Bolo ties, just out of the blue"
I also worked with a stylist Siobhan Lyons on the photos of Anthony, she helped hone his look, mostly working with what he had but bringing in some other bits too, as a way of elevating his image It was a great day shooting this, we all walked around listening to John Barry's Midnight Cowboy on a portable speaker. It was very atmospheric, it kind of felt like we were seeing the landscape through his eyes.
The RIBA Gallery is now exhibiting Nina Manadhar's photography from now until May 17th