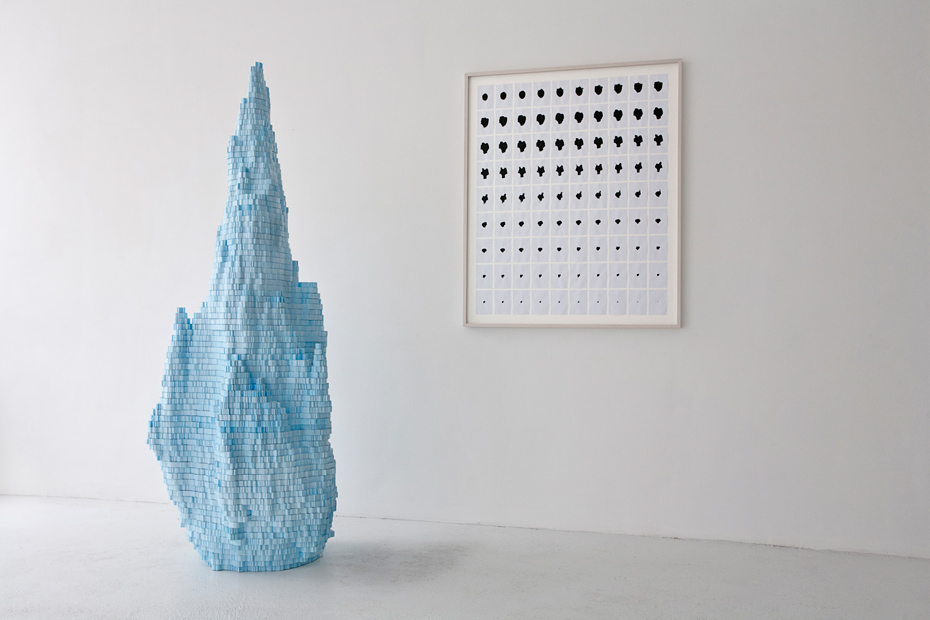 Navid Nuur's tactile exhibition at the Parasol Unit Gallery brings discomfort (physically) close to home
They say the best art makes you uncomfortable. There's more than a few granules of truth in that apothegm, but it's usually applied to art that makes you emotionally uncomfortable. In the case of Navid Nuur, whose exhibition Phantom Fuel is currently showing at The Parasol Unit, the discomfort is also physical. Rare is the art show that encourages its audience to experience genuine physical discomfort – I say this as someone who's squeezed through a few odd geometries in his time too recently after lunch than is advisable: it's not something artists seem to want to risk, for good reason. Rarer still is a show like Nuur's that actually requires you to feel a bit of abrasion to experience it. I'm sure I had a "you-can't-be-serious" expression on my face when I saw that the only way into the second room of the show was through a curtain made of sandpaper, and I'm sure I wore it again when I made my way back out. You go through all the classic stages on either side of that curtain: denial, fear, anger, bargaining, depression, and finally a very scrapy kind of acceptance. At first it was a gimmick, then it was a metaphor, and then it was something like a powerful emetic for the ultra-comfortable experience of viewing most contemporary art. Nuur wants to you get out of that bean-bag and work for your aesthetic experience, and it's a fine thing, I say, positively healthy, as I incline predictably toward middle age.
Nuur's works in Phantom Fuel all contain that moment of perplexed frustration that sublimes into humble cooperation. Mr.Nuur, you expect me to watch your slide projections on the bottom of that upturned rubbish skip? You buggin'? After about ten images of oddly hypnotic morphing surfaces, you find yourself wondering why they don't do this more often. I'm sure a goateed Shoreditch restauranteur is already commissioning Nuur to make a work to give his flan bistro that extra something. Here's hoping he resists. If you survive the skip, there's a popsicle melting on an overhead projector in the next room for you. I know what you're thinking. I was thinking it, too, and I ended up watching for about five minutes. Nuur has a way of disarming critical faculties with what appears to be an abject literalism, but his work never seems to reduce, it only ever grows. In another work, Nuur mounts a smartphone on a wall and a video of a ramshackle building burning plays on its tiny screen. It's a work with as many narratives inside it as pixels. This is the way most art-consumers watch the horrors of the world now, on the small screen of a handheld device that screens off its own narrative of misery from the mineral tunnels into hell of the DRC, to the factory-cum-prisons of the current uber-capitalist-with-Chinese-characteristics workshop of the contemporary world. The piece manages to articulate a modern Virgilian cry of "Carthago delenda est" in a sensibility the Bloodhound Gang would recognise, "The roof, the roof, the roof is on fire". Let the Phantom Fuel burn.
Navid Nuur: Phantom Fuel runs until 19 May at The Parasol Unit, 14 Wharf Road, London N1 7RW