Photographer Peter Angelo Simon reflects on the time he spent with the People's Champion, Muhammad Ali, as he prepared to regain his heavyweight world championship title from George Foreman in The Rumble in the Jungle
Muhammad Ali is often lauded as the greatest sportsman of the 20th century and became famous for his activity both inside of the ring and outside of it. He joined the often controversial Nation of Islam in 1964, for example, and, to add to that, he was stripped of his heavyweight title and boxing licence in 1970 for refusing to join the Vietnam War. After four difficult years away from the ring, Ali was given his first chance to regain his title against George Foreman in a 1974 bout named The Rumble in the Jungle – a World Championship fight held in Kinshasa, the capital of Zaire (now Democratic Republic of the Congo).
Here, photographer Peter Angelo Simon reflects on the time he spent with Ali at the Fighter's Heaven training camp in Pennsylvania, USA, a few months before he would win back his title, providing a fascinating insight into the mindset of the People's Champion.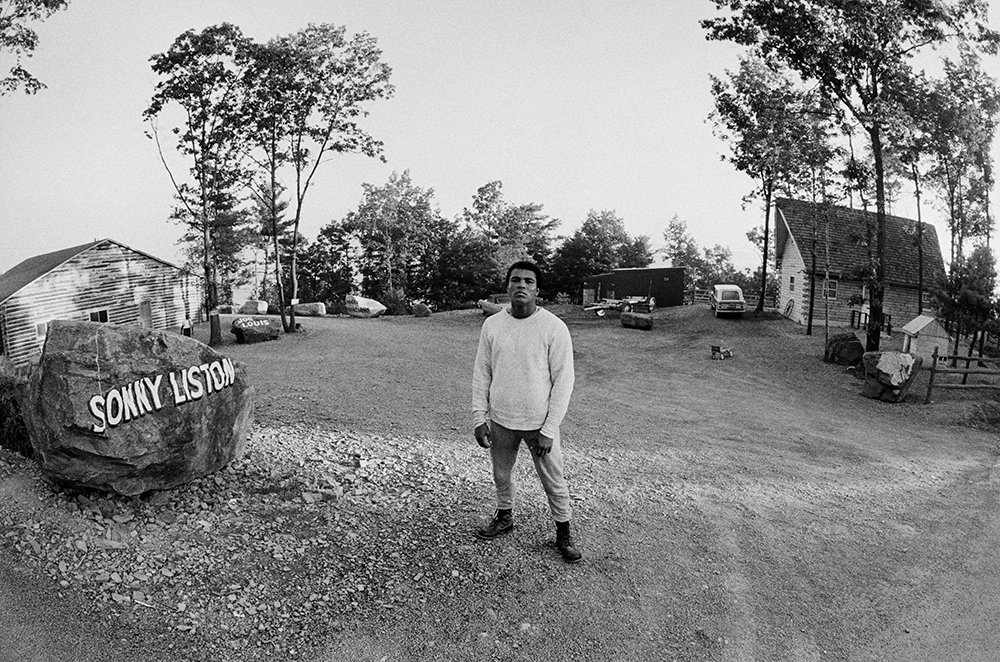 Peter Angelo Simon:
A text had been written about Ali's training for New Times magazine and they wanted some photographs to go with the piece. I got the assignment and drove up from New York to Deer Lake on 8th August 1974. I'd never gone to a fighter's training camp and I didn't know a lot about boxing, but like most people I knew what an extraordinary character Muhammad Ali was. He had been world heavyweight champion yet had refused the draft at the height of the Vietnam War and been prosecuted. Eventually, it went to the US Supreme Court and it was decided in his favour, but the case hung over him for ages and in the intervening years he was stripped of his title.
By August '74 he was training to regain the title in a fight against George Foreman in Zaire, a couple of months from when I visited the Fighter's Heaven – his training camp of log cabins and boulders with the names of famous boxers painted on them. Influenced by the cinéma vérité style of documentary filmmaking that was emerging at the time, I went up to the camp with this sense of discovery, with no expectations; I didn't want him to model or pose, like most photographers.
They had put me up in a motel near the camp. At 4.30am there was knock on the door and the voice of his manager comes through: "Grab your pants and camera, the champ is running.". So I did as I was told and the next thing I knew I was in a car going very slowly along a country road, with cornfields on my right, and up ahead was Muhammad Ali. It was my first sight of the man, from behind in his sweats and heavy boots, jogging along.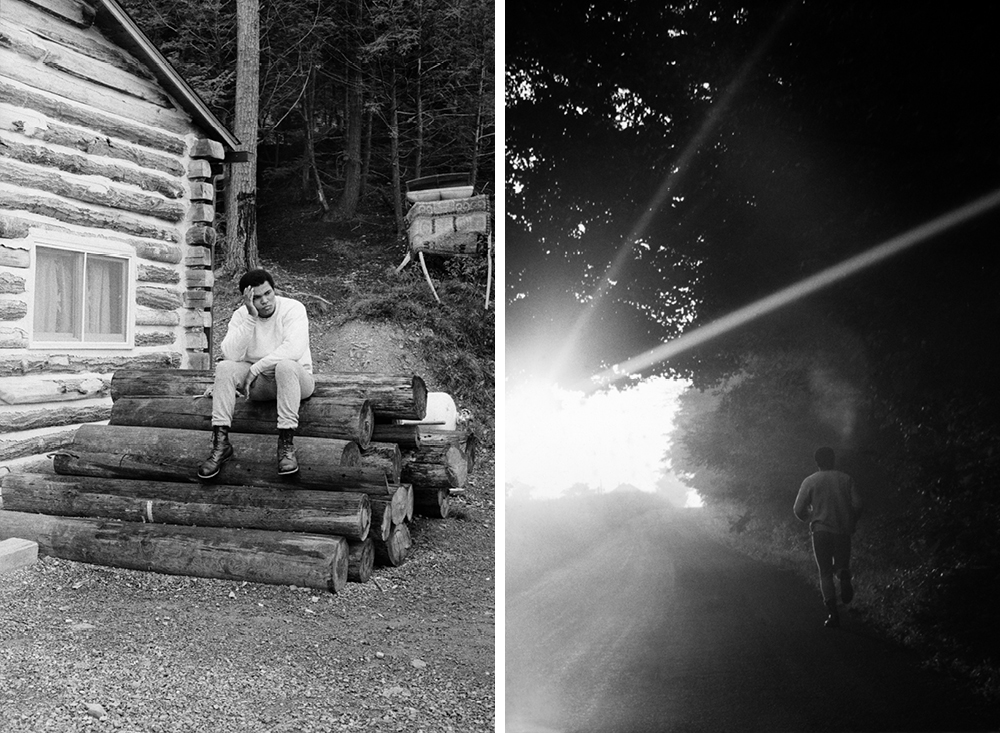 I would jump out of the car and shoot for a while and jump back in, but the whole way through this five mile run he hadn't spoken. As he was cooling down and jabbing the air he says to me "get this". So I raise my camera and he lifts up his sweatshirt and the rubber liner underneath and this water pours out, letting out the sweat. I realise at that moment that he got me, that we had an unspoken agreement that over the two days that while I was there he would do his thing and I would do mine.
"And that's exactly what happened: I went everywhere with him. I saw him in various moods and I think the photographs revealed aspects of him that had not been revealed before. They show him meditating, serious, relaxed and laughing. He was always very much a people's person, visiting the local old people's home…there's even a picture of him reading his poetry to this girl I had brought with me. All this nourished his spirit and soul, and that was in addition to the very disciplined, physical training that he did.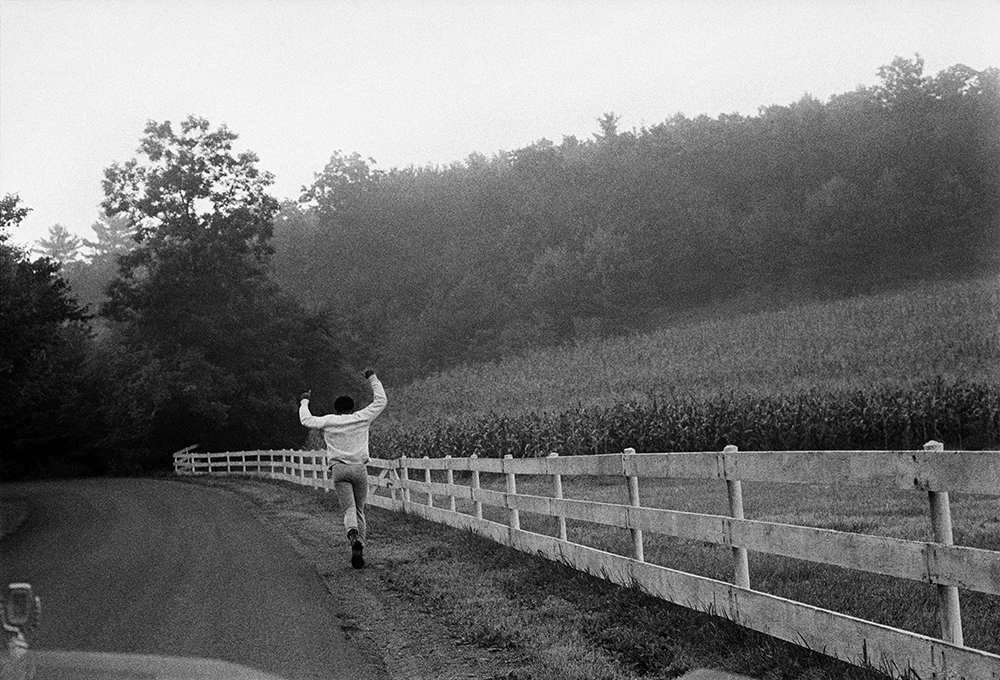 There's a photo of him on his early morning run, taken from behind, and he's running along a fence or a field where there's no one around, and his arms are raised in a victory salute. This idea of him channelling and reinforcing his image of himself as a winner, as a champion, I saw as a thread through a lot of what was going on and how he spent his time.
Photography Peter Angelo Simon
Muhammad Ali – Fighter's Heaven runs until 28th May at Serena Morton Exhibition Space, 343 Ladbroke Grove, London W10 6HA