Exploring intergenerational support and sacrifice between contemporary female creatives and their artist matriarchs, guest editor Linsey Young – Curator of contemporary British art at Tate Britain – illuminates the extraordinary work of mothers – spanning tapestry, crochet, paint and papier-mâché – as told by their daughters. Part one of two shines a light on Elizabeth Radcliffe and Beca Lipscombe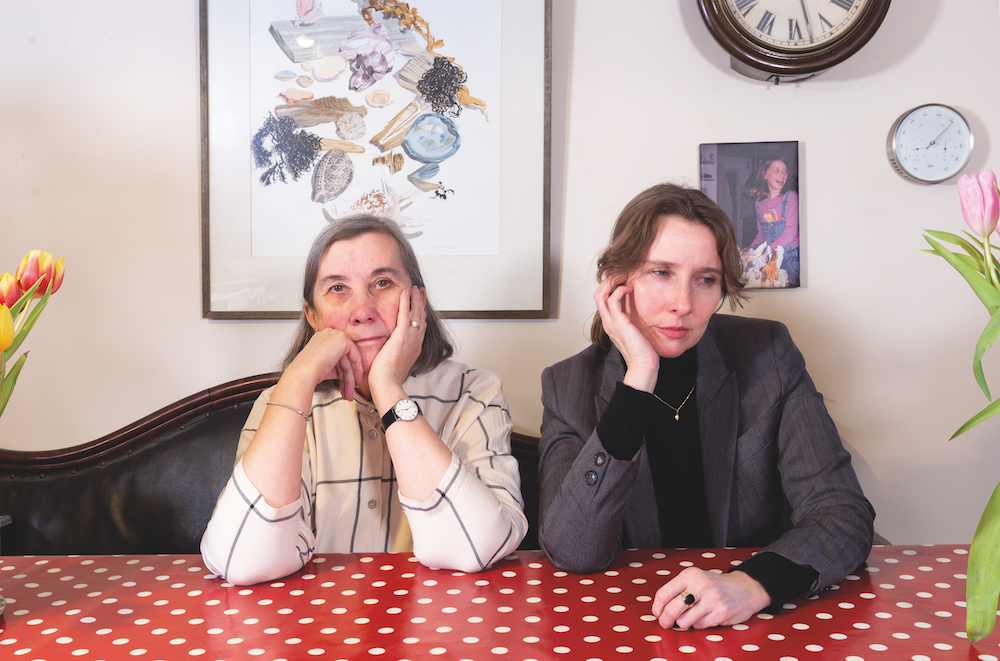 Elizabeth Radcliffe is a Scottish tapestry weaver practicing in the classical tradition of hand weaving on a loom. Influenced by the fall of clothing and textiles about the human body, she makes full-figure portraits, to create highly detailed, almost painterly effects of light and texture. Known for combining new and old techniques, Radcliffe has developed a distinctive method of finishing a shaped tapestry.
Her daughter, Beca Lipscombe, is a Scottish fashion and textile designer, printmaker, and one half of Atelier E.B. A graduate of Central Saint Martins, Lipscombe's professional practice is multi-layered and draws upon a vernacular aesthetic. This sensibility was evident in both her eponymous label and her work as a freelance designer for various companies including Liberty, Chloé, Stella McCartney and Ann-Sofie Back.
Now, under the umbrella of Atelier E.B, Lipscombe operates in the space between design, art and commerce, responding to and critiquing the tensions generated by these uneasy bedfellows.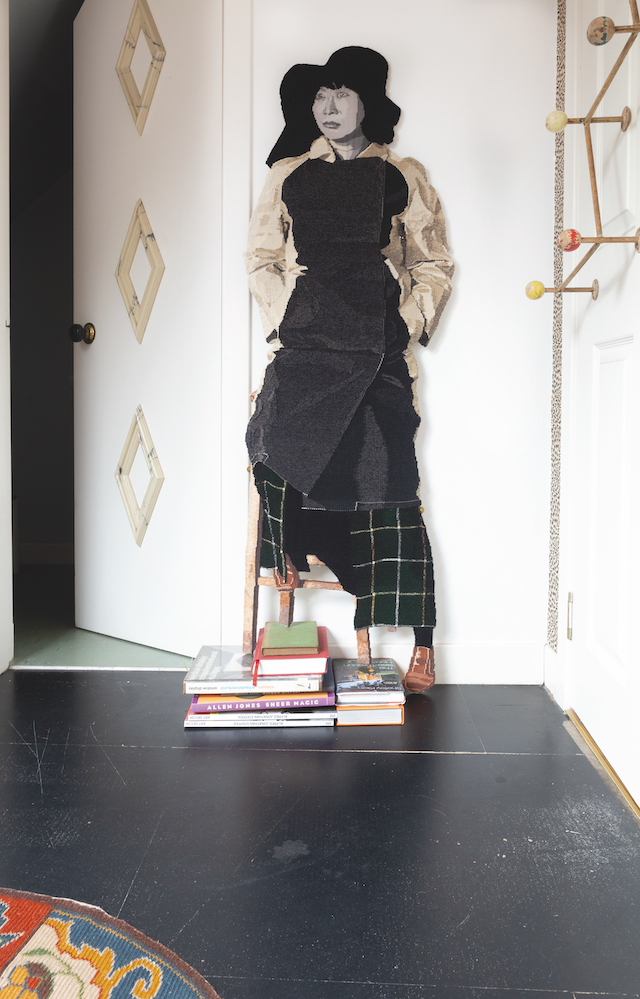 Linsey Young: A lot of women artists of the '70s and '80s in the UK worked with textiles in extraordinary and innovative ways. How did Elizabeth come to work with tapestry and was she engaged with a network of other artists? 
Beca Lipscombe: Encouraged by her many elder male colleagues, my mum gave up her first job as a cartographer to be employed by the artist Archie Brennan, who was then the director of Dovecot studios in Edinburgh, to work in the screen-printing element of the studios. This was my mum's introduction to tapestry.
By the time she finished her tapestry degree in the late '70s, she was a divorced mother with two young children. She attended teacher training and once qualified she found a creative outlet in her role as an art teacher. My mum had – and has – many creative friends; however, tapestry is extremely time consuming, and although it's changing now, for a long time it was considered highly unfashionable in contemporary art. Many of her cohort from college did not practice tapestry after they left college. 
Most tapestries, graphic or abstract, are woven in a square or rectangle. Mum's figures when woven are cut from the loom and finished truthful to the silhouette of the sitter. I have seen many brilliant tapestries, but none accomplished in this pioneering way.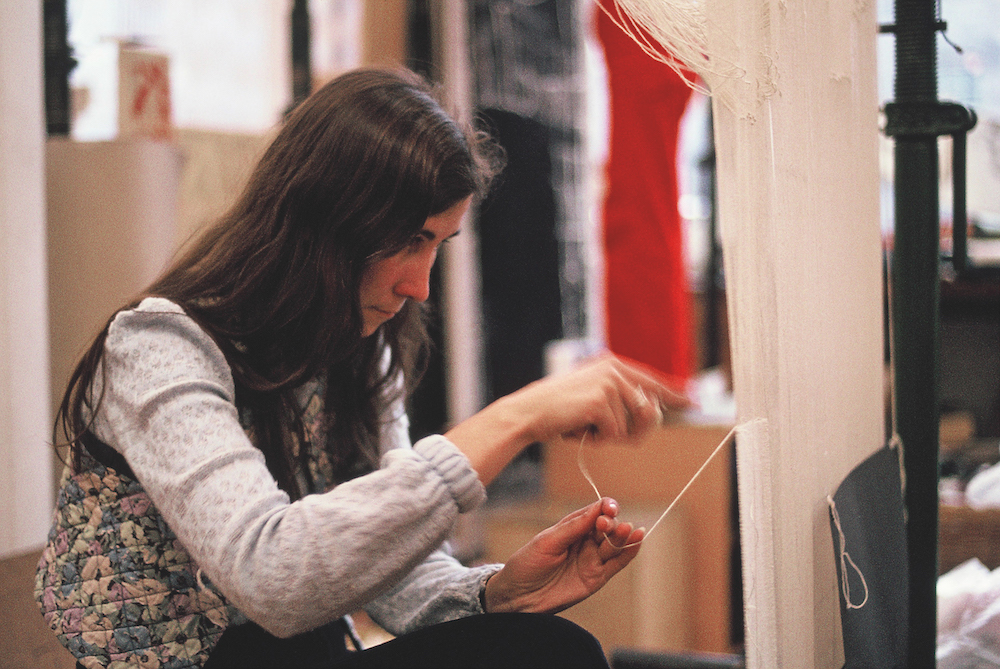 In her tapestry portraiture she seems largely to focus on portraits of women, was that a conscious decision? 
I believe my mother's choices regarding her sitters or characters come from an elan perspective, rather than gender.
My mum and I see the world through textiles. I believe because Scotland was such a prolific textile producing nation, it's ingrained in the Scottish psyche, especially for my mum's generation who would have experienced this industry at its finest.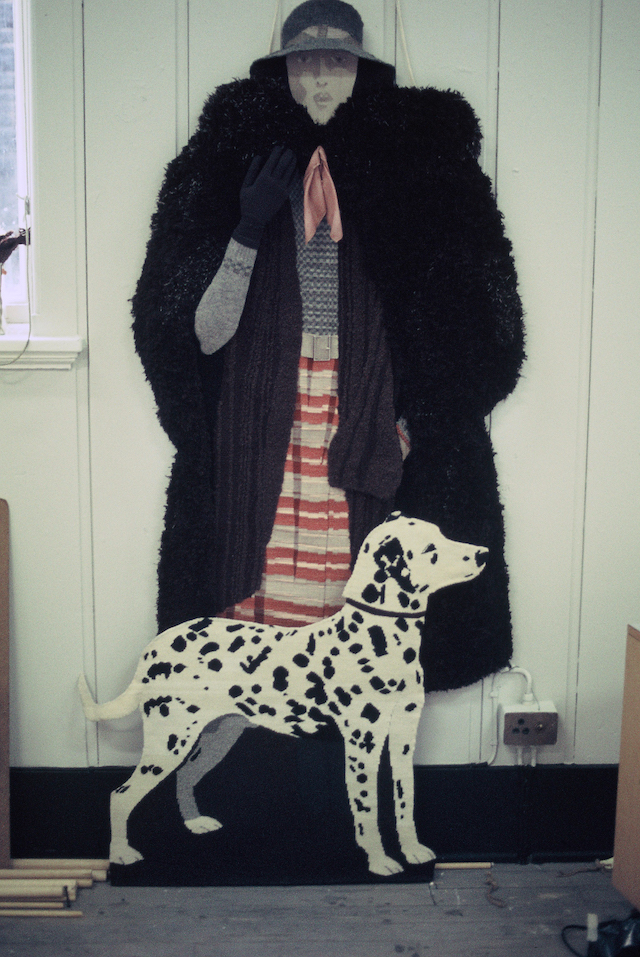 One of my favourite works is 'Cool Bitch and Hot Dog' (1978). It's gorgeous, and the three-dimensional elements like nothing I'd seen before, but I also love it because it seems to capture something of Edinburgh women. My granny, who lived next to the art school, was a classic Miss Jean Brodie character – wild and contained in equal measure. I know your mum taught art at James Gillespie's, where Muriel Spark went to school; could you talk a little about that particular east-coast character and how it is expressed in your mum and her work?
Mum created 'Cool Bitch and Hot Dog' in her final year at art school. It's a full-scale figure of a woman (Cool Bitch) and her Dalmatian dog (Hot Dog). Charlie Miller, Edinburgh's equivalent to Glasgow's Rita Rusk, borrowed the tapestry to stand at the entrance of his eponymous hair salon. Cool and Hot then came to live with us. This work became extended family. I love her, she's my sort of bitch – woven in two dimensions with a three-dimensional fur coat and accessories.
The Gillespie's my mother taught at was so different from the Gillespie's Spark would have attended and wrote about in The Prime of Miss Jean Brodie. Spark was brought up in Bruntsfield in Edinburgh, where James Gillespie's is located. My mother was brought up in council accommodation in Musselburgh, then Juniper Green, on the outskirts of Edinburgh. She was very bright, and, in those days, children were strategically placed into secondary education on their primary school performance. My mother got into Boroughmuir Secondary School, located in the same area that Spark grew up; it was a state school where they placed the children they viewed as high achievers. My mum had to travel for hours a day on the bus to get to and from school. She excelled there and became captain of the tennis and hockey teams, and also fenced. When I say this now, I know how it sounds; however, my mum really did come from a working-class background. 
People often tell me how much they loved having my mum as their art teacher, which I can imagine is how Miss Brodie's girls felt about her.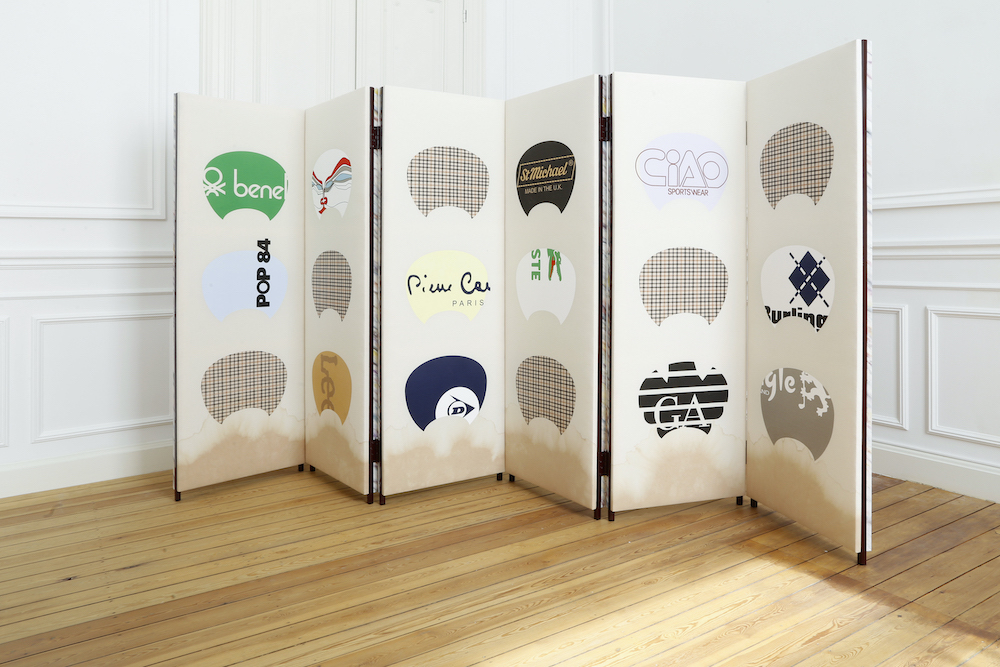 Your mum, like so many of the other women artists I'm researching, has tirelessly juggled roles of artist, mother and breadwinner, having to take time out of the studio to support her family. How do you think that affected her work, and do you think things have changed for women artists, or do you still face similar struggles?
I remember reading that Spark left her family to concentrate on her writing career. I can imagine she was severely judged for this. I am thankful that she was so forward thinking and driven, as we wouldn't have all her great writing.
Without a doubt women still struggle with their many roles. I can remember my mum having migraines from stress and sleeping a lot when she came home from work. No time or energy was left for her or her own work. My mum only began weaving again in 1999 when she retired from teaching, hence the 20-year gap in her output.
In contrast, my own experiences have been very different. Although I was, at one point, teaching, freelancing and working on my own label, in tandem with bringing up our daughter, I have the most supportive and intelligent ex-partner, and, unusually, I feel at times that perhaps his career may have felt the impact of having a child rather than mine. I also have a business partner and friend who sees me, understands my roles, and gave me the opportunity to get out of teaching.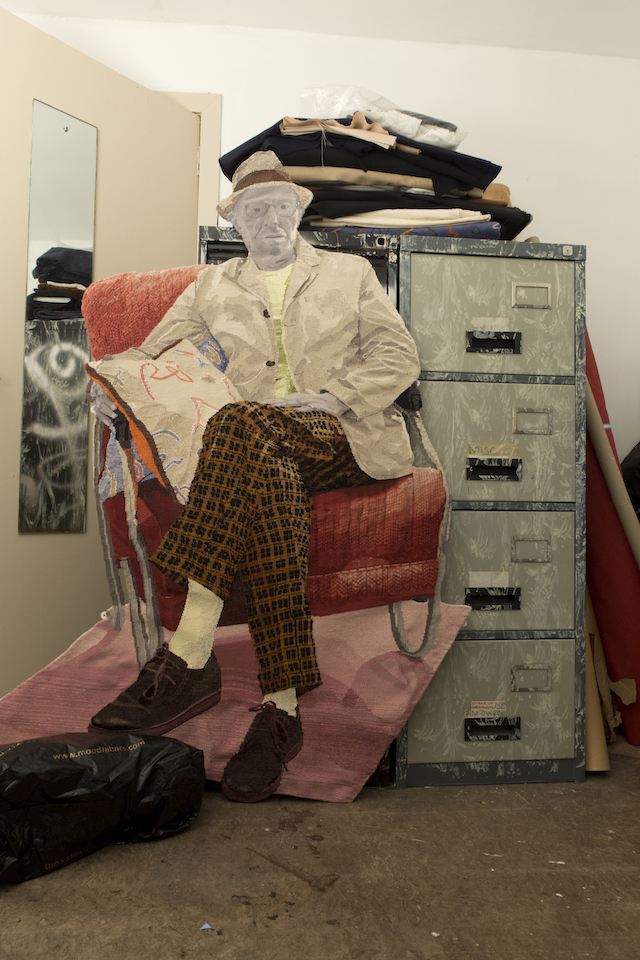 Elizabeth taught you art at Higher and A level, and, since 2008, you and Lucy have included her work in solo and Atelier E.B exhibitions; in addition, you also live in the same building. Are you able to talk a little about how that works? Do you discuss your projects with each other, or is it telepathic by this stage?
When I attended the art department at Gillespie's, it was open plan and had at least five art teachers who all brought different skill sets. My mum's specialist area was design. She was very good at inspiring from a distance. She had a cupboard full of thematically organised folders she had assembled. Most folk who went through the art department remember utilising this great resource. These folders now sit in her studio at home like a time capsule.
We don't show my mums work out of a familial obligation. We hold her work in high regard and view her as our contemporary.    
Myself, my brother and my mother live in the same building, however we have separate dwellings. Our family experienced real tragedy when I was little and only now do I realise this is probably why we all stick together in independent yet close proximity. The house is an old whisky bond that was bought in the early '80s by my mum and her partner at the time. We were working on this derelict building as a family when my mum's partner died at the age of 34; therefore, this building remains an incredibly special place to us – it's brought up three generations of women. My mum has her tapestry studio in her home, and I have my print studio on the ground floor.
My mum and I rarely discuss our work with one another. She is in her world making up for lost time.
Photography Morwenna Grace Kearsley 

This article is taken from Port issue 28. To continue reading, buy the issue or subscribe here