Ahead of the Guggenheim Bilbao's new Louise Bourgeois exhibition, we speak to the late artist's former assistant and friend, Jerry Gorovoy, about her extensive body of work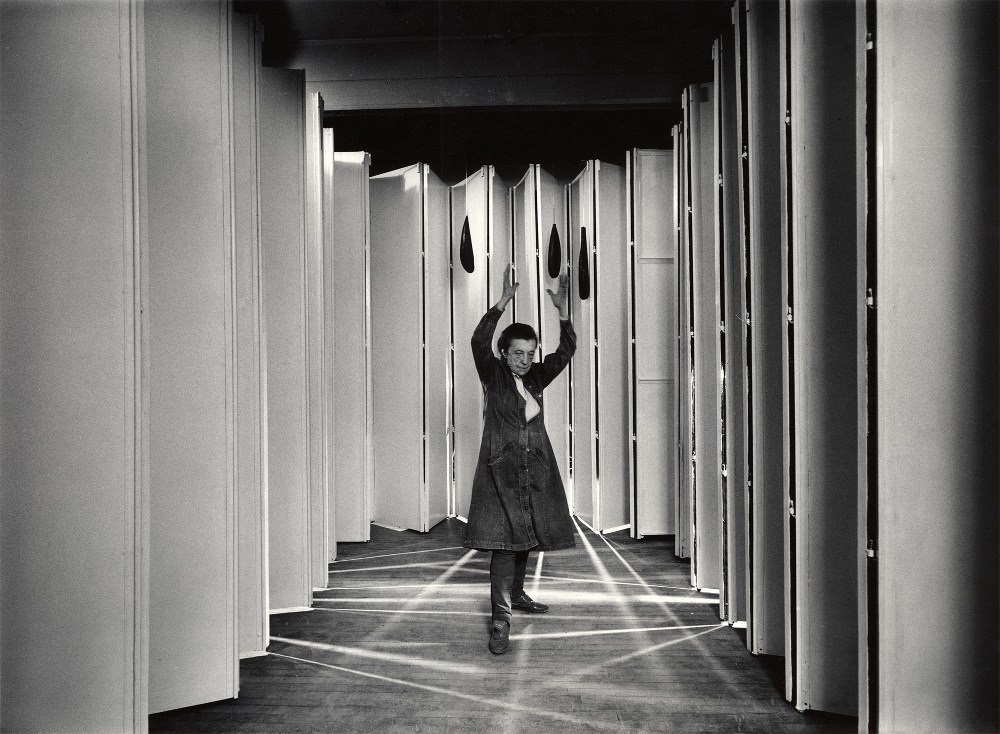 Sometimes an Artist is seen with a capital A – a solitary figure, glorified as somewhat of a magician. We often ignore the web of helpers around the artist – those who promote and protect the work.
Louise Bourgeois was an Artist – articulate, witty, mysterious and extraordinary. A video of her peeling a tangerine on YouTube, cutting a figure with a flick of a scalpel, has been watched 78,000 times. There are films of her smashing sculptures, claiming to be a 'wild beast', discussing philosophy, family, the past. Always mischievous, she once avoided an interviewer's insistent questions by hiding her face behind a 'No Trespassing' sign and abandoning the bewildered journalist in her studio.
In these films, there is often a voice off-screen mediating and continuing the conversation. To this voice, there is no 'No Trespassing' sign raised. This is Jerry Gorovoy – Louise Bourgeois's long-term assistant and friend, and the greatest promoter of her work.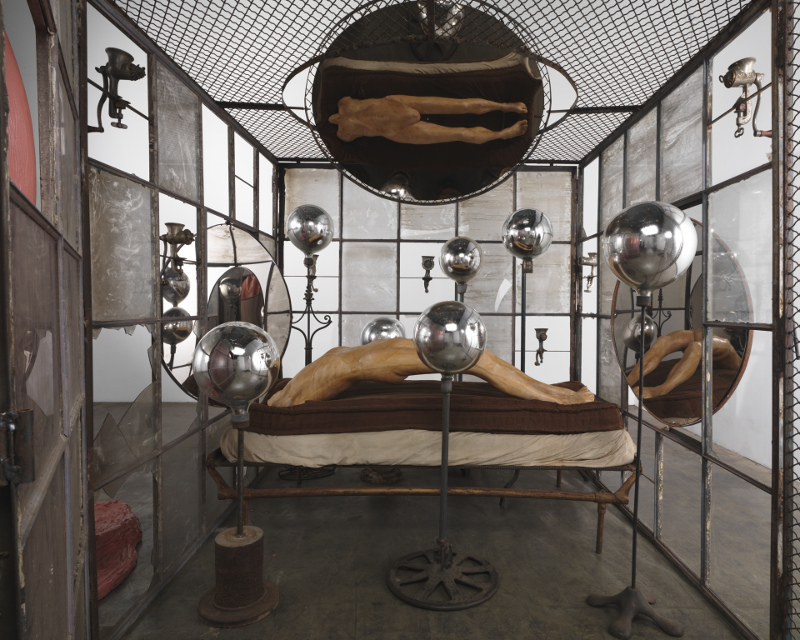 They met in New York in 1980, when Louise was 68, and somewhat unknown in the art scene. Jerry explains, "She had an underground reputation for various reasons – for her own psychological frailty and the art world at the time. When I met her it was the end of Greenbergian formalism. The relationship to image-making, sexuality, politics was coming into the fore. And Louise came into the forefront at that point."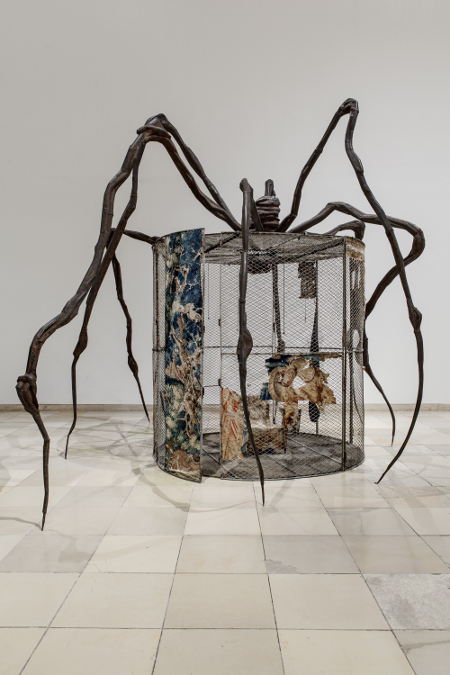 Their friendship began unpromisingly – with a fight. As a young gallery assistant, Jerry had the opportunity to produce his own show, in which he included one of Louise's sculptures. Upon seeing her work in the gallery, she was displeased at it's placing. Jerry took her for a cup of coffee, calmed her down, and on the way back to the gallery, she fell on the cobblestones. Jerry helped her up. Later on, he was invited to her house, discovering decades of extraordinary work. He went on to work continuously with her for the next thirty years and now runs the Easton Foundation that is responsible for her collection.
Without Jerry, Louise might not be as well-known as she is now. He explains that for her, showing and exhibitions were always secondary to the emotional spark that fuelled the work. "Louise had trouble showing – if you look at her career, she had three shows in the 40s, and then she didn't show for another 11 years," he says. "She didn't need to have an exhibition. Louise needed to make the work to stay alive."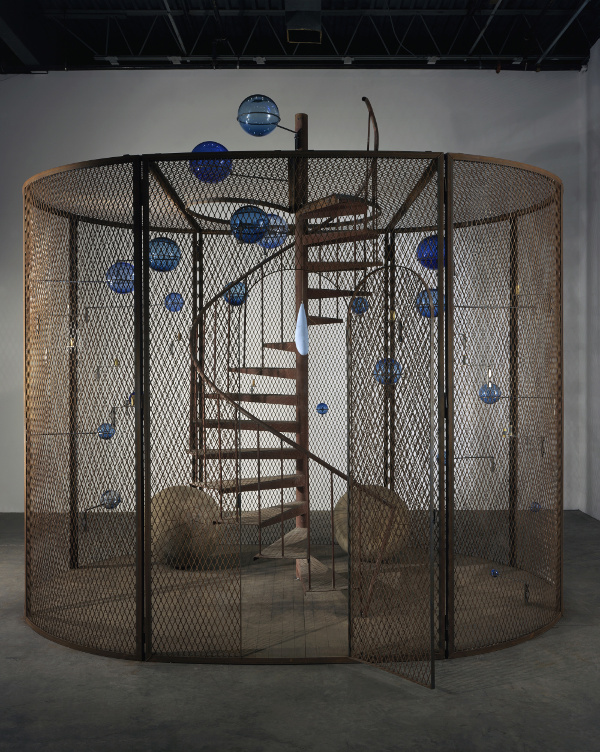 In the new exhibition at the Bilbao Guggenheim, Louise's series, Cells, which she began in her eighties and continued until close to the end of her life, are exhibited together. "With the Cells, it was the first time that she started to incorporate objects that belonged to her with things that she had made," says Jerry. The cells are enclosed – often the viewer can only see shadows, reflections, blurred views through a cracked window. The result is affecting – the viewer becomes hungry for detail, each gaze contains another secret, something possibly missed. Louise was a very controlled artist – even in a gallery she wanted her work to retain the intensity it gains from asking the viewer to enter a small room, to focus in a large space. "She developed this architecture to encase. She set up the coordinates to control the poetic, symbolic world that she created," says Jerry.
Walking through the gallery, there are repeated motifs, symbols. It becomes like walking through a dream – a dream that doesn't drift away, but settles solidly in the mind. The cells are the definition of uncanny – a world familiar and strange at once. As Jerry tells me, the start of a work for Bourgeois was always emotion. "The start is autobiographical. Louise always said the emotions she's dealing with are universal – fear of being rejected, fear of being different, fear of being abandoned. The idea of jealousy. These are all pre-gender emotions."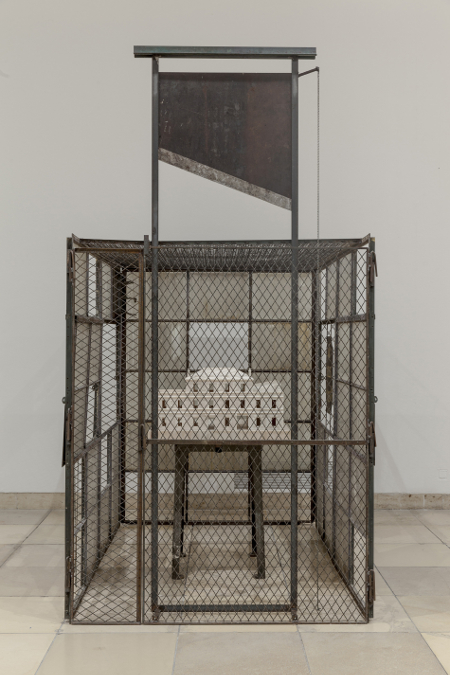 Louise is often seen as a feminist artist, although she did not call herself one. Her work is extremely personal and often focusses on female sexuality and motherhood. Jerry explains, "There's a consistency in the emotional and psychological tenor – you're dealing with the problems of a woman and her anxieties. She did not like the surrealists – because she always said surrealists use women as objects. Louise always said she wanted to make the woman a subject."
Louise Bourgeois grew up in France, daughter of an unfaithful father who had an affair with her live-in English tutor and an ill mother. Louise's work often evokes a child's perspective – each object has the charm, the strangeness, of an object that would appeal to a child. It is almost like the cells are boxes pulled from beneath a bed, a collection of hidden treasures. "They're objects that had meaning for her. The perfume she wore throughout her life – Chalet Mara. The scent brought back memory. The tapestry – she came from a tapestry family. These are things that held meaning for her, that she thought had value," says Jerry.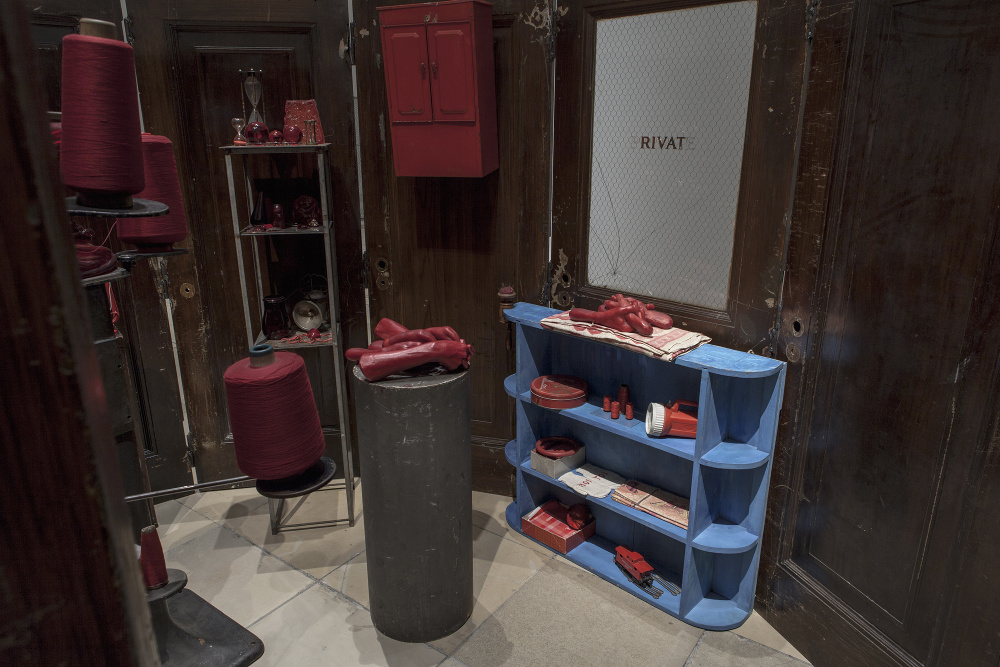 Jerry often slips into the present tense when discussing the work of Louise, who passed away in 2010. It is easy to see why – the work feels very much awake. The objects do not seem dusty or static, rather, it as if they have just been tilted, or straightened, by an unseen hand.
"Louise always said she was on an itineraire unique, or a journey without a destination. She wasn't always going in the right direction. She didn't know where she was going. She's not starting with a concept. She's not interested in honing a style, she's not interested in repeating herself. It's like a diary – she's recording how she's feeling at that particular moment, that particular day. I feel that she was very honest in that way. And unafraid."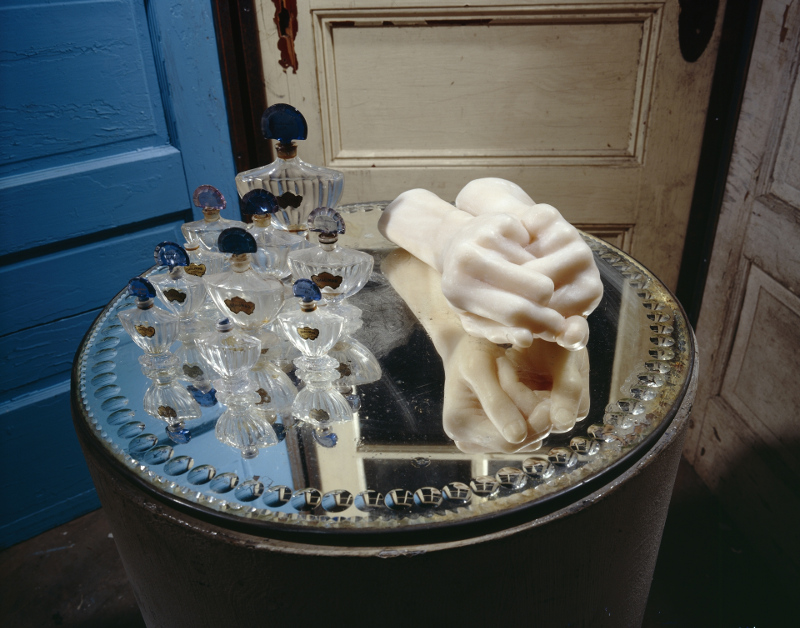 Louise Bourgeois, especially towards the end of her life, suffered from anxiety. She did not often leave her Brookyln studio (a converted sewing factory, many parts of which are included in the architecture of the cells).
"One of the things for Louise was that, when you're very fearful, it was almost like camouflage. You blend into the world. When you're anxious, the inside world and the outside world become the same. They merge." Jerry says. "What you're projecting – your mind, anxiety, it becomes overwhelming. And you can't distinguish between what's coming from inside you and from without."
"Louise always said if you confess everything, then you have nothing to fear," says Jerry. As we pass the Passage Dangereux, I note a miniature spider in the corner, one I had not seen before. Jerry explains, "The spiders are a relationship to her mother but also to her own body. The threads – you build your own architecture. That's what the web is about. Someone breaks the web, the spider will rebuild it," he pauses. "She continually rebuilt her own world as a way of surviving."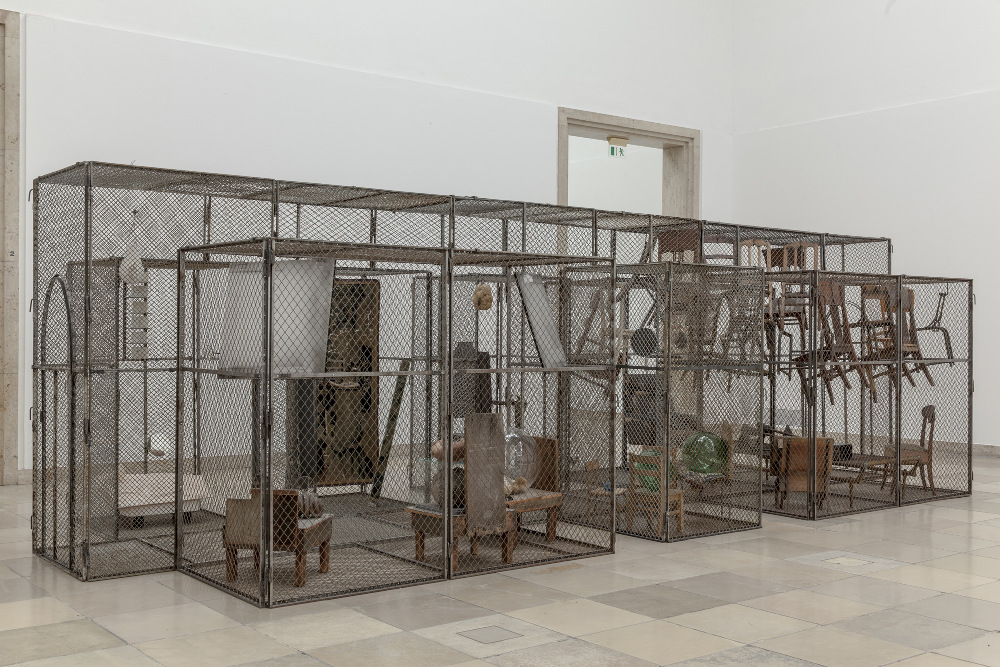 "Towards the end one of my roles was to say, "Okay, you do the work, I'll take care of the exhibition. You don't need to." She's always said being anonymous was great – she described herself as undisturbed. It saved her from falling into what she saw as a trap for other artists."
There are always multiple narratives coexisting in a Bourgeois work – a child's perspective, the adult analysing those emotions and, finally, the artist translating the emotion into image, into story, into the abstract. The iconic spider that Louise is most famous for is a symbol for so much – the mother, the spy, the weaver. Perhaps most apparent – the spider is a protector. Louise valued protection. And Jerry, in his lifelong commitment to her work and vision, could perhaps be the most valuable spider of her collection.
The exhibition Louise Bourgeois: Structures of Existence; the Cells, will run at the Guggenheim Bilbao until September 2016