Writing from Berlin, William Kherbek reviews the British artist's current exhibition, which places the question of locality and cultural integration squarely in front of the viewer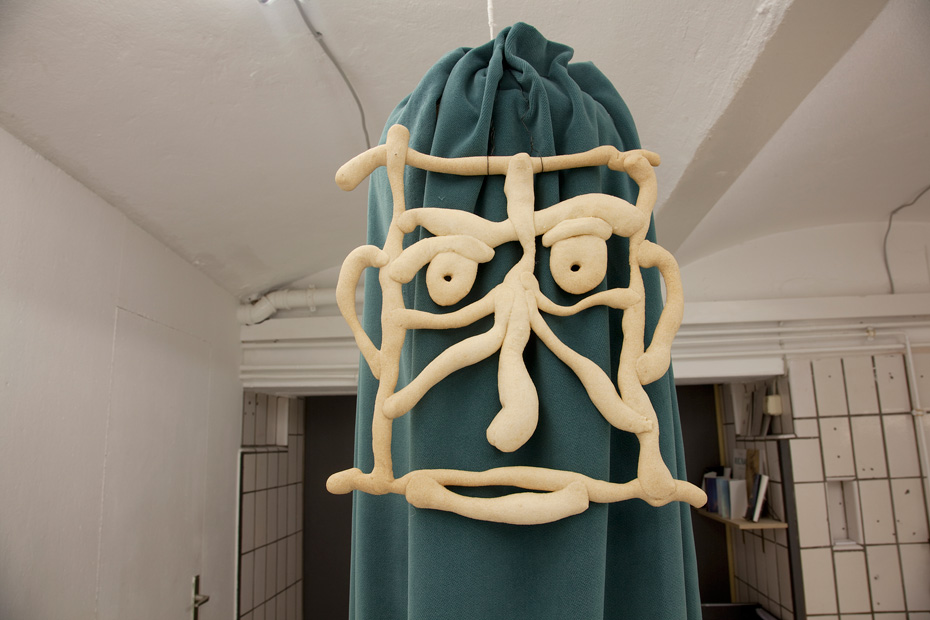 So 25 years post-'Globalisation' – and maybe a good six years 'post-Internet' – are we any more mono-cultural than we were when there was still a wall dividing Berlin round about the place where an O2 Arena now sits? It's a brave person indeed who suggests the world is noticeably more unified than it was when Francis Fukuyama declared history to be over and done with. As anyone who's been to countries like Hungary or France, or the Netherlands, or even merry olde England itself, in the midst of an independence campaign by Scotland and a good old pub knees up with Nigel Farage and the UKIP crew which may result in more than a hangover, can tell you, those hopes that the economy would put all of Europe's nasty old habits into the ashcan of history have more or less gone up in smoke. One stroll down sehr cool Oranienstrasse in Berlin will lead you to an encampment of people, including asylum-seekers, refugees and other victims of the end of history, fighting for the right to be recognised as that most boring of all signifiers, "human beings".
It is this scepticism about the utopian possibilities of technology and globalisation that informs Kasia Fudakowski's Local Artist at Chert Gallery. Fudakowski is a British artist who has been living in Berlin for longer than we've been 'post-internet' but the question which animates the exhibition is when the word 'local' could rightly be attributed to someone like her. Never afraid of a bold stroke, Fudakowski places the question of locality and cultural integration squarely in front of the viewer, there she is on a battered, pre-post-history television set with a fake Japanese film crew attempting to explain her exhibition and its Japanese signs (both linguistic and neon) in what amounts to a kind of linguistic pot luck stew – a bit of German, a bit of English, a bit of Japanese, a bit of gesture, a bit of nonsense. Hanging in the main room among the neon are woollen socks and a kind of humanoid face made of dough. They're more sculptural than assemblage, but they're as unstable as the conversation quietly 'progressing' on the screen.
Talking of instability, the floor of the show is covered with a layer of polystyrene which makes you dread walking over it… Eventually, you do because there's no other way to get into the second room where Fudakowski keeps the more recognisably sculptural works, pieces made of rattan and steel and an wooden "kimono" that divides the room nicely. From a projection Fudakowski winks at you in full oriental(ist) garb. Maybe it's a knowing wink, but in its disjointed stop-motion style it's also a forced gesture: every little thing's going to be alright (because it has to be).
Kasia Fudakowski: Local Artist runs until 12 April at Chert Gallery, Skalitzerstrasse 68, 10997 Berlin