Nick Rainsford talks to artist Maha Malluh about her first solo London exhibition Just Des(s)erts, examining the impact of globalisation in Saudi Arabia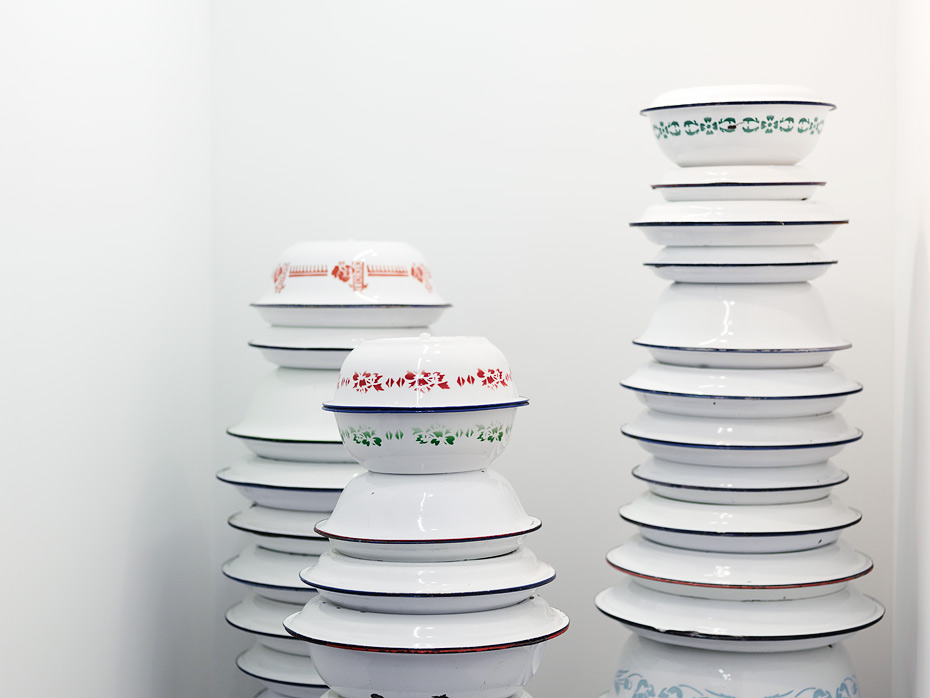 Making my way through the rain and traffic, through the heart of central London's famous shopping district, I turn onto Maddox Street to the Selma Feriani Gallery. I'm meeting with Saudi Arabian artist Maha Mulluh to talk about her first solo exhibition in London, entitled Just Des(s)erts. The show comprises of Maha's most recent mixed media work, and a small sample of her 2005 photogram series, Capturing Light. Exploring themes of materiality, modernisation, consumerism and cultural evolution resulting from the discovery of Saudi oil reserves, Maha explains " has changed the mentality of people and their resistance to globalisation. This is we are living now".
Whilst intrinsically a political medium, in a country that is inherently conservative — let's not forget, women are still banned from driving and cannot vote until the 2015 elections — art is a surprisingly feminine sphere says Maha.  "I think we have more female artists than men; it's very normal to be a female artist [in Saudi]".  Maha herself has been making and exhibiting work for over 30 years, evolving and working with a range of different medias. "As an artist I have never had any problems being female" she adds, asserting that "the role of the artist is to help change society help people understand things in a different way. Art is not fact."
Just Des(s)erts is a collection of mixed media sculptural installations, which highlight the impact of the wealth that oil has brought, and the subsequent effects of globalisation on Saudi culture. "This work is a result of that change in society". Maha is not the only artist to confront these themes: her work form part of Edge of Arabia, an independent arts initiative that works to develop the appreciation of Arab contemporary art from a spectrum of political perspectives, both traditional and progressive. "I started working with the beginning in 2008. Our first show was at SOAS and we now have a show in East London [#COMETOGETHER at Brick Lane's Truman Brewery]".

In Food For Thought II, Maha uses chinco dishes (used in traditional cooking) to depict a country founded on traditional values but which is now (quickly) turning towards a materialistic value-system. Bread towers represent the skyscrapers that are now a feature of the Riyadh skyline, (skyscrapers which house some of the world's biggest brands, and are also home to Saudi oil companies.) In other pieces from the series, Maha uses discarded cassette tapes of religious lectures framed in wooden bread baking trays, representing
how religion is being forced to modernise as lectures are now released as MP3s.
The pieces question how one can preserve and pass on heritage, and when it should be discarded:  tapes may be redundant now, but are the lessons they deliver going the same way?
In Oil Candles, a set of six compressed oil barrels, (once used to contain the main source of the country's wealth, but now empty and obsolete), litter the desert. "The barrels are an instrument of modernity.
After we discovered the oil, our lives changed " It is this that Maha wants us to focus on: how much do old lessons and values — the former building blocks of a society — fit with modern living? Maha's work explores change, but her work implies that change doesn't always mean progress.
Maha Malluh, Just Des(s)erts runs until 11 November at the Selma Feriani Gallery, 23 Maddox Street.  #COMETOGETHER runs until 28 October at Old Truman Brewery, 81 Brick Lane 

Photography Nikolas Ventourakis
..