Port meets the Brooklyn-born artist, Academy Award-nominated filmmaker, father and man about town during an afternoon at his home and studio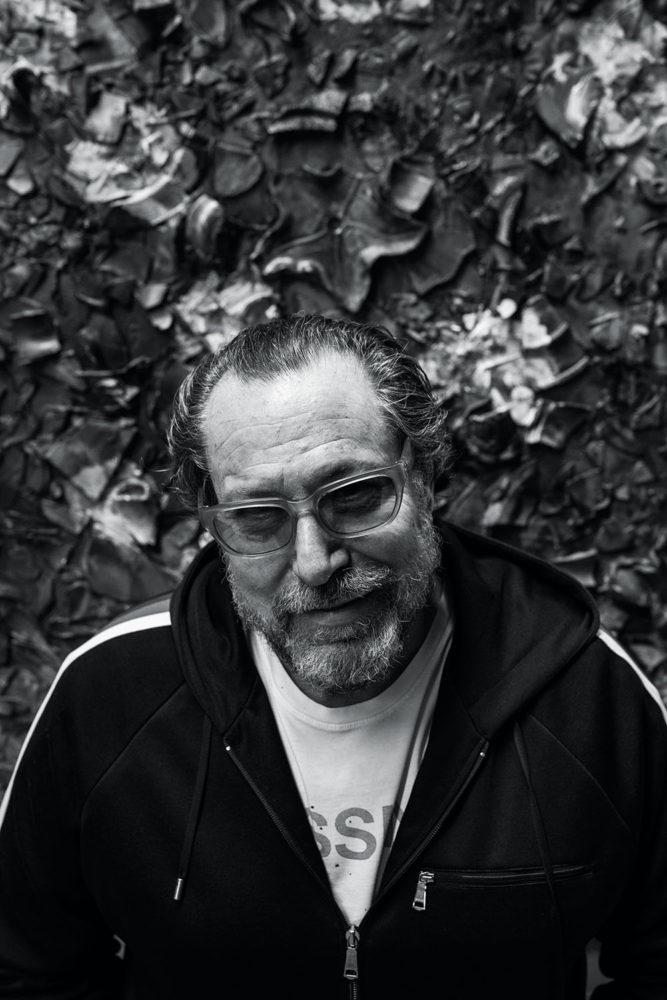 Even if you don't know who lives there, the home and studio of the painter Julian Schnabel is a familiar sight for denizens of downtown Manhattan. As the West Village stretches out toward the water, a pale pink tower rises out of blocks of low apartment buildings and townhouses. This is Palazzo Chupi, a residence that Schnabel designed and built in 2009, so called after the nickname of his second wife, Olatz López Garmendia. The structure, with its stepped-back floors, curved windows and arabesque arcades, resembles a cross between a modern condo and a medieval castle in Convivencia Spain. 
To visit Schnabel, one must first make a procession through Palazzo Chupi's imposing wooden doors on the ground floor and into a tall, dark elevator that features a wall-size mirror, pointed ceiling and a woven bench, in high Gothic style. The doors open on to a sudden mirage, or so it seems: a room of billowing red velvet curtains, stone tiles and enormous paintings covering every available patch of wall – the domain of a deposed monarch in exile perhaps, or one of the best-known and yet least-understood living artists in the world.
Two summers ago, Schnabel was visiting the cemetery where Van Gogh is buried, in Auvers-sur-Oise, to the north of Paris. 'There were these rose bushes with these pink roses, and there's this black wall around the cemetery that had little white stones in it,' he says. The scene provided the impetus for some dozen paintings, which hang, stately, at Pace, like a room of Monets at the Museum of Modern Art, pre-historicised. 'There's a work ethic in these paintings, a paintedness that is a very old-fashioned way of being a painter.'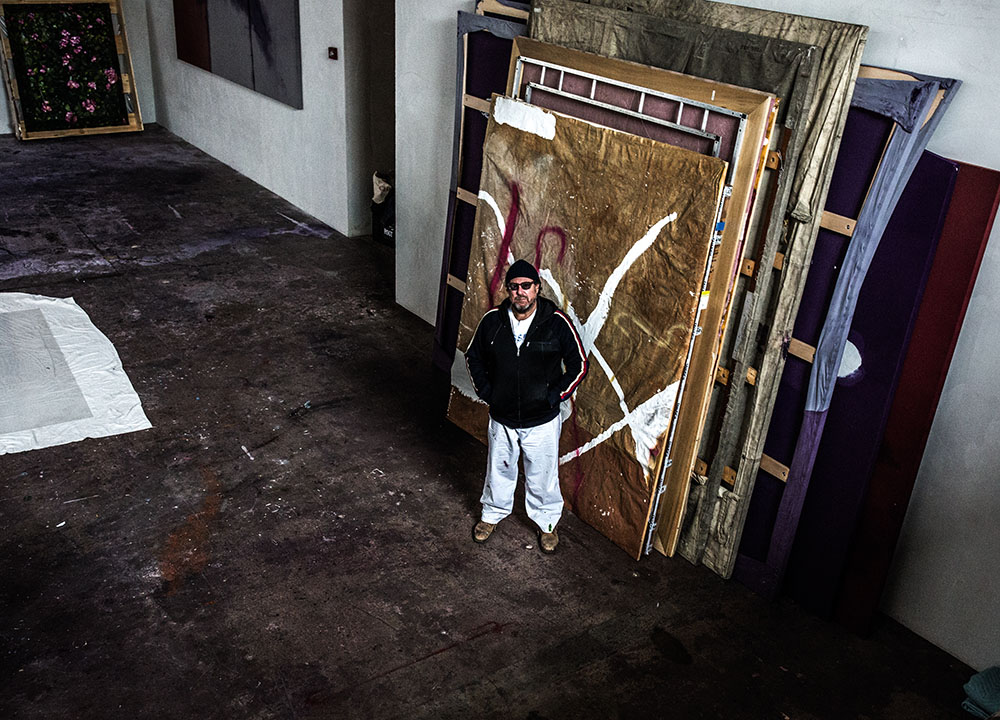 The grandeur of Schnabel's current surroundings and the Pace exhibition is all part of the artist's carefully cultivated mystique. As a representative icon of 1980s New York City painting, in all its excesses, and the mascot of the neo-expressionist wave that preoccupied painters at the time, these days the artist is famous for being famous. The New York Times called him "the carnival man of contemporary art" as far back as 1982. Schnabel and his several ex-wives and art-world model girlfriends, and his now-adult children – son Vito and daughter Stella – have been mainstays of the society pages ever since. 
Another factor has increased Schnabel's public notoriety. He leveraged his fame into Hollywood as well, tapping friendly actors and funding films with his own fortune. The results, movies like Basquiat (in which Bowie plays Warhol) and The Diving Bell and the Butterfly, display a unique visual sensibility. A new film project will explore the life of his most recent inspiration, Van Gogh, succeeding his paintings.
Yet Schnabel's new rose period presents a mystery. These are quiet, contemplative paintings, more introverted than anything Schnabel has done in decades. What happened to the bad boy of the 80s, the builder of pink towers, the unrepentant enfant terrible of the art world?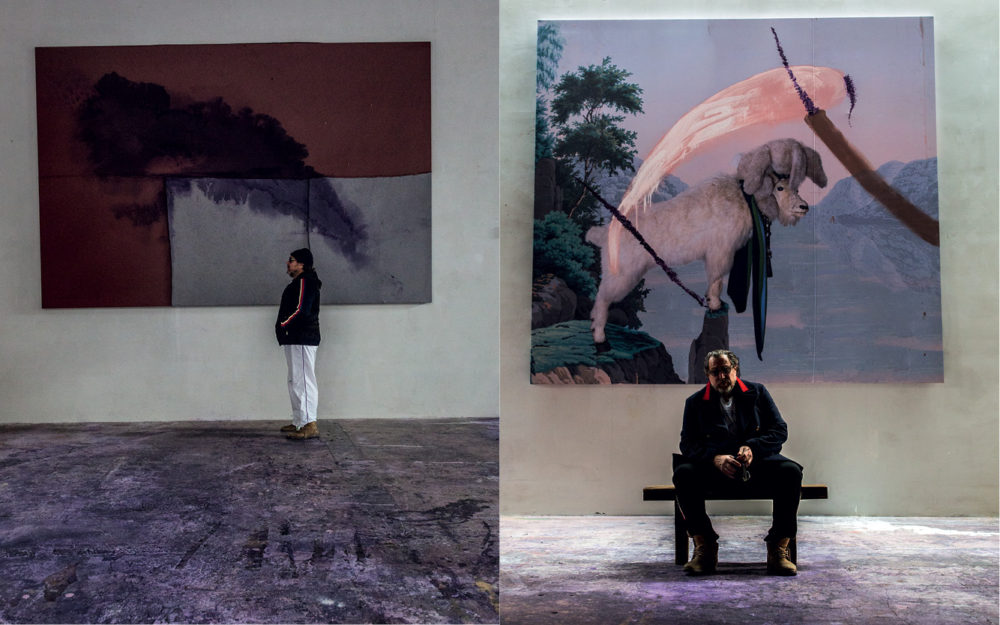 Schnabel's salon, the room where I meet him, is hung with paintings from the various phases of his long career: an autobiographical solo exhibition that continues throughout his home, hung between eclectic artefacts like a toreador costume and a Chinese idol. In the kitchen is an inchoate work from the 70s, a dark canvas fixed with shelf protrusions and painted with wandering lines, somewhere between neo-expressionism and Arte Povera. Two of the more recent series much in evidence are the 'Navigation Drawings', maps with sweeps of thin, translucent paint; and the 'Goat' paintings, in which a photograph of a stuffed version of the titular animal is set against a swatch of 19th-century wallpaper and daubed once more.
The rose pieces represent another turn. Schnabel reclines on one side of a long couch and I sit in a throne-like chair beside it, positioned like a therapist to his patient, but the painter gestures for me to sit with him. He eases back further. 'I want things to be able to be different and address other things, rather than make the same thing over and over,' he says, gesturing at the work around him.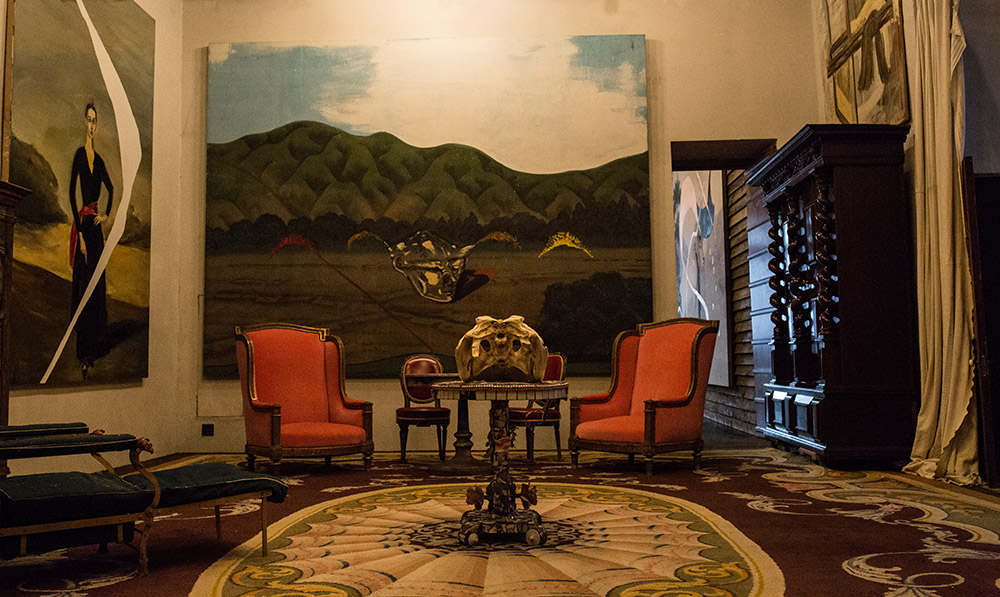 When talking to artists, there are certain patterns that emerge, no matter what kind of work the artist makes, no matter how famous or obscure they are. One is that they don't like to be tied to their influences, even if they are undeniable art historical reference points. Hence Schnabel's dismissal of my initial suggestion of Cy Twombly as a comparison for his rose paintings. Schnabel is a fan of the late painter, whose play between figuration and abstraction his own work echoes, but Twombly's flowers aren't his favourite, he says. 
Another reality of conversations with artists is that any attempt to describe their work to them will inevitably fail. This constant falling-short brings to mind the paradox of trying to interpret art in the first place: the experience of viewing it is never the same, nor often remotely similar, to the process of making it, of having your nose up to the canvas and your brush in the paint. The piece often doesn't mean to its viewer what it means to its creator. 'You're doing something and people are all around you, but they don't see what you see and they don't know what you're doing,' Schnabel says. 
It's this gap that the artist hopes to represent in his film about Van Gogh, now that he has put an end to the rose series, he says. He can let the audience in on the process of art-making from the painter's perspective, even as the characters in the movie remain distant from it. Showing the reality of Van Gogh's life and work seems to be a way for Schnabel to reconcile his own fame with the fact of his ongoing artistic practice, though his own career couldn't be more different than the post-Impressionist's – Schnabel has sold far more than one canvas in his lifetime.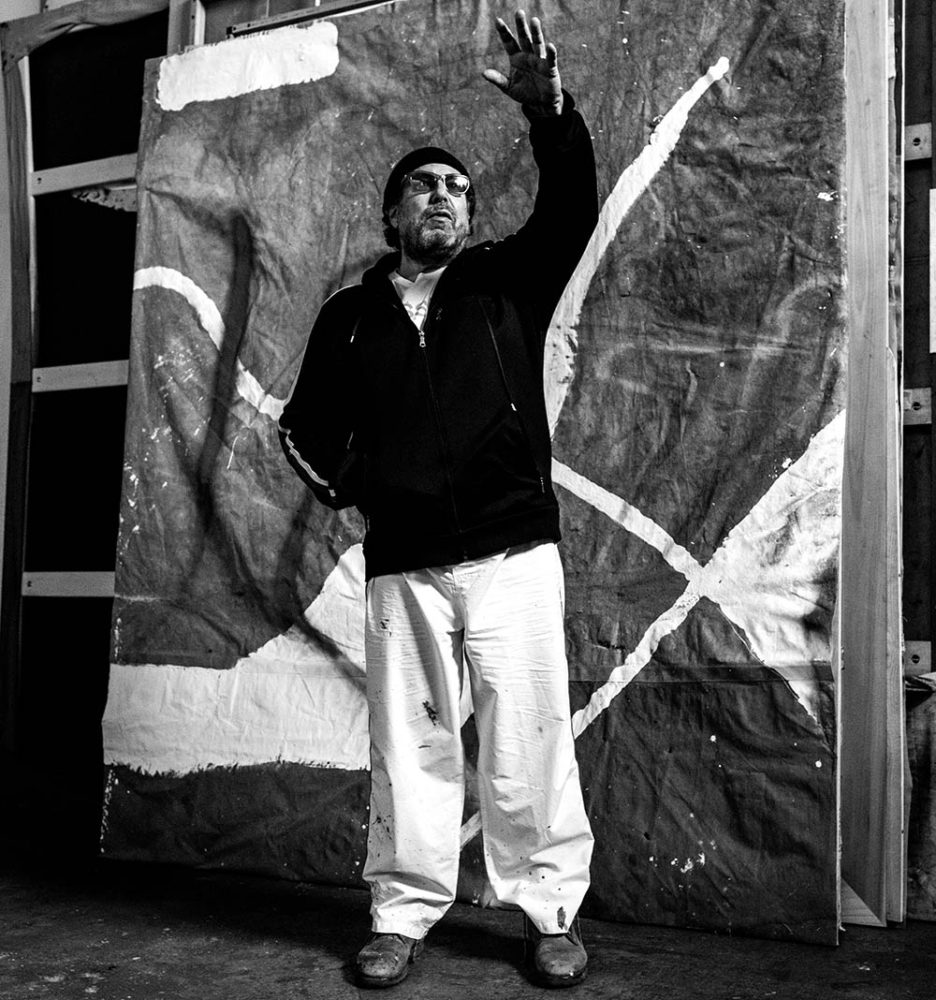 'The movie's about painting. Van Gogh as a human being has been highly mythologised; his death and his ear have been mythologised. It would be nice to make a movie about a guy everybody thinks they know about, but maybe they might be surprised,' Schnabel says. Over the course of our conversation he pauses for longer and longer moments, either fighting sleep or diving into an inner landscape, imagining the work to come.
By this point, the long afternoon has overtaken the city, the sunlight is starting to dim, and Vito's living room is hushed and enclosed, an unreal space filled with the living detritus of culture. The roses, to offer up my own paltry interpretation, are an effort to seek solace in the rush of time, a way to begin to find a place in history, if there is one to be found. That the blooms the paintings depict will fade is inevitable, but Schnabel has captured them, to set against every image of every flower that will ever be made by an artist. Here is his enduring offering. 
'Painting seems to last a long time. It's a wonderful refuge. The painted world is a place where you can reside outside of the world of everything else,' Schnabel says, and pauses for the longest time, reclining flat on the couch, eyes closed, searching for something internal and then coming back up with it, a vulnerable twinge in his voice communicating a universal ache. 'In there, there's a great freedom. Obviously, there's this crazy relationship with eternity. It's a denial of death.'
This article is taken from Port issue 20. To subscribe, click here.
Photography by Michael Avedon
Styling by Dan May