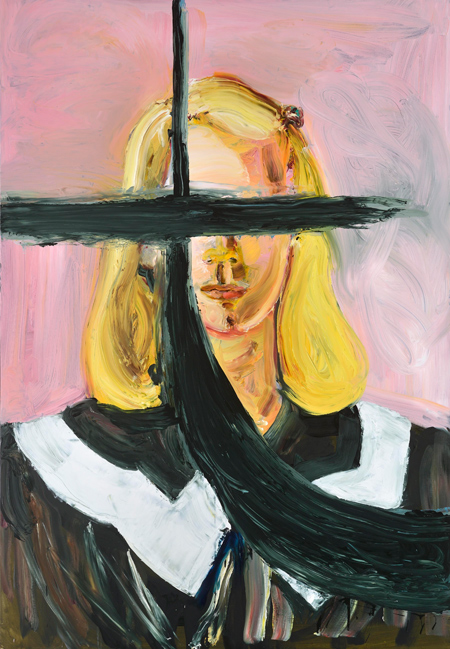 The artist and filmmaker's first UK solo show in nearly 15 years reeks of indifference and egotism, says Tom Jenkins
Julian Schnabel is a big man with a big reputation, a fine filmmaker who can boast of an Academy Award nomination for 'Best Director' (The Diving Bell and the Butterfly) amongst assorted accolades. He was also a hugely successful artist on the neo-expressionist scene in New York in the 1980s and a one-time associate of both Warhol and Basquiat.
Unfortunately, one can't help feeling that had his reputation not proceeded him, Schnabel would've struggled to find a space for Every Angel Has a Dark Side, his first UK solo show in 15 years, so lacking is it in any sort of merit or passion. When a colleague half-jokingly suggested the show might be an elaborate I'm Still Here-style hoax, I took more than a moment to mull it over. The truth is more depressing than that – this is the work of an artist who is at best indifferent, at worst, completely contemptuous of his audience.
The first thing that strikes you at the Dairy Art Centre in Bloomsbury is the reflected glare of the gallery lights from the layer of resin that covers half of Schnabel's enormous canvasses. It's supposed to bring the work closer to the viewer I'm told, but merely makes it seem utterly impenetrable in every sense – some resemble huge, heavily glazed ceramic slabs.
There's little variation in size or form throughout as we move from enjoyable but amateurish surrealism ('Girl With No Eyes', 2014) through clichéd swipes at the fashion industry ('Fifteen Yrs Old and Surrounded by Pigs', 2014), to the influence of new Arab money on the global art market ('The Unknown Painter and The Muse He Will Never Meet', 2010). It feels too obvious, dated and clumsy. Where's the subtlety and craft?
'David and Goliath' (2011), which features a bespectacled figure presumably representing a creativity sapping 'numbers man' holding Schnabel's severed head aloft, is an abomination. The less said about the self-portraits the better – why no study of the artist's craggy, expansive face?
On a positive note, the two X-Ray paintings on display here, perhaps inspired by the brilliant Diving Bell…, at least demonstrate some sort of lateral thinking and a willingness to experiment, as do some of the other abstracts.
The title hints at some sort of inner conflict, a sweaty wrestling match between good and evil, none of which is on display here. Completely devoid of emotion, this feels like the work of an artist with too much money and time, who frankly doesn't give two hoots. Unfortunately, someone's fallen for it. Perhaps by writing this, I have too.
'Every Angel Has a Dark Side' runs at Dairy Art Centre, 7a Wakefield Street, London, WC1N 1PG until 27 July. More info HERE