The South African photographer publishes her first comprehensive book of works made over 35 years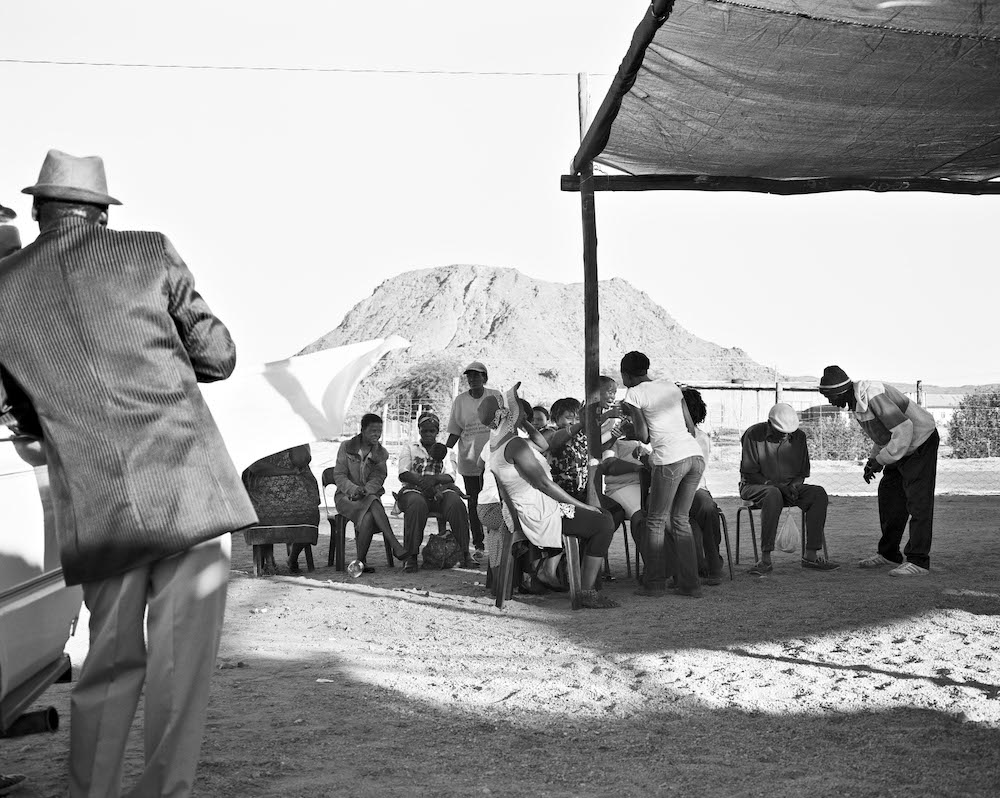 From 1948 until the early 90s, apartheid took hold of South Africa and South West Africa (now known as Namibia). Politically dominated by the nation's minority white population, the first apartheid law was the Prohibition of Mixed Marriages Act (1949); followed by the Immorality Amendment Act and the Population Registration Act of 1950. Between 1960 and 1983, over three million Black Africans were removed from their homes and into segregated neighbourhoods, while the government announced that those who had been relocated would lose their South African citizenship, and moved into ten designated territories known as 'bantustans'.
Sparking outrage and backlash against the institutionalised racial segregation of apartheid, this resulted in resistance and the rise of social movements across the globe – some of the biggest of the 20th century. Notable documentary photographers of that time would pull their lens onto the uprising and division prevailing across the country, like David Goldblatt who documented South Africa's people and landscapes, and Ernest Cole, one of the country's first Black photojournalists. Jo Ractliffe, a South African photographer born in Cape Town, first raised her camera in the mid-80s during the midst of the anti-apartheid movement. But rather than documenting its brutality, she turned an unusual lens onto the metaphorical, shooting landscapes and somewhat allegorical placements of figures, things, animals and nature; capturing the borderlands of her home town; the aftermath of civil war in Angola; addressing themes of conflict and displacement in far from the typical documentary manner.
Jo's earlier series include Crossroads (1986) and Vissershok (1988), both of which were crafted in her hometown, shortly followed by Nadir (1986-1988) that compiles a collection of photomontages in a land where seemingly aggressive stray dogs have replaced humankind. A move to Johannesburg in the 1990s led to reShooting Diana (1990-1995), which captures the moments of ordinary life. While in 2007, she documented the war in Angola and published three books on the after-effects of the war on the South African landscape: Terreno Ocupado (2008), As Terras do Fit do Mundo (2010) and The Borderlands (2015). These are all but a few examples of the 35 years spent as a photographer, and now her life's creations have been formed into a comprehensive tome titled Photographs: 1980s to now, co-published with the Walther Collection and Steidl and featuring text by Emmanuel Iduma, Matthew Witkovsky and a conversation with Artur Walther. 
In this publication, you'll find a mix of prose, impactful imagery and in-depth, personal cadences written by Jo that detail the reasoning behind her credited works. Like Nadir – a series shot in 1988 that, now more than ever, conveys a sense of dystopia in the formidable aftermath of the apartheid government. The stray dogs are luminescent and the backgrounds are dark and bare, alluding to the hostile control of the police as they roam the bleak, supernatural landscapes. And even the name, Nadir, denotes a feeling of despair, defined as the lowest or most unsuccessful point in a situation. It's a powerful series to say the least, and one that echoes with history and politics.
Below, Jo shares an excerpt from the book that explains more about the series Nadir (1986 – 1988).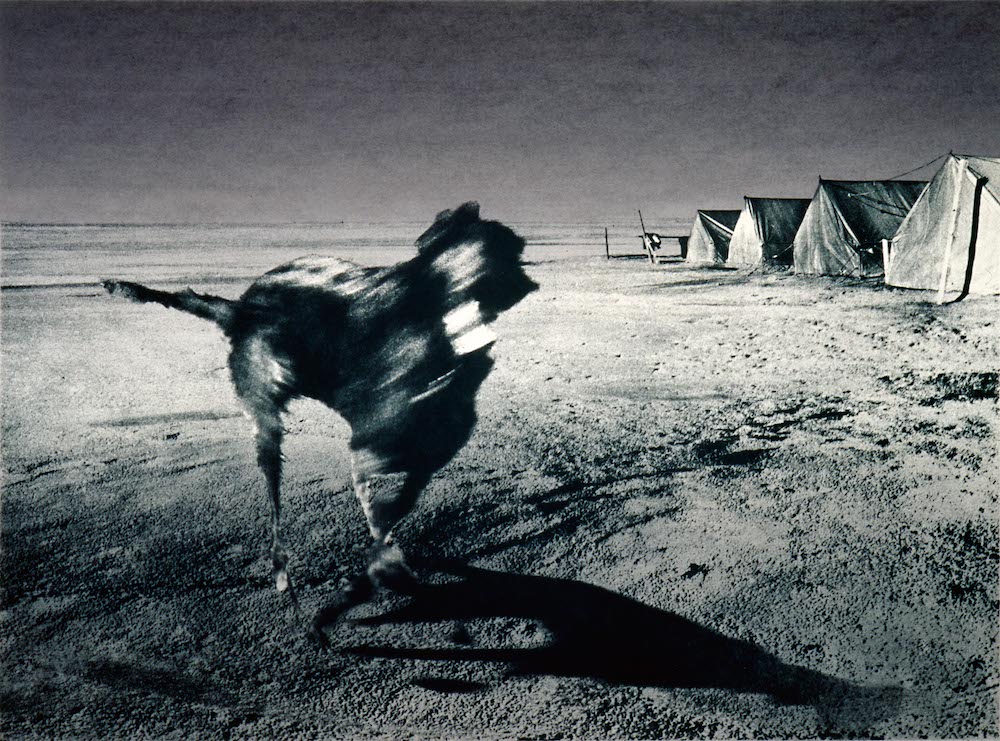 Come down with a thump on the out side of the fents and slyding down the slippy bank in to the ditch which I come up out of it soakit and sopping and there wer that black leader waiting for me with his yeller eyes. 
Jus stanning there in the rain and waiting for me. 
Dint see no other dogs jus only him. Looking at me and wagging his tail slow. Then he ternt and gone off easy looking back over his shoulder like he wantit me to foller so I follert. I ben waiting for it so long when the time come I jus done it. 
» Russell Hoban, Riddley Walker, 198à
Nadir began as an experiment in montage. I was disappointed with my photographs; they seemed somewhat apart, detached from the events that surrounded them. I wanted my work to register with what was happening in South Africa. Especially in that moment, in what felt like 'a world gone mad', I wanted to make work that, more than simply an image, conveyed an experience of the world. 
Initially, my intentions were quite straightforward: I needed to retain a degree of photographic mimesis, but I also wanted to destabilise the veracity of the photograph and insert something of the unreality of my own experience. I started to reconfigure my photographs, taking structures and objects from one set of images and incorporating them into another. My 'empty' landscapes became like stages as the various constituents found their place and the narrative developed. As I became more technically proficient, I began assembling entirely fictitious spaces made up of fragments of ground, texture, sky and clouds, all with conflicting light sources and distorted scale relationships – things impossible in 'reality' but plausible nonetheless. This also influenced how I approached things photographically, my seeing often directed more towards the needs of my montages than the photograph as an end in itself. 
Making these screen-printed photographic lithographs involved printing my negatives through an enlarger onto line film, using a sheet of sandblasted glass as a halftone screen. Various elements were cut and pasted to make up the composite image, which was exposed onto a lithographic plate and printed on cotton paper. Colour and tone were built up by screen- printing layers of transparent ink and finally the image was varnished to produce a surface quality similar to photographic paper. 
In the beginning I didn't think about dogs, although funnily enough they were always around, getting themselves into my pictures. I then began to seek them out. I photographed domestic dogs at play, went to animal shelters and followed feral dogs roaming the streets. I attended police-dog training sessions, had the trainers set their dogs on me so I could photograph up close. One day in 1986, when photographing in Crossroads, my eyes met those of a white dog slinking around a pile of discarded boxes and rubbish. Soon after that encounter, I came across Ryszard Kapuściński's book Another Day of Life (1976), about the events leading up to Angola's independence and subsequent civil war. I was very struck by that book, the ways it resonated with what was happening in South Africa – in particular, a passage about the dogs in Luanda, abandoned when the Portuguese fled. And when I read Russell Hoban's Riddley Walker, the journey of the dogs in Nadir started unfolding. 
Jo Ractliffe'a Photographs: 1980s to now is available here.