The American artist is back for her second UK solo show, with intriguing ceramic sculptures that play on the domestic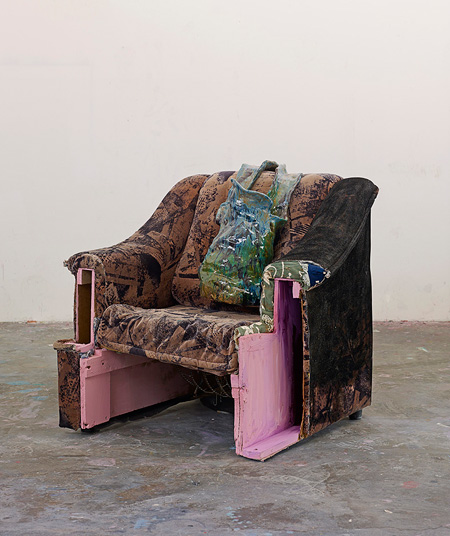 As part of the Timothy Taylor's Frieze 2013 offering, the gallery displayed work by American artist Jessica Jackson Hutchins, and it is Hutchins who also kicks off their exhibition line-up for 2014. It's the second solo show in London by the Portland-based artist, following the success of her Hepworth Wakefield show last year.
The gallery space plays to the drama of the sofa and armchair sculptures that Hutchins' is best known for. It's a nice juxtaposition when considering the sum of their parts – recycled, the objects have been taken from domestic settings and, after Hutchins' additions, sit strangely small in the space of the gallery.
This interesting dialogue with size speaks to Hutchins' wider theme of the macro and the micro, of the personal and the human at large. Sofas, couches, tables and living room furniture reoccur throughout Hutchins' work, unsurprisingly – after all, the living room (or 'family room') is the central stage for the drama of domestic living. Objects of comfort, or support and of togetherness, Hutchins addresses them with intense consideration. And every adjustment and addition to them feels specific.
In 'Two Hearts', for example, the shoulders of an armchair are draped with a blue sweater belonging to Hutchins' partner, printed with love hearts. Aside from the recycled motif, there's a sense of intimacy to the composition, as though the clothes have taken on a life of their own, becoming stand-ins. The positioning communicates meaning, but at the same time is evasive too – is it being held into place by the ceramic addition (which looks like a twisted stirrup or harness), and if so, what does this mean?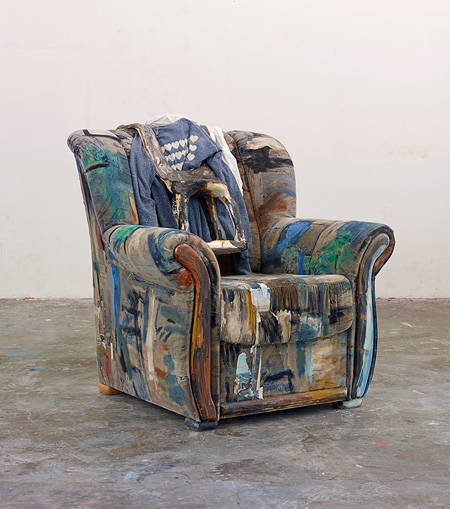 What I enjoyed most about pieces such as 'Pink on the inside' and 'Two Hearts' were their texture. Upholstery is slashed, foamy guts spilling out through seams; acrylic paint runs ribbons down the arms of a chair like water droplets on a pane of glass; in places build like wax that's melted and formed (almost bulbous mounds) around the rim of a wine bottle; glazed ceramic editions that look like rudimentary holsters… Her tactile sculptures elicit the (forbidden) temptation to touch, to explore, to smooth one's hand over the bumps and gauzy grain of the fabrics and plaster and papier-mâché.
Perhaps less striking are her paintings. As a multidisciplinary artist, their inclusion nods to Hutchins' wider practice. But the drama and the success of the exhibition belongs rightfully to her sculptural contributions.
Jessica Jackson Hutchins runs until 8 March at the Timothy Taylor Gallery, 15 Carlos Pl, London W1K 2EX