George Upton travels to the south of France to meet British artist Lubaina Himid at her first solo exhibition since winning the Turner Prize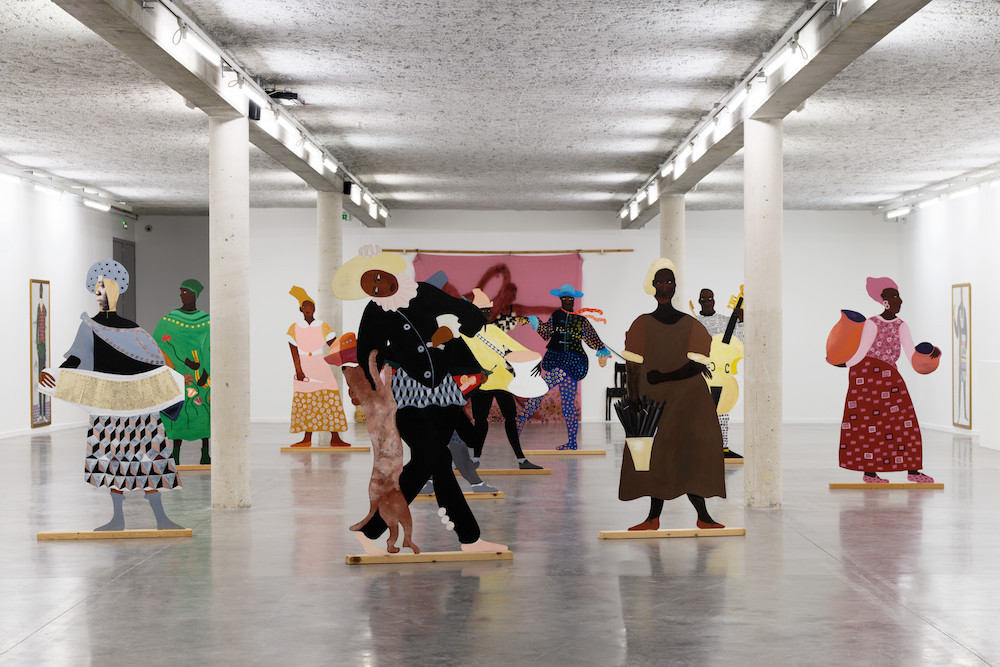 It's a bright day in early April and at the till of the newsagents of Béziers station, between the magazines and chocolate bars and lottery tickets, is a small display promoting the memoirs of Jean-Marie Le Pen. For years the controversial founder of the Front National – France's most successful far-right party – had struggled to find a publisher to carry his biography. A convicted Holocaust denier, Le Pen had been ousted from his own party by his daughter and successor, Marine, and ostracised from public life. Then, in 2017, Marine made it to the final round of the French presidential elections against Emmanuel Macron and the Front National was thrust into the spotlight, its divisive, populist, anti-immigration policies becoming an accepted part of political discourse in France.
The FN would make sweeping gains on regional councils in the years leading to the general election, and in Béziers the party successfully installed the journalist Robert Ménard as mayor. There, in a city founded in 575 BC and shaped by successive occupations and populations, Ménard's nationalistic rhetoric and Le Pen's prominently displayed memoirs (distributed now by Hachette), has become the new normal; an insular, reactionary movement that jars with the bright, clear Mediterranean light, the Roman architecture, and the vibrant, inclusive art of Lubaina Himid, which is currently exhibited at the regional contemporary art museum, the MRAC, in Sérignan, a few miles to the south.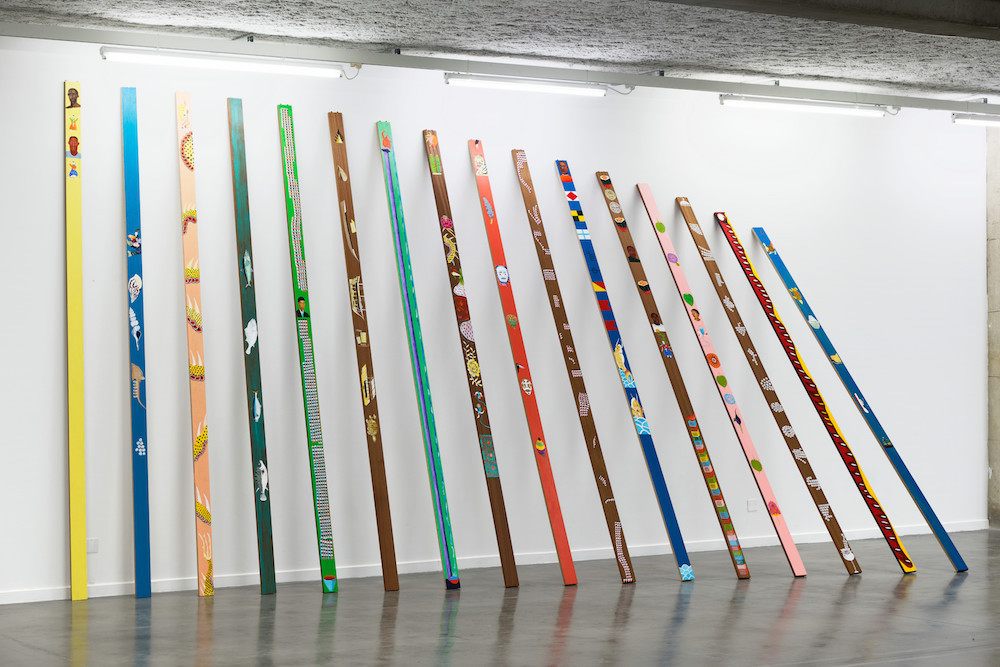 Last year, Himid became the first black woman to be awarded the Turner Prize, one of the most prestigious awards in contemporary art. At 63, she was also the oldest winner, benefitting from the age limit of 50 being removed. Praised by the judging committee for confronting "difficult, painful" issues around race, the award recognised Himid for addressing the absence and misrepresentation of people of colour in traditional and contemporary visual culture, and challenging established ideas of race and society. It is art that is as vital today as it was when she first began producing work in the early 1980s and, exhibited in a FN stronghold, powerfully provocative.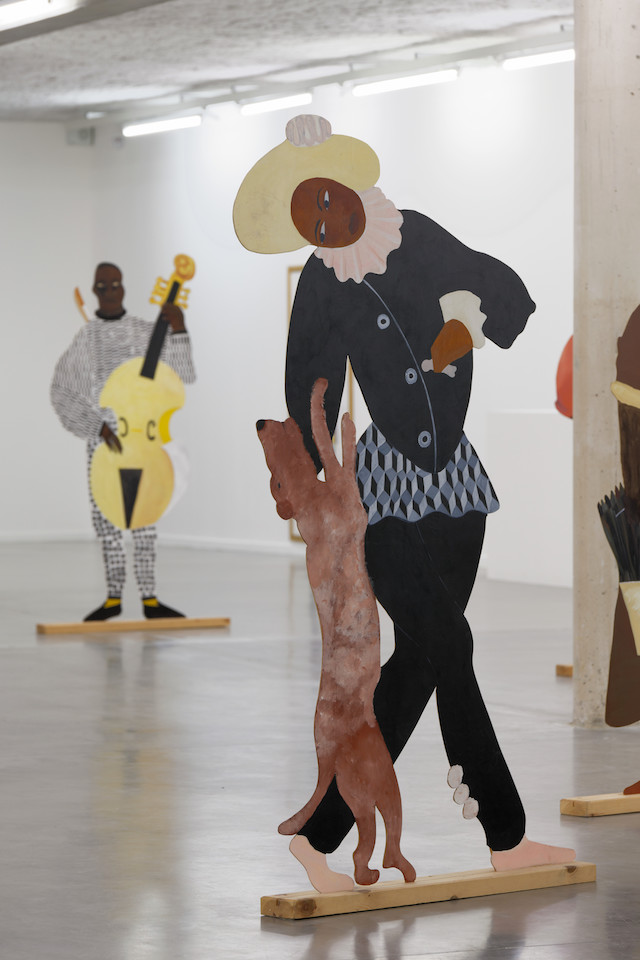 "This show was my response to what was happening locally," Sandra Patron – the director of the MRAC – tells me at the press opening for the exhibition. "We are symbolising something here that threatens people, and when you are running a museum you have to be prepared for all kinds of reactions."
Patron gives the example of institutions in Paris and Lyon that recently came under attack from anti-Israeli and animal rights protestors. The offending exhibitions were picketed and vilified on social media, the curator in Paris receiving threats of violence, the Lyon museum closing the exhibition. "For me that is a real problem," Patron says with an air of quiet determination. "I think in that context the gallery should stand its ground."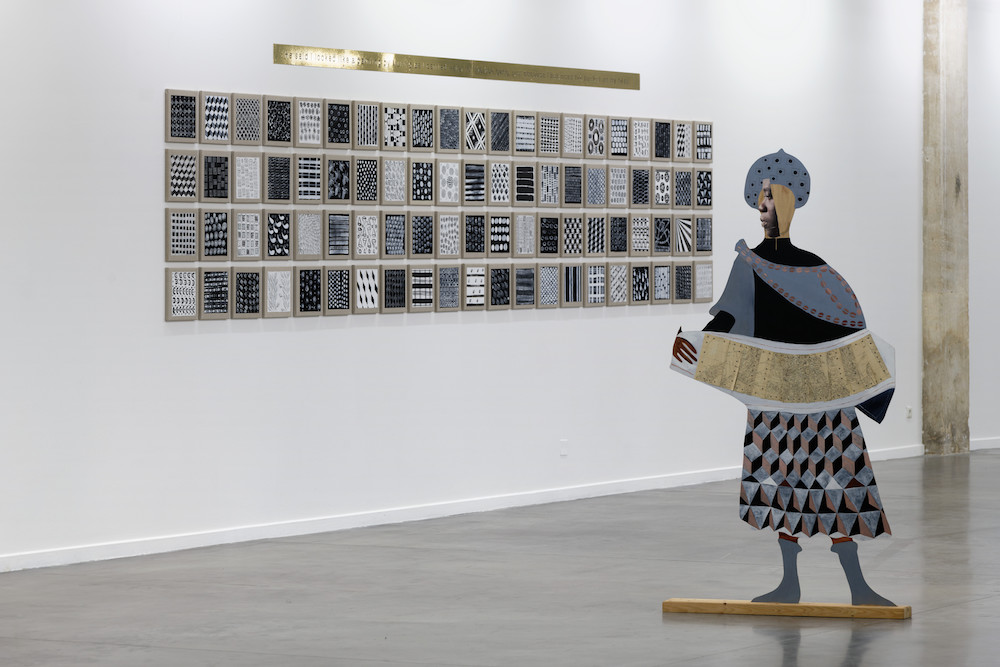 When I meet Himid in the offices of the museum, the sun is filtering through coloured glass windows, projecting awkward geometric forms in red and green and yellow light. When she speaks it is calm and deliberate, with a warmth that draws you in, and we discuss the work at the centre of 'Gift to Kings' – ten cut-out life-size figures taken from the 100 that formed part of her Turner Prize-winning exhibition.
Entitled Naming the Money, the work depicts the otherwise anonymous slaves and servants – the craftspeople, dog trainers and dancers – who appeared in European painting from 17th century as signifiers of wealth. When viewed from behind, from their unpainted plywood verso – to which is stapled a short text detailing their old name and identity, their new name and unpaid position – the effect is of a ghostly afterimage, a moving evocation of the innumerable histories lost at centres of wealth and power.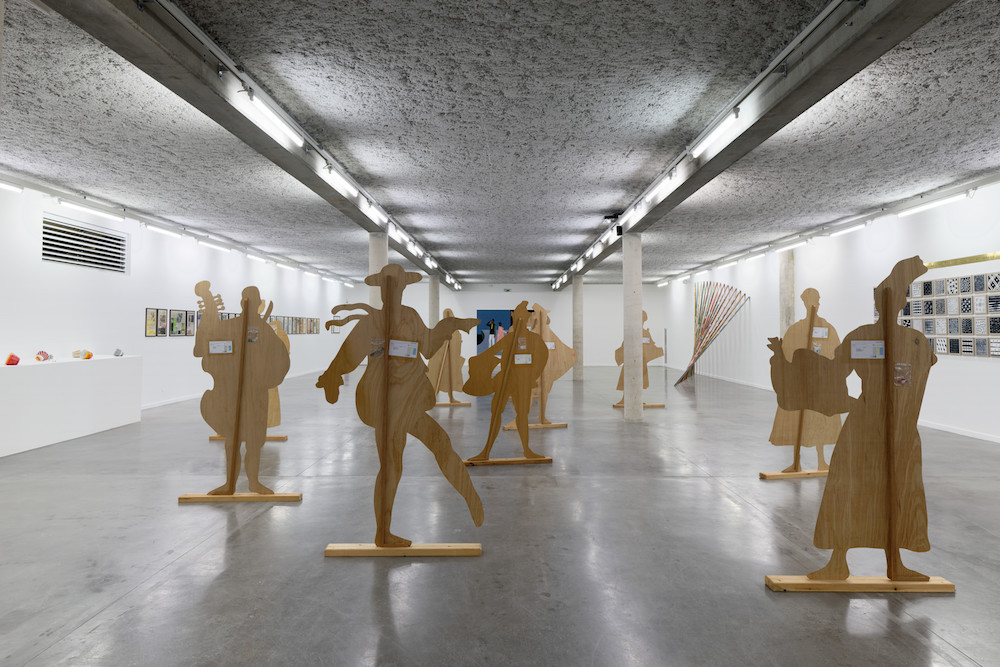 "I'm interested in that Brechtian idea, where you see how the art object was made," Himid explains. "There's no magic if you can't see how it's done, and this way you can enter the mind of the artist. You feel like you have the power to join the conversation."
The ability of Himid's art to welcome you in is key to its success. Cotton.com, for example – a series of patterns inspired by embroidered fabrics exchanged in an act of solidarity between Manchester dock workers and African-American slaves – asserts active, autonomous black voices in the history of art, while Freedom and Change presents black figures as free and expressive. In both cases, the works speak not only to black or minority audiences but carry a universal message about social and cultural identity; how that is formed by the histories we inherit and the choices we make.
It is work that is progressive and resolutely optimistic. By foregrounding the experience of black people through history, as well as today, Himid is as much criticising traditional institutions as she is inspiring change. And although she confronts some of the darkest, most abject periods of human history, her art is imbued with an enthusiasm for the potential of society to develop and improve.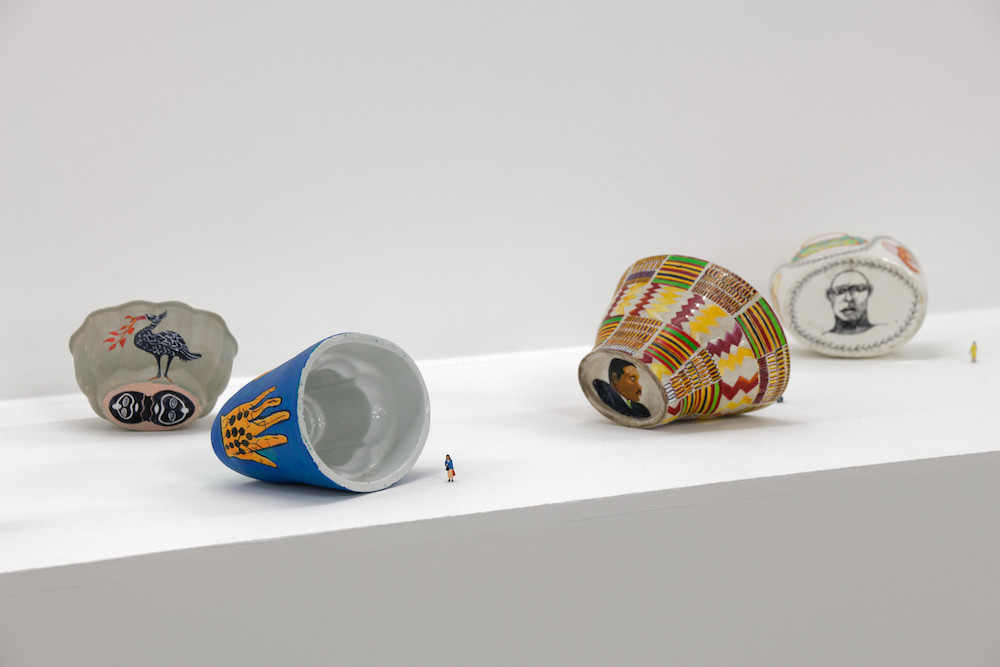 I ask Himid how she came to curate the show, given the audience that would be unfamiliar with her work and cultural references. "Of course, it is important that people have a real relationship with what they see," Himid replies. "So I chose work where the viewer would understand what they are looking at – a plank of wood, a piece of ceramic, a newspaper, a jelly mould… though in France they actually have no idea what jelly is," she laughs.
Such an approach is indicative of Himid's inclusive, accessible practice, which frequently transcends the gallery space. A vital part of 'Gift to Kings' is the programme of panel discussions that accompany the show. "I have a strategy – I'm happy to show my work as long as the curator opens up conversations with artists of colour working in that country. No longer will you have curators saying 'Zut Alors! There are no black French artists'."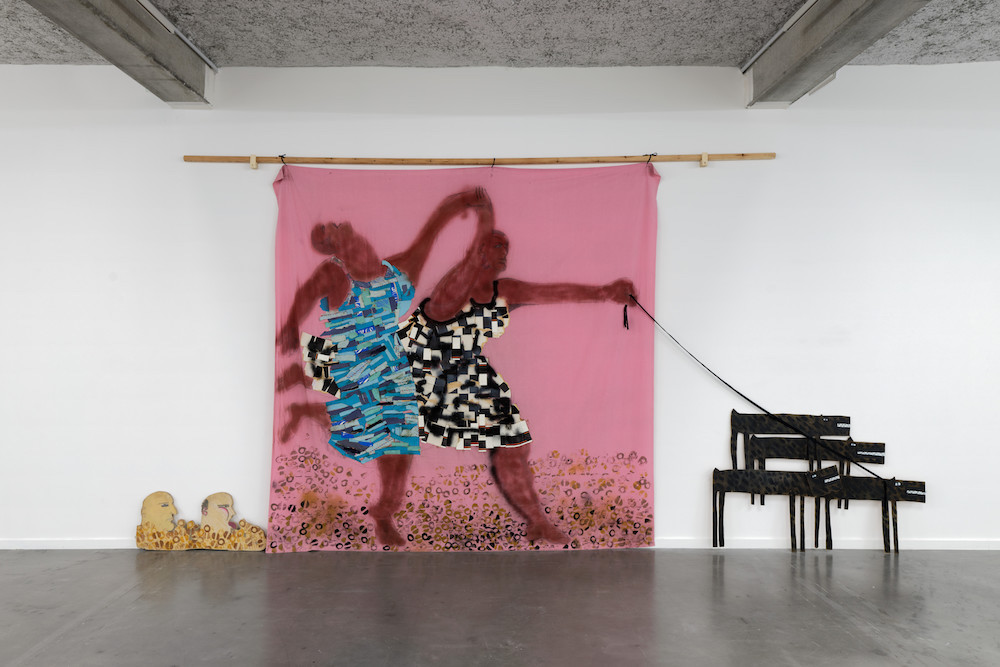 Himid's activism, particularly in promoting artists of colour, has always run in parallel to her artistic activities. Aside from the impact of her art and her role as a professor of contemporary art at the University of Central Lancashire, she has worked within institutions throughout Britain to raise the profile of black artists. Her groundbreaking exhibition 'The Thin Black Line' at the ICA in 1985, which championed young black and Asian artists, followed similar exhibitions at the Africa Centre and the Battersea Arts Centre, and the work of the Black Arts Movement of the 1980s. Since 2005, with Christine Eyene and Susan Walsh, Himid has been researching and presenting black visual art as part of 'Making Histories Visible', and in 2010 she was awarded an MBE for services to black women's art.
I ask whether this work has been affected by winning the Tuner Prize. "Not exactly," she replies. "But I need to use that that badge to do exactly what I was doing. I hope more people will listen now."
And your artistic practice?
"Well, yes, actually. All that fuss about being 63 made me understand that at the most I had 20 years left to make some work. I've gone back to some of the more performative ideas that stem from training originally as a theatre designer – bigger, riskier pieces. I have no idea if it is going to work!"
Before I leave the museum for Béziers station and Jean-Marie's memoirs, I take one last look at the exhibition – the paintings and the cut-outs, patterns and ceramics. I'm alone and for a moment it feels as if I have wandered into the museum of an abandoned city, its artefacts carefully preserved – a sense of unreality, caught up in the colour, the expressive energy of the work.
Then I see again the terrible histories that the works discuss – histories of slavery and racism and inequality that we all share in, and that are still lived today. I think back to the end of our interview, when I asked Himid if she thought there would be a time when her art would no longer need to confront these issues.
"Absolutely," she said smiling. "That's the point, really. I would love to live long enough to see that. There would be more patterns, more love."
'Gift to Kings' runs at the Musée régional d'art contemporain Occitanie / Pyrénées-Méditerranée, 146 avenue de la plage, Sérignan, until 16th September 2018