Jo Lawson-Tancred travels to Paris to select her highlights from this year's blockbuster art fair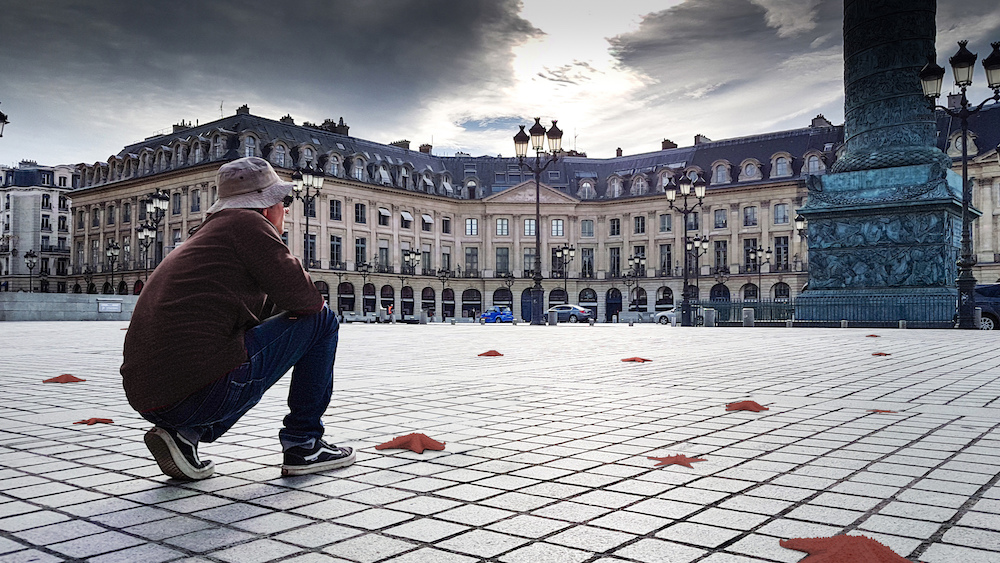 FIAC (Foire Internationale d'Art Contemporain) returned to Paris for its 45th edition with 195 galleries from 27 countries. As in previous years, the programme, which easily fills the the vast space of the Grand Palais with a crawling maze of stands, bursts out of the building and into the streets with outdoor installations scattered across the temporarily pedestrianised Avenue Winston Churchill for 'FIAC Projects' (for which the Petit Palais will also house an arrangement of sculptures) and right through the Concorde and Jardin des Tuileries for 'FIAC Hors les Mur', a project in partnership with the Louvre. 
It is this commitment to putting contemporary art out in the public space – a privately owned Calder will remain on display over the coming year at the Tuileries – and an infinite list of live performances, screenings and conferences that makes FIAC an essential part of Paris's cultural calendar. Here are some highlights.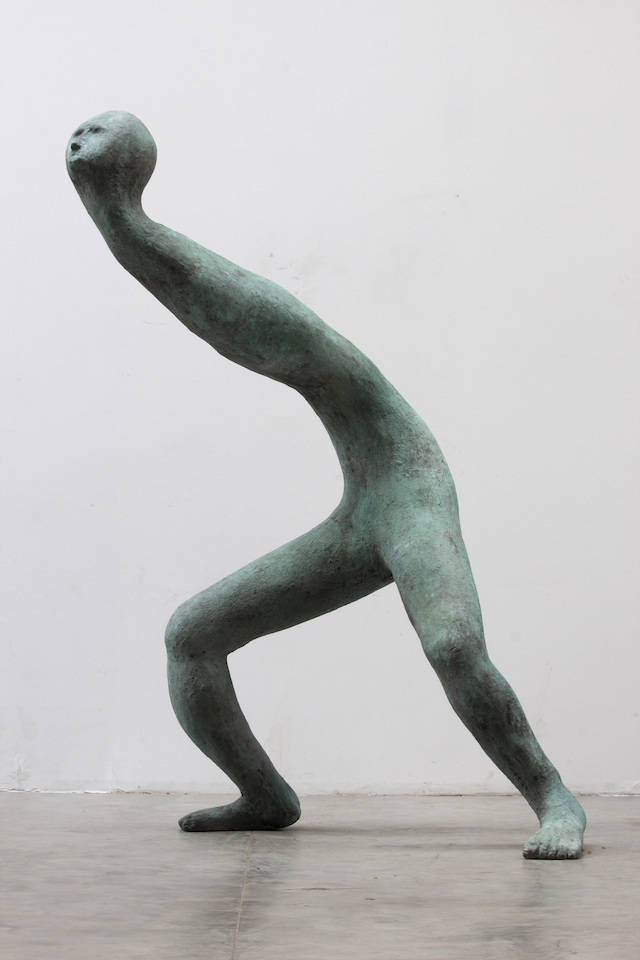 Henk Visch – 'Du livre du matin' (2018) bronze, Tim Van Laere Gallery
Among the large-scale sculpture that has been placed in conversation with existing 18th and 19th century monuments at the Jardin des Tuileries is a greying green bronze statue by the Dutch artist Henk Visch. At a distance it could come from any era, but as the visitor approaches it becomes all the more monstrous, until we are confronted with a loosely anthropomorphised quasi-spiritual rendering of the human psyche; alone, limbless, writhing.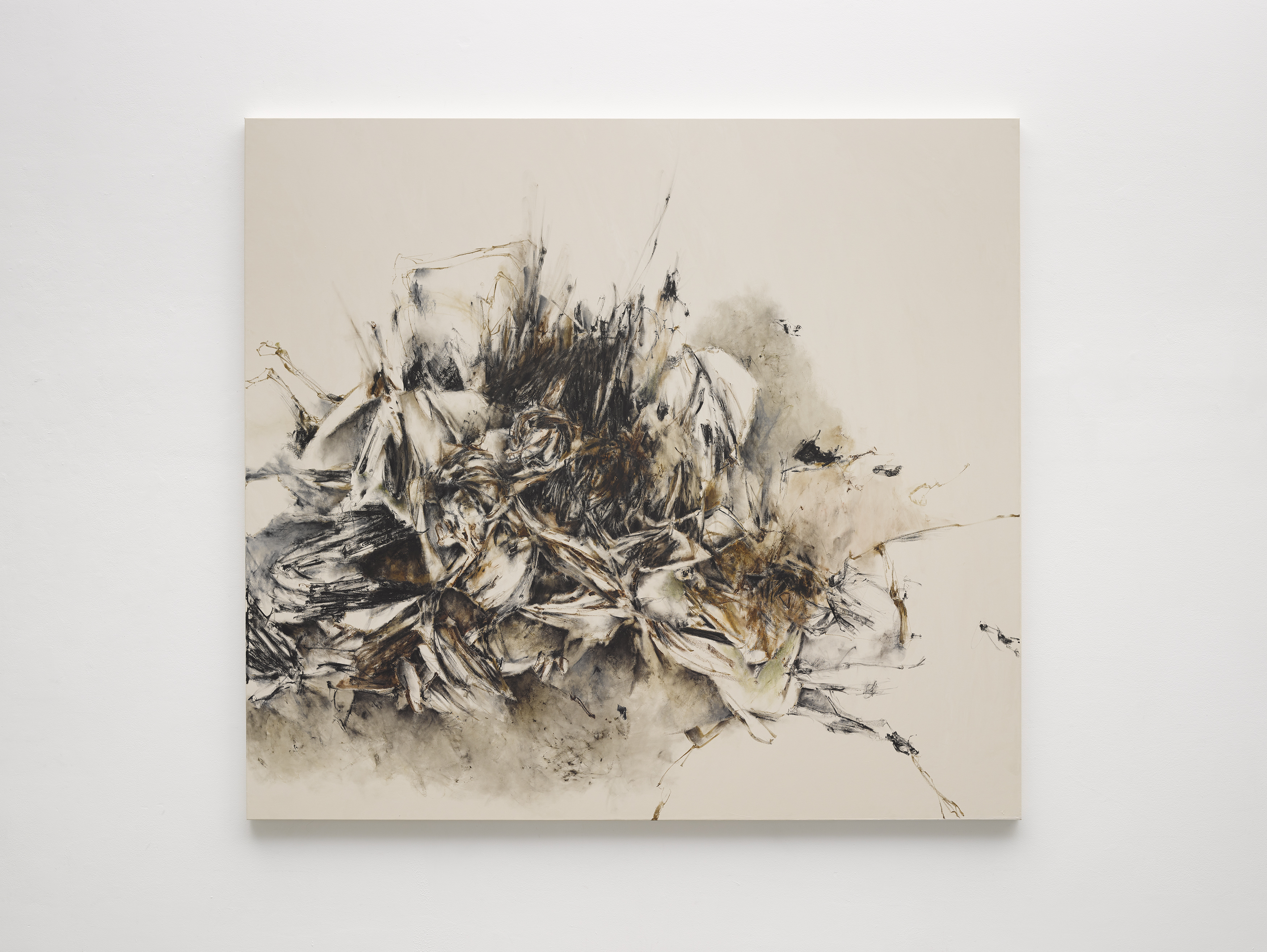 Christine Ay Tjoe – 'The Comrade' (2018), White Cube
Indonesian artist Christine Ay Tjoe has developed an expressive and dark language with which to consider the human condition as a product of our deepest psychological fears. In a bleak palette of black and brown she produces a cavernous mass that harbours subtle figurative insinuations. Searching the surface we might come across a face or twisted limb, but just as we feel that we are grasping something greater, everything slips away.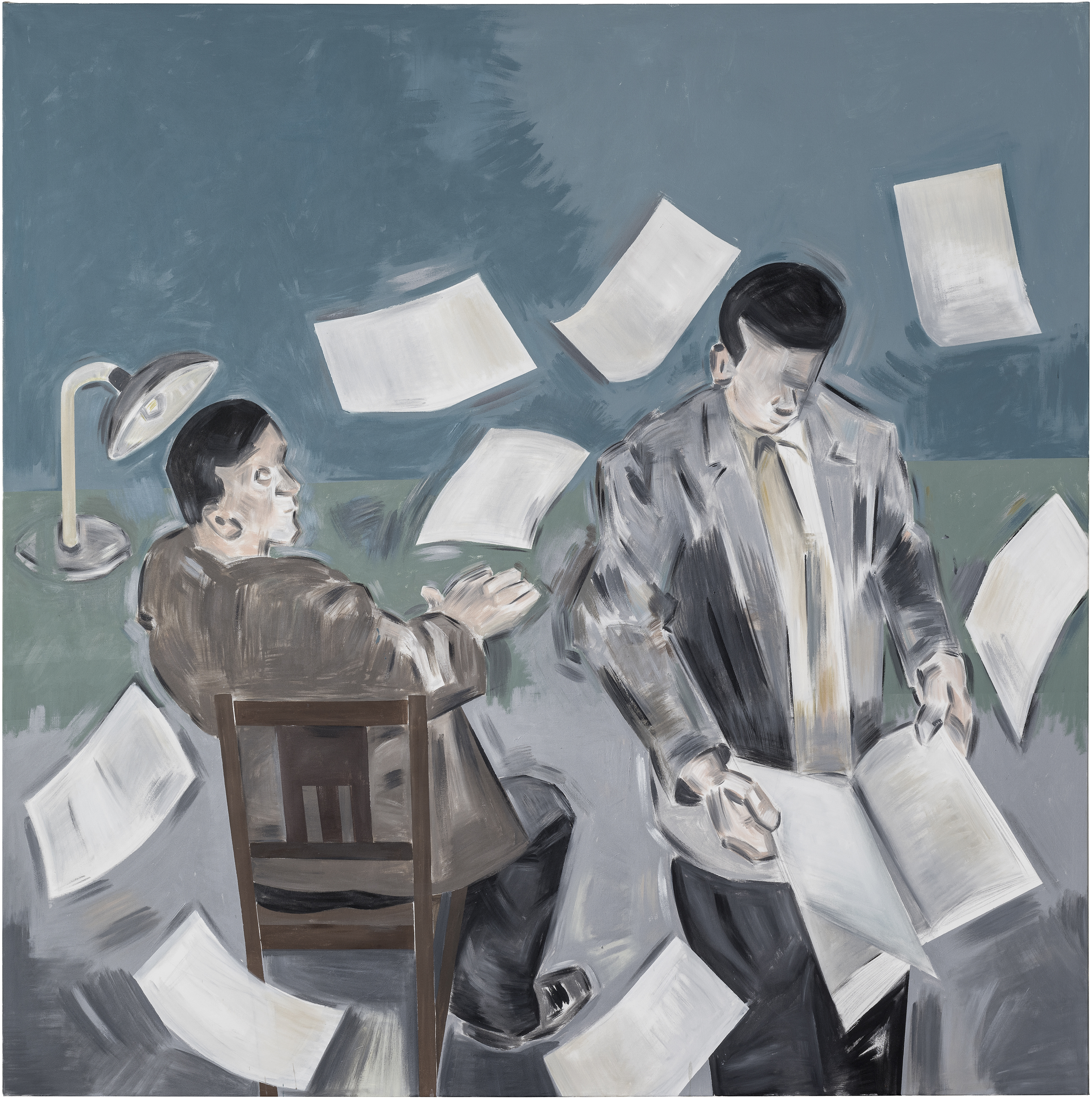 Georgiou Apostolos – 'Untitled' (2018), gb agency
Inherently humorous, Greek artist Georgiou Apostolos presents people in the moment of being interrupted. Visibly flustered, his characters seem to spot us, the voyeur, that would watch them unaware. Finally it is us that is drawn out of dreamy detachment, with Apostolos building the tension with which to 'wake us up form a state of indifference'.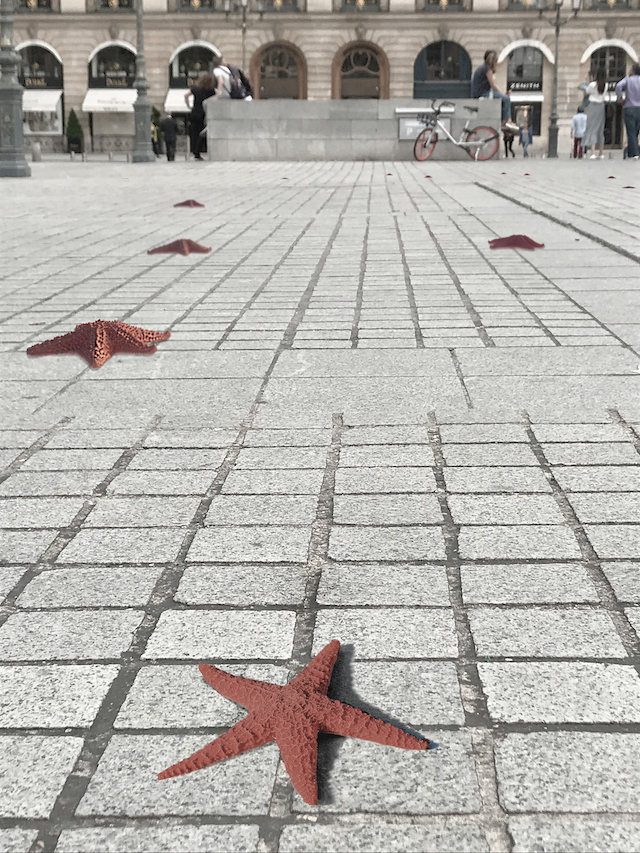 Elmgreen and Dragset – 'To Whom It May Concern' (2018), Perrotin
As this year's edition of the annual carte blanche for a major artist installation at Place de la Concorde, Elmgreen & Dragset's quiet intervention is easy to miss. Once we stumble on one we adapt our gaze to take in the square's horizontal expanse, which is instantly scattered with starfish. Standing out from the squared grey in coral-toned orange, it is an oxymoronic and almost uneasy pairing of the organic and manmade. A response to climate change, the unseen idea of abstracted ecosystems invades our own urban enclaves, challenging the urge to disconnect in a way that feels impossible to ignore. 
More of Elmgreen & Dragset's commentary can be seen at This Is How We Bite Our Tongues, at the Whitechapel Gallery until 13 January. A overview of the past 20 years, it presents the Scandinavian duo in a state of dry derision. The Whitechapel Pool (2018), a special commission for the gallery, imagines a fictional community pool that has fallen into disrepair. On closer inspection it becomes a biting analysis of the effects of gentrification and austerity, down to a shiny plaque announcing that the site has been sold to developers under Boris Johnson and is to be converted into a luxury spa. Other themes include sexuality, violence, capitalism and power. 
ASIA NOW
One of FIAC's satellite fairs, ASIA NOW brings a small but tastefully curated vision of the contemporary art scene in Asia, with a special focus on Japan. Only in its fourth year, the atmosphere is more relaxed than your typical fair with experimental installations in which visitors can sit and chat among pop-up bars serving drinks and dim sum.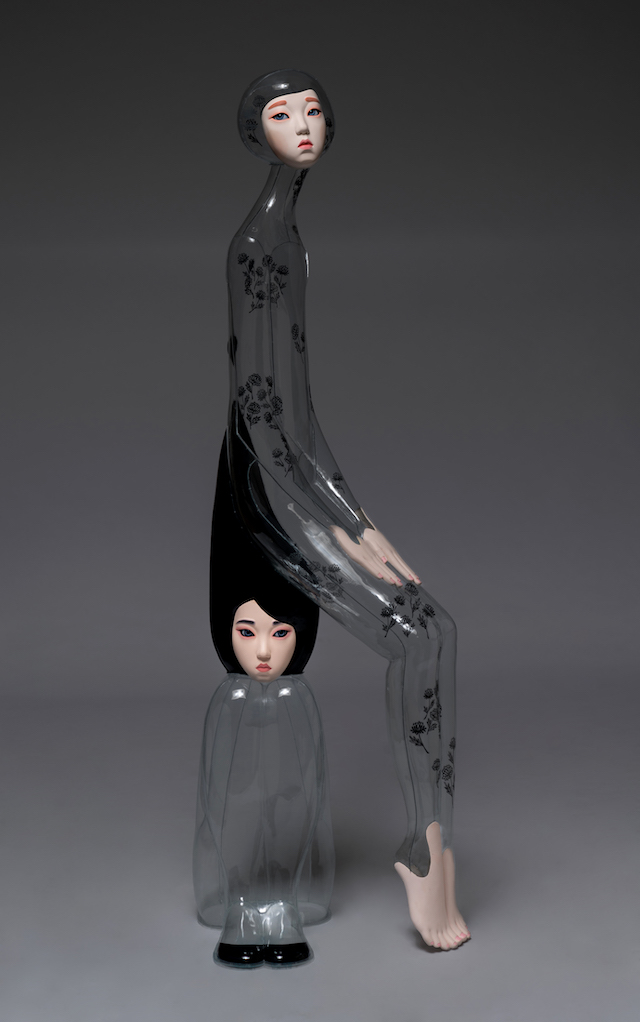 Yu Jinyoung – 'the LIFE' (2017), Choi & Lager Gallery
Intimate gatherings, but not as we might expect. South Korean artist Yu Jinyoung's series the LIFE is a visual account of social anxiety in which translucent bodies entwined contain a physical emptiness that echoes in the blank expressions of each high resolution floating face. Essentially anonymous but for their possession of stylish accessories and pets, the figures speak to the isolation felt when we lose our sense of self amid flurries of meaningless communication and the conventions that inhibit modern life.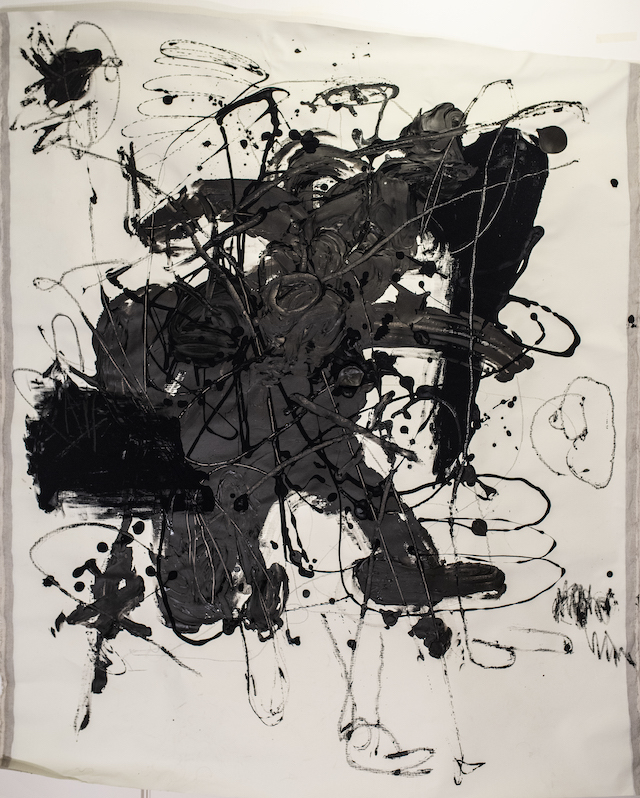 Joji Nakamura – 'Black Action' (2018), The Container
Represented by a gallery named after the shipping container it occupies in Tokyo's most creative neighbourhood of Nakameguro, Joji Nakamura is at the front of recent shifts in Japan's contemporary art scene. Using his hands directly on the paper surface to create swirling and erupting works in various shades of black, he is informed by the early 19th century techniques of automatism, which allow him to impulsively communicate his own stream-of-consciousness in a style that he calls Neo-Dada.