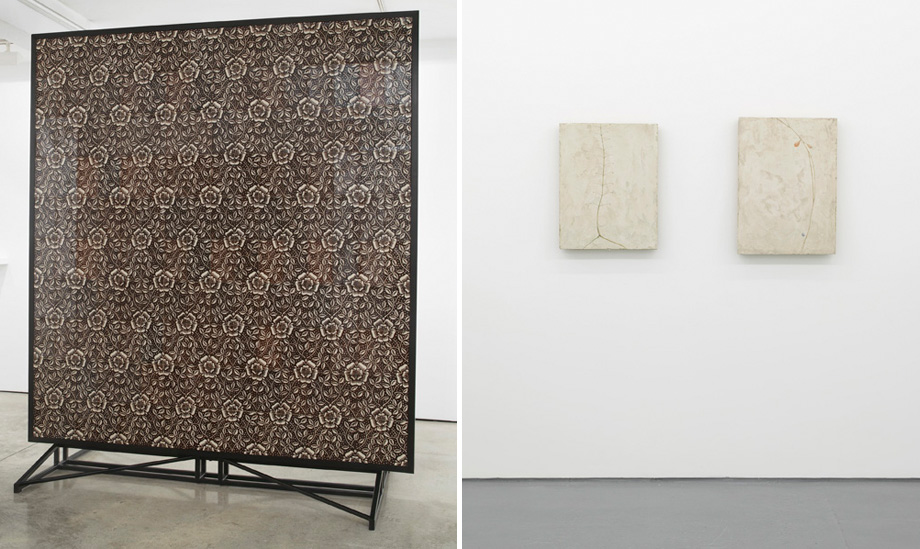 William Kherbek reviews the fourth solo exhibition by British artist David Thorpe at Maureen Paley, London
There's a school of thought that proposes genius is manifested by making the difficult look effortless. If that's the case, then David Thorpe, whose show, A Rare and Gentle Beast, is currently running at the Maureen Paley Gallery in Bethnal Green, is doing his best to resist any accusations of "genius"; his works are, literally, object lessons in making the difficult look difficult.
For Thorpe, following in the intellectual tradition of John Ruskin and William Morris, process is itself a proper subject matter for art. Readers acquainted with the theoretical models and movements which have followed Morris, et al will perhaps feel their skepticism aroused by this kind of open-hearted commitment to "honouring traditional methods" as Thorpe's press release intones. Isn't there something a bit po-faced about all this "honouring" and valourising? This being art, matters are never as simple as that.
One of the ways Thorpe resists accusations of being an aesthetic reactionary is in the careful way the show is laid out. Entering the spacious downstairs of the gallery, the first thing you see is nothing. Well, not exactly nothing; an obtrusive jut of white wall is what you see. Only after you make your way around this architectural intrusion can you see the works, and they are very much worth seeing. As you might expect given the heavy emphasis on traditional methods, there is a familiarity about the geometric formations that make up works like Sanderson Emerged, a thick ceramic piece which is something like a wall and a sculpture at the same time. It's Thorpe's capacity to liberate these methods and materials from their historic applications that announces his self-conscious modernity — or is that post-modernity?
The piece which is referenced in the title of the show, A Rare Beast, is another "wall/sculpture" that nicely asserts its physicality, but really comes into its own when a mournful, low-pitched moan emanates from it. When you consider that the piece is composed of hair, dung, rabbit skin, and clay all kinds of narratives begin to proliferate. It's hardly "organic" in any normal sense of the term, but there's an irreducible vitality to it which would probably have gotten Thorpe burned at the stake in the Middle Ages. As an installation, the downstairs has more aesthetic unity than the upstairs, which feels more like a collection of works of art than a field of experience. Despite this fact, works like Gangraena, a plank of ancient oak treated with glue, chalk, and—of course—rabbit skin demand and repay attention.
There is a series of works in the show modeled on various human bones. The pieces are displayed in both galleries. Titled These Are Our Bones, Grown Dressed then Cloaked, it, at times, falls victim to Thorpe's fetishisation of meticulous process, but, when individual pieces work, their eerie eloquence is riveting. For me, the patella displayed in the downstairs installation is most affecting. Unassumingly resting on a shelf at the south end of the gallery, as you approach it, the patella morphs from sculpture to stone to bone. True to Thorpe's aesthetic, the process isn't rapid, but the results are durable.
A Rare and Gentle Beast runs at Maureen Paley until 22 July